Adwoa Aboah on Self-Love and The Necessity of Community
The model and Gurls Talk founder on her journey of self.
Cover Story
Markn
Studio &
Makeup:
Celia Burton
Hair:
Jaz Lanyero
D&P:
Alex Berger
Sound:
Paul O'Hare
Photo Assistants:
Brigita Žižytė & Andrew Gough
Film:
Alexander Berger & Chris Beldain
In Twi, the language spoken in the Ashanti region of Ghana, the day of the week on which you are born determines your name. Girls born on Mondays are named Adwoa. "It is believed that this particular day may affect their behavior, fate, and future," writes Dr. Kofi Agyekum. "People born on particular days are supposed to exhibit the characteristics or attributes and philosophies associated with the day." For those born on a Monday, like Adwoa Aboah, that attribute is peace.
Born in Westminster, London to agent Camilla Lowther and location scout Charles Aboah, Aboah describes her childhood, before age 13, as carefree. She was a shy kid but it wasn't something that bothered her or her friends. "No one had ever made me feel like that was something to feel insecure about," she says. "I had a group of friends who very much embraced me and let me hang around even though I didn't speak."
When she turned 13, Aboah went off to boarding school, away from her home in London. Fitting in with the girls at her new school was an attempt to find solid ground, a form of consistency. "My surroundings were completely different. And so then, as one does when they're thrown into a different situation, I just started changing to fit that particular setting," she explains. "It was suddenly like, my God, I have to start worrying about the fact that I don't look like any of the girls in my year?" She wanted to be someone else. The other girls in school were blonde, white, and had blue eyes; they were the ones who were seen. Overwhelmed, Aboah stopped sharing her feelings, cut off her friends from home, and did what she needed to do to fit in at her boarding school, which included partying. Experimenting with drugs grew into an addiction to ketamine. The drug addiction eventually culminated in 2015, when Aboah attempted suicide and was placed in psychiatric care for a month.

Our modern understanding of self-care and wellness is often attributed to feminist writers of color like Audre Lorde and bell hooks, who wrote about taking care of one's self amidst oppressive conditions. The phrase has become a part of society's vernacular, and contributes to the larger wellness industrial complex. The hashtag "self care" has over 29 billion views on TikTok. Scroll through the videos and you'll find aesthetically pleasing clips of serums and lotions housed in pastel packaging, matching workout sets, people dunking their faces in bowls of ice water to decrease puffiness, people massaging castor oil into their scalp, scented body scrubs, ice rollers, and teeth whitening treatments. According to a 2021 McKinsey report, consumers view the $1.5 trillion industry "through a much broader and more sophisticated lens, encompassing not just fitness and nutrition but also overall physical and mental health and appearance." This includes subscription food delivery services, juice cleansing, and microneedling.
None of these things are inherently bad. I believe that small daily efforts of self-care are essential (and don't need to have a price tag attached). But hyperfocusing on the self is anchored in the belief that we can only work to improve our life on an individual level, that we are capable of a happy and fulfilling life all on our own. However, even as the wellness industry continues to grow and more self-care content makes its way onto our screens, the rates of depression and anxiety, especially for young people, are on the rise. According to Jean Twenge, PhD, the lead author of a 2019 study, "more U.S. adolescents and young adults in the late 2010s, versus the mid-2000s, experienced serious psychological distress, major depression or suicidal thoughts, and more attempted suicide."
Tank Top: Agolde; Jeans: Peter Do
In a 2014 piece for Jacobin, Chris Maisano writes, "[young adults] lack a sociological imagination that allows them to connect personal troubles to public issues. The social damage wrought by deunionization, financialization, and deeply embedded patterns of gender and racial discrimination are consistently transmuted into evidence of personal shortcomings that, if left uncorrected, hold individuals back from attaining stability and security." He goes on to write that "the appeal of individualistic and therapeutic approaches to the problems of our time is not difficult to apprehend. But it is only through the creation of solidarities that rebuild confidence in our collective capacity to change the world that their grip can be broken." In The Wellness Syndrome, authors Carl Cederström and André Spicer argue that this obsession with individual self-care comes at the expense of the collective, transforming social and political issues into personal ones. It's another version of the American Dream; if you just meditate enough, or eat healthy food, or write in your journal daily, or give yourself an at-home facial, you, too, can live the life of your dreams, regardless of whether or not the world around you is falling apart.

In the hyper-commoditized and -individualistic version of self-care, it is easy to forget that personal and collective well-being cannot be divorced from one another. Instead, personal transformation should work in service of the collective to take action toward breaking the status-quo. The vision of collective well-being has to outweigh the vision of individual success. The goal is not personal happiness for its own sake; it's to become more conscious and able to connect with one's larger life mission, like, for example, helping others achieve a sense of peace.
Cotton Shirt: Miu Miu; Jeans: Vintage
Cardigan: Khaite; Silk Bra: Fleur de Mal; Sequin Skirt: Simone Rocha; Leather Sandals: Aeyde
Aboah's path to recovery began with asking for help. "At the beginning, it was so difficult because I felt like I was a failure," Aboah says when discussing her path to recovery. "I was being vulnerable and that in turn would leave me unprotected and naked for people to judge…asking for help, you're suddenly letting people know what's really going on and I didn't want to be rejected." Community was key to her transformation. In the caption of a recent Instagram post, Aboah writes: "8 years sober today. So I thought I'd share some recent photos from the @gurlstalk retreat because none of this would have been possible if I hadn't got the help I needed. I am eternally grateful for the community I have met throughout these 8 years who have constantly lifted, supported and shown me that I couldn't be further from alone. To anyone struggling today with addiction and mental health problems please know that with hard work, vulnerability and perseverance there is light at the end of the tunnel. Immense possibility, capability and a life you are more than deserving of."
"It doesn't necessarily have to be your parents or even the people most close to you, but you have to find someone that you can share yourself with on a deeper and more meaningful level," she says. "Someone who makes you feel listened to and allows you and gives you a space where you feel like you're not going to be judged and you're going to be able to speak about all the stuff that society might deem taboo and the subjects that are most stigmatized."
Top: The Row; Skirt: The Row
Gurls Talk is that safe space for many young people today. In 2015, Aboah founded the non-profit Gurls Talk as a support network for young people to be able to share their feelings amongst peers in a safe space. Gurls Talk on Instagram is filled with posts letting young women know that "in order to care for others, we have to care for ourselves," how to process feelings associated with the overturning of Roe v. Wade in the United States, and reminders that "your body is the least interesting thing about you."
"I think Gurls Talk for me was just the community that I've always needed, for sure," she says. "I launched it because I think when you share, what's amazing is that what's brought to your attention is all the people that feel the exact same way as you. I wanted to create a space where people could share through lived experience and you could hear someone talk and share the same story as them so that they feel less alone." Aside from their social media channels, the organization includes a blog, a podcast, and free in-person events. "Life doesn't stop, it keeps on going, but wouldn't it be nice to just have a space where you can share those feelings and be given the right tools and resources so that you can go out there into your own life that does keep on turning in and have ways in dealing with it?"
Aboah showing off a scarf from her collection.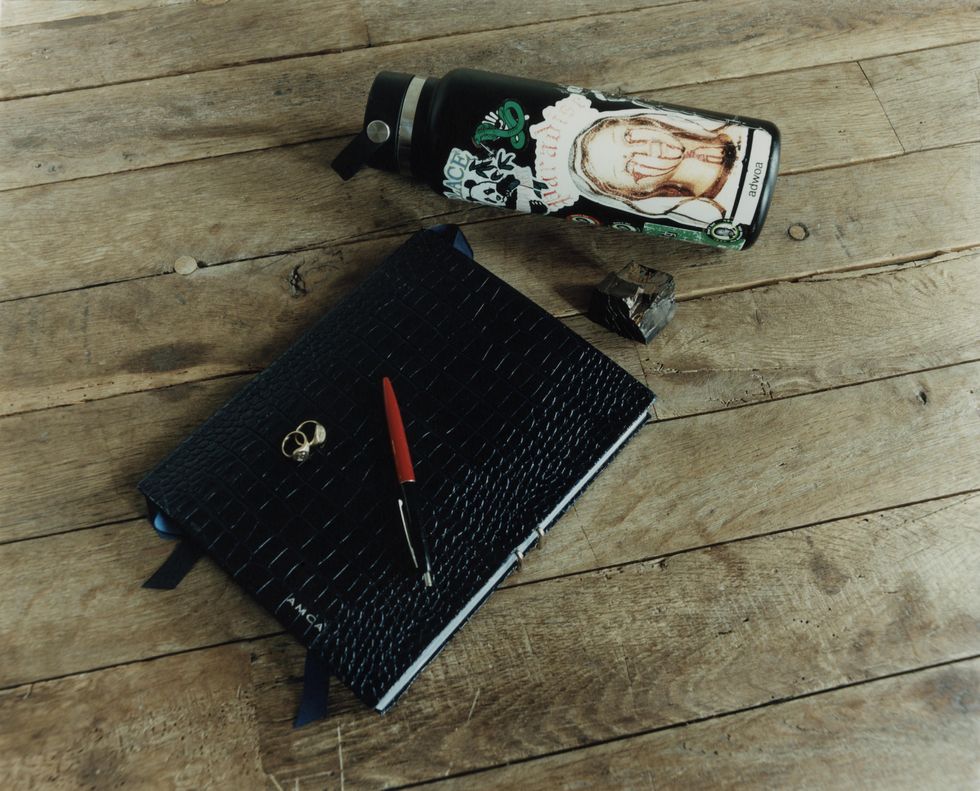 Journaling is one of Aboah's must-do wellness rituals.
For Aboah, a greater sense of self-love and peace has come with a deeper knowledge of herself. "When I carve out time for myself, it's not even a priority, it's a necessity. I have to look after myself because I realize all the hard work that it's taken for me to get up in the morning and feel good about myself," she says. "That doesn't happen all the time, but I just really, really respect myself and I know what I need to do in order to keep that." Gurls Talk is an integral part of Aboah's wellness journey, intertwining the personal with the collective. "Gurls Talk for me is carving out time for myself," she says. "We know why we're all there, we know why we're all interested in being part of it, so you don't need to put up a facade or pretend to be anything other than what you are." In addition to Gurls Talk, Aboah is now an ambassador for Jo Malone London. In this new role, she will lead programs focused on mental health issues, reaching a wider group of people. Aboah has a deep understanding that a true sense of well-being, a true sense of peace, isn't something that one can achieve alone. In a letter to her pre-pandemic self, she writes: "The space will give you the time to examine who are and to control your own narrative. Connect with your community, it is through their stories that you will be able to form a deeper connection with them and others. Lean into Gurls Talk as it will be the driving force of your journey of self. The community will be a saving grace throughout it all."
If you are in crisis or you think you may have an emergency, call your doctor or 911 immediately. If you are depressed or having suicidal thoughts, call 1-800-273-TALK (8255) to talk to a skilled, trained counselor at a crisis center in your area at any time (National Suicide Prevention Lifeline). If you are located outside the United States, call your local emergency line immediately.