WWWRN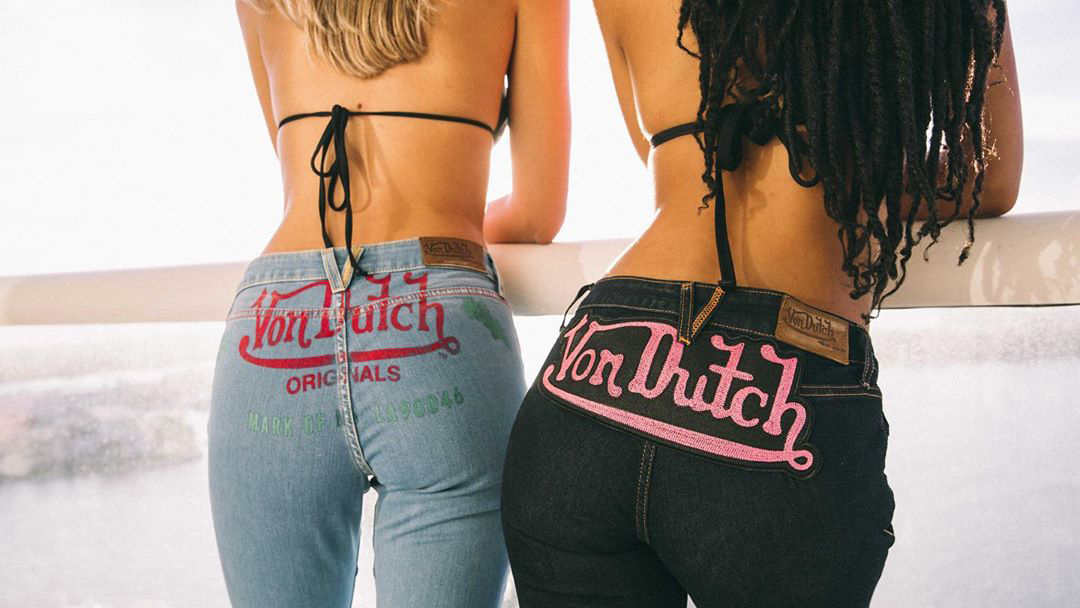 Why You Need to Start Paying Attention to These Early-Aughts Brands
I'll take a Juicy Couture tracksuit and a Von Dutch trucker hat, please.
Ah, the early 2000s, an era characterized by flips phones, dial-up internet, tabloids, and, of course, memorable fashion. That moment in fashion surpassed trends to create iconic styles still instantly recognizable to this day—Juicy Couture tracksuits, Von Dutch trucker hats. The trends of the era crept in by way of handbags, too—the Fendi baguette, the Dior saddle—and have since been emulated by Kim Kardashian's velour ensembles at Skims and terry-cloth separates just about everywhere. Though this is a common trajectory for the fashion system, you don't often see the original brands themselves making a comeback alongside the trends. So, we wondered, why are the early aughts so relevant today?
For Juicy Couture's 25th anniversary (feel old yet?), the brand is releasing a capsule collection paying homage to the brand's most iconic styles, which all seem exceedingly relevant to our current lifestyles. Alexandra Taylor, SVP of marketing of Authentic Brands Group, who has worked with Juicy Couture for eight years, explains that "in the early 2000s, comfort was king, with the rise of modern athleisure and the evolving dynamic between fashion and function," two words that seem to correspond today, much more than they have in prior years. So many of the era's styles are rooted in function and comfort: a Juicy Couture tracksuit, a Puma sneaker, a Prada nylon bag.
Online resale platform Vestiaire Collective has seen a surge in Y2K-era vintage styles, with a +197 percent increase in sales of Nike Air Force 1s over the last year, and a +100 percent increase in searches for the iconic Louis Vuitton x Murakami collection at the height of quarantine this summer. Celebrities and influencers like Bella Hadid, Rihanna, and Sofia Richie have ushered in the trend, posing as the modern Hollywood "it" girl equivalents to the OGs: Lindsay, Paris, and Britney.
View this post on Instagram
The mention of those names along with the decade's style inevitably conjures up a hefty amount of nostalgia. "It's definitely a big reason, especially for many of us that weren't able to embrace certain trends as young teenagers," explains Alice Hebrard Lemaire, Vestiaire Collective's head of vintage. "Those that are now in their early 30s have enough disposable income and no parental figures to tell them they're not allowed to wear something they loved when they were young."
General manager of Von Dutch Ed Goldman, who signed on to reinvent Von Dutch for the modern age, says that the majority of their sales come from those aged 12 to 24 years old. "I think it has a lot to do with what's happening in today's climate, and COVID is definitely part of it. We're reaching out to a time where things were a little bit better, maybe when these kids' parents were enjoying that lifestyle a little more and were less concerned about forces in the marketplace, economic forces. It's an outlet for enjoying life."
The garments themselves challenge what's considered "tasteful" in fashion, almost mirroring the anti-establishment vibes of the punk movement. Celebs who are known for shattering the norms of their industry, from Megan Thee Stallion to Travis Scott, have signed on. "It's just an era that goes against common-sense fast fashion, for lack of a better word, and I think that's something that's exciting," posits Goldman.
Well, channel your inner Paris Hilton, throw on a velour tracksuit, and grab your baguette because it seems the trend is here to stay. Here are all the brands we knew and loved relaunching your favorite heritage styles.
 

View this post on Instagram

 

After over a decade of near dormancy, Goldman joined the Von Dutch team to revive the brand not realizing that they would parallel this coincidentally convenient trend. With the help of a team in Paris with experience in the luxury realm, they are trying to reinvent Von Dutch as a disruptor to the luxury sphere, while still maintaining what they call their Von Dutch "lock-ups"—the iconic logo, the Bowling Bag—marrying the retro aspects with more progressive silhouettes and styles to keep them relevant.
 

View this post on Instagram

 

Icon Kimora Lee Simmons has joined forces with her daughters to release a beauty line in addition to their Baby Phat fashion staples. Is it really the early 2000's if you don't have a tube of shiny lip gloss stuffed into your Prada Nylon handbag? And it's not just lip gloss, with the help of the Simmons' girls, you can achieve peak aughts style with shimmering body spray and luminous lotions.
 

View this post on Instagram

 

The brand known for their velour tracksuits is celebrating their 25th anniversary (doesn't that make you feel old?) with new partnerships and a revamped e-commerce experience. Fear not, this doesn't mean they'll be ditching their early iconic early aughts aesthetic. The new release will "focus on iconic track and a fashion collection that incorporates classic Juicy notes such as prints, bling, and glamour."
 

View this post on Instagram

 

Prada itself is timeless, however their nylon collection is nostalgic of one particular era. The early aughts get a luxury spin with the re-release of the classic Prada Nylon collection. These sleek and sophisticated bags are emblematic of the era yet somehow still have a modern place in 2020.
 

View this post on Instagram

 

Skechers recently released its heritage collection where they reproduced their own iconic styles from the '90s and early 2000s. Who would have thought we'd be shopping for the exact shoes we wore on the playground 20 years later?
 

View this post on Instagram

 

Kappa, a brand known for its sportswear and for ushering in the first notes of athleisure to mainstream fashion, cannot be forgotten. Their new designs are mostly modern riffs on the heritage styles of the brand—they obviously know what they do well. A fan of collaborations, the brand most recently teamed up with another staple from this list: Juicy Couture.
 

View this post on Instagram

 

Not only did the early aughts usher in athleisure, they also paved the way for sneaker culture with cult level brands like Nike, FILA, and, of course, Puma. Originally known for its super popular Speedcat style, which just relaunched, they are staying relevant with modern updates to their classics. Puma has also hopped on the celebrity bandwagon, teaming up with icons from Cara Delevigne and June Ambrose.
Part of the series:
WWWRN