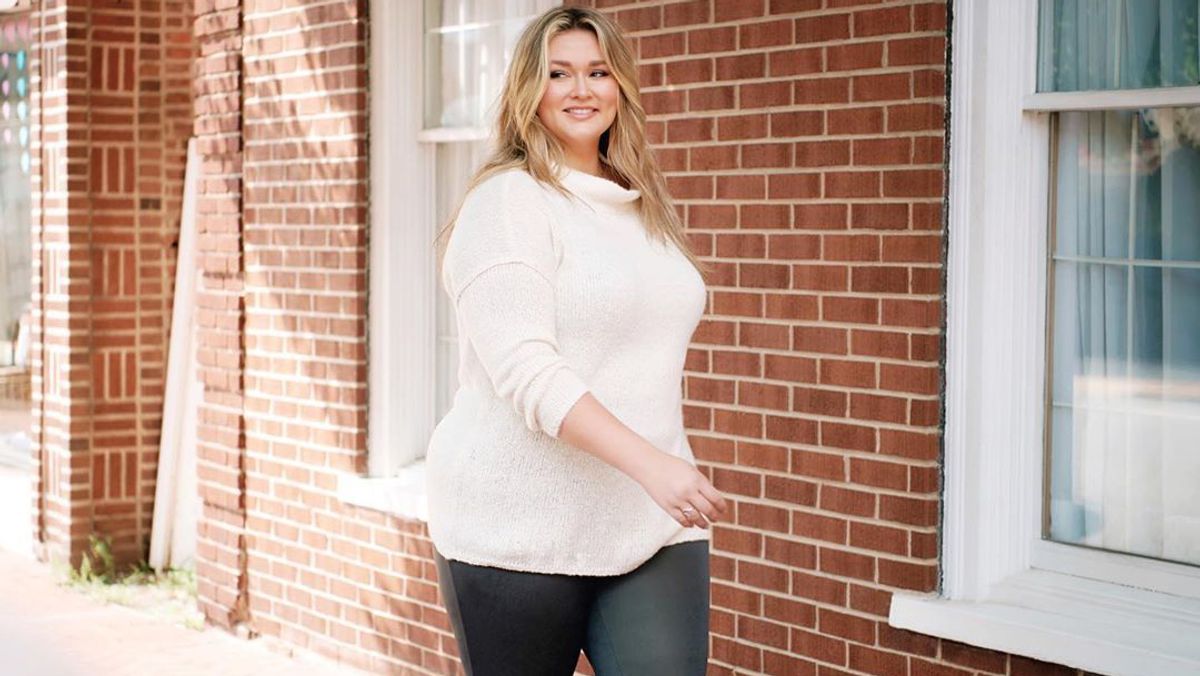 Designers
How Hunter McGrady Became So Much More Than a Body
With her new line, All Worthy, the plus-size supermodel beat out corporate giants to cater to America's forgotten female majority.
When
Hunter McGrady
pouts, her silken lips eclipse the effect of rosebuds in bloom. Her eyes, bright, azure orbs, nestle upon pillowy cheeks—so sensual they deserve both a Shakespeare sonnet and Seal ballad. They're accentuated by a button nose and softly framed by the kind of golden tresses that could incite Rapunzel's envy.
While McGrady's visage is nothing less than outstanding, it often goes overlooked. You see, it's not the model's face that made international headlines when she appeared in the swimsuit edition of
Sports Illustrated
. What has long since fascinated fans, prospective followers, or anyone with keyboard access familiar with the 27-year-old, is her body.
McGrady was a size two when she was told by three modeling agencies to lose three inches off her hips. She was 15 years old and 114 pounds, struggling with depression and deteriorating health from consuming as few calories as possible to work out incessantly. Moreover, she still hadn't hit puberty—losing the weight necessary to drop to a 00 wouldn't just be difficult, but near impossible. The feedback catalyzed a two-year break from the industry.
"I grew into my own in that time off," she remembers. "I was getting to know my body, loving it and learning what loving it looked like. But I had to really shift my mindset."
---
An 18-year-old McGrady re-entered fashion as the
"
perfect plus
"
model: a size 12 shaped like a Coca-Cola bottle. She was "off to the races," her star rising significantly by her early 20s with big campaigns for the likes of Bare Necessities and Lane Bryant.
Then
Sports Illustrated
called. The publication was fresh off the internet-breaking success of curve model Ashley Graham's 2016 cover, but it was a new year. Over the years, McGrady's size had fluctuated to 16. When the 24-year-old appeared in body paint on the magazine's pages, she was the largest model to ever be featured. Critics pondered how on earth a model like McGrady might be featured among the world's most successful with a dress size in the double digits.
"Overnight, everyone was talking about the size of my body. A lot of people were upset about it—men, women. What's funny is that all the girls in that issue get this. You're either too big or too thin, too athletic-looking. But it's the big girls that get the worst of it. It was like,
This is making international headlines? Then it's needed
."
It's been 10 years since McGrady found her feet in fashion, and standards finally seem to be shifting somewhat. As recently as last month, a petition calling for the sample size to be raised from 0
–
2 to 6
–
8 garnered
tens of thousands of signatures
. A renowned stylist—with no apparent knowledge of the recent initiative—
uploaded a photo to Instagram
of a size 0 model unable to fit a pair of Hedi Slimane x Celine jeans. Almost by divine intervention, the post went viral. This was quickly followed by Versace sending
three non-straight-sized models
down their Milan Fashion Week catwalk for the very first time.
While McGrady appreciates the acknowledgment, she will believe in a brand's commitment to curve when she can buy it. "I'm hoping they see the positive accolades from that and think that they're really onto something, but I'd love to see a fashion brand that carries clothes in my size, because it does not exist. People ask so often, 'Are you so excited about the change in fashion?' And it's like, *crickets.* We're slowly but surely getting there, but emphasis on slowly."

After years of paying a plus-size surcharge, the model became fed up with waiting for fashion to catch up. She became frustrated with the cut-and-dried fatphobia of brands citing "fabric costs" to limit their size range to a 10, while simultaneously offering "oversize" designs equivalent to a 2XL. She was further demoralized that no company wants to deal with the uncertainty, or temporary profit downturn, of entering a market of size 16 and above—even if said market makes up 72 percent of the women in America. So Hunter McGrady began scouting a partner for her own line.

"Most brands that you've seen that have embraced plus are coming from a small size and graded up," she explains, "whereas I wanted to come from the perspective of a plus-size woman in America representing a lot of women."

Meeting with potential collaborators, McGrady came up against the same barrier over and over: size inclusivity. The model reiterated that she couldn't very well have made a brand out of body positivity only to sacrifice her values for a company that didn't subscribe to them. Only QVC, that had been catering up to a 3XL for 30 years, promised McGrady a range that encompassed 2XS to 5XL. They would also offer each garment in three different lengths for different heights—something the model claims frequently goes unaddressed by apparel purveyors.

"It doesn't make sense that we have to shop in a different section just because we exist in a larger body—you're leaving out a huge chunk of the population and saying, You're not worthy enough for beautiful things," she continues. "[QVC] understood my values and my morals from the get-go, and that was attractive to me."





"It doesn't make sense that we have to shop in a different section just because we exist in a larger body—you're leaving out a huge chunk of the population."



All Worthy is now in its second season after a debut in April. Launching a clothing line amidst a global pandemic may seem inadvisable, but All Worthy has been performing impressively despite the circumstances ("People still need to get dressed," McGrady acknowledges). While All Worthy marks the model's first time designing from ideation to fitting, photo shoot, and beyond, she never falls short on inspiration—they're all in her Instagram comments. The model's Instagram direct messages are flooded with requests for her go-to brands; even a lingerie photo can elicit several hundred comments asking for her to drop the name of the manufacturer.
"When people say we've come so far, it's like,
OK, but we can't even find underwear
," she says. "Something so simple as a tank top is one of our best sellers. I see what people want, and I want them to have it."
The next step is lingerie and swim that delivers on style as much as it does substance. Then perhaps shoes
—
a range that actually fits wider feet or calves. McGrady even envisions a future where she can offer jewelry created with thicker wrists and fingers in mind. She wants to see these pieces on recording artists, movie stars. McGrady has her own rolodex of plus models from whom she'll purchase almost any garment on sight just because
they're
wearing it. She encourages brands carrying a size 26 to photograph a size 26 model, because there's many size 26 women eager to buy whatever she's selling.
"We've lived in a society where, for so long, only one type of beauty was represented, and representation doesn't just stop at size," she asserts, adding: "It continues with height and race and gender. It continues with body
types
."
While McGrady's own body has spanned every size from 2 to 20, it has steadfastly held its Aphrodite-esque hourglass silhouette—a shape that has afforded McGrady the privilege of a higher platform in the industry. It's one she intends to utilize to propel women of all shapes and sizes, because facilitating lasting change means "being loud and taking up space." Only when those models are recognized for the representation they offer women across the world can we forget about McGrady's dimensions and just see Hunter. In the meantime, Hunter McGrady's unshakeable comfort in her own skin will be her call to arms.
"My entire platform is letting women know that our bodies are the least important things about us; we bring so much else to the table. We are so worthy of success and feeling beautiful and empowered. But it can't just stop with me. We have to keep it going."
Top photo: Courtesy of Instagram/@huntermcgrady
Want more stories like this?
Meet the Los Angeles–Based Designer Making the Ultimate Elevated Basics
JJ Martin on the Importance of Spirituality & Finding the Beauty in Everything
Venny Etienne on His New Collection and Designing for Beyoncé's Black Is King