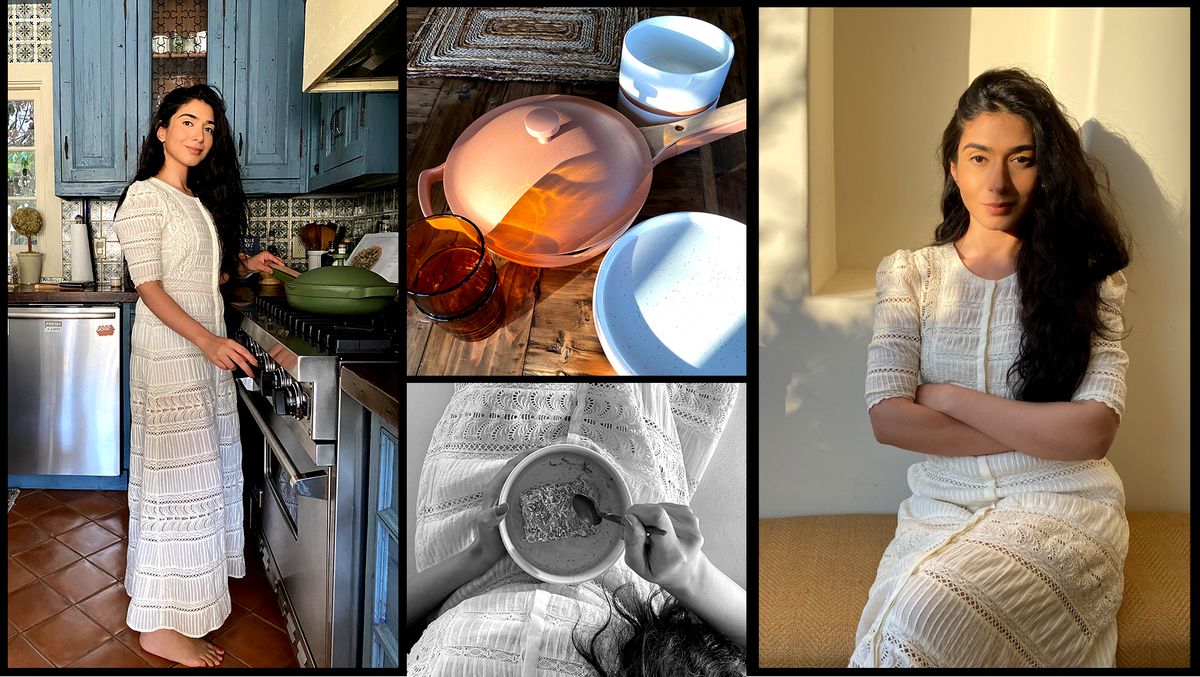 Career
Shiza Shahid on the Power of Cooking and Finding Ways to Give Back
Find out what she's been cooking these days!
One of the major shifts that has collectively emerged out of this strange new quarantined lifestyle is the value many of us place on cooking, whether that be sourdough toast or whipped coffee—sure, we'll call that cooking. The process of cooking is not only a source of pleasure, it's a task to keep you busy, a way to connect with others, and a method to keep traditions alive.
Shiza Shahid
is a huge proponent of the multi-faceted power of cooking, which is why she founded
Our Place
, a source for ethically made and stylish cookware. A Pakistani woman and immigrant herself, Shahid speaks of food and cooking as a powerful tool to connect with her roots. "Home cooking is this place where culture and identity and love and belonging live," she explains. The pieces in her line embody both American culture and all of these other important cultures that Shahid feels feed the American spirit.
The way she speaks about Our Place is like a proud mother; you know Shahid truly believes in every aspect of what she is doing. One of the original founders of the
Malala Fund
, she keeps this same ethos alive by finding ways to give back through her new business venture via funds that coincide with her own belief in the power and importance of cuisine.
Both cooking and giving back to the community are two seemingly unalike things that have had their importance underscored by the pandemic. We caught up with Shahid to see how she embodies both of those in her company and her life.
---
How do you like to start your days?

"The first thing I do when I wake up is grab for a glass of water, then I grab my laptop, and I start answering emails. I wish I could tell you that my morning routine was more inspiring than that—that I start out gratitude journaling or meditating, and one day I believe I will. At the moment though, I start urgently answering emails straight from bed!"

As someone who normally travels all the time, what has it been like to stay in one place for so long?

"It's definitely been challenging not being able to travel. I grew up abroad and lived in many different countries. I definitely see myself as a global citizen. More than that, my parents are 7,000 miles away in Pakistan and my sister is in London, so it's hard not being able to see family, but I know that they are safe and healthy. I try and stay busy through work, and I definitely feel very grateful that we're able to do the work that we do and have the impact that we're trying to have."

What initially inspired you to launch Our Place?

"We started Our Place because as immigrants we literally found our place in America by cooking and sharing food—having our friends come over and sharing our culture with them. We believe that there is something really powerful about the way in which home cooking connects us. You come into my home and into my kitchen, and you know who my grandmother was, and that's the power of home cooking. When all else falls away, we still cook what our mothers cooked for us and that their mothers cooked for them. Home cooking is this place where culture and identity and love and belonging live. So we wanted to create a brand that celebrated that. A brand that created products and experiences that allowed us to connect over home cooking and that celebrated the multi-ethnic American kitchen."

Has staying home full-time shifted your focus for Our Place? Has it shifted your own relationship with cooking or cookware?

"We started our business just a couple of months before the pandemic. It's been a devastating time for everyone, and we've been trying to support our team and our community. It's certainly given me a sense of purpose to be building Our Place at this time. I know that we're having an impact. I know that we're creating jobs. I also know that our products help bring comfort and joy at this time. My parents live far away and I don't know when I'll see them again, but I call up my mom and I ask her for recipes, and we connect over home cooking. At a time when so much is uncertain, there is just something really comforting to be able to create something with your hands, to nourish yourself and those that you love, and that's what we're trying to do with Our Place at this time."


Obviously your history with the Malala Fund was focused on giving back, but how have you incorporated that ethos into Our Place, as well?
"I've worked in women's rights and girls' education my entire life. I co-founded an organization called The Malala Fund that works to provide access to schooling to girls around the world. I, in partnership with our entire team, bring that sense of social justice to the work that we do at Our Place. We try to make better choices in all that we do. We source ethically and sustainably. We package our products in sustainable materials. We use recycled materials in our products. We also try to give back to causes we care about, like food justice and anti-racism work."
What are some organizations you believe in that our readers could easily get involved with?
"There are a lot of organizations that I'm passionate about that we've worked with at Our Place. We're passionate about food access issues and have donated over 200,00 meals to
Feeding America
. The
Equal Justice Initiative
is another wonderful organization working on racial justice and criminal justice reform that we have supported. We have also supported organizations that provide legal representation to at-risk immigrants like the
Immigrants Defenders Network
. We also like to get involved locally. We love the
Los Angeles Food Policy Council
that works on issues regarding access to food."
What are the most critical things you need to survive a workday?
"My everyday essentials are Our Place products. Things are a bit busy and crazy for all of us right now, but having great cookware and kitchenware makes my days more grounded and nourished."
Can you name your top kitchen essentials?
"My home-cooking essentials are all our products from Our Place. The
Always Pan
is what I use to cook every meal. It comes with an amazing nesting steamer basket that steams everything from veggies to dumplings (something I have been living off!). It also comes with a nesting spatula and lots of little details that make it easier and simpler and more joyful to cook at it home. We designed the Always Pan to be deep enough to make soup, but shallow enough to flip an egg. It's really intended for everyday use. It's beautiful and has a great non-toxic, non-stick coating that makes cleanup a breeze. I also love the stacking
bowls
and
plates
from the Our Place dinner collection. The hand-blown glasses are perfect for everything, hot or cold. I love our Molcajete, which we no longer carry—it's sold out. It was from our Nochebuena collection, hand-carved from volcanic rock. We create our essentials products, and then we create our tradition-ware lines, which are always limited-edition and made to celebrate a home-cooking tradition. Those always sell out fast, so I'm really glad I still have this one at home!"
Our Place
Our Place
Our Place
Tell us a little bit about your style right now. What's your go-to uniform? How does this uniform change if you are in the kitchen or on a Zoom meeting?
"Like most of us, I'm wearing a lot of sweatpants right now! I also wear a lot of cotton jumpsuits and linen dresses. I grew up in Pakistan, so bright cottons, linens, and embroidered prints are very nostalgic for me and always feel very homey. It's also summer in L.A., and I don't want to give up the chance to wear some summer dresses. So on occasion I'll put on a nice dress as well and feel a little bit more festive as I work from home."
Are there any new dishes you've been trying that help you unwind at the end of the day?
"I love to cook a lot of what I grew up eating—lentils, rice, dals, kitchari. But nowadays, since I've been so busy, I've been relying on a lot of frozen dumplings! I love ordering these chicken dumplings from
Chef Brandon Kida
, an amazing Japanese-American chef based in Los Angeles. They are absolutely delicious and have gotten me through some really busy days."
From a creative or entrepreneurial standpoint, who or what has been your biggest inspiration?
"I'm inspired every day by the women I grew up around who were fighting for women's rights in Pakistan and those who are fighting for equity and justice everywhere in the world."
In times of struggle or stress, what motivates you to keep working?
"I love the work I do, the mission and values that guide us, and the people who are my teammates. That is what inspires me to keep working as hard as I possibly can, day after day."
Photos: Courtesy of Shiza Shahid
Want more stories like this?
Eden Grinshpan Is Not Afraid to Get Messy with Her Food
Working from Home with Lashify Founder Sahara Lotti
How 6 Coveteur Staffers Approach Work from Home