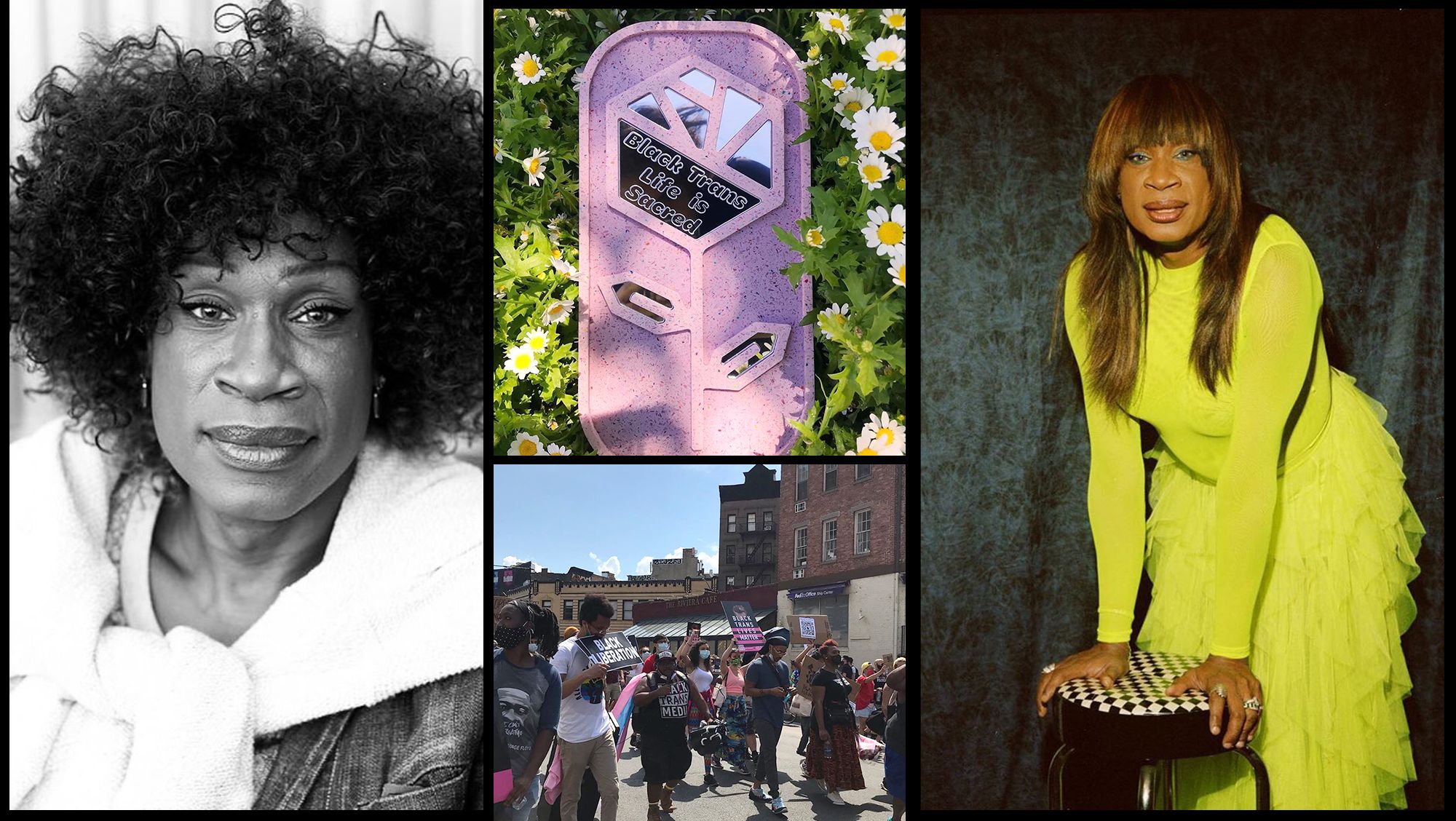 Career
Plus, how we can support Trans lives everywhere.
Graphics
Rachel Pickus
Each week we're checking in with friends to see how they're working from home and, generally speaking, surviving life right now. This week we had the honor of speaking with Ceyenne Doroshow, the formidable and fearless leader of G.L.I.T.S. Doroshow is a hero, donned in a cape and pink silk dress, advocating tirelessly each and every day for the rights and protection of the transgender community. After announcing at the Brooklyn Liberation Action for Black Trans Youth that her organization had raised over $1 million, Doroshow's work had just begun. Read below to learn more about this unstoppable force, who will not stop working until all trans lives are housed, protected, and given equity in cities across America and beyond.
---
How do you start your days?
"I start my day with a cup of coffee, and immediately, my phone starts ringing, my emails pile up—the amount of requests from people [is] overwhelming. At the same time, I get to laugh in between smoking a breakfast blunt—that's marijuana, by the way—and prepare to do the work at hand."
What is the top priority on G.L.I.T.S.' agenda at the moment?
"Equity. And developing what looks like sustainability for my community. Creating a housing unit that puts all things LGBTQIA at the top of the list. The top priority is community and making sure we have safe places to live and chances to sustain ourselves through education and have that be supported. To get training and develop a holistic approach for everyday living."
Talk to us a little bit about your work environment right now. Are you back in the office, or working remotely from home?
"We are all working remotely from home, if we have the ability to—it is still COVID-19. That being said, I have always worked from home because I have never been able to sustain having an office due to lack of support from those in power. Nevertheless, I am present in doing the work with whatever space I have at my disposal."
Through G.L.I.T.S., you're able to provide housing to trans people in need. Can you tell us a little bit about this and your goals?
"Through G.L.I.T.S. we were able to provide housing during the COVID pandemic. This newer approach to procuring housing has never been done before in a city as big as this, with all the LGBT orgs there are—no one has ever thought to do something like this. It is hard to think that my work is only now important, during a pandemic, but I have been doing this long before the pandemic
—
but no one seemed to care before this pandemic hit. My goal is to develop housing that centers the needs of our community and is created by the community."
What are the most rewarding parts of being a homeowner/property manager?
"The fact that this is the first time I have been able to have ownership over the process, this work has never been done before for a Black transgender woman, creating a housing unit. I have to draw upon my own life experiences and my trauma to build and create a productive living space for a community that has been marginalized and locked out of resources, housing—the list goes on and on."
At the Brooklyn Liberation movement, you spoke about the importance of owning property. Can you expand on that?
"The whole world, white people, people of privilege and power, middle-class, non-Black people of color, all denominations, have more or less been able to have equity and been able to purchase property and live sustainably. My community has lacked financial resources and access to the same opportunities to build sustainability because of the way we have been made the 'other' by society and barred from full participation, while everyone else has been able to build security for themselves. Having equity in NYC is very hard for my community. Housing is the key to tomorrow—it all can begin when you are safe and can worry less about your journey."
Any financial tips to help people achieve that goal of home ownership?
"I don't really have financial tips to give people—all of this that I have been able to manifest has been through fundraising for my community. Without a guideline, without a blueprint, figuring it out as I go. Many people have had the opportunity to do this, but have not—it's about what you are looking to accomplish when you are even able to raise one million dollars."
What are the most critical things needed to survive a workday?
"Self-care."
As the founder of G.L.I.T.S. and a trans woman yourself, how do you stay focused and motivated throughout the day?
"As a lady of trans experience, my focus is the work. When you are saving lives, you must always be in focus, you must wake up in focus. The question should be
How do I maintain focus?
Which I do by trying to provide peace of mind, through friends and family. It keeps me grounded, so that I can keep on doing this work."
It's more important now than ever to support the trans community. Aside from donating to G.L.I.T.S., what can our readers do to give back?
"Volunteer, hire us, train your staff to be inclusive, talk to the people in your lives and let them know we don't want anything different, we just want what everyone else has been allowed to have."
Who or what has been your biggest influence?
"My moms—all of them who have been my mentors, and the people I surround myself with that give me the strength to continue to do this. And that's Flawless Sabrina, Major Griffin-Gracy, Alex Andrews, Miss Chris, Shirley Rice, and the very first transgender woman who ever parented me, Dearee Dupree."
Let's switch gears for a minute. Tell us a little bit about your style right now. What's your go-to uniform? Does this uniform change if you are speaking at a protest or rally?
"My go-to style and uniform at my home is private. But my style when I step out is a nice pencil-skirt number. I like the finer things, and I do like to shop. And I like to dress accordingly and do the work in style and maintain a good image because I am now and always will be a stylish sex-worker rights advocate and whore. People that follow me know that I am a stylish person, and I usually try to match my style to my mood."
Finally, how do you unwind at the end of the day?
"I don't. I don't have time to unwind, I do not have time to breathe when so many of us can't breathe and haven't been able to for so long. The work remains heavy on my mind, even when I am having fun."
For more information on G.L.I.T.S. and how you can help,
please visit their website
.
Photos: Courtesy of Instagram/@doroshow
Want more stories like this?
Working from Home with Lashify Founder Sahara Lotti
Kendrick Sampson's Fight for Justice Is Only Getting Started
This Artist Is Changing the Way We See & Experience Flowers