Deskside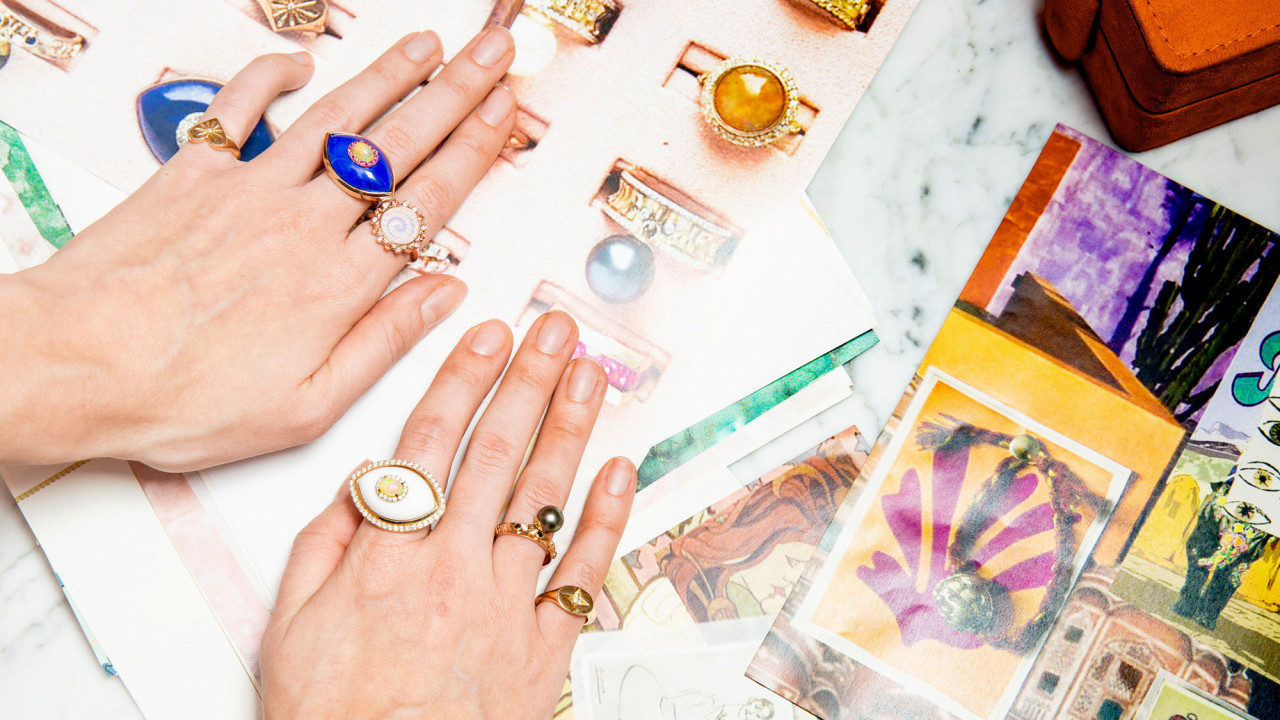 Shop 9 Pieces by Our Favorite Eclectic Jewelry Designer
And take a step inside her new West Village store.
There are few things we love more than a fantastic piece of jewelry, especially in the days of WFH loungewear overload. That's why we were immediately drawn to jewelry designer Jesse Marlo Lazowski's vibrant, eclectic pieces. Her collections reference history, art, and architecture from around the world—mementos of a life once lived that's perfect for our current quarantined state.
We caught up with the charismatic Marlo Lazoswki the week of her store opening. The store will sell Marlo Laz jewelry along with a selection of curated houseware that changes seasonally. Stroll to the back of the space, and you'll find a pink salon with even more alluring jewelry and a fantastic IG opportunity. We even got a glimpse of the new Zodiac collection samples that had just arrived. While many of us may not be able to physically visit her store at the moment, here's the story of how the brand came to be.
On the beginning of her jewelry obsession:
"Yes. So I was always obsessed with jewelry—my great aunt was an antique jewelry dealer, and she had an amazing antique jewelry store in Boston, so I grew up fascinated by everything that she had, and she taught me so much about jewelry. At like, 13 or 14 years old, my mom taught me how to hand-bead stuff at our kitchen table. I used to hand-bead these necklaces and bracelets, and I sold them at a store called In House in West Hartford. My first company was called Shop Girl, which is really ironic because now I am a 'shop girl,' and it's all come full circle."
On not studying jewelry design in college and how that has helped her:
"In the back of my mind I always knew I was going to go into jewelry, but I didn't want to study jewelry in college. I did my senior year of high school in Switzerland at boarding school, and then I went to the American University of Paris for three years and studied art history and communications there. So much of my work is inspired by different artists and different times of art throughout periods of art history.
"I love Art Nouveau. That's where all of our lettering comes from, around the '20s and '30s, like la belle epoque Paris. So the fonts and the movements and stuff is very much a part of the jewelry—and then a lot of Matisse is really the vibe. All the portraits of all the women and the 'more is more,' exotic vibe, that's also really inspiring for the brand, and just different things throughout history."
On her path after school:
"I graduated from school and came back to New York and knew I wanted to go into jewelry, but didn't know exactly what I was going to do. I was living at the Bowery Hotel, and I went back to hand-beading these necklaces with crystals. It was before everyone was doing all this crystal stuff, and I made every single one in my hotel room. My friends started wearing them, and we got a huge order from ShopBop when I was like, 21. They placed this huge order, so my mom and grandmother came in to help make every single necklace with me in my hotel room. But I wanted to go into fine jewelry, so I fulfilled that order, and then I went to GIA, the Gemology Institute. I got my jewelry design degree, planted myself on 47th Street for a year to learn manufacturing, production, and to design the first collection. We launched in 2014."
On the core pieces they launched with:
"We launched with our coins, which are still the mainstays of the collection today. One was the Talisman coin, which has international symbols of good luck that everyone, regardless of what language you speak, would recognize. There's the elephant with the trunk up, the horseshoe, four-leaf clover, and the sun rays—it's a reminder to make sure the sun always shines in. And then there is the Porte Bonheur coin. That was for luck, happiness, and all the good things."
On the Marlo Laz customer:
"They're someone who's very curious, very open-minded, very free-spirited. They're a traveler and an art collector. Definitely someone who is more of a trendsetter than a follower, but walks to the beat of her own drum and loves beautiful things."
On opening a store in the current state of retail:
"We were not planning to open a store—a lot of our success, especially early on, was from all of the trunk shows we were doing. We were basically always on tour, popping up at different people's houses. It was really amazing for us. Then last May we did a pop-up called Spring on Bleecker in this space with Land of Belle and our friends from Rack. It was a really great vibe of all these different brands coming together—two days in we were like, 'Oh my god, we need to have a store.'"
On the inspiration behind interiors:
"The inspiration started with Italy. Originally, I wanted to do an Italian palazzo, but that's really hard to do with 700 square feet in the West Village. It began with this Fortuny fabric and the Syrian mirror. There's a lot of really important Italian furniture in here, the Murano chandeliers, the curtains, and a table custom-made in Italy. I also spent a lot of time in India, specifically Jaipur, working with artists down there to make jewelry while I was still in school. So it's kind of a mix of all of the inspirations. Our first collection was called La Trouvaille, which is French for 'lucky discovery' or 'unexpected find,' and that's how we want the jewelry to feel, but that's also what we wanted the store to feel like, really a place of discovery, of inspiration and curiosity."