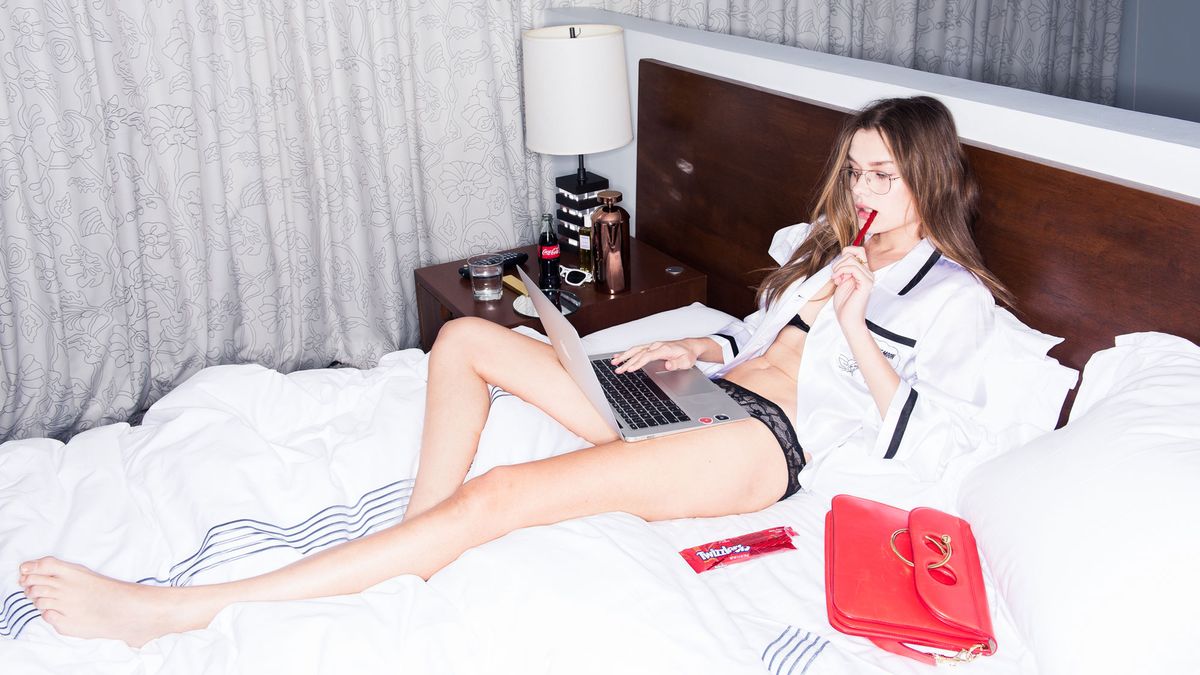 Health
How to find a therapist online—and why it might help.
Whether you have never seen a therapist in your life, or you got started on your journey of assisted self-actualization years ago, there's a good argument for therapy right now. Quarantine has brought with it a wave of global isolation, and in the wake of the anxiety and fear around the coronavirus, many of us have been left feeling—well, a lot of different ways, but suffice it to say that some of these feelings are difficult.

A therapist is not a one-size-fits-all situation, but you can't trot from office to office right now, interviewing therapists at will. This presents a bit of a problem for those of us who usually rely on all five senses to perform important life activities like picking a therapist, but it doesn't necessarily have to be like that, especially not at the moment.

We spoke with Dr. Amy Cirbus, LMHC, LPC, the director of clinical content at virtual therapy platform Talkspace, about how exactly one should go about finding a therapist online in the middle of a pandemic (never thought I'd write that phrase), and why it might actually be a good idea right now.
 

How to Find a Therapist Without Being Able to Meet in Person
To set yourself up for success, get honest with yourself about what you need. "To find the best therapist for you, be clear about what you're looking to achieve," Cirbus says.
Once you find a few possible options, do a little research. "Therapists will have their professional bios and backgrounds available," she says. It's especially important to ascertain that your potential therapist knows their way around a Zoom sesh. "Get a feel for their expertise as well as their experience providing virtual care," Cirbus adds.
It might be hard to settle on a therapist, but in this particular search (as in all things), trust your gut: "It does take some time to establish a relationship with your therapist, but after a few sessions, you know you
'
ve picked the right one when you feel heard and are looking forward to your next session," she says. 
How Do I Know It's Time to Track Down a Therapist?
Since many of us feel anxious or down more often than usual right now, it might be hard to gauge whether you really need to seek help. But you don't have to be completely melting down to consider reaching out. "The benefits of therapy go beyond someone in crisis," Cirbus says.
That said, there is one clear barometer: "Right now, a good gauge of when to seek out treatment with a professional is when you don't feel any respite between 'bad' days," she says. "It's normal to have highs and lows right now. Things are not normal and, for many of us, our lives have been turned upside-down."
It's time to find someone to talk to if those feelings are ongoing. "When we feel symptoms of anxiety or depression that don't go away, or we're having difficulty functioning in daily tasks, can't concentrate, and don't feel we're getting any moments of comfort or joy, these are signs it may be time to reach out for professional help," Cirbus says. 
Are There Alternatives to Virtual Talk Therapy?
In what I've come to call "real life," which is just life that involves touching people outside of your "bubble" and, I don't know, going to Pilates, talk therapy can be great. But since everything is virtual now, that means therapy is, too—and that's particularly unpalatable for some. But there are alternatives.
For example, though Talkspace therapists offer video calls, the primary method of communication is through text messages, video messages, audio messages, and pictures that you can send 24/7. It can be especially helpful for those who might benefit from an unconventional approach.
"Messaging therapy is an exchange of messages throughout the day between the therapist and client," Cirbus says. "As a provider, I explain it by framing it as an ongoing therapeutic conversation."
The steady flow of communication is part of the process. "Conversations look different at different points in treatment, but the ongoing connection within a safe space is where the significance lies," she says. "The therapy 'room' is a space for reflection, vulnerability, and sharing that truly opens up the pathways for healing."
And instead of just meeting your therapist once a week, you develop an ongoing vernacular. Plus, your therapist can put some thought into their responses. "Therapists can read their clients' thoughts and expressions, spend time reflecting on what they want to say and in what way, and then respond back," Cirbus says. 
Isn't It Isolating to Send Vulnerable Texts Into the Void?
In a word (or two), probably not. "The impact of the content from your therapist's response is the key," Cirbus says. "Your therapist is able to provide insight, reflection, ask questions, and dig deeper. When you feel seen and heard, you build trust."
From there, you'll be able to be more real. "That trust invites even deeper vulnerability and sharing," she says. "That's the power that creates lasting change."
And though Cirbus acknowledges that the process can feel bizarre at first, once you get used to it, you might find it works well for you. "It can seem strange to begin with," she says. "The therapist is skilled at helping you adjust to the pace and find a rhythm that works and feels comfortable. As therapy progresses, it becomes second nature." 
Who's Best Suited for Virtual Therapy?
Anyone is a good candidate for virtual therapy, especially since that's literally all we've got right now. But if you're considering Talkspace or a similar type of therapy, Cirbus says the service is particularly well suited for those who are "resistant or fearful of trying therapy…or who don't know where to begin."
In other words, if you haven't ever tried therapy before, "This is an easy way to get to know what therapy feels like," she says. 
This Is a Lonely Time. Can Therapy Really Help?
Straight-up, yes. You don't have to do this alone. "Therapy can help you learn to navigate this emotionally volatile time," Cirbus says. "You'll learn coping strategies that best fit you, and you'll find ways to leverage your strengths to be used now and for the rest of your life."
Plus, as you connect with a therapist, you'll develop a deeper understanding with yourself, which is useful for combating loneliness and feeling less isolated. "Finding a therapist that fits will help you feel more connected to yourself and to someone else that truly cares about your well-being," she says. We could all use a little more of that these days. 
5 Solid Virtual Therapy Services
Talkspace
Thriveworks
BetterHelp
Amwell
Pride Counseling
Photo: Shot on site at 6 Columbus, a Sixty Hotel. On Solveig: Pajamas, Morgan Lane; Bra, Fleur du Mal; Bra, Fleur du Mal; Underwear, Fleur du Mal; Rings, Azlee, Baker & Black.
Want more stories like this?
How Moon Juice Founder Amanda Chantal Bacon Is Staying Healthy at Home
Feeling Anxious? Try One of These Products for Some Quick Relief
Yes, It's Possible to Meditate Right Now