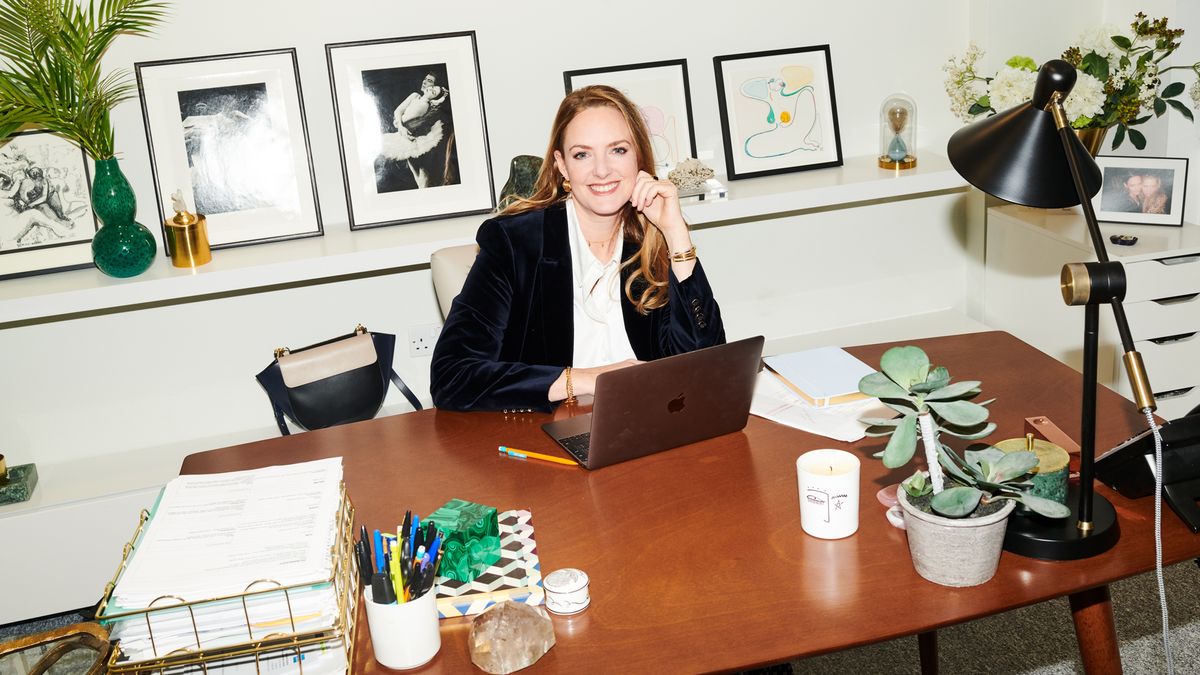 Career
The Creative Businesswoman Behind Our Latest Jewelry Obsession
How Marisa Hordern built Missoma, and the lessons she learned along the way. In collaboration with Missoma.
If the name Marisa Hordern rings a bell, there's a good reason. The spirited, London-based businesswoman is the founder and creative director of
Missoma
—the demi-fine accessories brand beloved by celebrities, fashion editors, and a global clientele alike. "We've been so lucky with how many people have worn and supported the brand," Hordern tells us from her Notting Hill office. That list includes
Meghan Markle
,
Cindy Crawford
, and
Margot Robbie
, who have donned Missoma everywhere from red carpets to grocery store runs—a testament to the brand's versatile, everyday appeal, and also it's quality. "Craftsmanship has always been very important to us," Hordern adds, noting Missoma's innovative production of gold vermeil pieces and sourcing of gemstones in Jaipur.
Chain necklaces, coin pendants, and earrings that can be mixed and matched for the perfect stack are among designs solidifying Missoma's place among today's most buzzed about brands. And how did Hordern get there? As she puts it, through perseverance, a commitment to responsible business practices, and "a lot of coffee!"
More on Hordern's career, business philosophies, and advice for aspiring entrepreneurs, ahead.
---
Where are you from originally?
"I was born and bred in London. I'm a total London girl!"
What did you study in school?
"I studied history at Oxford, which was the most amazing three years of my life. It has no relevance to what I'm doing today, but I don't think you necessarily know what you want to do when you're that age. I thought I was going to go into law or finance."
What was your first job?
"After graduation I worked for Richemont, and I thought, 'ok, I really want to work on the business side, but in a creative environment.' But when you go to a corporate head office, it's not creative at all—you end up being an analyst pushing numbers. I was on the international media team as a coordinator and it was a lot of group-aggregated buying. I could have gone to other brands but none of them had headquarters in London. Chloé is in Paris, Cartier is in Paris, and I wanted to stay in London near my family."
Shop the Story
Missoma
Missoma
MIssoma
How did the idea for Missoma come about?
"I was making jewelry on the side as a hobby, beading around the kitchen table with my mum. She's an incredible artist and we've both always loved arts and crafts. So we started beading around the kitchen table as a hobby—as a way to do something together—and it just picked up from there."
So how did it go from a hobby to a business?
"There actually wasn't a plan involved. If I could go back, I would probably plan it a bit more [laughs]. I was selling to little shops and then going to magazines showing editors my jewelry, and it just gained traction. It was selling really well and started getting into a lot of top stores. It was in Harrods, Harvey Nichols, Liberty, Fortnum & Mason, and then in lots of publications. This was at a time when demi-fine hadn't yet landed; we were one of the first. It took a lot longer than it should have because there was a real educational piece for people who were looking for something in between cheap, fashion jewelry and fine jewelry that was too expensive."
What does the name Missoma mean?
"It's a combination of my mother, Michelle, who I started the brand with, my sister, Sophie, who was also involved and would help bead—and she has a great eye, I still rely on her a lot—and I'm Marisa, so Missoma."
What are your workplace essentials?
"First of all, I have a chain strapped around me to keep my phone on me at all times, because all anyone ever says is that they hear me going through the office saying, 'Where's my phone? Where's my phone?' I go and sit with all the teams throughout the day, and if my phone isn't strapped to me, I'll leave it everywhere. I always have my notebook on me because I need to be able to write down ideas. And not just ideas, but also lists of everything I have to do; I'm a real list maker. And my ear pods. I literally live with one permanently in."
Shop the Story
Missoma
Missoma
Missoma
What's the most important business lesson you've learned?
"I can sometimes be too trusting, and I think I've learned not to just trust what people tell you. You need to dig into things yourself and make sure that you're completely confident that what you're being told is true—be it a report on numbers from a digital agency, or information about your attribution model. If you leave it to other people to tell you things, they only tell you what you want to hear or what they know, and you might be able to teach yourself more."
How has social media impacted the brand?
"Hugely. When we changed our model from a wholesale model back in 2014—quite early on before a lot of other brands did—we really embraced our online store and how we reach and speak to our customer, and that was all through social. It gave us a platform to see what they liked, what they didn't like, and what they wanted more of. It also allowed us to show the personality behind the brand. So it's helped us take control, which is really important."
Your team has grown to over 60 in the past few years. What do you look for in new employees?
"Culture fit is so important. If you don't have the right culture fit, it doesn't matter how good someone is, they can't come on board and be part of the team. It's all about teamwork here, and people need to work together and collaborate, and they need to respect each other and be inspired by each other. Everyone can teach someone else something, so you also want somebody curious who wants to learn. You don't need to a have a specific degree, but you need to have a great work ethic. You hope that everyone has a certain level of competency, but it's more about character fit."
What is your average day like?
"There's a lot of coffee involved [laughs]. I'm not the biggest early bird, so I wake up at about 7:30 and I snooze until 7:45. I normally have meetings from 9–5:30, and no two days are the same. I'm involved in everything from operations—and that includes warehousing, customer service, and merchandising—to digital marketing, the website, finance, and budgets. I often eat on the go, which is so bad for you. We're actually in the process of setting up a break room. It's so busy when you're at a fast-growing brand, and you need to make sure that you make time for yourself, even if it's just five or ten minutes. The frenetic pace can be exhausting."
What's your go to lunch order?
"I love Lebanese. Whenever someone comes into the office I'm like, 'Let's order Lebanese!' Recently I've been having the chicken salad from The Good Life Eatery."
Shop the Story
Missoma
Missoma
Missoma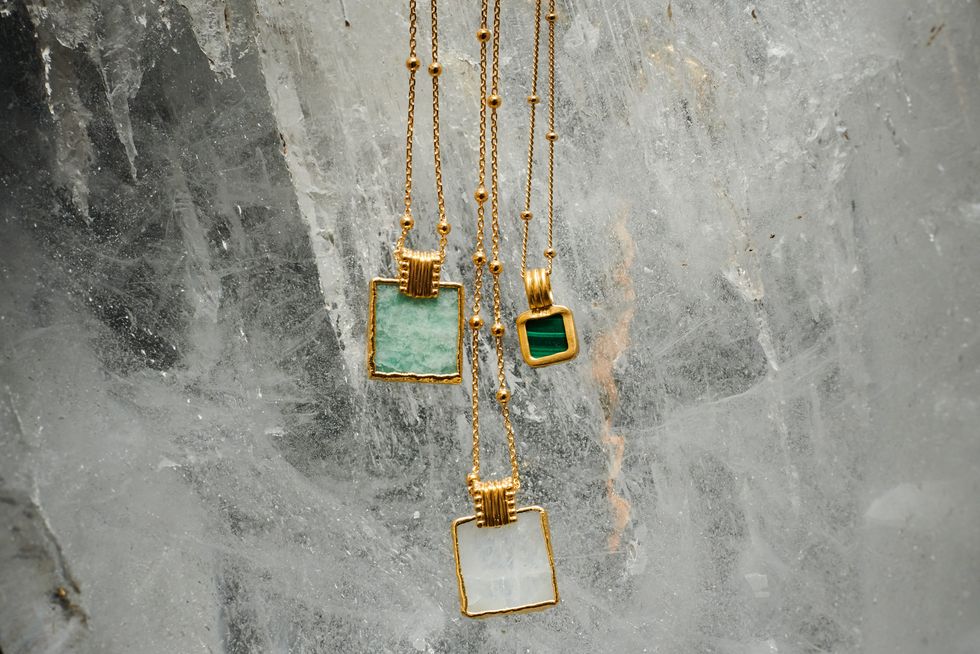 And what's your coffee order?
"It used to be a coconut cappuccino, and now it's an almond milk cappuccino. But to be honest, I'm not that fussy—I'll take any kind of coffee [laughs]."
Where would you like to see Missoma in five years?
"We're really focusing on our internationalization, and especially the U.S. We already have about 25 percent of our sales coming from the U.S., so we feel it's a natural fit. Of course, understanding the U.S. market is a massive thing. Texas is the size of France, so there are many different markets within the U.S. market. We're trying to grow there with as much research as we can, and we'll have to do a lot of test and learns.
"I'd also love to expand our mentoring. We already do a lot of mentoring within the company, but I want to build that out. I think it's really important to give back in that way, and I really wish that I'd had a mentor when I started this journey.
"We're also looking at other categories. I can't share details yet, but there are some exciting plans in the works."
As you've built the brand over the years, what are some highlights that stand out?
"The highlights are honestly about the customer. Someone once proposed with one of our rings. It's not the permanent ring, but he knew Missoma was her favorite brand, and it was the ring saying, 'we'll go choose a diamond together, but I wanted to give you this in the meantime.' That was wonderful. And just the other day, an actress told us that a piece of our jewelry was the first thing she bought with her first paycheck. We love that. We heard from one of our customers that her boyfriend calls her [Missoma pieces] her 'successories,' and we love that terminology. The jewelry is affordable, but it's still something you think about and save up for, and that makes it even more meaningful."
What advice would you give to aspiring jewelry designers?
"Perseverance is key, and for all entrepreneurs, not just jewelry designers. I persevered for about seven years until I really found that sweet spot of it all coming together—the right design, quality, and price point, how to speak to the customer, and people getting behind it and organically wearing it and supporting us. Everyone thinks, oh it'll be a three year thing or a five year thing—and some people get lucky and are successful right away—but that's not always the case. As you're building there are always new challenges, so you need to have the perseverance to handle those.
"With jewelry specifically, we've always made sure that all of our factories are audited by international bodies in terms of health and safety, social welfare, and pay. I think that's really important for any jewelry designer, to make sure that they understand their sourcing and manufacturing. Go into it with your eyes wide open. Make sure that you're doing it responsibly."
Shop the Story
Missoma
Missoma
Missoma