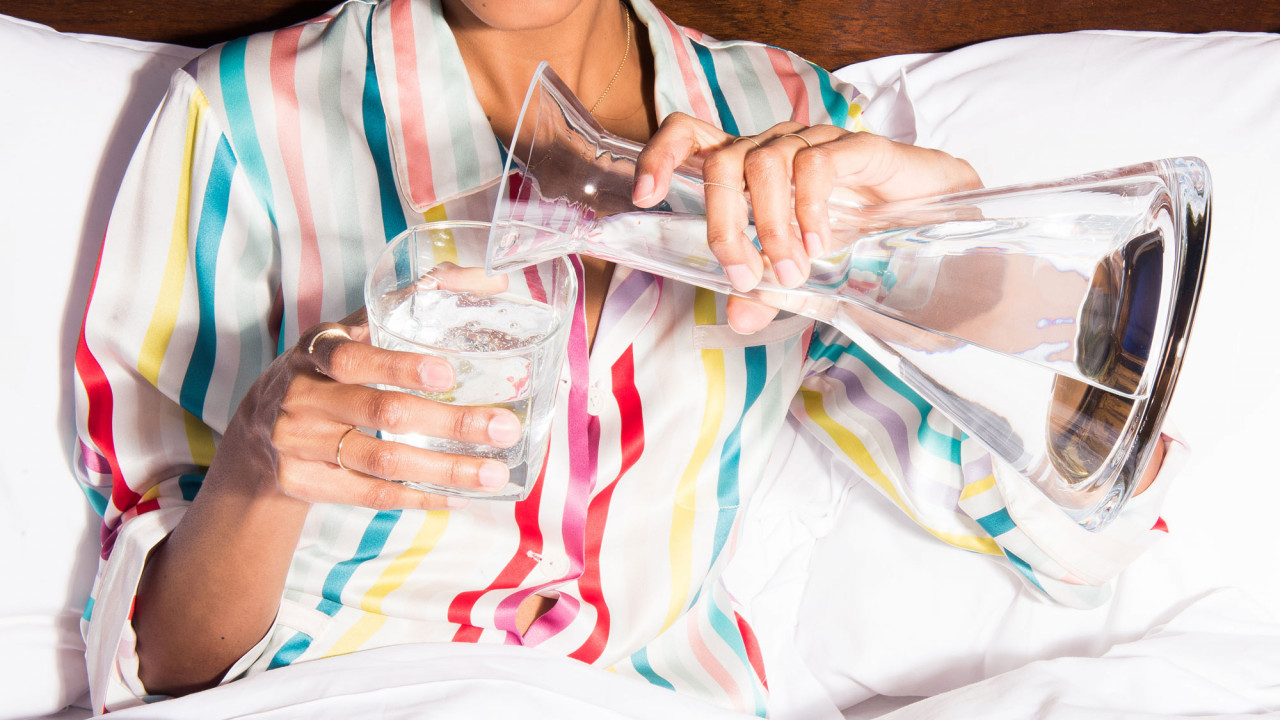 11 Inspiring Women on How They Start Their Day
One takeaway: Drink lots of water.
Whether you're a morning person or a perpetual snooze-button-er, what you do when you pull back the covers and get out of bed sets the tone for the rest of your day. Or at least that's what we've gathered from our rolodex of women who inspire us and are just straight-up killing it in life. Maybe we could learn a thing or two. Here's how 11 of them start their mornings.
"Every morning I wake up between 4:00 and 5:00 AM to start my day with a clear head and listen to podcasts. From there, I check emails, primarily from my EU clients, walk my dog, and mentally prepare for the day listening to Kirk Franklin or Marvin Sapp Pandora stations."
"The first thing I do in the morning is always try to drink hot water with lemon. And coffee. Lots of coffee."
"The first thing I do in the morning is drink a glass of water with a fresh-squeezed lemon to start my morning fresh. Then I make a lactose-free cappuccino and answer some emails.
"For breakfast, I start with a green juice and a fruit bowl with berries. Then a piece of rye toast with some goat cheese and lean ham."
"I do Bulletproof coffee—I've been doing it for a year and a half. That's what I generally do every morning for breakfast. If there's a day where I don't want to do it—a cheat day or whatever—we go to Sqirl, which is a restaurant here in Los Angeles. I get the Sorrel pesto rice bowl. I get the vegan one, and then I add an egg. [laughs] It's pesto rice with a ton of kale on top of it, and a perfectly poached egg. And then the hot sauce that she makes at Sqirl. That, to me, is the best breakfast ever."
"I drink a lot of water. I put lemon in my water. If I get up and do two glasses of water first thing, it's a good start to the day. If I was just to have a coffee first, I probably wouldn't drink most of the day. I make it my business [to drink water]."
"I make my bed. This is a new thing I've been doing for the last year and a half. I feel like if I have a chaotic morning and I leave my house a mess, my whole brain is sort of in shambles. That's sort of the first check. I do a little bit of a social scroll. I check out what's going on in the feeds, both for The Wing and for myself. I typically turn on the news—important to stay plugged in at all times. We're living in crazy times, so it's like, 'Oh, what surprising, chaotic shit are we going to learn today?' Then I start getting ready. I really like the fashions, if you will. For me it's always been a place where I can express myself. I learned from my mom to treat my clothes as art, and I just play around with it and have fun. And it also helps give me a bit of energy in the morning and makes me feel like I'm already creating."
"I have meal delivery, so I bring in my meals from my kitchen side door. I've been doing Kooshi Gourmet, and they have so many different meal plans: paleo, keto, vegetarian. It's really good. I've found that doing a meal plan really helps to keep me on track, so that's been my go-to for the past couple of months."
"[The one thing I do every morning is] make coffee. I can't get out of bed. I have a cat that wakes me up every morning at 6:30 AM, and I want to throw the thing across the room [laughs]. Actually, I feed the cat first thing and then I make coffee."
"I always have a bottle of water next to my bed, and that's the first thing I chug. I think it's super important to stay hydrated, and nothing clears my skin up more and gives me energy like water.
"My mornings are just for me. I like to wake up pretty early. My boyfriend is a night owl, so those are my hours to just be with myself. I usually wake up three or four hours before I have to be at work, so that I have that time to sit with my coffee and think about the day. If I'm stressed, I like to write down goals. Things that I have to do so that my brain doesn't have to fully scramble around everything—it's good to put down on paper and see what the day is all about."
"[Conscious deep breathing]. Three breaths in, hold, then out. I drink 500 ml of room-temperature water. Smile.
"I then drink 500 ml of water and lemon juice, get dressed, wake up my boys for school, and make a healthy breakfast. I mix another 500 ml of water and ice or coconut water with my Super Elixir Alkalising Greens and take it with me when I take the boys to school."