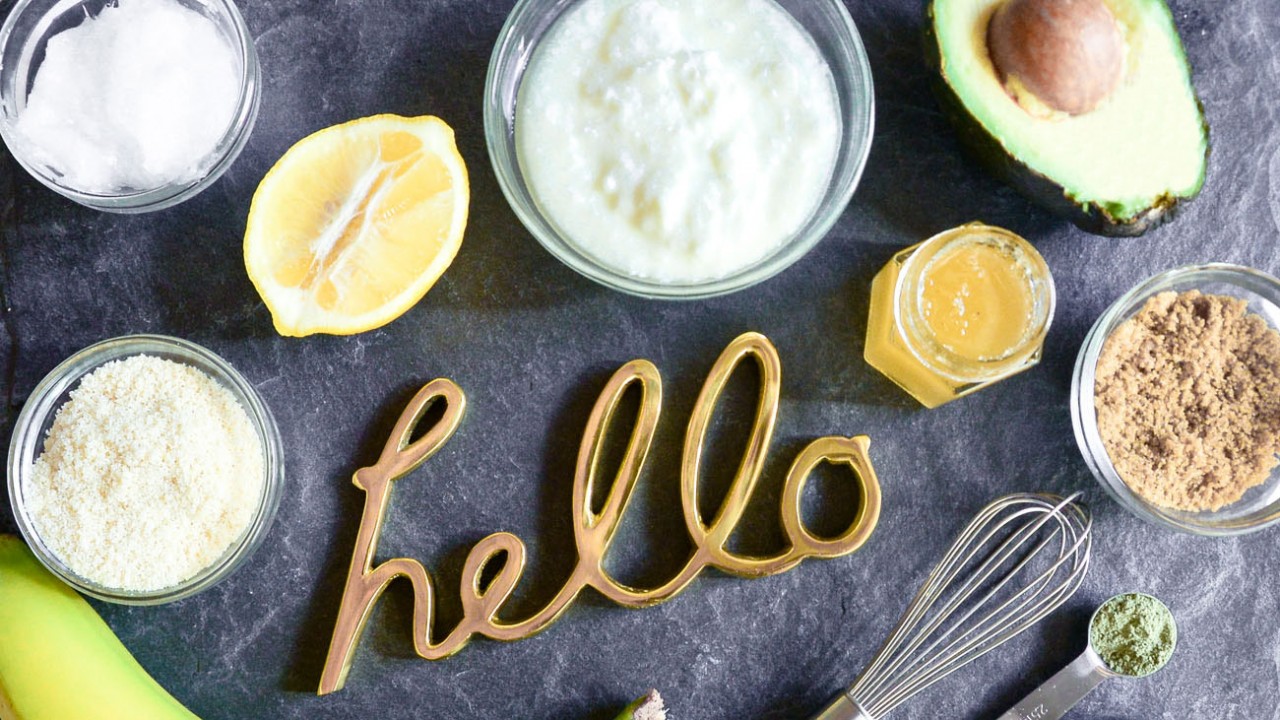 5 DIY Beauty Recipes for Flawless Skin
Let Lorna Jane Clarkson help you raid your pantry for some serious at-home skin game.
If we're being completely honest, the whole "Do It Yourself" Pinterest movement hasn't always reaped the most picturesque—or even edible, for that fact—results. You know, like that seven-layer rainbow cake you tried to make for your niece's birthday, which came out looking more like a doughy Jackson Pollock. Sound familiar?
But there must be something behind ditching store-bought, mystery-ingredient-filled products and ransacking our fridges instead, right? It kinda follows the same ethos of healthy eating—no chemicals, whole foods, healthy fats, vitamins, et cetera—and since we've already spent so much time deciphering what to put in our bodies, figuring out what stuff to put on them should be no problem. And given that that's pretty much the maxim of Lorna Jane Clarkson, founder of her namesake activewear brand, for staying healthy inside out, we had to have her mix up a few of her most effective at-home and all-natural skin-care recipes.
We mean, there's also something to be said for the mere convenience of it all. Because let's be real, we pretty much have all these things in our pantries right now; meaning no grocery trip needed. Score one for watching Netflix in our underwear.
---
BLACKHEADS BEGONE!
INGREDIENTS:
1⁄2 lemon
3-4 drops raw honey
DIRECTIONS:
Banish those blackheads in five minutes flat with this quick and easy skin remedy. All you need is half a lemon and three to four drops of raw honey. Rub the lemon on your face, emphasizing those problem areas (nose, chin, etc.). Leave the lemon-and-honey mixture on your face for five minutes, and rinse with cold water. You will see results immediately as the lemon juice fades any marks/spots and the honey helps restore moisture back to that beautiful face of yours.
---
BROWN SUGAR COCONUT BODY SCRUB
INGREDIENTS:
1 tbsp raw honey
2 tbsp coconut oil
1 cup brown sugar
1⁄2 cup sea salt
2 tbsp fresh lemon juice, plus
1 tbsp of your favorite essential oil
DIRECTIONS:
Combine ingredients in a bowl until it forms a paste. Apply to moist skin in a circular motion using your fingertips to help get rid of dead skin cells. Rinse off with warm water. Nourish your skin with your favorite moisturizer for super-smooth, glowing skin.
---
HONEY & OAT FACIAL
INGREDIENTS:
2 tbsp natural yogurt
1 tbsp raw honey
2 tbsp dry oatmeal
1 tbsp ground almonds
squeeze of lemon
DIRECTIONS:
Combine all ingredients in a bowl to form the exfoliating facial scrub. Massage gently onto face, and rinse with warm water. Finish with some moisturizer.
---
BALANCING AVOCADO FACE MASK
INGREDIENTS:
3 tbsp green clay powder
1 small avocado, mashed
1⁄2 small cucumber, finely grated
1 tsp fresh lemon juice
DIRECTIONS:
Combine ingredients in a small bowl. Cover and chill for at least 30 minutes. With clean, dry skin, apply a thick layer to your face and neck, avoiding the eye and lip areas. Leave for 10–15 minutes, and wipe skin clean with a damp cloth.
---
EXFOLIATING BREAKFAST MASK
INGREDIENTS:
1 tbsp raw honey
1⁄4 banana, mashed
1 tbsp Greek yogurt
DIRECTIONS:
Combine ingredients in a bowl, and apply to face for 15–20 minutes. Rinse off with cool water, and pat face dry. That's it. The yogurt and banana work together to exfoliate the skin, while the honey has antibacterial and moisturizing properties to give you that luminous glow.