How Turmeric Helped This CEO Find Her Calling
Cheers to more black women in wellness.
Career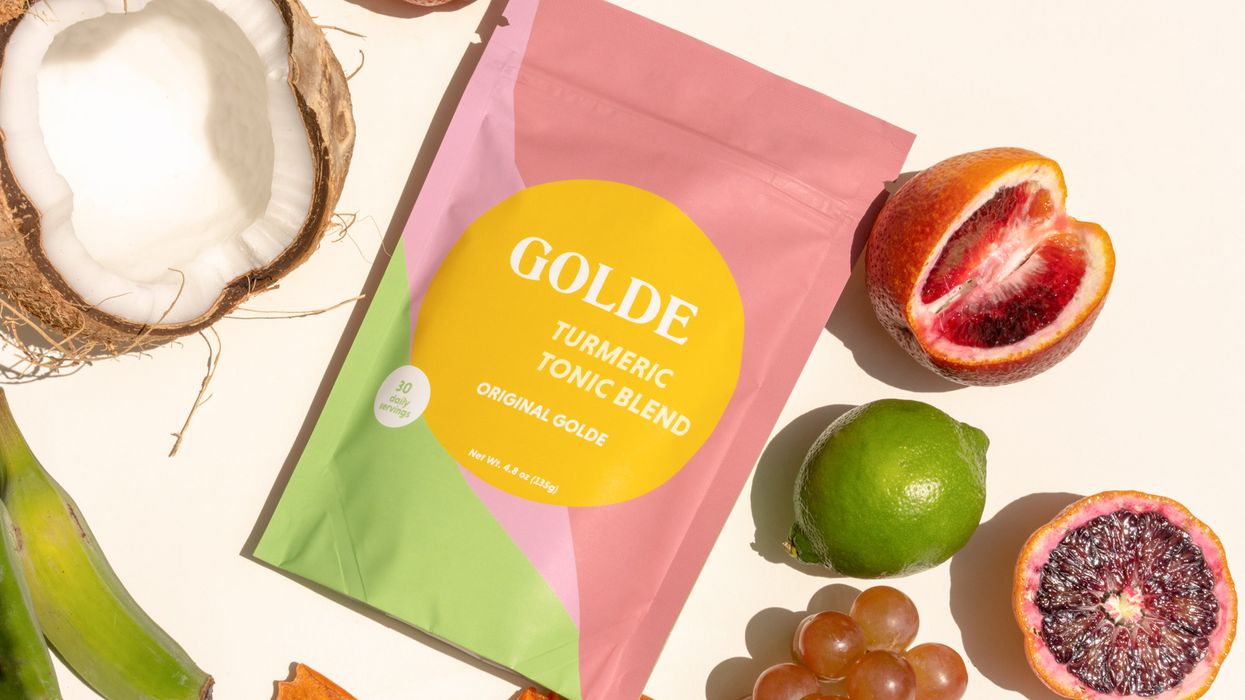 Maintaining a healthy diet, especially in NYC, can be challenging, to say the least—if not ignored altogether. The number of wellness supplements on the market to assist with this is daunting (shakes! bars! weird teas promoted on Instagram!) and, not to mention, expensive af when you try to implement them into your diet.
Enter
Golde
—a line of wellness tonics I can *finally* get behind. Weekly visits to my favorite coffee shop in Brooklyn and one of Golde's stockists, Homecoming, introduced me to the brand
'
s brightly colored packaging, which further intrigued me to try it out. After furthering my research on the brand and becoming obsessed with their aesthetically pleasing
Instagram
, I found the tonic-blend company to be small but mighty. Golde keeps everything in house and yet, has managed to gain major retailers like Urban Outfitters in only the two years they've been running. And the CEO,
Trinity Mouzon
, decided to walk away from pursuing a medical degree to be in an industry where few black women are at the helm of their own brand.
We got a chance to chat with Mouzon about how Golde came about, what it's like to be a black woman in the industry, and how she taps into her creativity.
---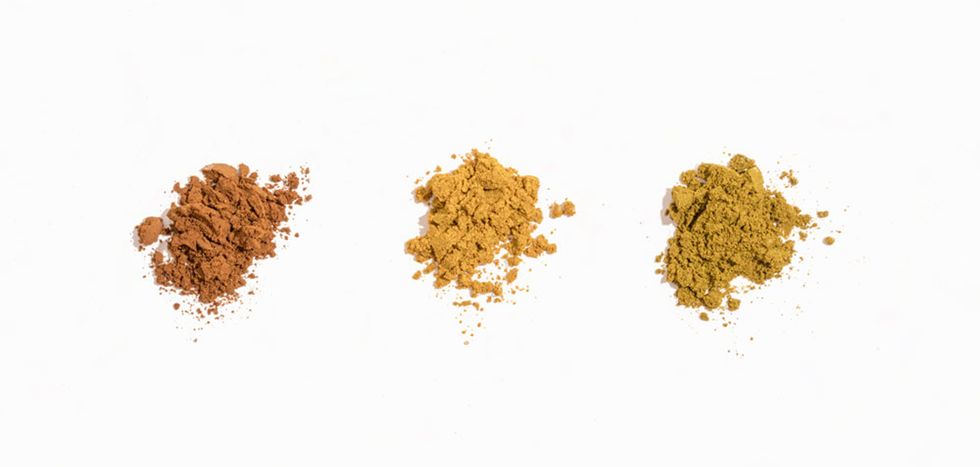 Photo: Courtesy of Golde
On how the current wellness industry made her feel:

"I felt a little frustrated by what was being offered at the time. It sort of felt like you had to commit to either this crunchy granola kind of brand, or something so luxurious that it was like, really unattainable. Our goal with Golde was to build a brand that had a high standard for effective, delicious, [and] easy products, but we also wanted to present it in a way that felt approachable and vibrant than what you're seeing in the market."

Why she chose turmeric to lead her brand:

"Turmeric is something that we were really excited to launch with. It's super anti-inflammatory, so that basically means it's good for pretty much everything. Inflammation is the route of most issues that you might be having with your health or your skin. So consuming an anti-inflammatory product is really beneficial to balancing any of your points of inflammation. Whether that's coming out in some breakouts in your skin, gut issues, or being really sore after a workout, it really targets those areas. That's what's really incredible about the product, and we're really excited to be sourcing everything sustainably—everything is organically grown, so it's really high-quality."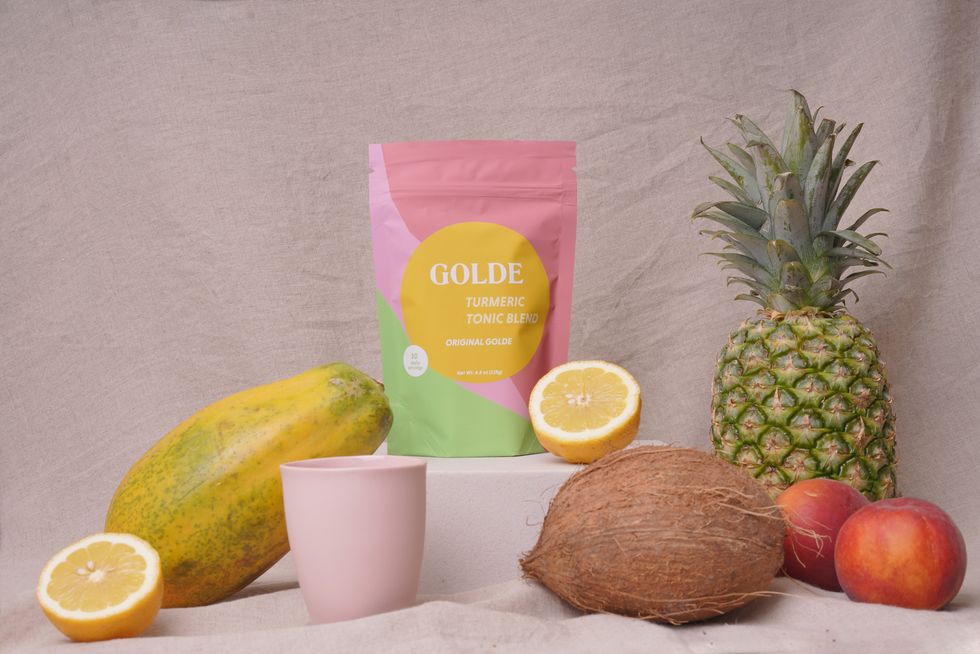 Photo: Courtesy of Golde
On the Golde journey:

"I co-launched Golde with my longtime partner, and he serves as our creative director, and I serve more as our sales and marketing expert. It started off very, very small, [and] we put a couple thousand dollars of our own savings [into the brand]. We didn't know where it was going, but we wanted to see what we could do, and we built it entirely from scratch. We worked with a friend who is a designer to help us get set up with Illustrator because we didn't even know how to use this program. It was very much a grassroots effort, from the ground up. Within that first year we found a really strong response in the market.

"People were really excited about the idea of a brand taking wellness and making it a little approachable to consumers. Within that year we had inquiries coming in from really big retailers like Urban Outfitters. Since we first launched the original Turmeric product, it really has been a journey of thinking about the larger vision of the brand. Which is how can we take this whole world of wellness and make it exciting to the wellness consumer. There is definitely a big push to expand our product line and really just think about the world of superfoods as a whole."

On how she chose the tonic blends to provide:

"As far as our tonic blends go, we have three different varieties, and they all feature turmeric and cater to different things. We really think about that when we're planning our product lineup, like what superfoods we're going to work with and how they are going to benefit the body. The tonic blends include coconut milk powder, so as soon as they hit hot water they get really creamy. That's the inner way to do it, it's really simple and as easy as making a cup of tea. But if you want to get fancy with it, you can add it to your morning smoothies and put it in your oatmeal."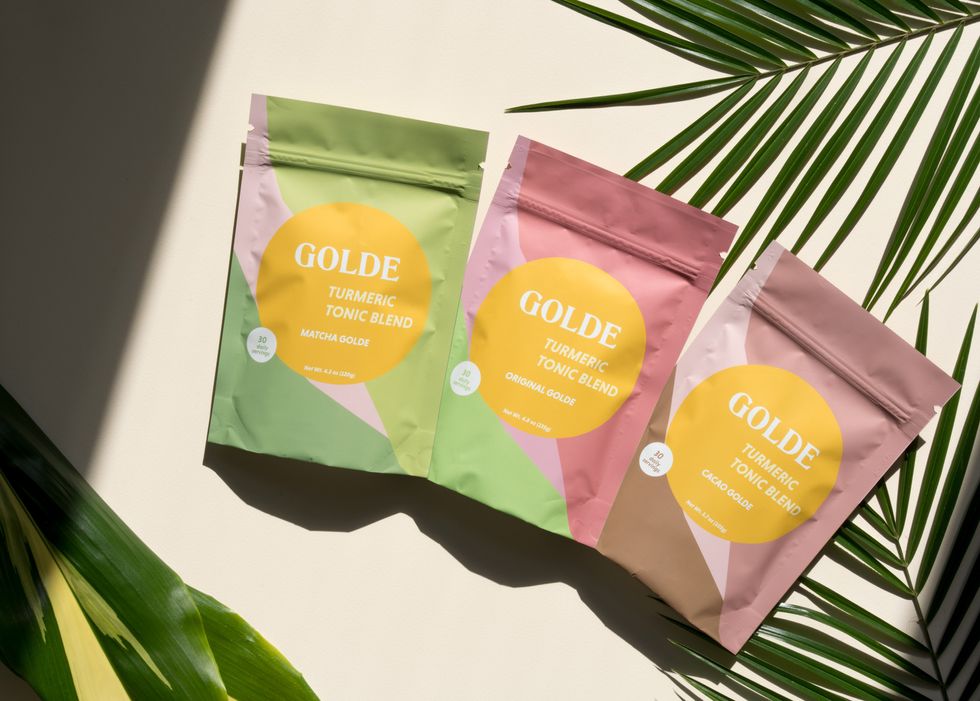 Photo: Courtesy of Golde
On rediscovering her creativity:
"It's interesting for me to come from med school to building a brand because I was forced to turn off my creative energies over the years being in school. [In school] you're sort of taught this idea that [if] you want to be successful, you need to have the hard skills of learning and the soft skills of being able to design something. When I started working in marketing, [that] was really crucial for opening my perspective back up to my own creative energies and what I was capable of on that front. It's been such a fantastic opportunity being able to be hands-on with designing everything, carrying out the brand tone, which is all in-house"
On black women in the wellness industry:
"I think a lot of the themes are consistent for black women, no matter what industry you're in, because it's rare you're going to be somewhere professionally [and] you're seeing people who have similar experiences to you. The wellness world is still very, 
very
white. I am one of the only black woman founders in the wellness space that I am actively aware of, which is frustrating. It's interesting [because] I think that there is a lot of room for growth there. In general, I often look to the beauty industry as sort of a model that hopefully the wellness industry will follow. I think that in beauty we are seeing a lot more WOC founders starting to lead the way and really driving important conversations around inclusivity. I am honored to be one of the few women of color in this space and hopefully inspiring more people of all backgrounds to get involved in wellness [to] set a standard for more inclusivity."
Photos: Courtesy of GoldeWant more stories like this?
This Skin Care Brand Is Breaking Barriers for Black Women
Our Favorite Products from Black-Owned Beauty Brands
The Biggest Makeup Trend in 2019 Is Gender Fluidity