WWWRN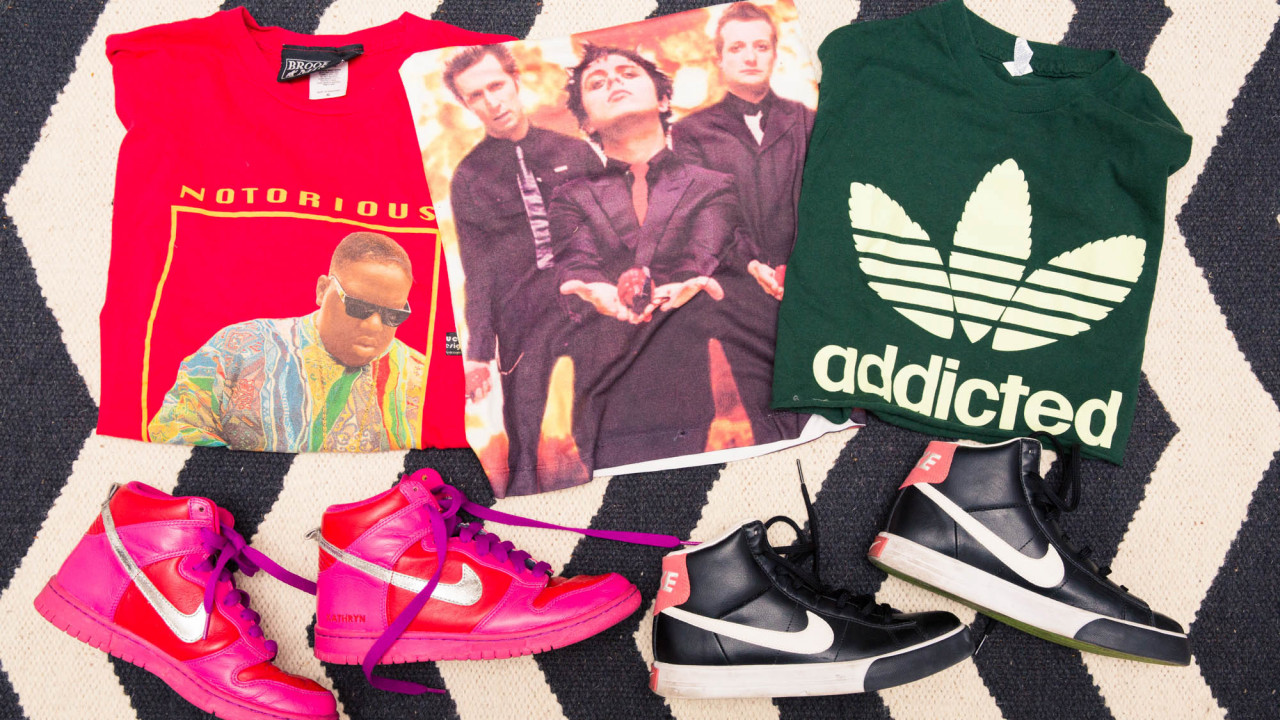 21 Nostalgic Pieces Our Staffers Are Shopping Right Now
Brighten up your week with a mood ring or 60-piece scrunchie pack.
In the last year or so, it seems that every trend from the '90s has resurfaced. Everything from scrunchies to butterfly clips, platform sandals and sneakers, tennis skirts, jelly shoes, baby tees—you name it—have come back. And at Coveteur HQ, we've leaned hard into our nostalgia. Below, all of the pieces we're currently adding to our shopping carts that are making us reminisce about the Tamagotchi era.
---
Gabby Sgherri
Editorial Intern
1. Prada Re-Edition 2000 Nylon Bag: I've been going through a vintage bag obsession lately, and I was trying to find a good Prada one (harder than you think). But then Prada read my mind and released a re-edition of the 2000 nylon mini bag, and they're oh-so-cute. It's small, but you can fit all the essentials inside (lip gloss, phone, wallet).
2. Versace Barocco Scrunchie: Scrunchies are one of the best fashion trends to reemerge in the last few years, IMO. They cause less breakage than an elastic, they don't leave a ponytail dent, and they double as a cute accessory. This Versace one is the holy grail of scrunchies. The Barocco print is so nostalgic (think Gianni era), and it's 100 percent silk, which is even better for your hair. You're welcome.
3. The M Jewelers Bamboo Hoop Earrings: I love hoops—thin hoops, tube hoops, oversized hoops—but one of my favorite styles is the bamboo hoop. They first became popular in the '80s when hip-hop artists like Salt-N-Pepa were seen wearing them. Fast-forward to 2020, and they're still a staple. I love this pair from The M Jewelers because they're the perfect size (not too big) and lightweight.
---
Jodi Taylor
Editor
1. Orseund Iris Leather Belt w. Chain: Who else had a drawer full of these grommet-filled belts growing up? I know I definitely did, and I'm beyond thrilled that they're coming back. This one in particular caught my eye because of the added silver chains. Come to me!
2. Jordan 1 Retro Satin Black Toe: From the second this retro'd release was announced, I was planning my attack on how to get a pair. Thankfully, I succeeded, and every time I wear them it puts a smile on my face.
3. Are You Am I Cyll Super Fine Chain Choker: OK, so my chokers in high school were definitely not as cool as this one (or real gold, for that matter), but any choker makes me feel nostalgic these days. And truthfully, I feel like in my late 20s I deserve to upgrade from a stretchy plastic choker (you guys know the ones) to a fine chain.
---
Jessica Teves
Head of Content
1. Balenciaga Thong Sandal: I've been on the hunt for a casual thong, and these are the chicest ones I have found that truly nod to my former high school aesthetic. Now I'm just counting the days until it's warm enough to wear them.
2. Scrunchies: I have too many to mention, but my overly processed blonde hair loves a good scrunchie (no breakage over here!), and this 60-piece multicolor pack from Amazon is a whole lotta bang for your buck.
3. Frame Leather Culottes: I've always had a love-hate relationship with culottes—they can be so tricky if styled incorrectly—but this tailored pair from Frame has such clean lines they feel like a fresh (but familiar) update to my winter look.
---
Hannah Baxter
Senior Beauty Editor
1. Fendi Baguette Bag: I got a whiff of this reemerging trend a few years ago and was lucky enough to score a vintage embroidered baguette in L.A. However! I would not have said no to this dreamy style, again with classic F logo. Welcome, friend.
2. Chunky Dr. Martens: Dr. Martens are timeless. I stand by this, but the platform style has made a big comeback since its '90s heyday. I might own this style in three colors (white, black, and maroon), so it's safe to say I'm a serious fan. Throw them on with a floral maxi dress, or lean into the grunge vibe with some cropped ripped jeans and a zip-up fleece.
3. Lip Gloss: Ultra shiny lips usually surge in popularity any time matte lips have a moment, and I'm happy to see that it's making a comeback now. Dior Beauty's new lip oils are an elevated version for a sleeker, sultry finish, but the color payoff is just as juicy as your old Bonne Bell Lip Smackers.
---
Noah Lehava
Director Lifestyle, and Talent
1.  Carolina Bucci Forte Beads Moonbow Necklace: One of my most prominent memories from my pre-teen days was sitting on my bedroom floor, listening to the radio (remember the ordeal of making a mixtape? ugh) with my Jazzy Jewelry kit, rolling colorful paper into beads and mixing them with my rainbow stockpile of plastic beads. Carolina Bucci just gave my nostalgic beaded necklace a huge, luxe update with her semiprecious-stone necklace.
2. Chrome Hearts x Bella Hadid Hellz Bellz Sunglasses in Blue: Also part of my late '90s/early aughts wardrobe were frameless colored-lens sunglasses (mine featured a tiny crystal heart). I'm so into Bella Hadid's remake with Chrome Hearts. I'll take one in every color, please.
3. Yves Saint Laurent Vinyl Couture Mascara in I'm In Trouble: Nothing made me feel cooler than wearing blue mascara to school or the mall. Same goes for right now.
---
Rachel Pickus
Social Media & Affiliate Coordinator
1. Mondo Mondo Mood Ring: Upon the turn of the century, my most favorite things to gift and receive were mood rings. While I admit my mall-sourced bling was always a murky shade of yellow (brb, looking up what that means), it was a sartorial staple. With a nod to my past self, I'm eager to enter the new year with a bit more clarity. Every little bit counts, right?
2. Clyde Lambskin Bucket Hat: In a recent attempt to mend a bad hair day, I stress-bought a bucket hat. I'll admit, bucket hats are a dime a dozen on the streets of NYC, but I'm fully aligned with their 21st-century resurgence. Now it's time to expand the collection with this buttery leather number.
3. Ganni Leopard Print Scarf: I'm declaring the silk scarf my unsung hero of the early aughts. Do the research, and I'm sure you'll agree. The silk scarf possesses the power of added handbag flair by day and a world of crop top possibilities by night. It's basically a carry-on gal's secret to traveling light, and I'm stocking up!
---
Annie O'Conor
Audience Development Manager
1. Ganni Soft Wool Knit: The cardigan resurgence is one trend I never knew I needed. Although I used to dread wearing the matching sets my mom insisted my sisters and I all wear—I can't get enough of these. With infinite styling options, there is nothing better than looking cozy and chic.
2. BaubleBar Hair Clip Set: Seen on runways and in my elementary school photos, hair clips have returned. These childhood hair accessories are not only functional, keeping hair out of your face, but they can update any look with one snap.
3. LoveShackFancy Jansen Top: With Victorian origins and a major revival in the '80s, the puff sleeve is making the rounds again. I really love the ultra-feminine look a billowy sleeve can add to a top. This LSF top is the perfect combo of maximalism and effortless style. Here's to sleeves staying voluminous.
Want more stories like this?
Welcome to Studio Coveteur
10 Sneakers Releasing This Month
The 2010s Trends That Changed Fashion Forever
Part of the series:
WWWRN