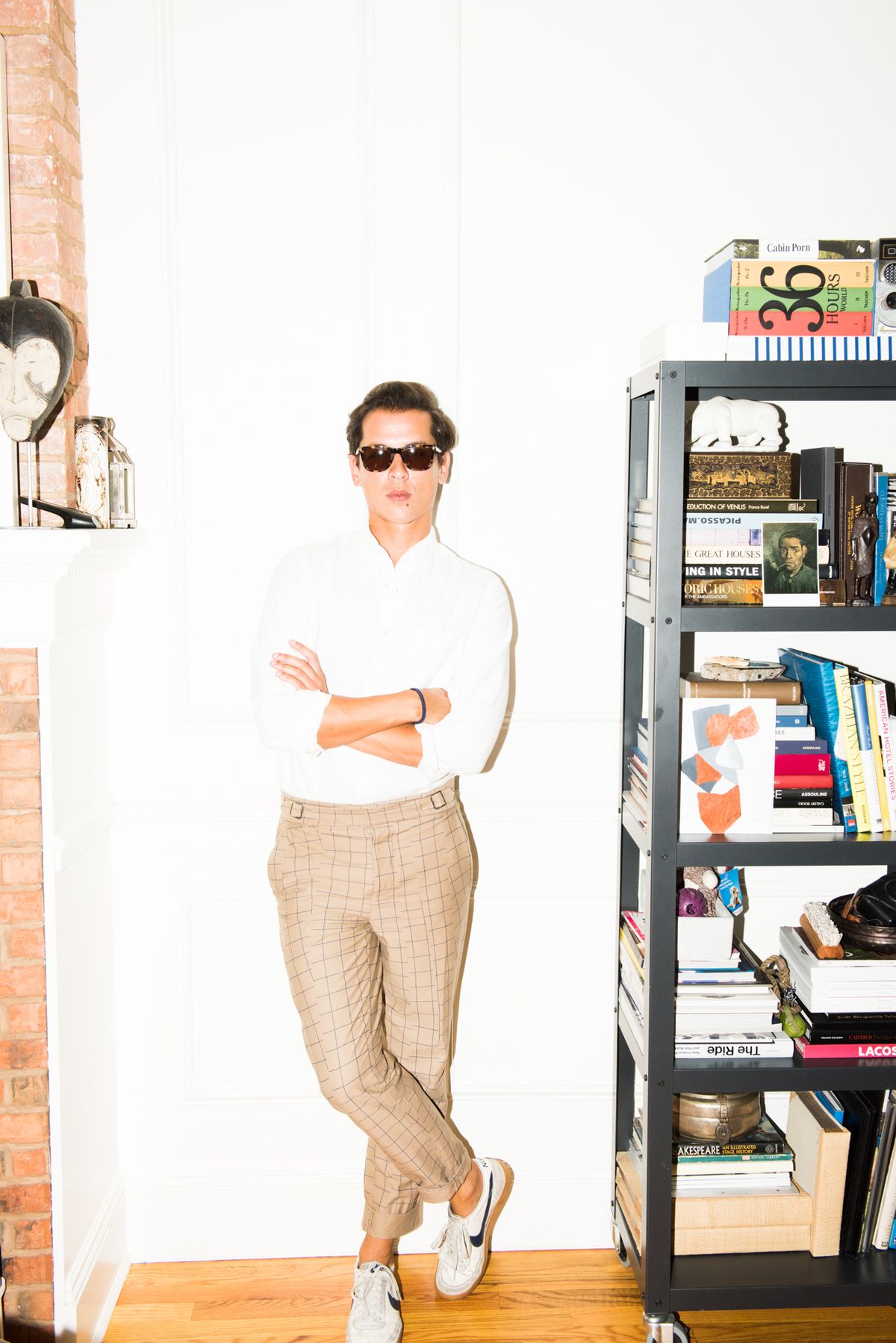 Closet
With touches of Comme des Garçons and fitted suits. New York.
Alicia Cesaro
Picture this: a six-year-old boy in Brazil rocking a leather biker jacket and aviators. Got it? Perfect. Because this, guys, is
Luigi Tadini
—co-founder of
The Gathery
, previously of
Paper
magazine, creative other half to business partner
Nicky Balestrieri
—in a nutshell. "I don't know how I saved enough to buy a leather jacket, probably by skipping lunches. And I've been skipping lunches for leather jackets ever since." See what we mean? Tadini is one of those people whose stories we could listen to
all
day long. Which is essentially what we got to do when we stopped by his Williamsburg apartment—after espressos, scones, cuddling with his rescue dog, Alicia (as in Silverstone), and more espressos. In typical fashion, we ended up chatting about anything and everything—his recent holiday to Italy, his time spent as the market director at
Paper
, seeing The Gathery reach fruition, his most sentimental item, his dream party—before we remembered we had actual Coveteur-ing to do. And yes, Tadini's home is as impeccably decorated as you would expect, mostly with mementos of his travels around the globe (a plastic toy, a vintage camera, a 100-year-old print), which adorn the two bookshelves that hold both years of memories and his envy-inducing book collection. It all made our jobs just a little bit easier and was an excellent backdrop for Tadini's wardrobe, as well. Although he's one for a uniform—chinos, white t-shirts, espadrilles—there's a bit of splendor woven in, too, in the form of intricately embroidered Phillip Lim jackets, Gucci sweaters, a polka-dot Comme Des Garçons rain slicker, beautifully tailored suits in white, navy, and black, and, of course, half a closet full of beautiful coats. We mean, what else would you expect from the six-year-old Brazilian-Italian boy who grew up saving his money for leather jackets?