WWWRN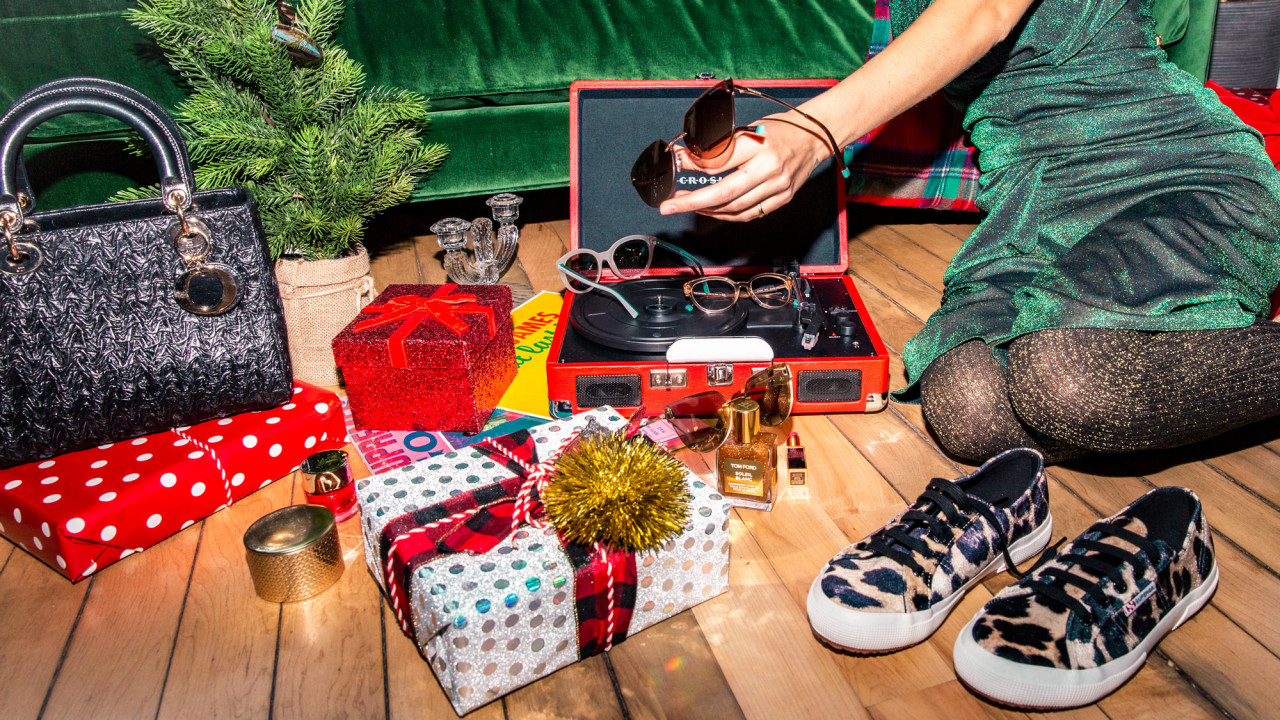 Everything on Our Self-Gifting List This Season
If there's one gifting moment we have down this season, it's this.
The self-gift⁠: It's decidedly a thing. While well-meaning gifts can certainly try, no one knows what you *really* want quite like yourself⁠—so why not act on that? There are pieces and products we go all year watching, and now is the time to finally treat ourselves to them. There's nothing to fuel your fingers hitting the Buy button quite like an end-of-year YOLO moment.
With that spirit in mind, we went around the office and solicited Team Cov for the extra-special items they've had their eyes on⁠—and boy, did they deliver. Here, the handful of items they're itching to finally pull the trigger on. We'll be lurking their Instagrams through the end of the year just waiting for them to make an appearance.
---
Jodi Taylor
Editor
1. Alix NYC Elridge One Sleeve Metallic Bodysuit: I'm a sucker for a well-fitted bodysuit, and whenever I find a good one-shoulder option, I can't resist. Something else I love? Sparkles. I need something to shine in all the way into 2020.
2. Superga White Nappaleau Sneakers: I'll be buying myself white sneakers for the rest of my life. I wear at least one pair a week, so it only makes sense to gift myself these white leather babies. You'll find me pairing them with track pants until the spring, and then it's months on end of summer dresses and white sneakers. In collaboration with Superga.
3. Han Wen White Naomi Mini Shoulder Bag: A handbag is always on my list of things to gift for myself (one can never have too many, right?), and this mini Han Wen shoulder bag is the one I've had my eye on. Multiple compartments and straps? Sign. Me. Up.
---
Jacquelyn Greenfield
Editorial Production Fellow
1. Fendi Scented Nano Baguette: I have a weakness for Fendi, and their first scented bag is number one on my list. The fact that it's a nano baguette is just perfect—the smaller, the better is my MO, and the bright yellow color is everything and more.
2. Tiffany T Cat Eye Sunglasses: I'm planning to go on a warm and sunny vacation after the new year. Typically, I compromise my eyesight by wearing non-prescription sunglasses, but not this time. I'm planning to treat myself to these gorgeous silver-frame sunnies that'll go with everything. In collaboration with Tiffany & Co. Eyewear.
3. Aimé Leon Dore Full-Zip Polar Fleece: I've been wanting a zip-up fleece jacket for quite some time, and instead of continuing my procrastination in buying one, what better excuse than to gift myself for the holidays? This jacket's pockets and functionality will be perfect for those days I just grab my keys and wallet and head out of the house.
---
Meagan Wilson
Associate Creative Director
1. Jemma Wynne Ring: Jemma Wynne is one of my favorite jewelry designers, and this signet has had my heart—yep, I did that—for a very long time. Time to make her mine!
2. Endy Mattress: While I've already taken the liberty of treating myself to this one, that means I can confidently say that upgrading your sleep situation is an instant life upgrade. I was long overdue for a new mattress. Thanks to its light, breathable foam, Endy's is firm and supportive, with just enough give to feel plush and indulgent when you fall into bed at the end of an exhausting day. I swear the quality of my sleep each night has improved, too—and if you can believe it, I now actually relish making the bed.
3. Clé de Peau Concealer: As a concealer freak, I can verify that the hype is very real around this one. It's the most buttery, beautiful formula that you can apply anywhere—like in the back of a moving car in the pitch dark—and have it seamlessly melt into skin. For this reason, I make sure to re-up annually.
---
Hannah Baxter
Senior Beauty Editor
1. Dries Van Noten Shoulder Bag: Buttery-yellow perfection—that's all I can say about this bag. Except to add that it's about 75 percent off, and I just got whiplash reaching for my credit card.
2. Khaite Jo Cashmere Blend Sweater: I treat myself to a few nice cashmere sweaters every season. I'm supersensitive to wool, so it's an investment I'm more than willing to make. The oversized pointed collar is also to die for, so say hello to my new baby.
3. La Mer The Concentrate: I know this stuff is a big-ticket purchase, but my skin drinks it in, and it gives me a glassy finish like nothing else. Every year I indulge in a new bottle to last me until the following December. Do the same, and watch the compliments roll in, fast.
Part of the series:
WWWRN