Interiors
Adam Hunter's home is pure #inspo.
Tristan Kallas
If you don't know
Adam Hunter
by face, an
Architectural Digest
buff likely knows the self-taught
interior designer
for his work. The homes he's worked on include those of Neil Patrick Harris, Christina Hendricks, and his original "big break" Kate Somerville—and many have been shown in the pages of the glossy. He calls his look "restrained drama." Think floor-to-ceiling built-ins, deep jewel-toned velvet couches, and a smattering of bold patterns.
---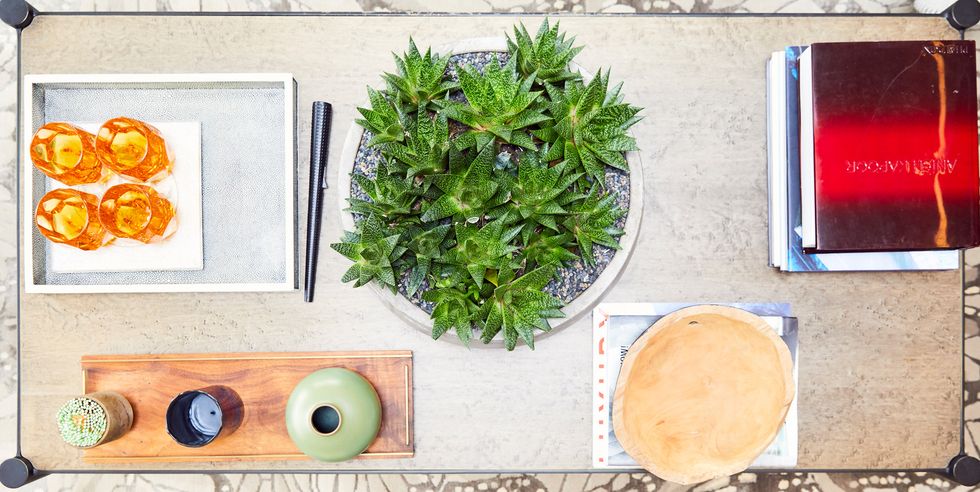 "I come from a showbiz family—hard to believe, I bet," says Hunter with a wink when we meet him at his West Hollywood condo. He's full of fluster and excitement, shifting furniture around so it looks just so, and exclaiming with greetings as we enter. His wide smile is that of a showman. "I was on Broadway for 10 years and lived in Manhattan. I still identify with my Wall Street apartment. Now I'm feeling there's a fusion of the two worlds coming. That's my next step, being bi-coastal and maybe even finding a way into something like a 'design hunter' show for CNN." His
25 thousand Instagram followers
would probably be down.
But design was in his blood from the beginning, growing up on the same street in Chicago on which famous furniture designer
Holly Hunt
lived, and going to estate sales with his mom. "I didn't go to Parsons, I'm not formally trained," he explains. "I used to help all the Broadway stars—we'd go flea-marketing on the Sundays before the shows. But when I started to do interior design in L.A., I wasn't telling people about it. I was going off for acting jobs and sort of embarrassed to talk about being an interior designer."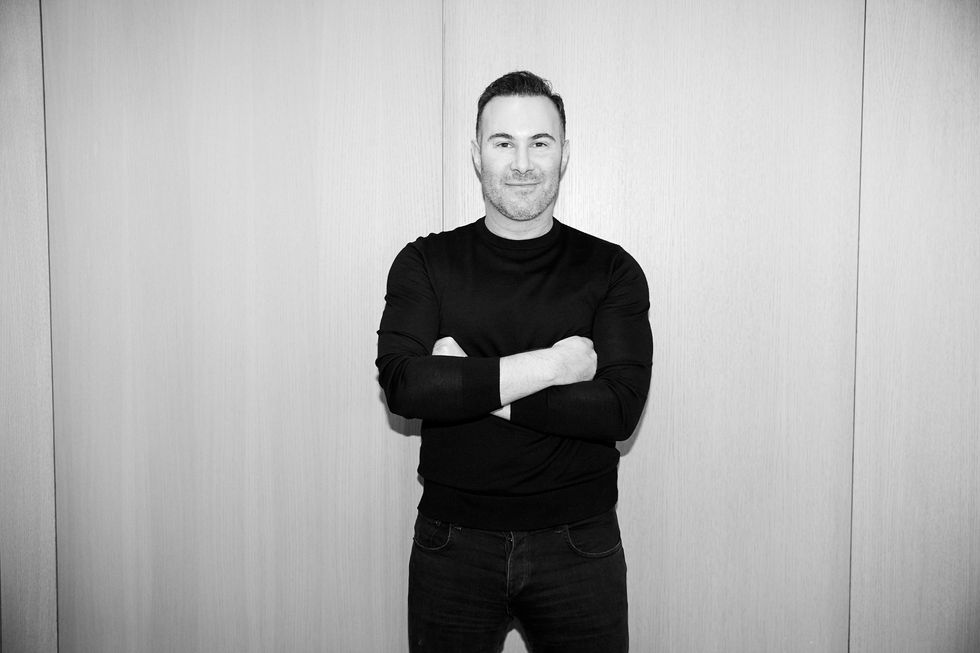 One successful project for a celebrity led to another, however, and then that brought him to the "hedge-fund-quiet-private-people world," as he puts it, while we hover over his massive marble kitchen island. "You can't advertise [that you work with that type of client] as much, which is killing me," he says. "I'm finishing this project of three years in Nashville—a 400-acre horse farm—it's my biggest project to date. But the ultimate luxury is privacy. My client in Amalfi spent hundreds of thousands of dollars trying to not be 'Google-able.' And it still didn't work."

I'm curious what lengths Hunter has to go through to talk a client into a good idea when six figures and months, even years, are on the line. "You have to be a little bit of a psychic," he says. "For example, we have a new great big client, and they want everything beige and white. I'm like, 'You don't. You're actually really cool hip people wearing a cool CHANEL bag, and you've looked at my work, and that's not really what I do.' My big phrase is: 'Trust the process.' I have it in neon above my desk in my studio."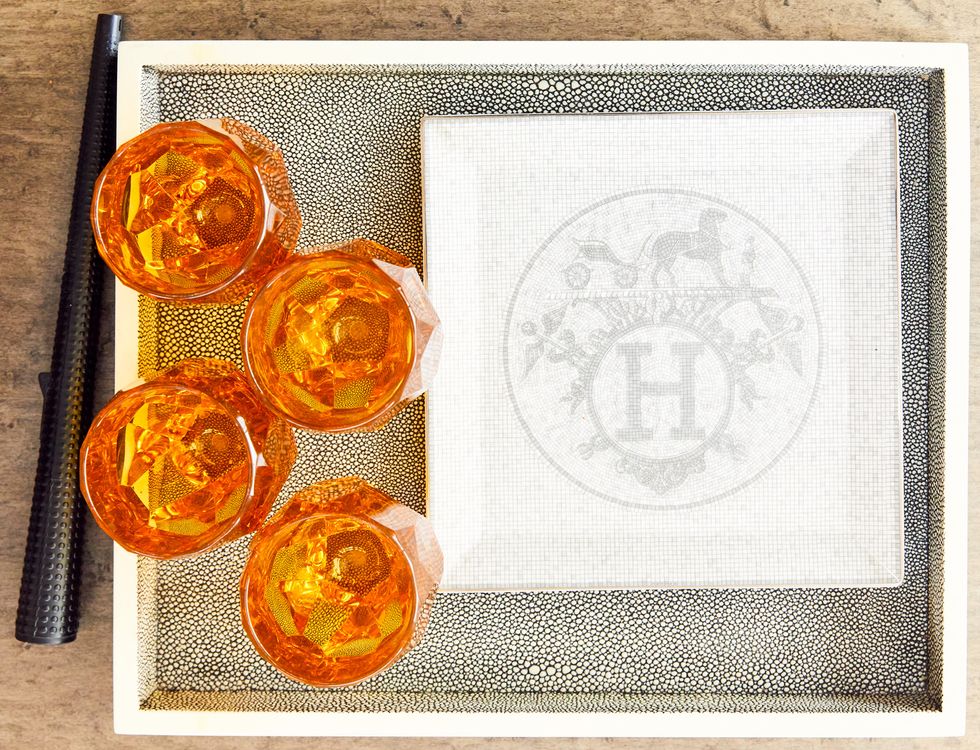 These days the once-solo Hunter now has a full practice and growing team that helps execute his projects big and small. "We have a very, very cool office," he says. "I'm extraordinarily proud of
the ladies who work for me
. What's more important to me than being an interior designer is having these people who have been with me for years and years and years feel like my family."
Which leads us to a tour of his own one-bedroom corner condo, where he's lived for two years. "With this place, I was able to really do what I love to do, which is juxtapose," he says, showing us pieces around his apartment by
Bec Brittain
,
Holly Hunt
,
Paul Villinski
,
Kimberly Denman
,
Luteca
, and
The Rug Company
, as well as pieces from
West Elm
and a statue his mother found the day he was born. "People who inspire my design are Steves Jobs, Una Malan...David Collins, who did The London nearby here. He also uses blues all over. That's for me. Dramatic."
Want more stories like this?
How to Make an 800-Square-Foot Apartment Feel Twice as Big
Inside a Lifestyle Blogger's Dreamy Brooklyn Apartment
17 of the Most Glamorous Bathrooms Ever