Career
These Are the Most Beautiful Ceramics on Instagram
Rachel Saunders on her minimalist designs and career trajectory.
Guy Ferguson
On the days when mountains of emails, copy deadlines, and appointments feel beyond overwhelming, we've often fantasized about giving up our roles in the fashion industry in favor of creating something more tangible
—
something with our hands that doesn't require a keyboard. While many of us may dream of pulling a 180 on our career paths, few have the drive to actually see it through to success. But such is the case with 
Rachel Saunders
, who left behind her job as a visual merchandiser in L.A. to start her
eponymous collection of ceramics
back in her hometown of
Vancouver Island, Canada
.
---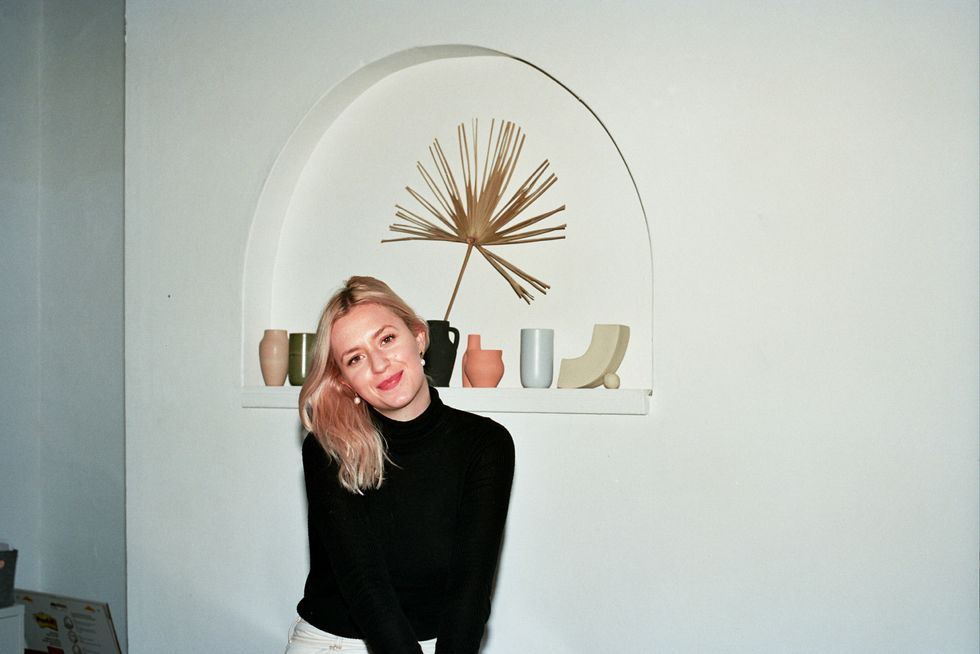 There's a good chance you've already seen Saunders' elegant, minimalist pieces on Instagram—they're painfully photogenic—her Woman Vase being among her most well-known. "When Trump got elected, that made me feel kind of powerless," she explains, calling from her West Coast studio. "I didn't intend for [the piece] to be any kind of political statement. I just loved the functional aspect of it." The rest of her line contains an array of simplified abstract shapes in either the natural cream shade of the stoneware, or with a black, blue, or periwinkle glaze. "I focus more on the form and shape and function. I really like to showcase the beautiful inherent characteristics of the clay bodies. They're all from the Pacific Northwest, where I live, and I just think it's so amazing that I'm working with something that literally comes from the ground I walk on."
But how exactly did Saunders leave behind her burgeoning
career in fashion
to design and manufacture ceramics full-time? Sometimes all it takes is trusting yourself to jump ship when your current position
makes you unhappy
. As she says, "I spent a lot of time daydreaming in my job down [in L.A.] and just got it in my head that I was going to come back [to Canada] and start something totally new to me. I had taken pottery classes before I left and really fell in love with the medium. So I was just like, 'Hey, maybe I'll
—
maybe I'll do this.'" Keep that in mind the next time an urge to start a new hobby arises.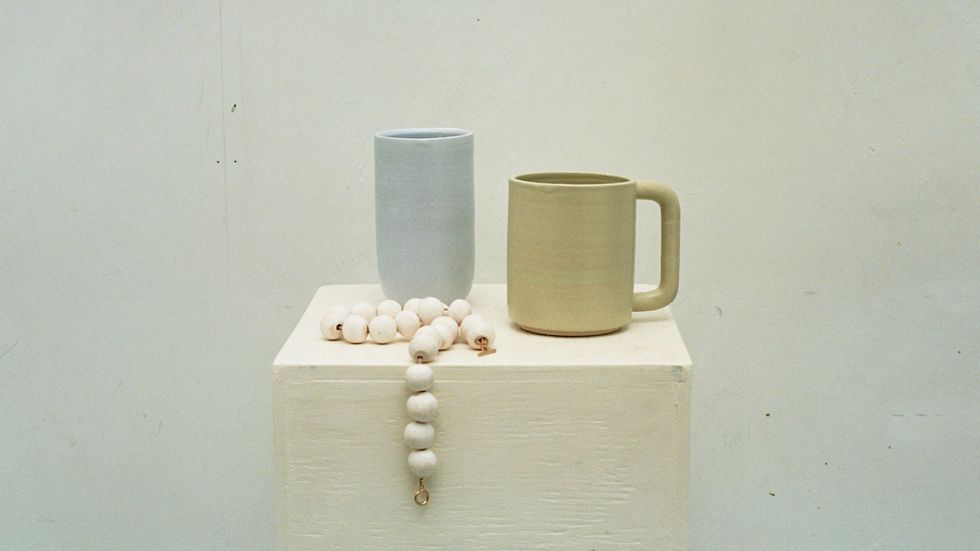 Now, five years later, Rachel Saunders Ceramics is helping to lead what some might consider a small business revolution. "There's definitely a huge wave of people tuning into being more mindful with what they consume and how they consume it," she says. "I feel like it's taken off more so than ever in the last five years, [especially] since we are such a voyeuristic society now. We like to look at other people's homes and bedside tables and show off our own. It has two sides, but I think there's a positive side to that sharing."
And with two assistants added to her team (she admits to experiencing some severe burnout earlier this year due to the shop's success) and a jewelry collaboration with Wolf Circus continuing through the new year, Rachel Saunders fans will be pleased to hear that there are new items beyond vases and mugs and more collaborations coming soon. "[I'm] delving more into fashion and wellness and things that kind of elevate our day-to-day life," she says. "I'm just really looking forward to working with more people and branching out in a bigger way." Whatever form that takes, we'll be anxiously awaiting the next phase of Rachel Saunders Ceramics.
Want more stories like this?
Coming Soon NY Is About to Inspire Your Next Home Makeover
Dreaming of Your First Birkin? Caitlin Donovan Can Help with That
Opening Ceremony's Brand Manager on the Importance of Building a Personal Brand