WWWRN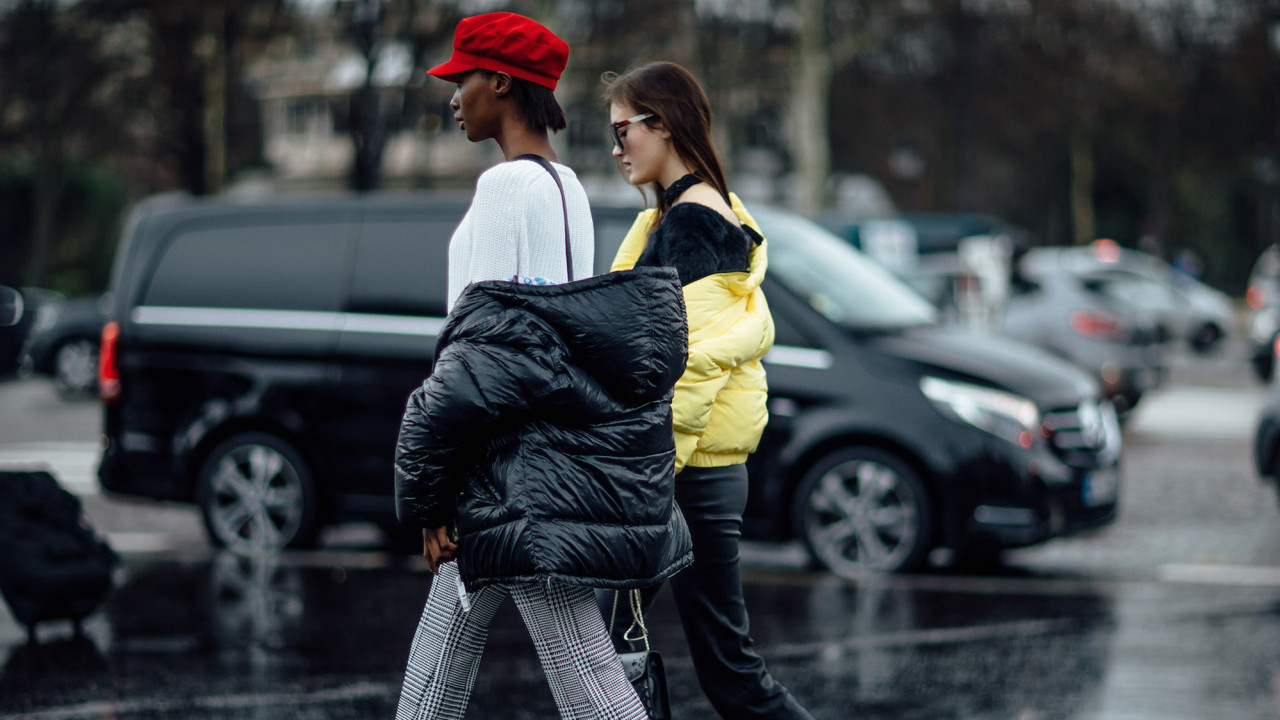 How 7 Editors Style a Puffer Jacket
Keep cozy with our favorite pieces of the season.
We're not sure why winter decided to arrive early this year, but here we are, shivering in our transitional dresses and velvet mules. And although we hate to admit it, when you live in a city that requires you to be outside for a good chunk of your commute, a puffer coat is sort of non-negotiable. But you can still look cool and stylish, we promise! These are not the walking sleeping bags of your youth—we would never. Luckily, designers understand our need for a warm, waterproof puffer and have provided numerous options to style with any outfit. These are the seven we can't stop thinking about right now.
---
Hannah Baxter
Senior Beauty Editor
1. Uniqlo x JW Anderson Women Reversible Down Jacket: The second drop of the JW Anderson x Uniqlo collab has arrived, and I'm currently in the process of scooping up as many pieces as possible. I love the proportions of this jacket in particular, and the fact that it's reversible makes the accessible price point even more of a steal.
2. & Daughter Fintra Lambswool Tunic Knit: This UK-based knitwear brand is my new obsession. Every piece is insanely chic and thoroughly anti-trend (in the best way), so you can have it in your wardrobe season after season. The lambswool turtleneck will keep me super cozy, and I thoroughly enjoy the unexpected pop of purple. Who says winter means you have to wear all neutrals?
3. Diane von Furstenberg Caspian Stretch-Jacquard Flared Pants: Mark my words, you can never have too many printed trousers. The delicious emerald color picks up the green accents in the jacket and keeps the look from leaning too utilitarian. I need them right now.
---
Rachel Pickus
Social Media & Affiliate Coordinator
1. Nanushka Quilted Vegan Leather Jacket: I'm here for a staple black puffer, but I'd love a backup for days I don't want to blend in with the dark swarm of daily commuters. The solution? This plush, marshmallow-y number from Nanushka that radiates happy vibes.
2. The Elder Statesman Gee's Plaid Cashmere Cardigan: If the temperature in your office fluctuates as much as ours, you've probably mastered the art of layering as well. Recently, I've added a few cardigans to my repertoire, as they work equally well over a turtleneck or tank as they do on their own. Bonus points if they're *cashmere.*
3. Boyish The Mikey Blue Angel: Filed under my notable Instagram discoveries is Boyish, an L.A.-based brand rooted in sustainable practices and recycled materials. And while I know exposed kneecaps aren't a match for NYC winters, I'm dying to get a pair.
---
Taylor Ford
Head of Social Media
1. Perfect Moment Polar Flare Jacket Snow White: I can be a bit of a purist when it comes to winter gear, and Perfect Moment is the ultimate when it comes to on-and-off-piste dressing. The cropped cut with long flared sleeves is a trendy layer to top off any aprés-ski look, and it's with enough of a retro twist that you can go full snow bunny with a matching pair of waterproof pants.
2. Monse Checkered Wide-Leg Trousers: Doubling down on the length and flare of the puffer's sleeves, these flared Monse plaid trousers create a black-diamond-worthy silhouette. I love the cozy plaid with a racing stripe for an athletic touch—even if I'm just hanging in the lodge.
3. Loewe Zip Boot Tan: When you're not in ski boots, leather rubber-soled Loewe's will do for traipsing around the mountain base or through NYC slush. I'm also dreaming of wearing these with vintage jeans and a half-zip cable knit just as J.W. Anderson probably intended.
---
Jacquelyn Greenfield
Editorial Production Fellow
1. Fendi Logo Reversible Puffer Jacket: When Nicki Minaj said, "Ayo, I've been on, b*tch you've been con, [...] Fendi prints on," I felt that! Originally, I fell in love with the Fendi x Fila collab puffer jacket that was released in the beginning of the year—but since it's completely sold out everywhere, this cropped one will have to do.
2. Citizens of Humanity Georgia Bootcut Jeans: Lately, I've been really into messing around with the different proportions of an outfit. And what goes better with a cropped jacket other than a nice pair of high-waisted jeans? Nothing! These Citizens of Humanity Jeans are the perfect length for my tall girls with long legs, and the split-hem detailing is to die for.
3. Marc Fisher x Elizabeth Sulcer Fifi Bootie: If you know me, then you know I love white sneakers, and I'm always wearing a pair. Since this jacket is beyond sneaker-worthy, it needs these adorable white booties to complete the look.
---
Annie O'Conor
Audience Development Manager
1. Ganni Long Line Puffer Jacket: I'm cold in the morning. It's winter. It's bleak. I am looking for ease. Enter tonal fabrics: hues of tan, a gradation of coffee shades (a real coffee sounds great, too), and the warmth of the perfect puffer. The environmentally conscious Ganni puffer jacket is not only feather down, but carbon neutral, so be proud to walk about in this bad boy. The caramel color is a great basic alternative, so in the sea of black puffers, be that sepia tone circa 2012.
2. Naadam Cashmere Turtleneck Dress: I present to you the option to feel like you're wearing a cashmere blanket all. day. long.
3. Stuart Weitzman The Charolet Boot: They're almost pants! I am out here walking down the street, comfortable, cozy, bundled, wrapped in a coffee, camel, caramel cocoon.
---
Noah Lehava
Director Lifestyle, and Talent
1. Acne Ophira Tech Nylon Puffer Jacket: The great thing about living in Canada is that I've had years of practice with puffer coats. I love how this Acne down coat cinches at the waist, and the color is so bright it will almost make you forget about the winter gloom.
2. Naked Cashmere Cora Turtleneck: Do I really need to justify a cashmere turtleneck sweater?
3. Dorothee Schumacher Urban Explorer Trek Boots: The Canadian winter doesn't eff around, so neither can my boots. Good treads are a non-negotiable, and when you find a pair that makes them look this good, well, you jump on it.
---
Leah Faye Cooper
Editorial Director
Part of the series:
WWWRN