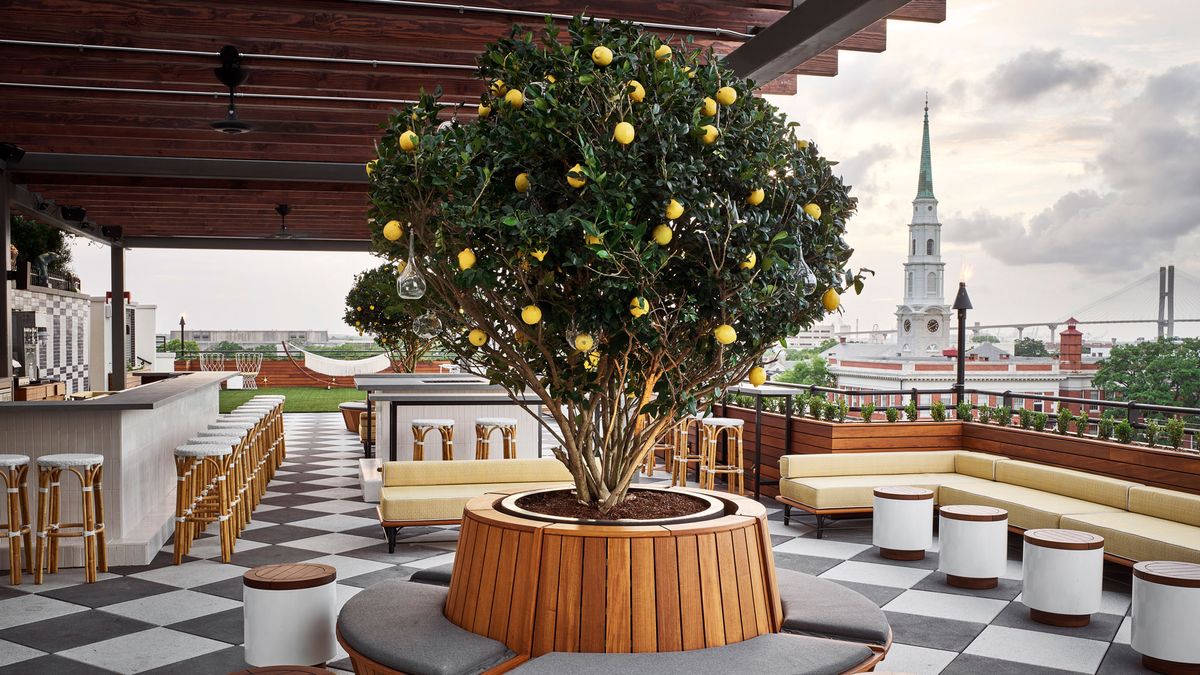 Travel
Savannah, Georgia, May Be the Most Underrated Weekend Getaway
What to eat, drink, and see.
When many people think of Savannah, they picture the draping Spanish moss, the antebellum mansions, and the many historic landmarks for which it is so famous. Or, if you're a movie buff, you probably have one of the many films in mind in which the charming Southern city played a starring role, like the Academy Award
–
winning movie
Forrest Gump
. Think the scene where Forrest sits on the bench at the bus stop reminiscing about his life.
You can see Savannah the uber-touristy way (like the bus tours to see the aforementioned film and historic sites), but the city is so full of complexities, it's worth seeking out richer, more immersive ways to explore Savannah's layered culture.
Now a new, chic hotel and fresh additions to the dining scene (for example, The Grey, whose chef, Mashama Bailey, earned a James Beard nomination in 2018, just opened its new The Grey Market this fall) are making Savannah a more attractive destination than ever. From the food to the art-filled hotels, here's what to eat and where to sleep on your next
weekend getaway
to Georgia's most alluring city.
---
---
Stay
---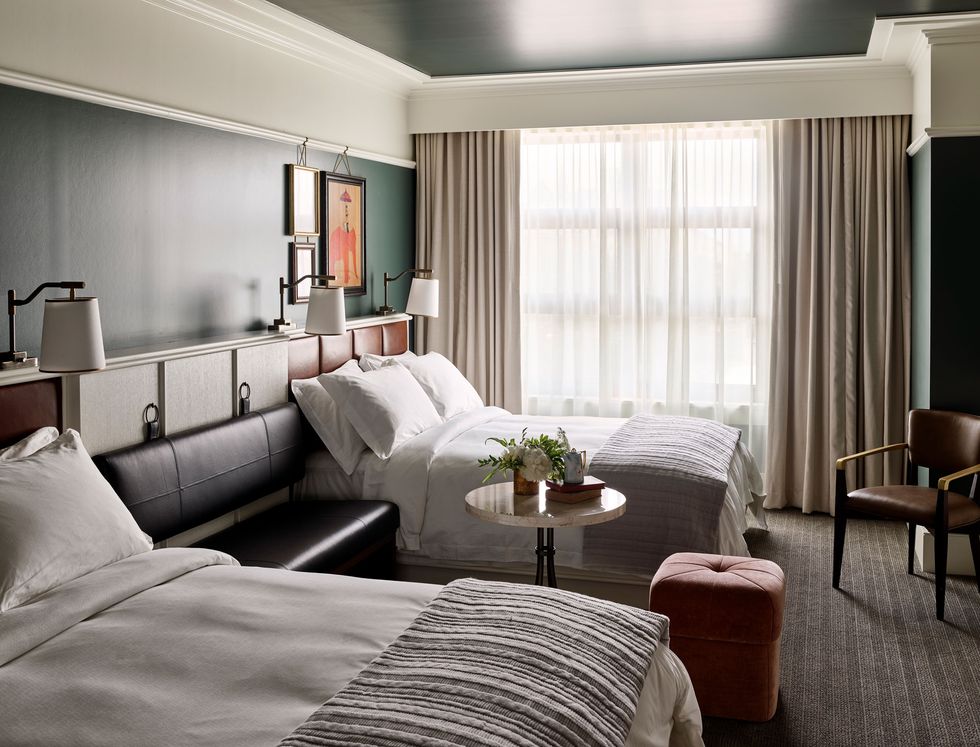 Photo: Douglas Friedman
Savannah has plenty in the way of major chain hotels and some charming B and B options, but what's been missing up until now is a place that captures the spirit of the city but also offers a certain level of luxury and sophistication. Cue the new
Perry Lane Hotel
, a Luxury Collection situated in the heart of Savannah's Historic District by New York City
–
based firm Flank and designed by AvroKO and Savannah's Hansen Architects. The 167-room hotel, which includes 12 suites, includes subtle nods to the city's rich history with maps and cool tchotchkes in the guest rooms and common spaces.
Don't miss the Peregrin, the open-air rooftop bar with sweeping views of the city. Downstairs on the first floor, there's the Emporium Kitchen & Wine Market, an all-day American brasserie with Southern touches worked in throughout the menu. (You are in Georgia, after all.) In the evening, pop into The Wayward bar (also on the first floor) for a specialty cocktail, and then make your way to the hotel's karaoke room and arcade. If you're looking to shop, stop by
Andie Kully Boutique
 for the designer's namesake resort-wear pieces, as well as a well-curated mix of sunglasses, earrings, hats, and more.
---
Eat
---
Beyond the stellar fried chicken, pimento cheese, and blue crab, you'll eat well in this city. You might even go home a few pounds heavier, but trust us, it will be worth every bite.
For brunch, head on over to
The Collins Quarter
. Soak up the booze with an avocado smash or Biscuits Gone Wild (housemade buttermilk biscuits, chicken apple sausage, smoked bacon gravy, fennel apple slaw, and poached eggs) and some caffeine (this Aussie-infused joint takes its coffee and tea programs seriously; try the Vietnamese iced coffee or the matcha latte with ginger, coconut oil, honey, orange, and steamed milk; or, if you want something stronger, they make an excellent Bloody Mary with their housemade Bloody Mary mix and pickled okra).
If you have a sweet tooth, you may want to make a stop for ice cream at the famous
Leopold's
, a mainstay in Savannah since it opened its doors in 1919. Sure, it's undoubtedly touristy (and you will probably have to wait in a line), but the ice cream is a Savannah classic. If you're feeling fancy, try the Savannah Socialite with milk and dark chocolate ice cream, roasted Georgia pecans, and bourbon-infused caramel. Or the Tutti Frutti with rum ice cream, candied fruit, and Georgia pecans—an OG Leopold's flavor.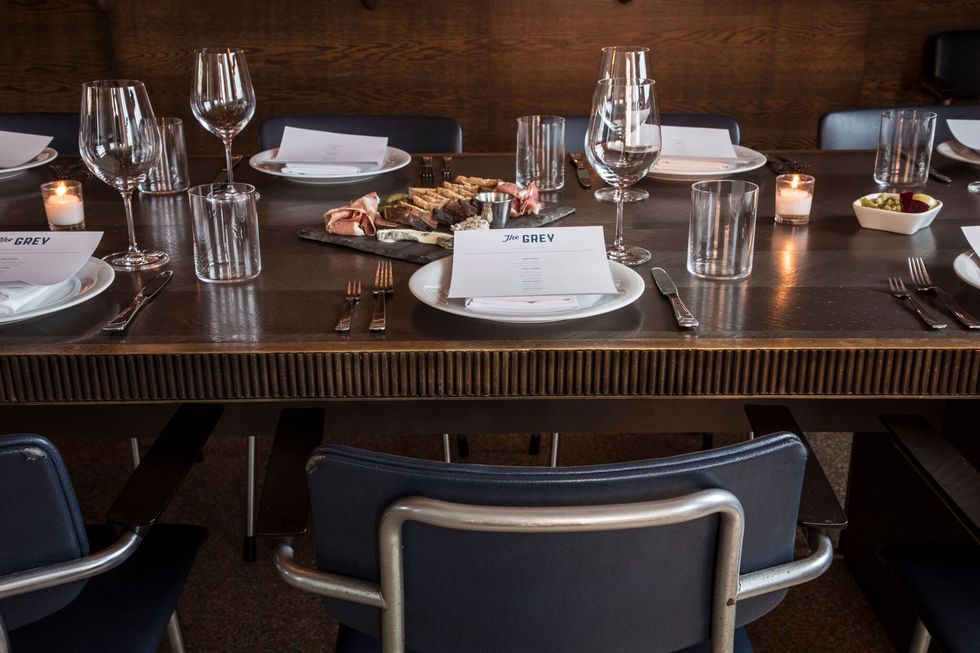 Photo: Chia Chong
Situated in a renovated Greyhound bus depot from the 1930s that boasts a refurbished ticket booth and striking art deco features, dine on chef Mashama Bailey's (formerly at Prune in NYC) modern take on Southern cooking. From the interior design to the people-watching to the food, this place does not disappoint.
Alternatively,
Cotton & Rye
 is just a few minutes from downtown in a refurbished bank building. Don't leave without trying the shrimp and grits, the crispy chicken wings (they're insanely good!), and pretty much any pork item on the menu.
If it's BBQ you're jonesing for (you are in the South, after all), two local favorites are
Sandfly BBQ
 downtown—the Hog Wild Platter gets you a nice sample of some of their greatest hits—and
Wiley's Championship BBQ
.
---
Drink
---
For drinks and more dive-y vibes, head to
The Original Pinkie Masters
 ("best neighborhood bar, maybe, anywhere," says Johno Morisano, founding partner of
The Grey
).
If it's a watering hole with a cool cocktail program you're after, try
Alley Cat Lounge
 or
Artillery
—just make sure your phone is on silent and your outfit fits with the dress code (no flip-flops, tank tops, etc.), as they have a strict code of rules here.
Afterwards, head straight here—think fancy gas station (the locals call it Fancy Parker's)—for some late-night munchies (especially if you've been enjoying the city's open-container policy that allows booze to go). Morisano says the chicken salad sandwich is so good, he basically lived on it for two years while opening his restaurant. If you think chicken salad from a gas station sounds weird, try this one first and then come back to us. It's
v good.
---
Do
---
Don't forget some of the more touristy activities in Savannah, especially if it's your first time visiting. Take a bike ride around town first thing in the morning to see the square parks scattered around the city (including Chippewa Square in
Forrest Gump
), the hauntingly beautiful cemeteries and historic buildings (like the Savannah Theater); go to the lighthouse on the nearby Tybee Island; gaze up at the draping Spanish moss that decorates the whole city—even the best camera can't truly capture how pretty it is in person.
Once you've made these important stops, explore some of the local haunts. Bookworms won't want to miss
E. Shaver, Bookseller
.
Make time to visit the
SCAD Museum of Art
while you're in town. The museum has played host to works by both international art stars and SCAD students alike. Earlier this year, the museum played host to SCAD alumna Melissa Spitz's highly moving
You Have Nothing to Worry About
exhibition, the result of an ongoing project that captured her mother's substance abuse. (Spitz received TIME's Instagram Photographer of the Year award in 2017 for this project.) Currently, they have work exhibitions by veteran photographer Elaine Mayes, award-winning costume designer Terry Dresbach, and sculptures and furniture by Wendy White, to name a few. Shoppers in search of local flavor (either for something to bring home for themselves or give as gifts) will also want to head to
ShopSCAD
 nearby for fine art, jewelry, and apparel.
Pay a visit to
Savannah Cordwainers
, a local bespoke shoe shop by Marcell Mrsan, for specialty men's shoes.
Chocolat by Adam Turoni
 is a stunning little chocolate shop that smells heavenly, with impressive-looking sweets that make for great gifts.
Number Four Eleven, where you can have just about anything and everything you can imagine monogrammed.
Pick up specialty honey products in all different forms (from traditional honey to honey beauty products) at
Savannah Bee Company
.
Alex Raskin Antiques
 is a huge shop in the Noble Hardee Mansion that's brimming with antique paintings, furniture, rugs, etc., dating back to the 1500s. Even if the antiquing hunt isn't quite your thing, it's worth stopping by just to see it.
Cherry Picked Consignments
Fashion hounds looking for contemporary and high-end labels (I spotted Balenciaga, Tabitha Simmons, and Versace pieces during my last visit) at extremely affordable pricing will want to stop in at Cherry Picked Consignments, which is just a brief walk from ShopSCAD.
Want more stories like this?
Everything to Do in Miami Right Now
The Fashion Lover's Guide to Antwerp
9 Places to Find Great Fashion in Seattle