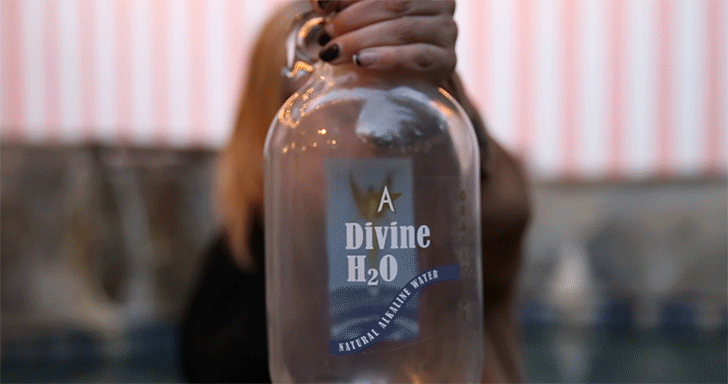 Health
4 Ways to Drink More Water in 60 Seconds
We're going to make it easy for you. Promise.
Sure, water is the essence of life (and
moisture is the essence of wetness
...sorry, we had to). In order to reap the benefits of water (clearer skin, a more efficient metabolism, and less toxins, to name a humble few), you have to drink it—not just "hydrate" with matcha lattes or smoothies—and lots of it. Listen, we get it, when you're fully into our workday flow, a cup of coffee feels more critical than H2O, and that downing eight glasses of water seems nearly impossible once we get in the zone. But the benefits of pure water are induspitable, so we found four stealth ways to help you knock back more water throughout your day.
---
1. Get a Bigger Bottle

Upping the volume of your water vessel will: A) mean you have to make fewer trips to the tap—embrace the lazy; B) make it a hell of a lot easier to keep track of how many ounces you've consumed—math isn't our forte; C) motivate you to finish it all. Win, win, win.


2. Pick Tea Over Coffee


Caffeine, as much as it's often our savior, also acts as a diuretic, which means you're going to need even more water to counter dehydration. Instead, go for a cup of herbal tea.


3. Infuse It


H2O is bland—we get it. So change it up by adding some sliced cucumber (yeah, you'll feel like you're at a spa) for more flavor or lemon for a boost of vitamin C.