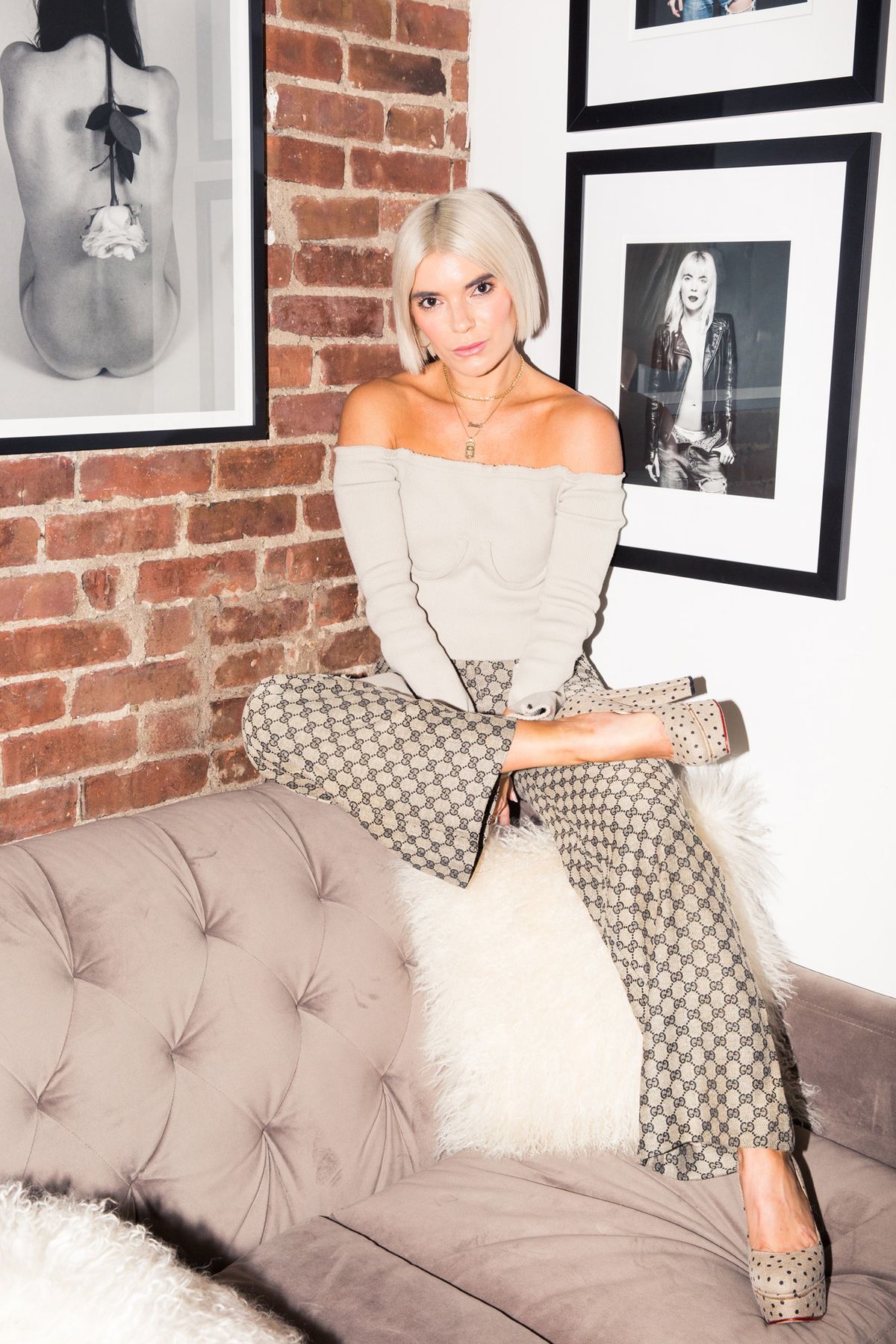 Closet
Carly Cardellino reminds us that splurging on CHANEL is sometimes better than buying dinner. New York.
Alec Kugler
Hannah Baxter
After entering
Carly Cardellino
's chic Upper East Side apartment, two things become immediately apparent: The girl LOVES fashion (and in a studio, storage has to get creative fast), and most important, she's just as bubbly as the
Moët rosé champagne
she keeps stocked in her fridge at all times—next to her favorite lipsticks and nail polishes, of course. "Is one-thirty too early for a glass?" she asks, grinning mischievously. We assure her that no, it most definitely is not. After pouring out a few millennial-pink flutes, she grabs a spoon and drops it into the top of the bottle for later. "It helps keep the bubbles!" she laughs before we can even ask. In case you were wondering, yes, we've tested this several times at Coveteur HQ, and yes, it works like a charm. Her creative insights aren't just limited to cocktails, however. As
Cosmopolitan's reigning beauty director
, Cardellino has not only witnessed social media's meteoric rise within the fashion and beauty communities, but mastered its finer points, as well. "For me, it's really easy—I just Instagram my life," she explains as we sip champagne next to a clothing rack teeming with
glittering dresses
,
vintage furs
, and the occasional basketball jersey. "So everyone's like, 'I just feel like I know you,' and I'm like, 'Yeah, you do, because I don't really hold anything back.
'
I am this happy. I dress up for the day, I go out with my friends, go out with my boyfriend. You're really seeing my true self when you're watching my Instagram story." There's no denying that, to her 50K (and counting!) Instagram followers, the pint-sized platinum blonde is a bonafide style star. Her personal aesthetic combines a playful mix of accessibility and luxury, as she'll often mix lower-end finds from Zara, Topshop, and Forever 21 with statement pieces from Céline or Gucci. If your style goals are similar, just heed Cardellino's advice and eat nothing but scrambled eggs for a year to budget. It'll be worth it, we promise. And although she's since moved out of her UES abode to live with her husband and adorable baby girl, Della, you can still find her redefining the chic-mom aesthetic all over Manhattan.
Click through to find out the story behind her first major fashion purchase, the advice she has for breaking into the industry, and how a pair of Forever 21 heels helped her survive a Travis Scott mosh pit. Also shop her closet here.