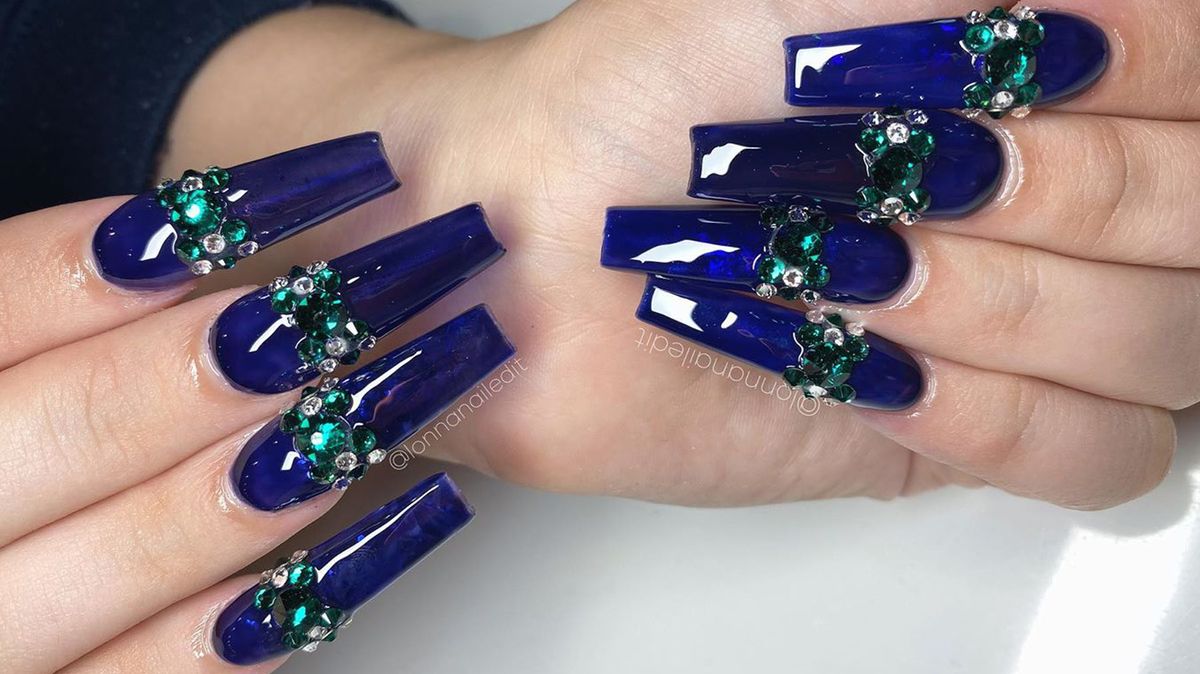 Nails
Nail artist Alonna Mitchell shares her thoughts and favorite designs.
There's nothing we enjoy more than combing through Instagram for
nail art
inspiration. And when we spot an artist creating truly drool-worthy looks? Forget about it (*books appointment immediately*). That's how we felt when we found
Alonna Mitchell
, manager and nail artist at
Pamper Nail Gallery
, a Fremont, CA
–
based salon that can give you one of the fiercest set of claws you've ever laid eyes on. We couldn't wait to ask her all about our latest nail obsession—jelly nails. Summer's biggest nail trend has carried over into fall, but let us not forget that this look actually originated in the '90s (to match your jelly sandals, no doubt). More on Mitchell's take about the year's most popular nail look ahead.
How have you seen the rise in popularity of jelly nails amongst your customers?
"For the first week when it became popular again, it was pretty much every day that I was doing at least two jelly sets. Mind you, I take about 4
–
5 people a day. Jelly nails were [a] really big hit during the summer. Eventually I even learned how to customize jelly colors!"
---
How do you achieve the see-through effect of the nails, and how does the process compare to acrylics?
"The effect is achieved basically using various tinted/translucent gel polish colors. At Pamper Nail Gallery, we typically use
Wildflowers jelly polish
as well as the
Vetro jelly pods
; both brands have some of the best jelly that I've used so far, as well as my favorite colors. I have also been able to get this effect by mixing gel polish colors with a base coat to create my own, and I've seen other nail techs use alcohol inks to get the same effect. While you can do jelly nails on the natural nail, it looks better with clear sculpted extensions, or clear tips, then building out the acrylic nail with clear acrylic. People are really drawn to it based off of the photos that you see, and most of those photos people do have on nail extensions."
Is there any limit to the type of accessories you can apply, like gems, sparkles, flowers, etc.?
"There isn't really a limit; it'll just change up the look a bit, but personally I don't find anything wrong with spicing it up! I've added Chromes on top, Swarovski [crystals] for sure! I've even gone as far as putting a jelly coat color over encapsulated designs that I've done to change up that effect as well. So you're not really limited to doing jelly on only clear nails. Get creative with it."
Why do you think this trend has resurfaced from the '90s?

"Nostalgia, of course! Especially for us '90s babies. When it comes to nail art in general, from jelly colors to retro designs, or hand-painted '90s cartoon characters, you can count me in. Jelly nails remind me of the jelly slippers and sandals I had growing up, and this jelly purse my mom got me from the M&M store in Vegas when I was little. Nostalgia can just take you back to a really positive and happy place, so other than jelly nails just looking bomb, they kind of remind you of once upon a time, you know?"


What is your favorite set of jelly nails you've done recently?
"My fave jelly set[s] at the moment are between this bomb
blue jelly set
I added bling to, and this dark black-to-red jelly ombré set I did since I love Halloween!"