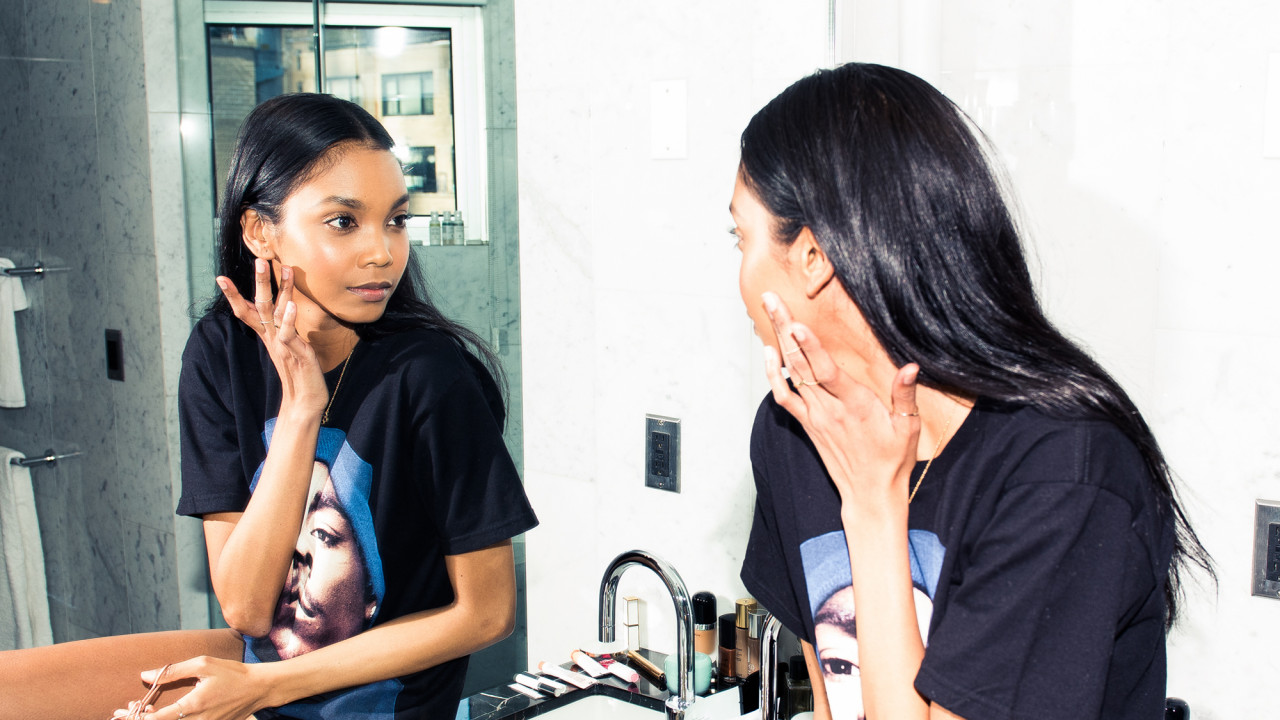 Want Airbrushed Skin? There's a New Serum for That
Tina Craig's debut brand is finally here.
Although we still enjoy indulging in a 12-step skin-care routine on occasion, the reality for most of us is that we rarely have time to apply more products than we can count on one hand. That means the ones we do keep stocked in our bathroom cabinets need to pack a serious punch, whether it's hydrating, toning, or resurfacing. Better yet if it can manage all three. Tina Craig, aka BagSnob, felt the same, and, being a longtime beauty devotee, she decided to create a serum that could deliver those enviable glowy results. Her new beauty brand, U Beauty, launches today with the Resurfacing Compound, an all-in-one serum that provides the skin with antioxidants, peptides, vitamins C and E, hyaluronic acid, and vitamin A.
Craig's initial idea for the Resurfacing Compound was rooted in her desire for professional-level results without resorting to lasers. "I wanted the resurfacing and refining that lasers are said to achieve," she explained via email. "I also wanted the product to be super hydrating, penetrate deeply into the skin's top layer without clogging pores, and brighten and even my skin tone as well as tighten." As more of her followers started inquiring as to her skin-care routine, she decided it was the right time to move into the beauty space.
After working with a lab and testing nine different formulations, she eventually landed on her debut product. And although there are several ingredients that can traditionally cause irritation if used in conjunction with the others, she assured us that the brand's proprietary technology keeps that from happening. "The compound has a unique delivery system that utilizes a capsule called the SIREN. [It] attracts free radicals to it like a magnet. The free radical chews through the capsule wall, effecting the release of its ingredients right atop the damaged areas of your skin (where the free radicals are causing trouble). The ingredients only go where they are needed, which is [how] we avoid irritation."
The base of the compound contains various alpha-hydroxy acids like glycolic, mandelic, and lactobionic, all of which remove dead skin and stimulate cell renewal. That means your complexion with be decongested and glowy, without needing to cycle through multiple steps in the morning and evening. As Craig said, "[Our customer] is any and everyone who wants to curb the visual effects of environmental aggressors and redefine how their skin looks tomorrow and years from now."
U-Beauty Resurfacing Compound launches today, November 1, on Net-a-Porter and theubeauty.com, and retails for $148 for 1 oz.
Photo: Shot on site at 6 Columbus, a  Sixty Hotel. On Jonelle: Rings, Catbird; Shorts, Fleur du Mal; Tee, model's own; Necklace, Baker & Black; Hair, Angela Soto, Makeup, Adriani.
Want more stories like this?
You Can Now Replicate a Celeb-Favorite Facial at Home
13 Night Creams for Extra Glowy Skin
4 Plastic Surgery Trends We'll See in 2020