WWWRN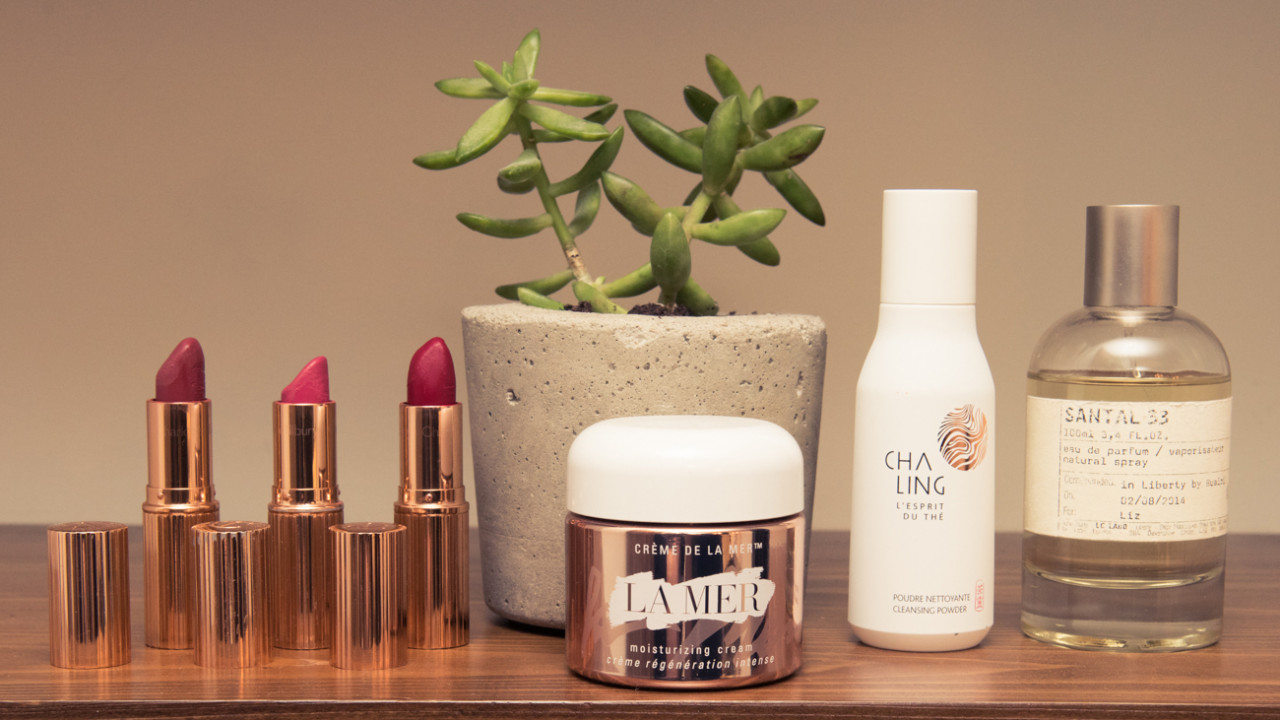 15 Beauty Products Our Editors Rely On for Fall
Lipsticks, face oils, portable humidifiers, and more.
While you guys are probably dodging any conversation that revolves around cold weather (same), we urge you not to ignore the ones that touch on fall and winter skin care. These seasons are tough on your skin, and while the snow hasn't hit yet, chilly fall weather can still dry out your complexion. This is the time of year that we start swapping out our products (we can't do it fast enough) and doubling up on hydration where necessary. And not only does our skin care change, our color cosmetics do, too, with moodier shades replacing brighter ones. Below, the 15 products our Cov team members are turning to this fall.
---
Gabby Sgherri
Editorial Intern
1. Drunk Elephant Shelf-Control Night Kit: My life changed when I switched my skin-care routine over to Drunk Elephant. I'm talking no more breakouts, smoother texture, and zero oiliness (isn't that the dream?). This set is my must-have skin care for when the weather changes (i.e., colder months) because the TLC Glycolic Night Serum gets rid of those dead skin cells without causing irritation. I then moisturize with the Lala cream or Virgin Marula oil and wake up with soft, smooth skin.
2. Charlotte Tilbury Collagen Lip Bath in Refresh Rose: I am a self-proclaimed lip gloss addict. I have at least five in rotation at all times, and this Charlotte Tilbury gloss is the newest addition. It has peppermint to give you that tingly, plumping feeling, coconut oil to moisturize, and marine collagen to help smooth fine lines. People always compliment me when I'm wearing it, and my lips feel moisturized for hours (which is oh-so-important in colder weather).
3. Summer Fridays Jet Lag Mask: I have been obsessed with this mask since it launched, because unlike most masks, Jet Lag does not need to be washed off, which means you can use it as a mask, moisturizer, or a primer (my personal favorite). Silicone makes me break out (a common ingredient in primers), so I reach for my Jet Lag mask instead before I apply foundation. Pro tip: If your eyes are puffy from lack of sleep or crying (we've all been there), put Jet Lag on the under-eye area to soothe and de-puff.
---
Jodi Taylor
Editor
1. Hey Dewy Portable Facial Humidifier: My biggest skin-care issue come fall and winter is dryness. When heat is pumping into my house, I swear I can feel it drying out my skin (dramatic, I know). Enter this cute little humidifier. I set it up on my windowsill every night and keep it running while I sleep. It's portable, so you have the option of bringing it to work with you (if your job allows) and setting it up on your desk.
2. Caudalie Instant Detox Mask: Some weeks I don't have time for a full face mask routine, which is why this Detox Mask from Caudalie has been such a savior. I brush it on (the best way to put on masks, in my opinion) for five minutes once a week, follow it up with the Caudalie Vinoperfect Radiance Serum (a hero product of mine), and I'm good to go. Given I rarely wear makeup, it's the perfect way to keep my skin detoxed and hydrated in the colder months.
3. Peter Thomas Roth 24k Gold Lift & Firm Hydra-Gel Eye Patches: When your travel schedule or work hours are insane, you need eye patches within reach at all times. These Peter Thomas Roth 24k work like a dream (shoutout, Gabby, for putting me on to them) and will have you looking like you slept for a full 12 hours, when in all actuality you only managed to get four. Pro tip: Store them in the fridge to de-puff even faster.
---
Hannah Baxter
Senior Beauty Editor
1. Shiffa Sapphire Sensitive Face Oil: Most of my skin care these days is focused on fighting inflammation, which is at the root of everything from acne to puffiness. I'm already a devotee of Shiffa's Emerald Clarifying Face Oil, but as the winter weather encroaches, I can already feel my skin growing more and more sensitive. An extra protective layer of this oil will help calm redness, give a boost of antioxidants, and generally ensure my glow lasts through the freezing temperatures.
2. Tata Harper Concentrated Brightening Essence: I've been battling some dark spots left over from a recent bout of hormonal acne, so I decided to bust out the big guns with this Tata Harper essence. It contains 33 active ingredients to brighten, tone, plump, and infuse your skin with vitamins and minerals. It's working so fast I've stopped wearing concealer on the spots after one week.
3. Gucci Beauty Baume à Lèvres Lip Balm in 3 René Pink: I am completely and utterly obsessed with this lipstick. Actually, it's more like a compact tinted balm, but it still gives you a bright wash of color (it applies more red than it looks) while keeping your lips juicy and hydrated. It looks like you just ate a strawberry Popsicle, which is honestly my beauty goal for all my lip products, and the color payoff is 10x better than your average balm. No dry or boring lips for me this season.
---
Noah Lehava
Director, Lifestyle and Talent
1. Dr. Dennis Gross Alpha Beta Peel Extra Strength Daily Peel: My skin's texture changes with the weather, so I need to be more diligent about exfoliating as winter creeps up. I love how gentle and effective a chemical peel can be to slough away dry, dead skin cells. These wipes have been a staple in my daily routine for years and are also amazing for my hectic travel schedule.
2. Amandine Sol Botanicals Inner Glow Face Oil: I'm picky with scents in my beauty products—as in, I don't like any—but Amandine's oil is so subtle (and natural) that I can't stop applying it. It's also incredibly soothing and hydrating.
3. Laneige Lip Sleep Mask: There is nothing better for keeping lips hydrated through the arid winter.
---
Rachel Pickus
Social Media & Affiliate Coordinator
1. Malin + Goetz Lip Moisturizer: Ever since this lip balm floated across my desk, it hasn't left my orbit of daily products. Which is why, with winter basically at our back door, I'm planning to stock up on a few backup tubes.
2. Ilia True Skin Serum Foundation: Along with summer Fridays and iced coffees, something I truly mourn with the change in seasonal tide is a dewy complexion—which is near impossible for my dry winter skin! That is until I discovered the Ilia True Skin Serum Foundation. I layer it over my *very* rich day cream to feign a moment of plump, moisturized skin, which, in my opinion, is seasonless.
3. Act + Acre Hair Cleanse + Conditioner: After a recent venture to the new Act+Acre pop-up salon, I walked away with my dream hair and a new affinity for their products. Mark my words, this shampoo + conditioner duo will make your hair feel like it's going through a juice cleanse. Plus, with clean ingredients and natural extracts, your dry winter scalp will thank you kindly.
Want more stories like this?
The Best Makeup for Halloween
4 Ways to Wear Glitter Makeup This Season
The 25 Best Beauty Products That Launched in October
Part of the series:
WWWRN