Jenny Slate Cracks Wide Open
Getting weird, wonderful, and real with the author and comedian.
Celebrity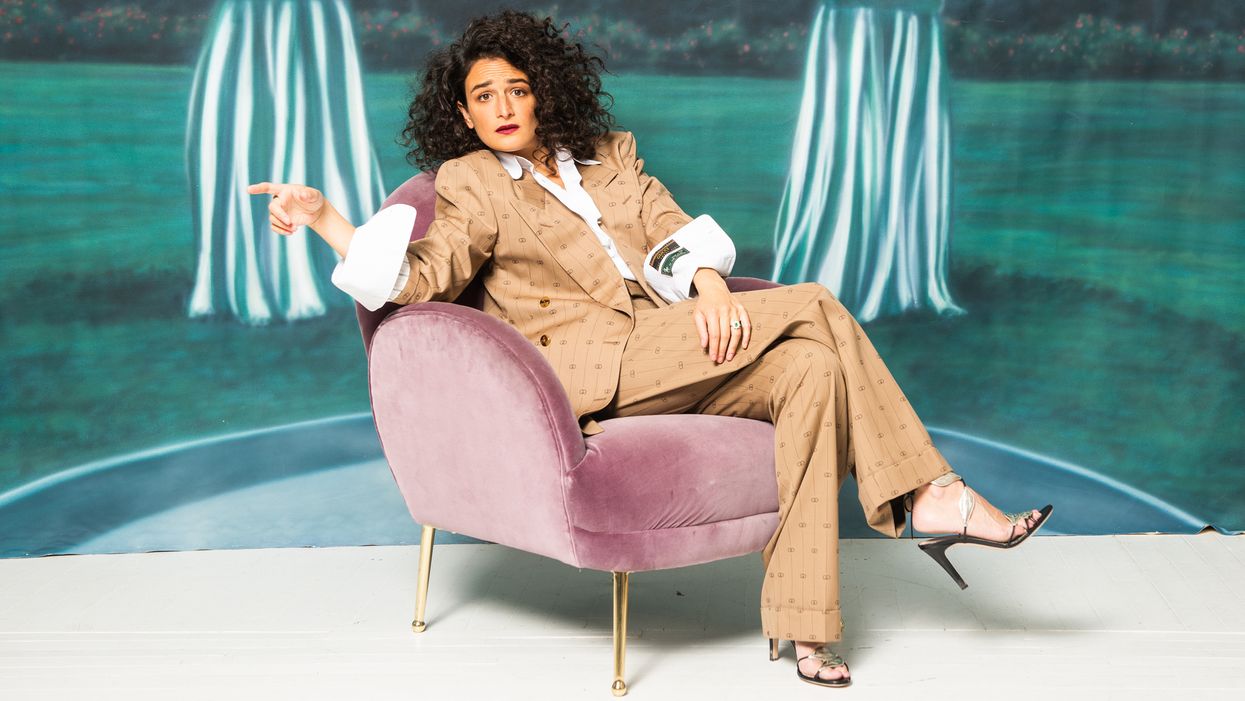 ---
How did that sense of vulnerability shape both Little Weirds and Stage Fright?
"Vulnerability is just what is there—the compulsion to make myself bare in front of people is not going to go away.
"I'm constantly asking other people, 'Did you ever feel this way?' I just want to see how far off I am from what is a consistent human experience. I think my feelings are really strong, and sometimes I can feel like, Woah, is this normal? And am I the only one? And if so, am I in trouble? To get up onstage and say I can't tell if I should give up on love, for example... In my special, I discuss this feeling that I had directly after the 'Me Too' movement really exploded. I was like, Uh, I'm just not sure how to meet men after this because I'm so angry at what patriarchy has done to all of us. I'm not sure how to meet a man and not scream directly into his face, 'Do you get it, or do you not get it?' I felt a moment of despair, where I was like, You know what, I'm just going to become everyone's weird aunt and masturbate alone because that feels like the safest option for me. A lot of times we don't want to reveal when we have felt despair because it seems unattractive, but I don't think that it is. I just want to show all the levels."
Was working on Little Weirds different from working on a film or a show?
"With film and TV, I'm not the editor or the director, so I do the performance and someone else decides what to cut—I'm comfortable with that. But with my book, I was so surprised at the velocity at which the words flew out of my mind. I wrote it very quickly; once the portal was open, the stuff came out, and then it closed—that's how it felt. That's probably the wrong way to describe [it]—I have this instinct sometimes to attribute my work to chaos and somehow I happen to catch a wave—but the fact is that I'm a professional and I've spent over a decade figuring out how to use my voice.
"The difference is that I have to learn how to edit myself, and honestly, I haven't really learned how to do that socially. For me, to be able to trust Jean, my editor, so much was really important. I really dislike feeling that anyone would try to make me easier to understand. But I am also aware that sometimes I speak in a way that makes sense to me, but is part of a self-specific internal vernacular that is fragmented. Writing the book has made me feel really proud of my voice and more willing to edit myself privately and socially without connecting it to repression. I used to think, I don't want to be repressed and live in patriarchy, the patriarchy wants me to be quiet. I really started to understand through deep relationships with my friends or healthy romantic partnerships that there are new rules that I have for myself, and they come from understanding that editing means clarifying; it doesn't mean drapery, it doesn't mean obscuring the point, it means making it clearer and being direct."