9 Amazing Elopement Stories
Because sometimes all you need is the one you love.
Weddings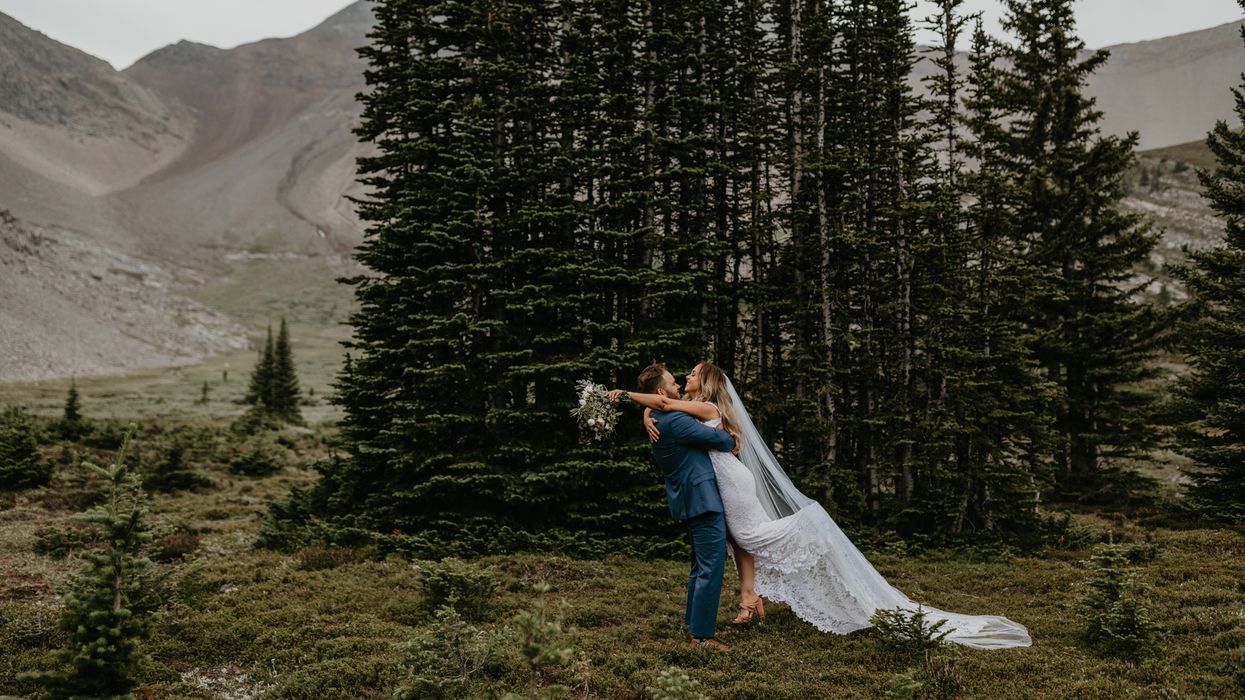 While we're all for an over-the-top, fairy-tale wedding on the
coast of Italy
, or the countryside of Provence, or an organic squash farm in rural Montana (we spent a lot of time daydreaming during
Wedding Week
; can you tell?), we need to acknowledge that the best part of any wedding, no matter where it takes place, is the happily-ever-after. You get to marry your best friend and hang out for decades to come—truly, what's better than that? So we wanted to find a few couples who really took that sentiment to heart and decided to forgo the typical wedding extravaganza in favor of an intimate elopement. These are their stories. 
---
Ariel & Jeremiah Swain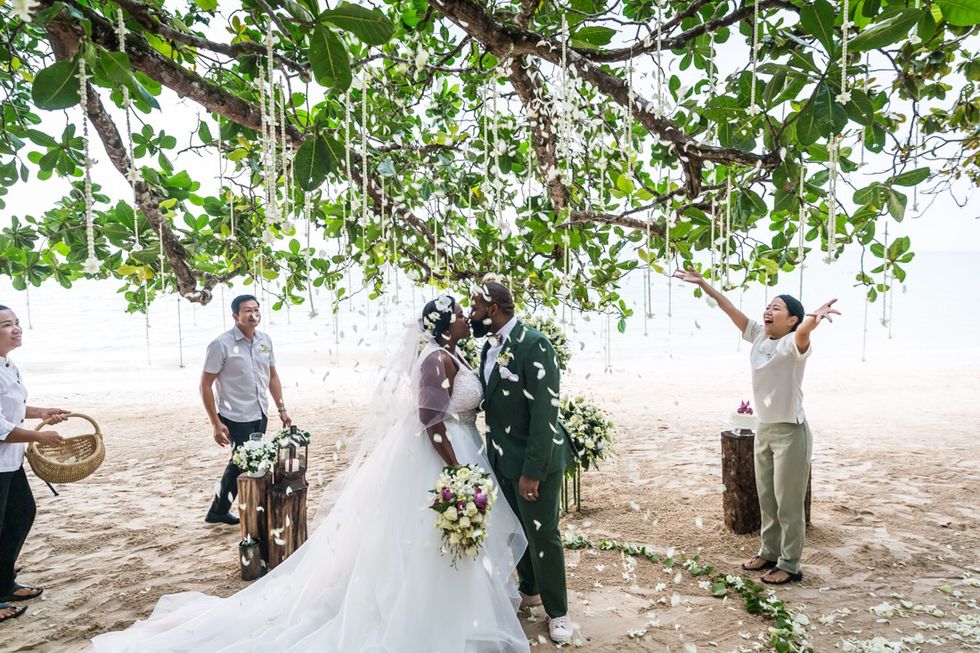 January 12, 2018: "As we were planning our wedding, everything began to spiral—cost, wedding size, and with it, stress. Because we're both in the hospitality and event-planning industry, we knew we needed to take a step back and strategize how we were going to be able to both pay for and enjoy our wedding. Our honeymoon was more important than our wedding because we both prioritize travel in our lives, so we decided to find a way to do both. One day after work, we went to the park, and on a swing set we decided to not tell anyone and just find a place on the other side of the world to just do it—the two of us and God.

"Our wedding was amazing, beautiful. Ariel rode an elephant down the aisle—an entrance dreams are made of. Our photographer, Kelly Williams, was the only one to travel with us from New York, and she proved to be our best investment. The whole day, down to our dinner in front of a waterfall in the Thai jungle, was breathtaking, peaceful, and an experience that we couldn't have thought we'd do. We wouldn't change a thing about our choice. Even today, with more money available, we'd do everything just about the same."


Casey Collins & Mike Werndly
December 3, 2015: "We got married at the Cambridge Registry Office at 10:00 AM, then went punting on the Cam and drank champagne. We picked up our dog at home, slapped a bow tie on him, and went for lunch with our neighbors/witnesses/photographers at the Rupert Brooke pub in Grantchester. Later we walked along the river and around Grantchester Meadows (lots of old romantic British art and literary history here). Our neighbors took us home and we got changed, and afterwards they drove us to the airport, where we flew to Rome that evening for a long weekend that I titled 'Romelope.'

"For a few different reasons, we didn't tell my family until they came for Christmas a few weeks later. Celebration ensued, which was a relief. I wasn't sure how people would respond to elopement, but it was all very positive."


Ky & Shane Budish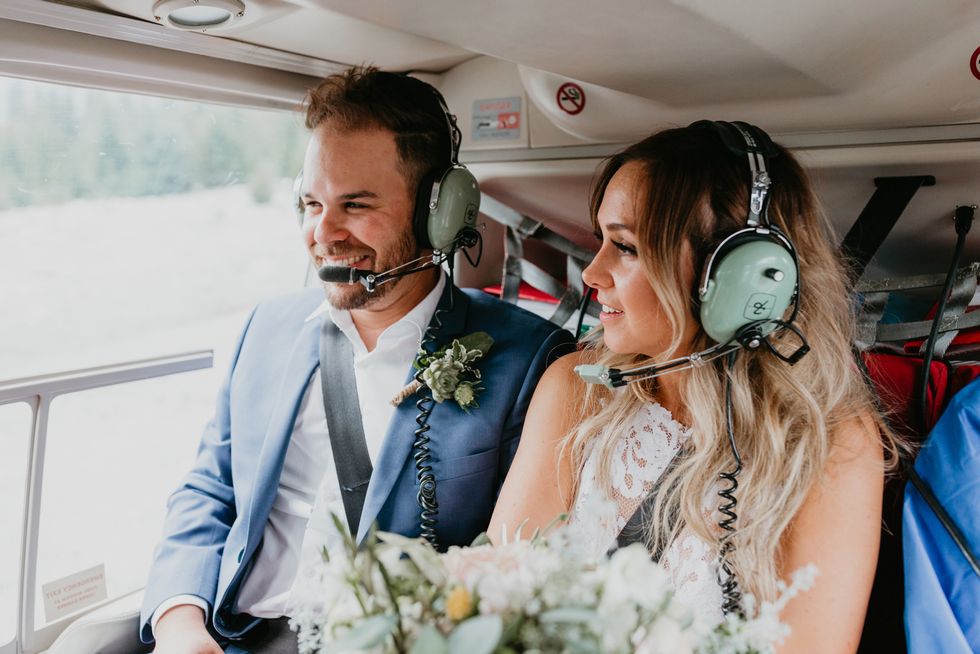 Photo: Meghan Doering
August 4, 2018: "I proposed to Ky in the winter of 2016 at the Elephant Jungle Sanctuary in Chang Mai, Thailand. We started to plan a wedding of sorts, knowing we wanted to keep it small. We had been living in Calgary since 2013, [but] decided to move back home in the summer of 2017 to begin our family and lives together. A couple months passed, and a 50-person wedding quickly snowballed into a 75-, 100-, 125-, 150-person wedding. It was hard to appease family requirements at times, finding venues, and keeping overall costs down. Trying to find an affordable home to purchase was becoming discouraging [in] Toronto. We had a quality of life in Alberta that was seemingly unattainable back home. A couple months passed, and we made the decision to move back to Calgary and ultimately elope instead of host a wedding.

"We initially wanted to bring a commissioner on a hike and get married at one of our favorite lookouts in Kananaskis, but the issue came up of how sweaty we would be, and we want to remember this moment while not looking like slobs. We ended up renting a helicopter to take us on a short flight into the Rockies just north of Canmore and Kananaskis and southeast of Banff National Park to a mountain called Mount Charles Stewart. Flying with us was our commissioner, two of my friends as witnesses, and our photographer. The day was perfect, quiet, private, and intimate. Looking back, I don't think we would have changed anything. We saved all the money from the larger wedding and put it directly into a house. There wasn't any debt after the elopement, just memories and a satisfaction that we did the right thing by us. It was the perfect day, perfect process, and perfect solution for us." —Shane Budish


Dave Bircher & Jeremy Mazars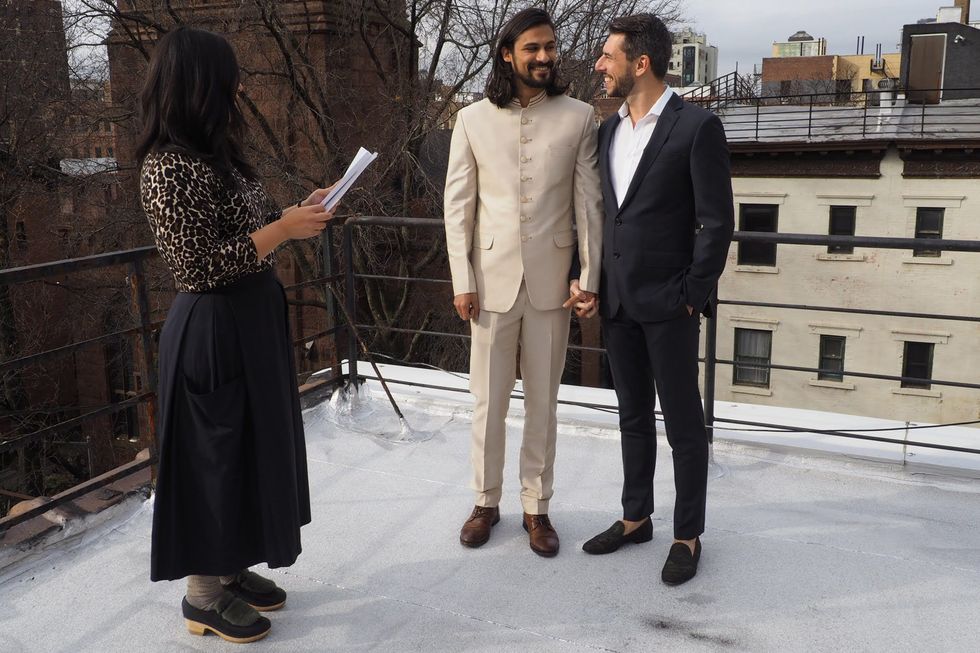 December 14, 2018: "After months of foolishly thinking we had done everything correctly and understood the labyrinth of the French state, we were sitting in the Paris apartment of Jeremy's parents, and it became clear that our timeline for marriage, coupled with the visas I needed, was laughably optimistic. Jeremy was flying to New York in less than two weeks to be with me while movers loaded my belongings on a boat to France, and I celebrated a decade in the city before moving. Mary and Thierry, Jeremy's parents, saw that there was only one way through the latest logistical hurdle of love and said, 'Just get married next week in New York.' The next day we went with friends to a jewelry shop in Paris and bought our rings. A week later, with everything from my apartment moved out the day before, we got married on Dave's roof in Brooklyn by our internet-ordained friend and three close loves. Our reception consisted of champagne (proper) out of Dixie cups served on a suitcase and lunch at the neighborhood's staple diner across the street."


Britt & Michael Bair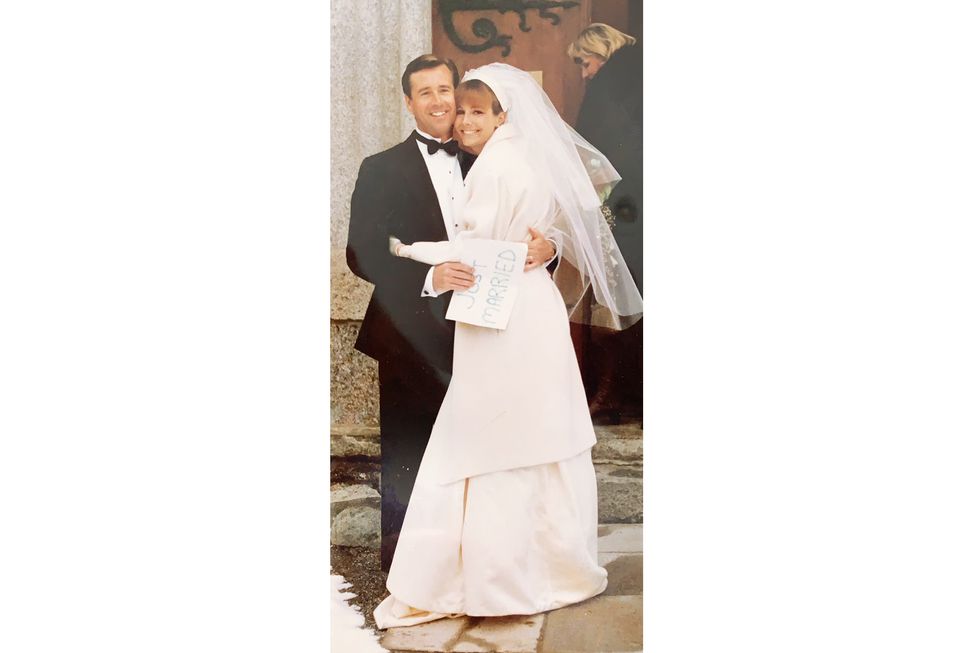 March 18, 1989: "After dating each other for more than 10 years, we wanted to get married in a way that was more about us than the wedding event itself, so we eloped to Zermatt, Switzerland, where we skied with a few close friends and family. Britt wore her mom's wedding dress from 1958, and I wore a tux from 1989, but it was still a classic. Oh, and one more thing—Britt's mom found out about the wedding and flew to Switzerland to surprise us. I remember telling her, 'If I'd known it was going to be this good, we would have been married much sooner!' We just celebrated 30 years of an incredible relationship and hope our daughter wears the same dress for good luck!"


Sarah & Amad Ebrahimi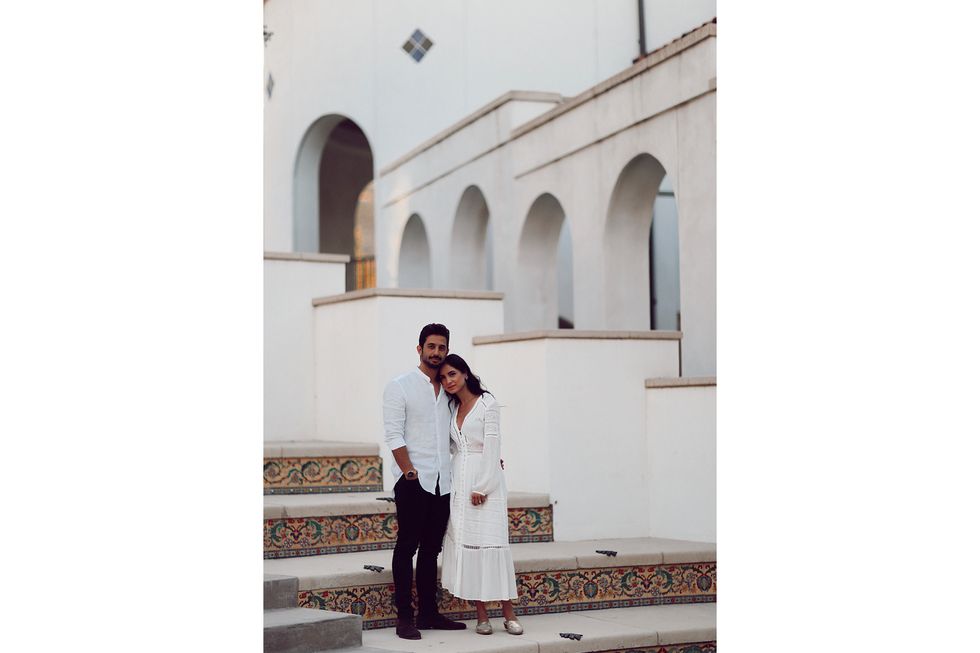 August 17, 2017: "Four days before Amad and I were going to move in together, at 11:00 PM, my dad told me that it was best if we get married beforehand (even though he knew for months when our moving date was!). We're Iranian, so I wasn't surprised, but I was like, 'Lol!' I asked Amad if he was OK with me finding an officiant and us getting married at my parents' house; he was totally fine with it. Luckily, we had already gotten our marriage license, so we didn't have that obstacle. I looked at the calendar that night and saw that the next day was 8/17/17, and I knew I had to have that date. Seven is my favorite number, and eight is the infinity sign and also a special number to me. I found the sweetest officiant on Yelp that night and made it happen at 4:00 PM the next day!" —Sarah Ebrahimi


Brittany & Tom Komon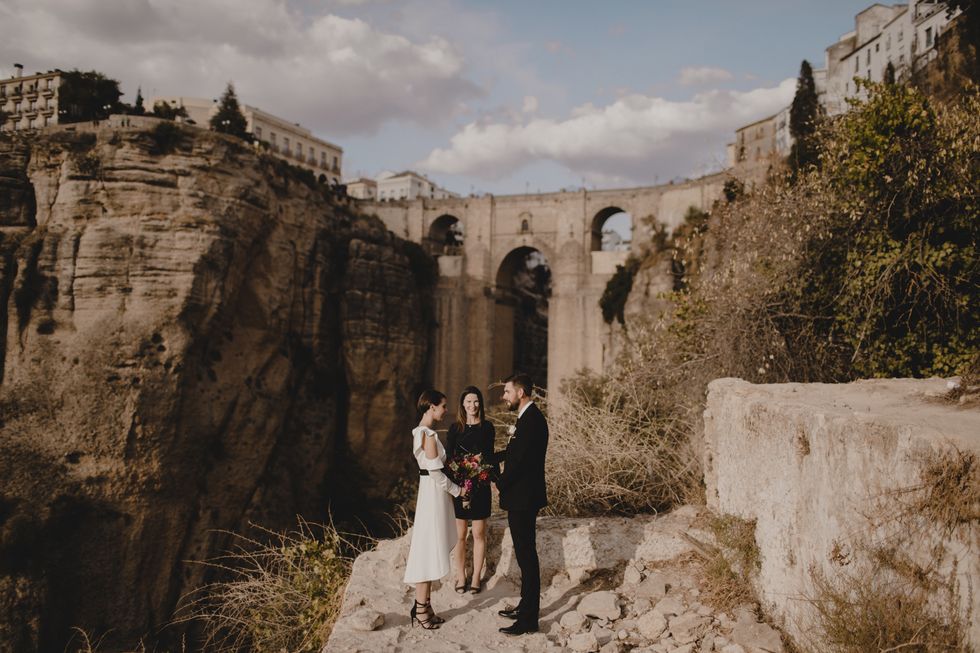 Photo: David Biasi
September 30, 2017: "Tom and I both always knew we never wanted to have a huge wedding—we wanted our marriage to be simple, romantic, and memorable. We really hadn't considered elopement until one day it just popped into my head. We both immediately knew this was exactly how we would do it. We eloped in Ronda, Spain, this little town atop a dramatic gorge. It was the perfect backdrop for our elopement—we said 'I do' in the El Tajo gorge that sits beneath the Puente Nuevo Bridge. We actually learned of the location from another couple who were married there a few years prior to us, so we curiously started doing our research on the area and, well, who wouldn't want to be married in a gorge in Spain?

"We stayed at the beautiful Hotel Reina Victoria, and the property, views, and spa were some of the best in town. I started my day with a massage at the spa. Back in our room, I met with my makeup artist and our photographer. Tom and I drank champagne, helped each other get ready, and kept pinching ourselves. It was hot; there was a lot of walking and tons of people staring as we strutted through the city streets on a mission to get married. We ended our day with a beautiful dinner and night out on the town. It was perfect." —Brittany Komon


Carly Wolf & Basilios Yiannopoulos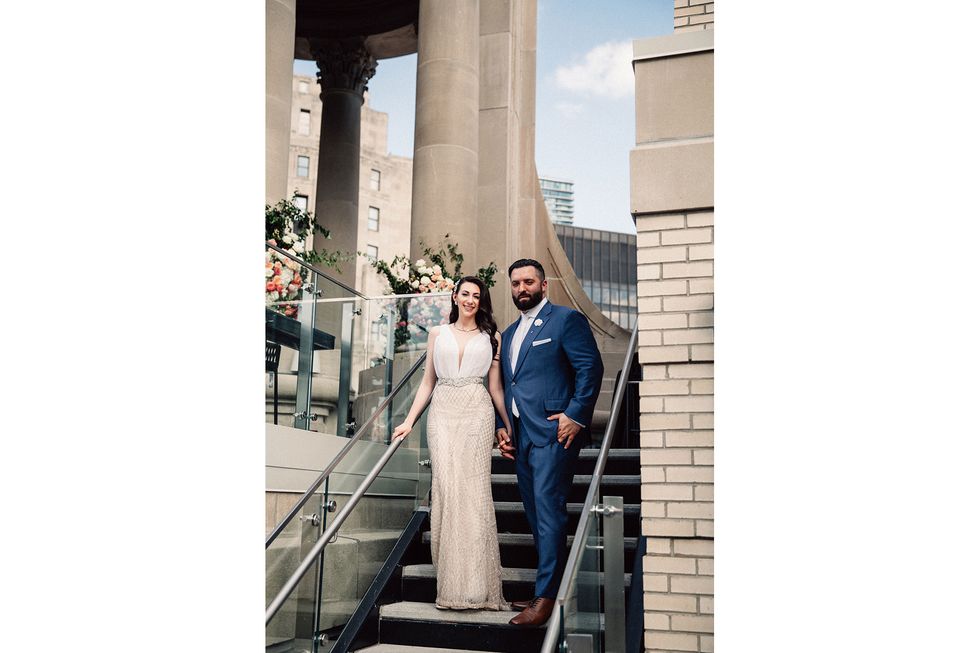 June 30, 2018: "Basilios and I decided to elope because we wanted something unique and different. We're not traditional people, and we felt that a conventional wedding was not fitting for us. Looking back, we're so happy we eloped! Our wedding was exactly what we envisioned and holds special memories for us. We wouldn't change a thing. The gold band we used in the ceremony was my great-grandma's wedding band. My Oma hid it under her tongue during three years of concentration camp." —Carly Wolf


Dana Hollar Schwartz & Justin Hollar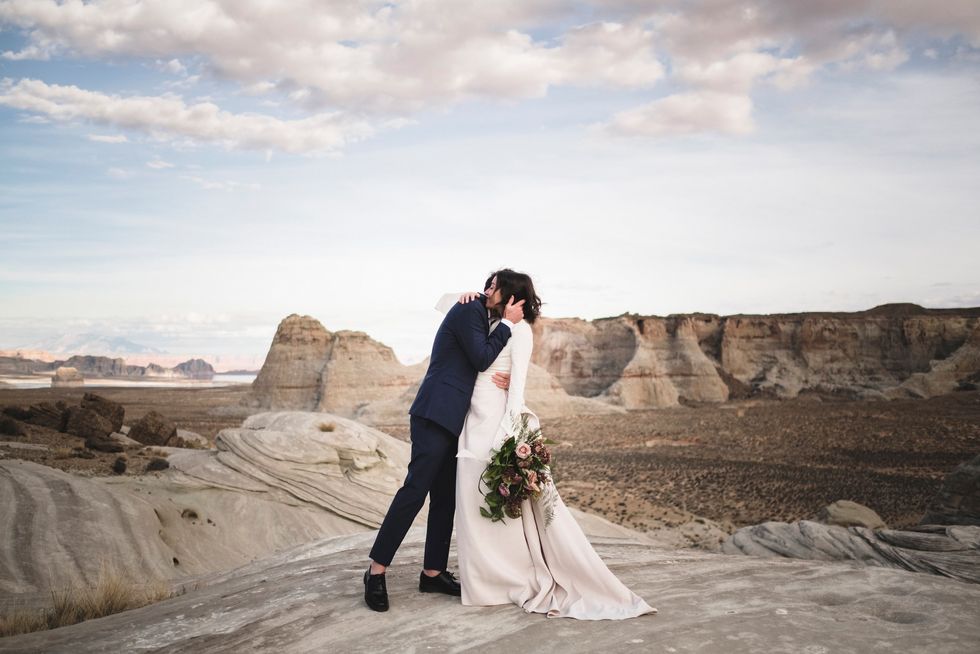 Photo: Shlomi Amiga
March 13, 2018:
"I always thought I would elope or do the city hall thing if I got married—I have no idea why. Once Justin and I got engaged, we looked at all the options—ceremony, dinner, dancing, city hall, just a dinner—but we kept coming back to just wanting to do something ourselves. We got our families' blessing, and the next step was just figuring out where. Once you take the guests out, literally anything is possible. So with that in mind, we chose to get married at Amangiri in Utah. It's magical and otherworldly and something I wouldn't have been able to rationalize if we weren't getting married. We had six weeks to plan, and I bought everything, including my dress, online. We found a florist in Salt Lake City and had her drive my bouquet down that morning, and we flew a photographer in so we could have a lot of pictures to show our families. The ceremony itself was about six minutes—a traditional Navajo sand ceremony at sunset. We had an epic under-the-stars private dinner that night in the middle of the desert and flew home to New York five days later. Before going home, we mailed postcards to all our friends and family letting them knew we eloped and we loved them and wished they could have been there. I smile every time I think about it." —
Dana Hollar SchwartzTop photo: Meghan DoeringWant more stories like this?
The Ultimate Bridal Beauty Timeline
How to Do Your Own Wedding Makeup
A 1-Month Beauty Prep Timeline for Procrastinating Brides