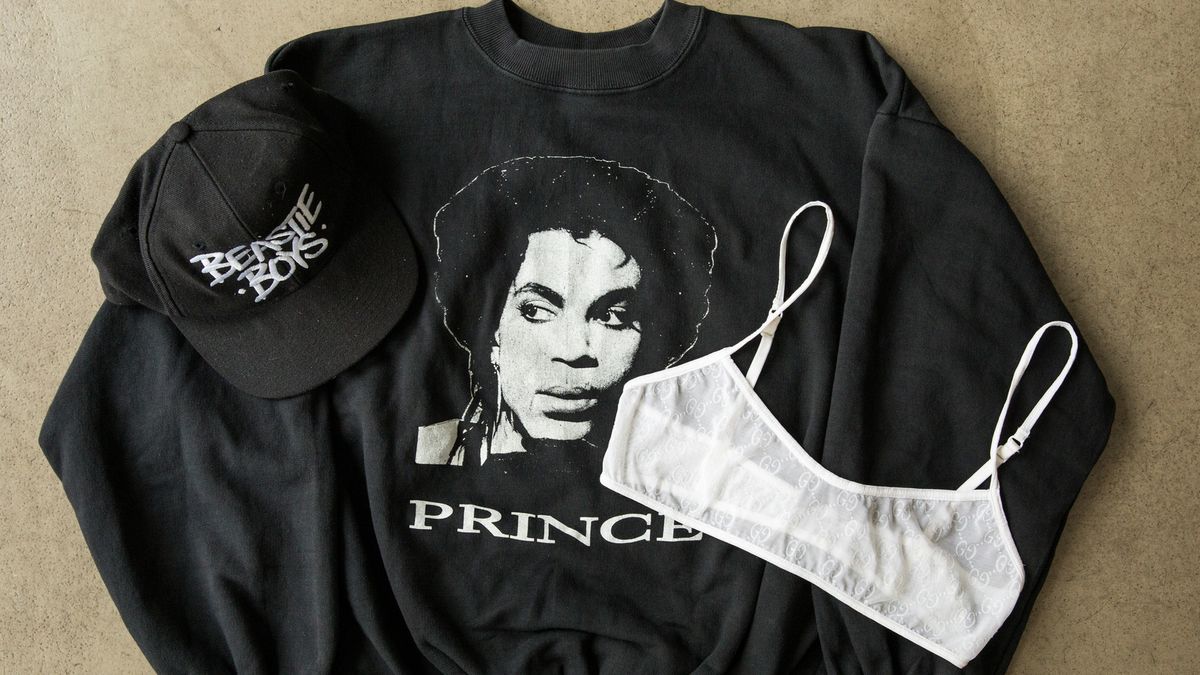 Career
How Procell Vintage Became a Gold Mine of Inspiration for the Fashion World
Frank Ocean, Kanye West, and Drake are regulars.
Alec Kugler
Monique Kamargo
A name that keeps popping up everywhere we look as of late is
Procell
. The New York vintage hot spot is the brainchild of Brian Procell and Jess Gonsalves. Brian is the creative director, main buyer, and sources the rare pieces you find in the shop, and Jess is Procell's producer who also dabbles occasionally in the creative. Opened seven years ago on Delancey Street in Lower Manhattan, Procell is quite literally bursting with the most coveted vintage out there (think rare concert merch t-shirts, CHANEL goggles, old-school Polaroid cameras, and so. much. more). That's not even counting all of the pieces in the store's archive, which is kept safe and sound in a studio space in Brooklyn. The brand is a source for everyone; Frank Ocean and Drake frequently stop by, Travis Scott (remember his Bjork tee front row at the Houston Rockets game?), even Kanye West (who's been spotted wearing a Tupac tee),
Heron Preston
, and Jeremy Scott are regulars. A testament to the fact that Procell and Gonsalves know they're vintage—Procell has been partaking in vintage archiving since he was a teen.
In addition to the storefront and archive, Procell has a third space they use for events and activations—multifaceted creative 
Tremaine Emory
 has held his annual fundraisers for
Every Mother Counts
 there.
In fact, thesame weekend that Emory was there, we stopped by the shop to get to know Procell and Gonsalves, chatting about how they got started, what their closets look like (
obviously
), collaborating with brands, and what we can look forward to seeing from them next. Lucky for us, we also had the chance to sit down with Emory to hear about his relationship with Procell and why he chose to partner up with them for his event.
---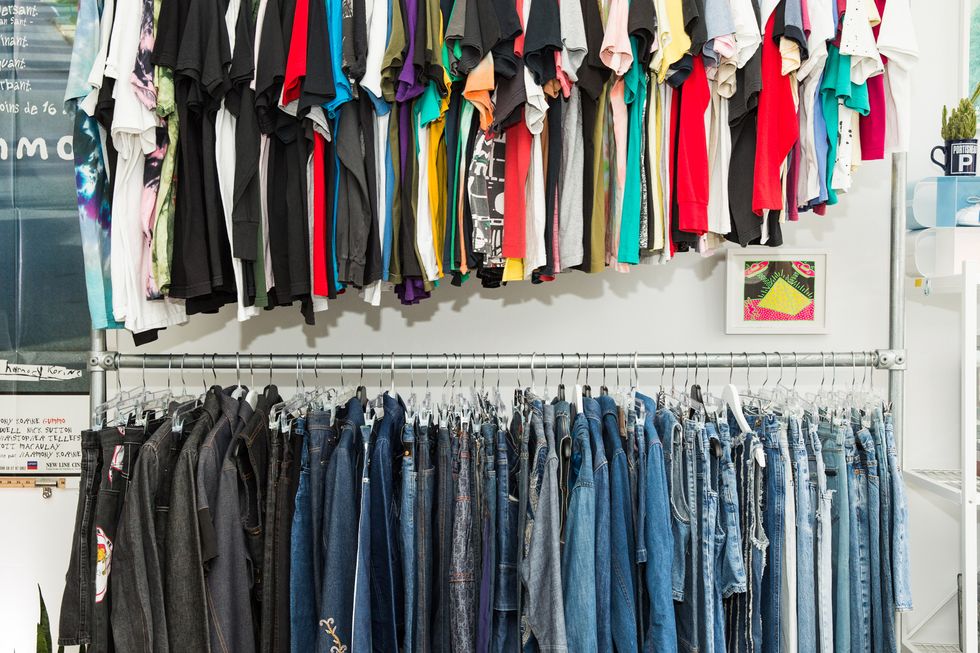 Brian fell in love with clothing when he was a teen:
Brian Procell:
"A lot of people can relate to the idea of collecting, but I don't think I was ever a collector. I lived through the era that a lot of people are now referencing. I was a firsthand participant in the culture in the sense that it was very natural in the '90s to be wearing a lot of what is coveted today. Clothing was so important to us growing up; it meant everything. We weren't thinking of it as a status symbol, we were thinking of it as gaining entry into certain social circles—allowing people to understand that we were cool without necessarily having to have the conversation. I didn't really collect clothing, it's more that I was wearing it, and as an adult I understood that it was coming back."
They opened a community space next to the store in 2016:
Jess Gonsalves:
"We opened the shop on Delancey Street in 2012. About a year and a half ago, we took on the space next door, and that's a space for the community. We do a lot of different stuff in there, whether that be a friend
'
s art show, an activation with Nike, or a charity event like we just did with Tremaine to honor his mother. It's a really special space."
And they also own a studio space in Brooklyn:
JG:
"Brian has always had a successful consulting business that revolves around his ideas and his ability to sort vintage reference for designers and big brands. We have a studio in Brooklyn that's not for the public, it's servicing our private clients—that's where we do all of our special projects. It's more of an archive, [the pieces] aren't for sale. If someone is working on their new season and they're under crazy timelines so they need vintage pieces to spark their creativity and to use as a reference point, [they come here]—it's by appointment only."
BP:
"We are the ace up the sleeve that a lot of designers need. A lot of what we have will often reflect their mood board, and we save the design house a lot of the time by being able to supply them with something that matches what they're looking for at that very moment. We also do all of the washing, restoration, and preparation there. Nine out of 10 pieces always need crazy amounts of attention. We go through every single piece on CSI level; we clean them, make sure all of the zippers work, there's nothing inside pockets, there's no unnecessary holes where they don't need to be, you know, there are no threads that are hanging, all that. We really take pride in [that]."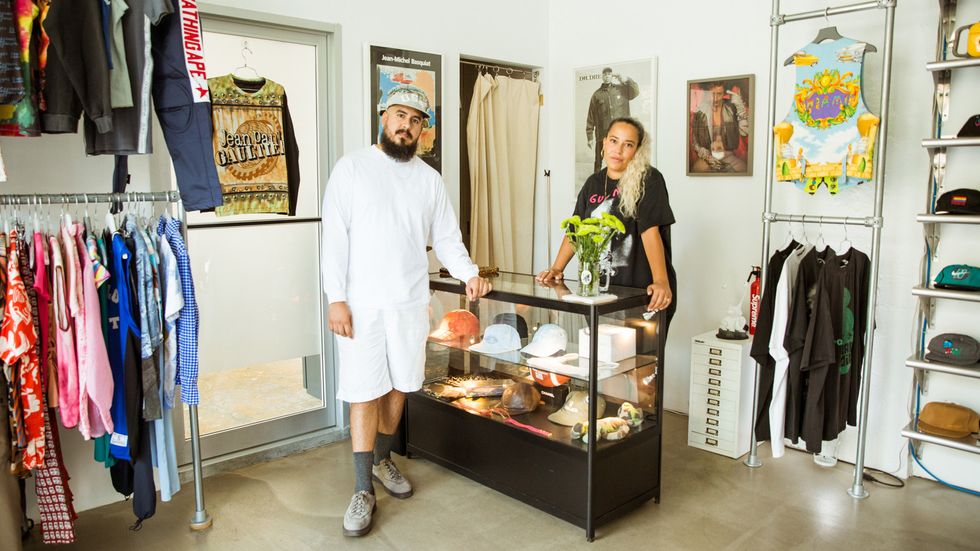 It also extends to their personal wardrobes:

JG: "We live and breathe vintage, so it would be pretty crazy if our own closets didn't reflect that. I do think that we are both pretty good at letting things go. We are running a vintage business, and that comes first. Obviously we want to partake too, but we let go of a lot of things if they are going to the next new home."

BP: "I think if we like something, it's a guarantee that the business is going to need it, or one of our important clients is going to put in a request for it. This is the most expensive city in the world, and we like to think of it as our baby. We would feed our baby before we'd feed ourselves."

JG: "With that being said, I have some crazy vintage CHANEL and Alaïa that I would never get rid of. Brian has quite a collection of different art objects and ephemera that he wouldn't necessarily get rid of today, but maybe in 10 years."

BP: "There's a box of t-shirts that have never been worn that are maybe 25-30 years old, [and] they will not register as vintage to most people. What I do is, I'll wear some of them and break them in to the point where they look like they have some mileage and some wear. Then some people can understand that these are the legitimate older pieces. At any given time in my collection, I'm cycling through some new, old stock."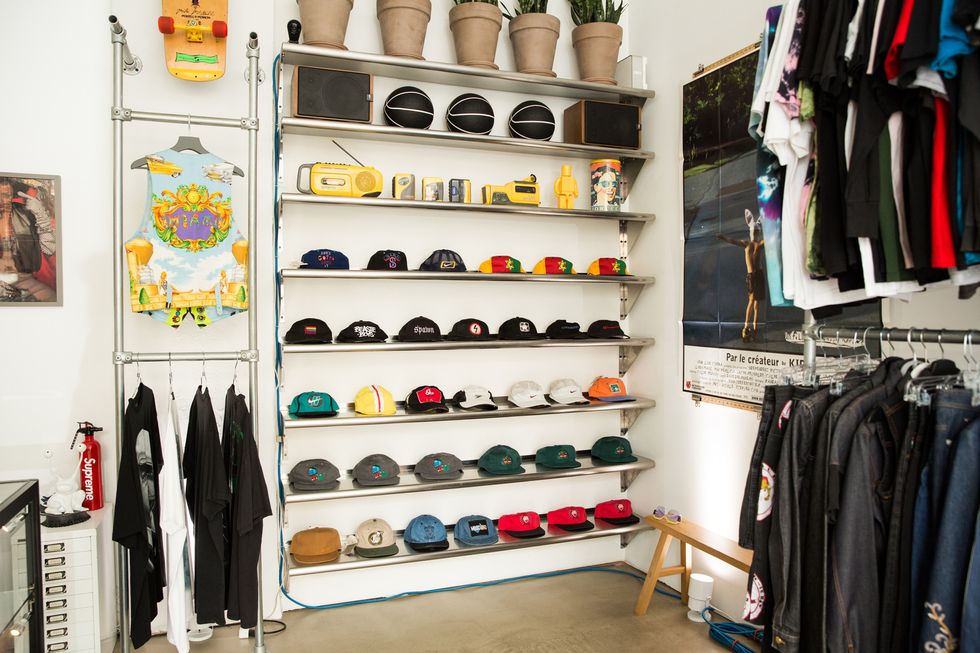 How they choose who to align themselves with:

JG: "In every collaboration that we've done, or special project that we have worked on, we've always aimed to make sure that it feels authentic."

BP: "We've been a big fan from the start of whoever we're working with, so it's an easy decision. It's not something that we ever have to think about, it just comes very naturally. There are people that create brands and companies who come from a very authentic place, but you can always tell who's just riding the wave, and I don't think we'd ever align ourselves with any company or brand like that. We don't really care for mass-market.

"We [aren't] transparent about all of our projects because it almost takes away from the beauty of the relationship that we have with a lot of our clients. There are certain people out there that broadcast and name drop whatever they can, and that's not our style. We really don't care to show the world everything that we're working on. There's so much we need to be discreet about and it makes so much more sense to not talk about."

On how they deal with their celebrity clientele:

JG: "I don't think we've ever been starstruck, it's just sometimes when we're having a dinner and we're like, 'Wow, that was a pretty crazy day yesterday with everyone who came in.' We stand really strongly behind the shop, we're proud of what we do, and I think it's lovely that other amazingly creative people appreciate that as well."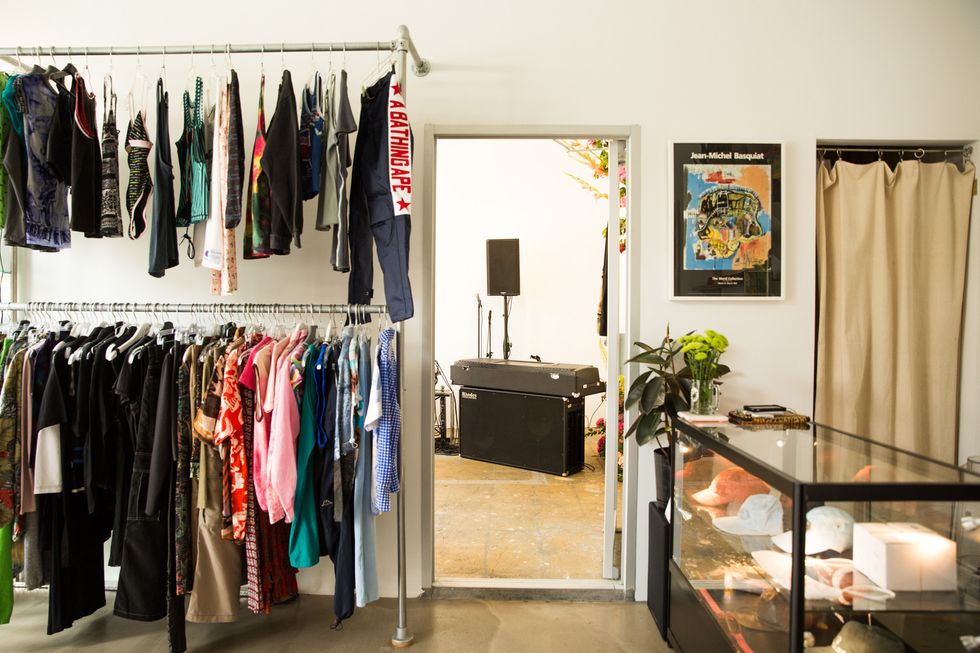 The most surreal moments to date:
BP:
"Here's a funny one [from] the last couple of months. We were setting up a private appointment for Cara Delevingne, and as we're setting up for her, Jeremy Scott comes in. I'm like, 'Jeremy, love you, but we have a meeting I gotta set up.' When Jeremy came back, Cara was there, but Cara had brought Adwoa Aboah, and right after that Alexander Wang pops in. Then sprinkle in Chanel Iman [and] A$AP Ferg—it was insane. All in one day, and they were all visiting the shop independently."
Tremaine has been a part of the Procell family since the beginning:
Tremaine Emory:
"I've been shopping [at Procell] since it opened—I believe it opened whilst I was living in London working for Marc Jacobs. I always made my way to Procell when I would visit New York. I can't remember what I bought; the conversations I would have at the shop with Brian, Jess, and the staff were always my best takeaways.
"I met Brian a long time ago. I met Jess through Brian when Procell opened. They both are beautiful human beings—so is [videographer] Coco! They're just real people that care about art and sharing art."
BP:
"I've always respected his style and sensibilities. He was a big champion of Procell from the start when we were first opening the shop. We became good friends, and when he approached us with the concept, we said, 'Yes, of course, we would gladly donate the space.' After the success of the first one, I said, 'You know, for as long as we have the space, we will always donate it to this charity,' and he was very touched by that. One hundred percent of the proceeds that weekend went to a charity, and we think that's so beautiful."
TE:
"Brian did one of kindest things anyone has done for me and offered to give me the space for free to do the charity pop-up.
"This is the third time I have raised money for
Every Mother Counts
. My friend Ambie Stapleton put me on to them, I'm forever grateful to her for that."