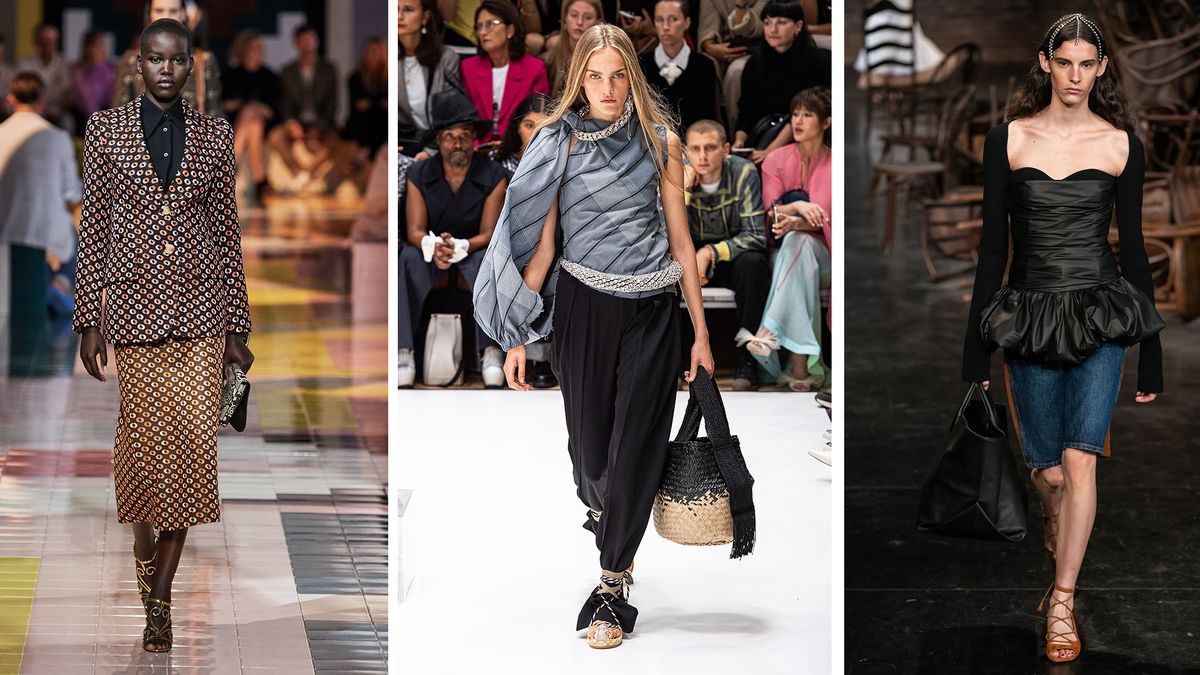 Fashion Week
Think less is more, with a heavy dose of nostalgia.
It's that time again—time to dissect
the most recent fashion shows
and piece together the trends that will dictate our choices next spring. With cities like
Copenhagen
and Sydney joining New York, London, Milan, and Paris as hotbeds of fashion talent, and so many emerging designers catching our eye, it
'
s often difficult to pinpoint all-encompassing trends. Recently, not so much a litany of trends, but more of a mood, emerged from the runways. Designers seem to be collectively simplifying their collections. Even Prada and Gucci, whom we can always count on to indulge our maximalist tendencies, pulled back and delivered refined, some might even say sophisticated, collections. Peacocking is out, and dressing with a purpose is in. The styling is more intentional, focusing less on how many things you pile on and instead on how you combine a few interesting pieces. Many looks have a specific aspect that the rest of the pieces are designed to highlight. On that note, keep scrolling to uncover (and shop!) some of our favorite trends for the upcoming spring season.
---
If you've been scouring for fashion week trends recently, you've probably noticed much attention being paid to the white suits that went down the SS20 runways. But to ignore the number of other suit renditions would be a crime. There were suits in plaid, suits in croc, suits with shorts, pants, and skirts (and sometimes skirts over pants). If you're up for it, channel your inner 19th-century Englishman and layer a vest underneath a blazer, grab your pocket watch, and head out the door.
As spring is already a time to ditch your jackets, why not use that as an excuse to amp up the volume of your sleeves? It seems designers had this same idea in mind, as we saw sleeves of more than generous proportions attached to dresses, shirts, and jackets alike. These epically voluminous sleeves somehow managed to look just as intentional when placed on a ruched ball gown at Khaite as they did on a simple scarlet blouse at Roksanda.
Catapulted onto our radar by Hedi Slimane's FW19 Celine collection, the preppy look has manifested itself in a new form on runways from Ferragamo in Milan to Brandon Maxwell here in NYC. Not only is it full of the classic emblems like pleats and crewnecks, the 2019 rendition of prep is truly a lesson in layering. Try button-downs under sweaters, a blazer over just about anything, and even the schoolgirl combination of ankle socks and ballet flats.