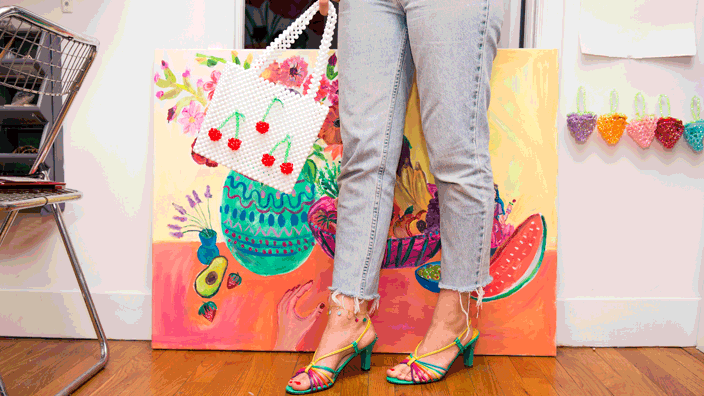 Designers
The jewelry and handbag designer found her inimitable aesthetic by accident.
Alec Kugler
Monique Kamargo, Tara Gonzalez
Of all the things that ran the gamut through our minds upon entering
Susan Alexandra
's Chinatown apartment (and
studio
), minimalist wasn't one of them. Color was everywhere. Sparkling rainbow-hued beaded bags perched high in alcoves, tchotchkes crowded on lucite shelves, and walls collaged in colorful sketches like a proud mom pinning up the fruits of her child's uncontrollable imagination. The only difference: They were all hers.
It's that ingenuous creativity that Alexandra permeates into her hand-painted enamel cuffs she so blithely covers in watermelon slices and lucky blue eyes, as well as the prismatic dangling earrings she's become known for. And it's that exact hallmark that came as sort of a happy accident. "I started taking metalwork classes in my free time and I really liked it, but I was really bad at it. I would make really messy looking jewelry—unwearable it was so messy. Metalwork is very precise, and I'm not good at precision, so to cover all of these messy lines, I would use enamel and create these very colorful, very different-looking finishes," she tells us over the phone about how she landed on her quintessential aesthetic. She's also ventured into bags, somehow unwavering from her lighthearted, nostalgic sartorial sense even in the slightest—think clusters of cherries in vibrant red and green iridescent beads and sunny yellow flowers reminiscent of those beaded friendship bracelets you'd make with your best friends during recess.
We sat down with Alexandra to talk about her creative process, the struggles of starting off a creative business, and why she recently decided to create textiles.
---
How picking up her first magazine started it all:

"I grew up in Columbus, Ohio, so not a fashion capital. My portal to a different world was Vogue magazine. I got a subscription from my aunt when I was seven years old, and I thought, This is not real, this is magic; the ball gowns, jewelry, and the decadence, and articles about restaurants and food and travel I never even knew existed. That kind of fairy-tale universe was my first exposure to fashion—they were so formative. I still feel like when I create and I don't know where the inspiration comes from, and if I really track it, that's where it comes from."

When her fascination with jewelry began:

"I was around 12. My mom's friend made beaded jewelry, and I agreed to helping her after school. It didn't matter what she would pay me, I would just do it when I was watching TRL after school. I loved creating with my hands and the idea that I could make something from scratch. After that, I would take old brooches I would find at the thrift store and make them into necklaces. I would always sort of break things down and remake them. I started making jewelry just for fun—I never had any intention of doing it as a career."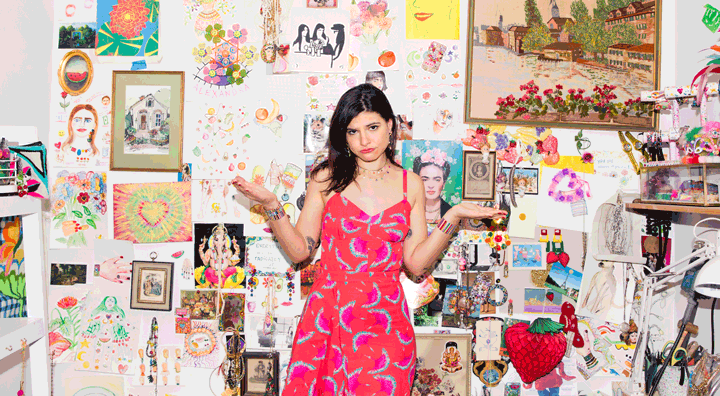 How it became a business:

"I moved to New York 10 years ago. I went to school in Chicago, and I always had this magnetic pull to New York. I assisted on a lot of styling shoots, and I just remember at the end of the day feeling so depleted, so exhausted, and so not happy with what I was doing. I put that to rest, and I realized that the career that you choose should give you energy and make you feel good, instead of coming home and not being able to move because you're so exhausted and so emotionally depleted. I started working with this jewelry designer, her name is Jill Platner—she's based in SoHo in New York. I started taking metalwork classes in my free time, and I really liked it, but I was really bad at it. I would make really messy-looking jewelry—unwearable it was so messy. Metalwork is very precise, and I'm not good at precision, so to cover all of these messy lines, I would use enamel and create these very colorful, very different-looking finishes. I was just doing it for myself. I started wearing my jewelry that was very colorful, and it got people's attention. I put up a website of my jewelry for my friends in case they were interested.

"My first pieces were rings and bracelets. Henri Bendel reached out to me and were like, 'We want to carry your collection,' and I think I cried because it was such a dream. That's how it started—it was really by chance."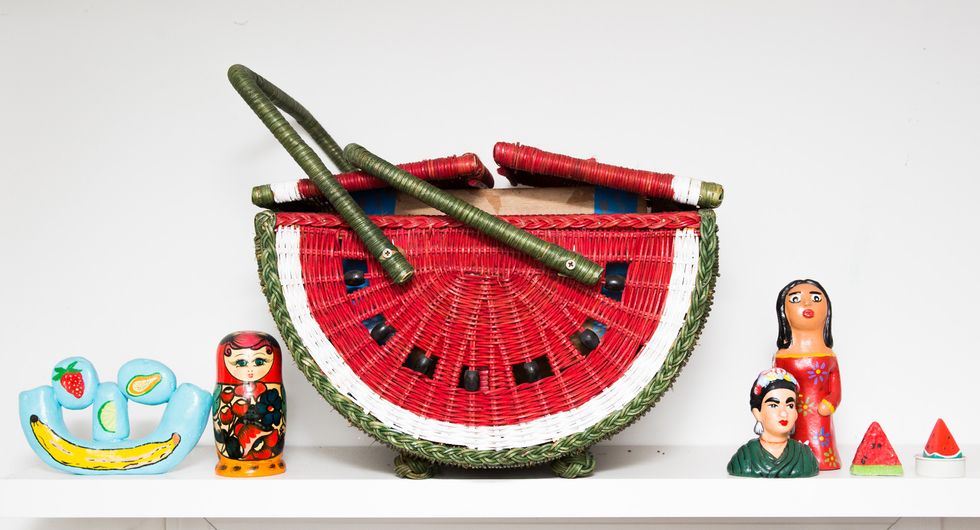 There were, of course, some struggles at the beginning:

"I was working for this other designer, waking up really early, working on my own stuff, and then going to work, coming home, and working on my own stuff. The hustle, you're going to be exhausted, you're going to work yourself to the bone, and your social life is going to suffer. There were so many things that I had to adjust. There was so much money [I had to] put forward to it, and there was no guarantee. The physical work of it alone was so intense. Your body just aches. You're so vulnerable—vulnerable in the way that you're putting your soul on the line. You have to have a very thick skin and a really good inner constitution that can handle projection. All of those things are very hard, especially if you're sensitive like me."

The truest career highlights for her are intangible:

"Having people that you really admire wearing your stuff feels really, really good. That's like, the ultimate form of validation. Also having stores interested in your work feels very good. Occasionally I'll get emails from people who are like, 'I just want to reach out to let you know that I bought something from you, and it makes me feel so special, and I feel the energy in it, I feel a connection with this piece.' People connecting to your work is the ultimate thing. I think it really keeps you going. Those kind of things make it more than just the material item."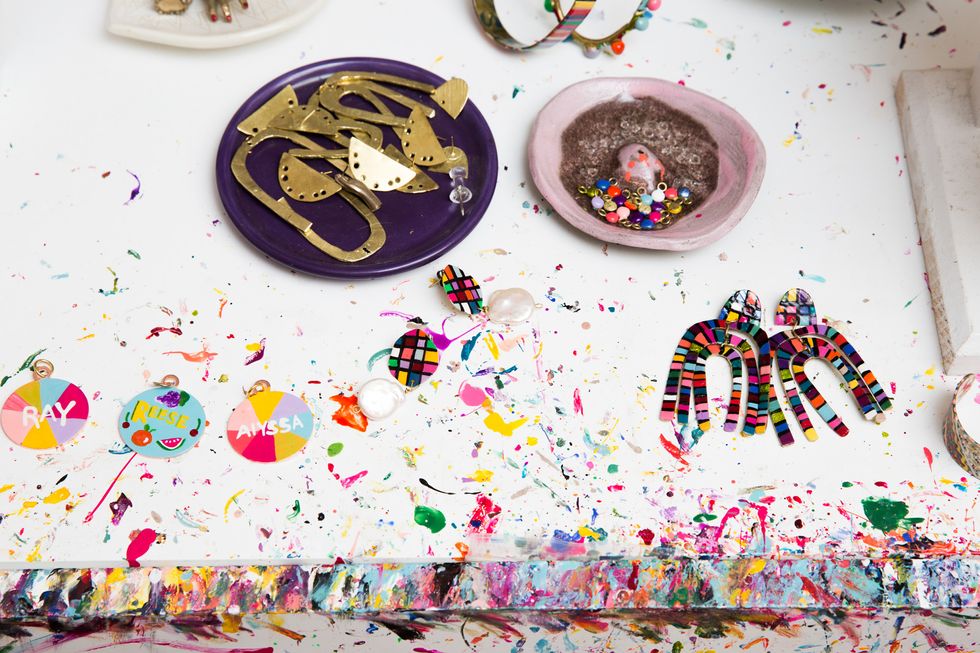 Why she wants to keep her business in the U.S.:

"I work with about 10 women in New York who make my purses. They're all mothers, and they can work from home and still take care of their family. That's a very gratifying thing, and that's why I'm really trying to keep production in this state."

On her creative process:

"The creative process for me is a very internal thing. I'll have an idea that will come to me without rhyme or reason, and from that, I'll sketch it and either create a bag from it or jewelry, or something else. I just started making textiles. It comes from a place of wanting to see something and wanting to own something and not having it in my life. Plus, having this a feeling of a divine inspiration—not really knowing where it comes from, just feeling like I've been struck by this idea and feeling a need to create. It's really like giving birth, this creation feeling. It's very powerful, and I think I'm maybe a little addicted to the feeling."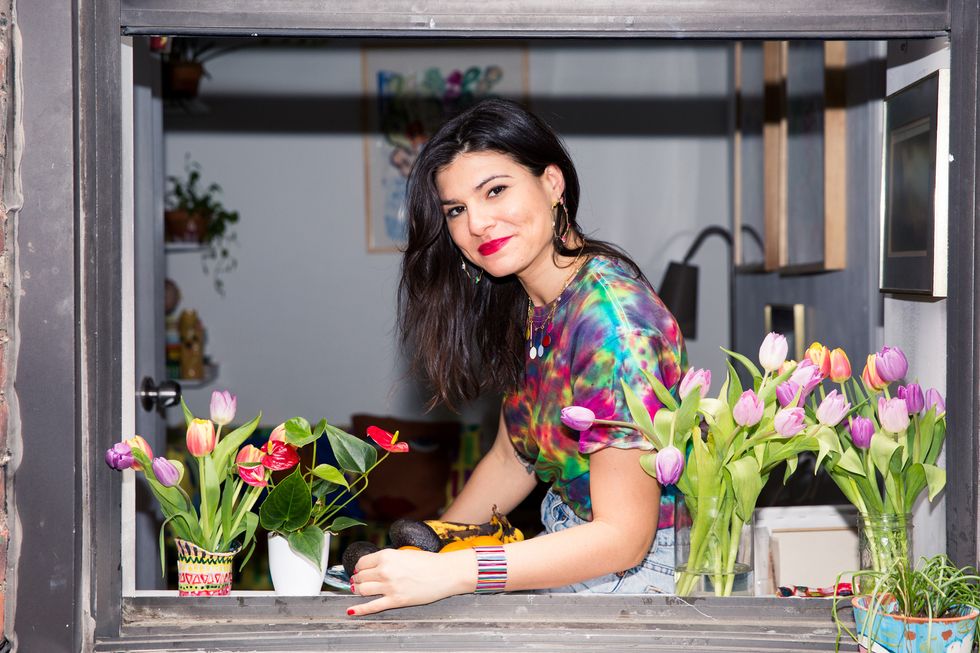 What's currently inspiring her:

"I'm enamoured with jewelry that's really sexy and flattering. I love the look of tons of gold necklaces, and I love how gold hoops and pearls sort of light your face up. I want to play on the things that are radiant and give you an extra glow in terms of jewelry. I'm also really obsessed with earrings right now, like big earrings, so I'm trying to work on a lot of those. Big earrings that have a statement but are also light because I can't deal with heavy things. I'm always obsessed with fruit. I'm always obsessed with creating a really over-the-top, sugar-sweet fruit bag. I'm doing some new iterations on fruit—little clusters—so it's pushing the limits of what you create with beads."

Why her space is sacred:

"I work out of my home in Chinatown in New York. It's pretty tight, it's a small space. I've lived here for about six years, and I love my apartment. This is the first time I felt like I've had a home in a long, long time since actually leaving my childhood home. I love the location, I walk everywhere. This is my New York. I've really tried to maximize the space, and it makes me cut down on a lot of unnecessary things. It really prevents you from being a hoarder. I love the colors, and how people say how it feels like an expression of me when they come in."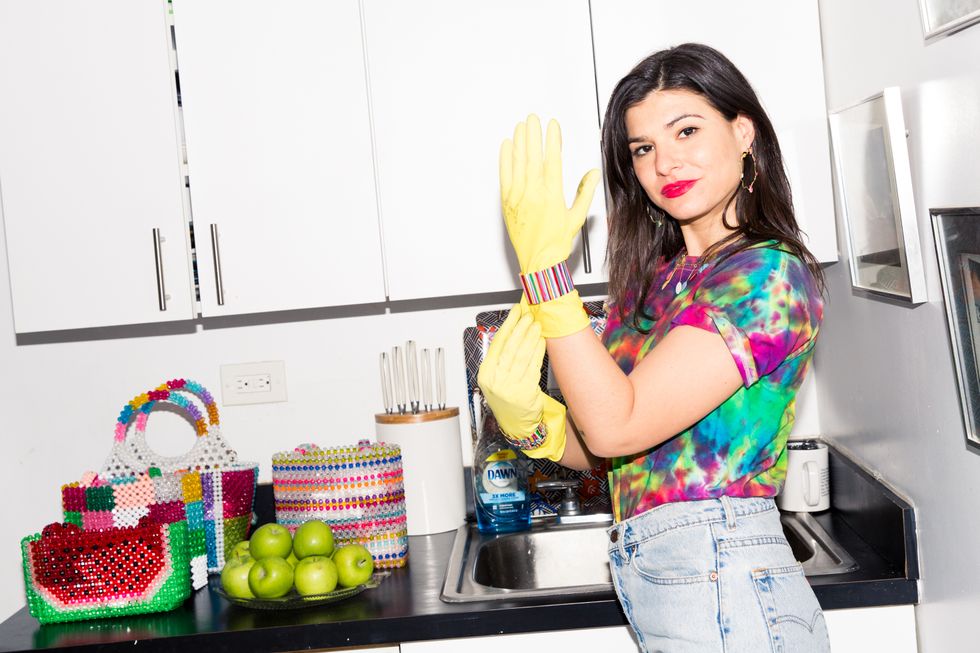 And that has a lot to do with her zodiac sign, she will tell you:
"I'm a very true Scorpio. First of all, the part about having your own space is a very Scorpio thing, we really need our own space. Scorpios search for depth. With my work, I'm making things that people like and things that are pretty, but what else is there? My goal here is to create things that make a difference and bring healing to people's lives. My Scorpio nature really looks for what more I can do, and I want to continue to make things, but I want to make things that make people happy and bring joy and have a sense of purpose and healing. It makes me want to create something more than what meets the eye."
"I have a very witchy aunt who, from a very young age, she saw my past lives, and I've had tarot readings. I'm talking from five years old, she would give me past life progressions and read my palms and tarot readings. She was very into all of this stuff before it was a thing. But now I have a community of witches around me who are very intuitive. I'll be like, 'Oh my god, I'm feeling like shit,' and they'll be like, 'Of course you are, the new moon is in Taurus, and your sign is blah, blah, blah.'"
Want more stories like this?
Couturier Iris van Herpen on the Future of Sustainable Fashion
Two Friends Ditched Corporate America to Make You Better Underwear
A NastyGal Alum Just Launched Her Own Magazine—and You'll Want It on Your Coffee Table