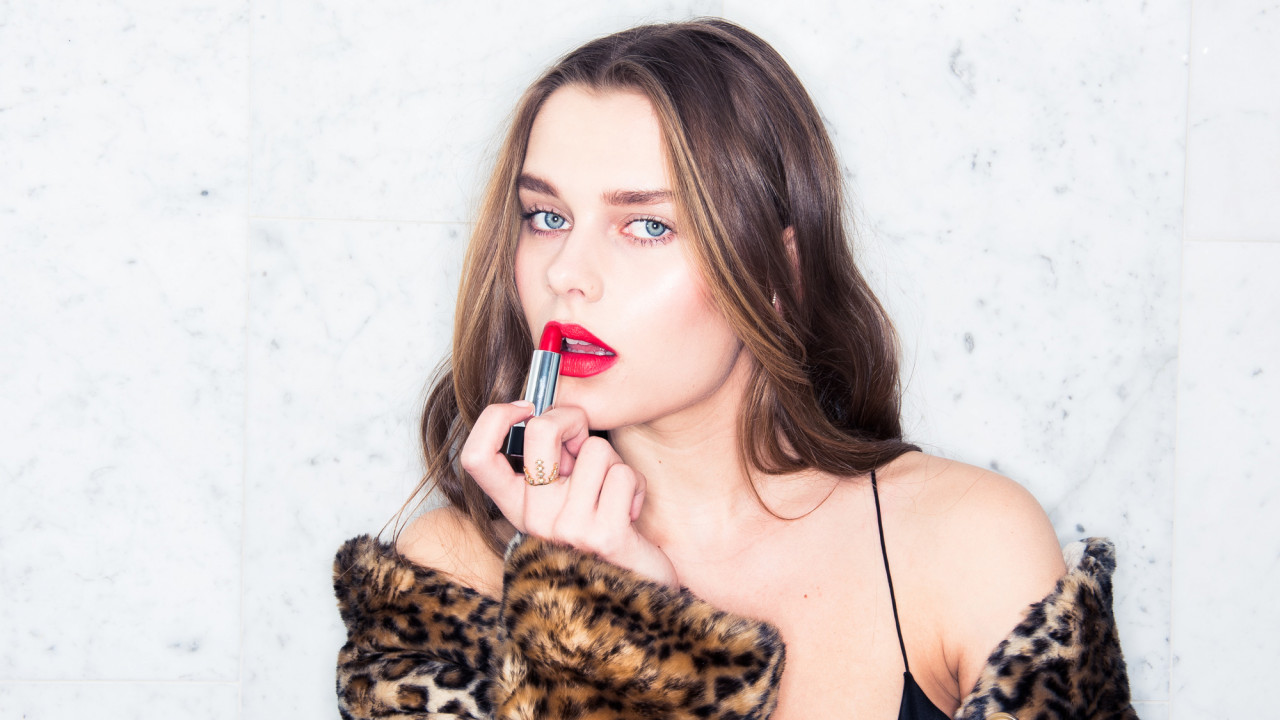 Math May Be the Secret to Finding Your Perfect Lip Color
Turns out your shade is only an algorithm away.
What's harder than finding your perfect foundation match? Finding your most flattering shade of lipstick. It is, in our opinion, one of the most challenging things to do when shopping for beauty products, mainly because there are so many factors involved. Did you tan over the summer? Has your hair color changed? Is your undertone green, or is it bluer? Of course, there's no hard-and-fast rule that says you can't wear whatever shade you damn well please, but if you want one that genuinely complements your complexion, it can be a bit difficult. Clinique felt the same, which is why we're so jazzed about their newest lip product, the Even Better Pop Lip Color.
The brand uses its shade-match science to find not only your ideal foundation shade, but also the most flattering lip colors. And if you have ever taken an art history class, or paid particularly close attention in geometry, you might recognize the formula behind this technology: the Golden Ratio. If you need a refresher, we don't blame you. According to the brand statement, this is "a harmonious proportion that underlies the most beautiful works of art and nature." It dates back to some of the most influential artwork in the world, but when used for makeup purposes, it also helps to identify what colors are in perfect balance with your skin tone.
So how does it work? Once you identify your correct shade of foundation, a three-dimensional color wheel plots your skin's undertones and the shade variation between your cheek and neck. Then the Clinique algorithm yields a new data point on the wheel, which, in turn, identifies the most flattering pigment for your lips. By deepening the pigment of that original shade, you can also find two other colors with varying levels of intensity so that you're able to create a more dramatic or natural makeup look depending on your mood. Basically, you're left with three lip colors that look gorgeous on your complexion.
Clinique Even Better Pop Lip Color is available today, October 1, on clinique.com, and each shade retails for $19.50.
Photo: Shot on site at 6 Colombus, a Sixty Hotel; On Solveig: Dress, Jonathan Simkhai; Coat, Sandy Liang; Ring, Azlee, Baker & Black; Hair, Angela Soto; Make-up, Andriani.
Want more stories like this?
How-To Beauty: Basic Contouring
12 Hydrating Body Lotions to Get You Through Fall
Gucci Westman Wants You to Wear Lipstick in Your Eyebrows