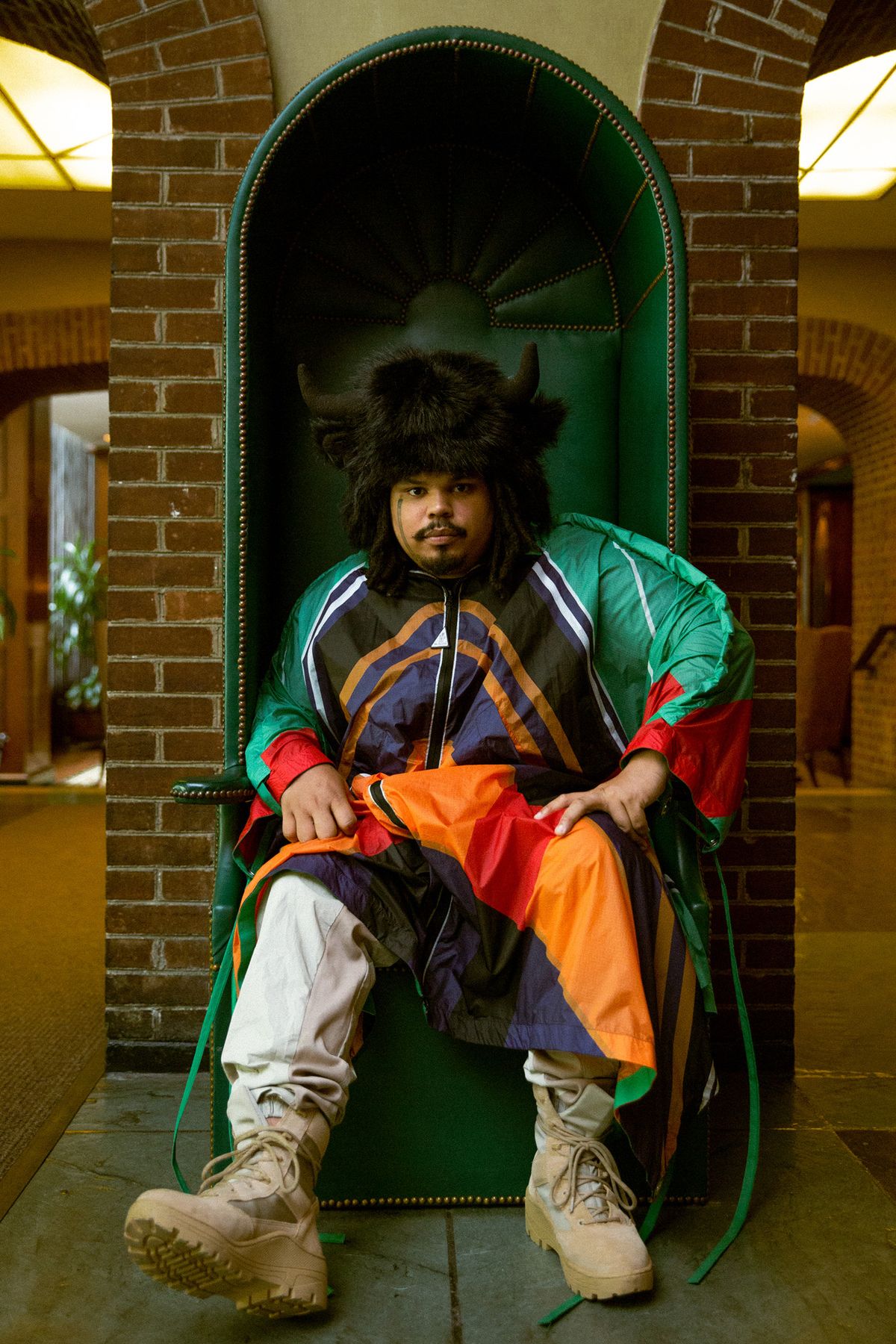 Closet
It's overflowing with Jeremy Scott collabs, collectibles, and oversized hats and boots. New York.
Alec Kugler
Jodi Taylor, Monique Kamargo
Kerwin Frost
 is not sartorially shy. Exhibit A:  
he wore angel wings
to the Dior FW19 show. Exhibit B: he wore an insanely oversized
safety vest
in Paris. Exhibit C: he wore his daughter, Waffle's, sonogram on an HBA lanyard around his neck (the images are now on his apartment wall to greet you when you enter). We could go on. Even his well-known
pencil face tattoo
is a statement. His thrifted avant-garde outfits are what sparked it all for the Harlem-native, who began to turn heads in the fashion industry with his now-defunct creative collective, Spaghetti Boys, which held parties around the city and collaborated with the likes of Nike,
Off-White
, and
Heron Preston
. From there, Frost became multifaceted, flying around the world as a performance DJ and comedian and launching
Kerwin Frost Talks
, a self-produced interview series where he gets up close and personal with the likes of
SZA
,
Luka Sabbat
(who also happens to be his best friend), and Jeremy Scott. He's also worked alongside Kanye West, creating video content for West's Wyoming listening party, his
Kids See Ghosts
listening party, and the famous Kardashian-Jenner-West Christmas Party. Don't stress, we too are wondering how Frost manages to juggle it all—especially since he recently welcomed Waffle into the world with his wife slash manager,
Erin Frost
. Oh, and did we mention that the Frost couple were also moving into a new apartment a few months after the birth of their daughter (only weeks prior to our visit)? One that is decked out with Frost's collection of vintage posters (think
Spice World
and
Chicken Run
), life-size cutouts of himself, a pair of clown shoes for every day of the week, a plethora of old-school Got Milk? posters, and a Nintendo 64 prototype that Frost built himself. Honestly, it was like his own little amusement park of goodies. Click through the below photos to see it for yourself.