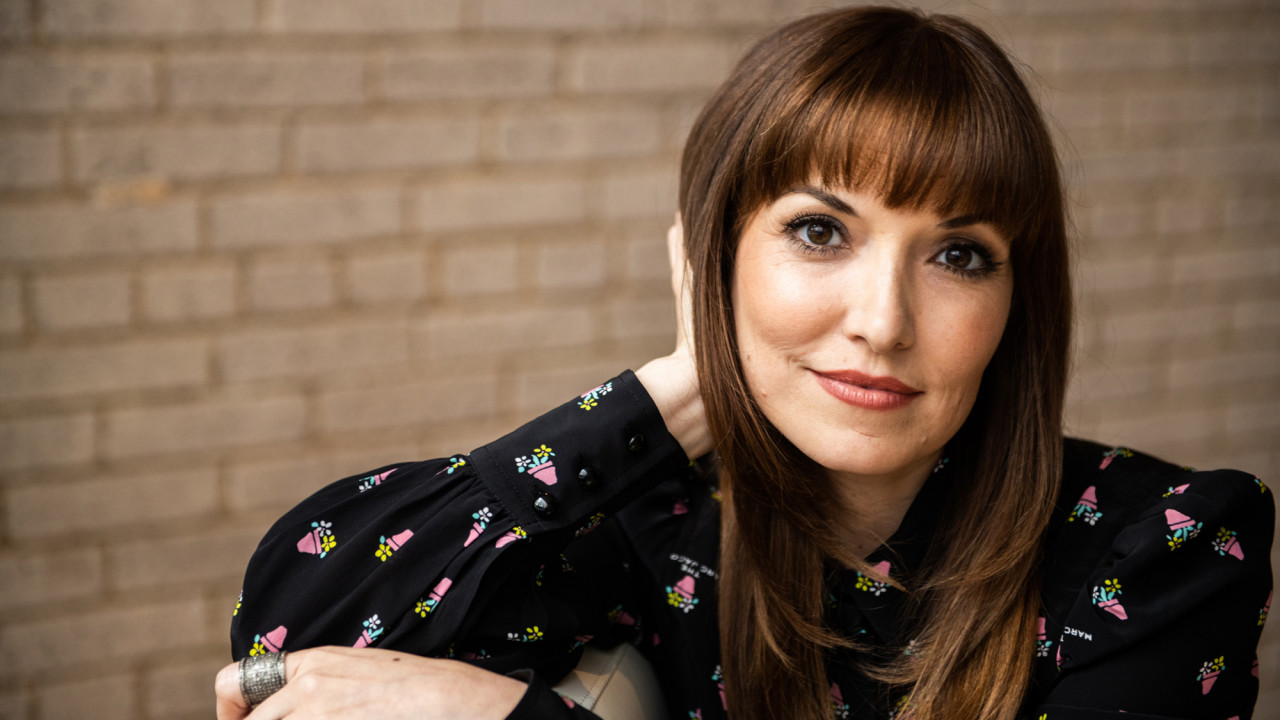 Hustlers Was Filmed in 29 Days, & More from the Film's Director
Lorene Scafaria on the power of women banding together, the surprising place Jennifer Lopez's character name came from, & why she used Chopin throughout the film.
When you manage to sign on a cast that reads: Constance Wu, Jennifer Lopez, Cardi B, Lili Reinhart, Madeline Brewer, Julia Stiles, Keke Palmer, Lizzo—then you must be on to something good. Maybe it's that you've managed to talk about sex workers and exotic dancers without falling into a single trope—that's something that should be celebrated on its own. Compound that with writing a smart, witty, hilarious screenplay and inimitable direction, and you've got yourself one of the most buzzed-about films of the year—Hustlers, by the woman who brought it all together, Lorene Scafaria. Sitting down with the director a few days before Hustlers' world premiere was every bit an inspiring treat. Read on for our chat about how she managed to film the female crime drama in just 29 days, why J.Lo's character was named Ramona, and why having a group of empowering female friends is the ultimate secret weapon.
Do you remember when you fell in love with writing?
"My aunt got me a business card that said Author when I was five years old, so I was writing really early. [Laughs] What's more embarrassing is I have my first 'screenplays' that I was writing in fourth grade, and they all say 'starring Lorene Scafaria and Ethan Hawke' on them. [Laughs]"
That's amazing!
"They're ridiculous. I was obsessed with David Mamet when I was a little kid, so a lot of it was that I was interested in theater. But I loved movies, so I was always writing. I went to New York in the sixth grade, and they sell screenplays on the street for like, $20—I bought A Clockwork Orange, and I brought it home and then I just studied the structure of it. I was writing things that my mother was very worried about. [Laughs] I was writing a lot of ultraviolence at that point just because it was like sci-fi."
Is there anything lurking in those archives that you think you would make into a film?
"You know, maybe the first play that I put up when I was 16 [years old] that was like a David Mamet wannabe. I put it up with my then-16-year-old guy friends, so I have this desire to do it exactly as it was written but with age-appropriate people. I think that would be really funny."
I hope that happens!
"I hope so too!"
Writing can be really defeating and exhausting. How do you push through that creative block?
"Oh gosh! I just do it all the time, you know. I try to just never stop writing or thinking about writing, but you have to go live, too. You have to get out of the house and actually experience dialogue in real life.
"I can't write to music. I find music so distracting because it actually takes me on a real emotional journey. If I'm really specifically writing to a song, I might listen to it on a loop, but otherwise I love just having movies and TV going. I like the sound of voices, but I can't really handle silence. Sometimes a movie will get me going and spark something."
The Fempire is such an amazing coming-together of women. Why do you think it's so important for us to band together?
"Safety in numbers! There are so many experiences that only we have. The same way that you have deep friendships with women, you need to have really deep work friendships with women. It's not like we [Fempire] all work together, but to be able to share ideas and to be able to pitch things to each other and get feedback is so invaluable. I've directed episodes of New Girl, and so I worked with Liz [Meriwether]. Diablo [Cody] and Dana [Fox] and I will often sit in the same room together. Diablo is married to my best friend from college, so I take full responsibility for their three children. [Laughs] It's so funny how long we've known each other. It's really nice."
What was it about Hustlers at the Score that made you say, "I need to make this into a movie"?
"As soon as I read it, I felt like I needed it to be a movie. I wanted to watch that movie. I certainly wanted to adapt it and direct it. There are so many themes that it touched upon that I was so interested in. Capitalism as it relates to a world that I don't think people think about or explore very much. Gender as it relates to money; money as it relates to gender. There's certainly an amazing friendship story in there that I thought was really compelling—that these two women form this bond and form this business and then were being interviewed separately.
"I felt like there was like, just enough judgment in it that made me want to find a way into this story where the strippers are stigmatized so much for what they do for a living, and I felt like I just wanted to tell a fuller story. Writing is always an exercise in empathy for me, so I want the characters to feel understood. I felt like people were judging these characters not just for where they ended up, but for where they started from. I felt really compelled to tell a human story and also an epic story that stars all these women. I thought that was really exciting that it had those gangster vibes, but it also has those sports-movie vibes, but it also has that core friendship and sisterhood vibes. I certainly wanted to talk about our broken value system, and that felt like a really organic way to do it because, you know, the club is kind of a microcosm of the world. And women are valued for their beauty and their bodies, whether it's for sex or motherhood, and men are valued for their money and power and success—that just is a fact, unfortunately. In every headline I feel like is somehow related back to how those are the top boxes that we're supposed to tick, and I feel for everybody that doesn't tick those top boxes, and I feel for everybody who's trying to, men included, who have been told that they're only worth the size of their bank account. I think that's a pressure that adds to a certain type of toxic masculinity. I can't fault any gender or any job for coexisting within this value system, and I certainly don't judge these women for what they do for a living, and I don't judge the men who walk in the door to seek whatever."
When you were writing the screenplay, did you envision who you wanted to cast?
"I don't really do that just because I feel like I'm trying to just picture these characters as real people and not limit myself too much. I just don't think that way until I reopen it up and try to think of who could play this part, and of course it was like, oh, Ramona is Jennifer Lopez. [Laughs] It has to be Jennifer Lopez!
How did that casting come about?
"She just felt so obvious from that moment. I felt desperate to get her. We sent it to her producing partner, Elaine Goldsmith Thomas, who thankfully loved the script and sent it to Jennifer, who loved the script. Then we met and just talked about Ramona and all the themes that we were both excited about. She obviously knows the city very well, she knows that time period very well, and so..."
I mean, there were so many J.Lo references. I was like, wait, J.Lo in this era would wear that coat!
"We thought maybe Ramona's style icon was Jennifer Lopez!"
You shot the entire film in 29 days. Is that very typical of a film to be shot that quickly?
"No, no...From green light to release date, it was eight months, so that's uncalled for [laughs] and not recommended. [Laughs] But I'm actually very happy that people are going to see it as soon as possible. You know, we just finished it last week…"
Wow:
"At first it was delivering the script; then it was, who's going to direct it. I had to fight for the directing job. Once I had the directing job, it was about casting, so I got Jennifer, and then through that process I was trying to build out the rest of the cast and get the movie green-lit. Scheduling was hard; things come together, things fall apart. We were taking the script around to different places to see if anyone would want to buy it, and of course they kind of wanted different things for it, maybe a little more of a black-and-white story, maybe some things to be watered down, maybe other things to be played up, and that just didn't feel right to me. So STX was the only place that [would let us do it our way]. I handed that script in mid-January and really thought, Is this still happening? And then they called and said, 'Let's do this!' I then moved to New York, and it was a really quick prep: seven weeks and then [a] 29-day shoot."
The classical music really made some of the scenes. Why did you decide to use it?
"I had written all of the Chopin pieces into the script—specifically the études, the studies. Arpegios require such dexterity and such flexibility, and it just really reminded me a lot about what the dancers are doing and how much strength, grace, and elegance is involved. So it became the sound of the movie. We shot to almost everything that ended up in the movie, but you just never know if people are going to give you the rights [to the music]. We got very lucky [laughs].
Now a few things about you. What's the first thing you do in the morning?
"Feed my dogs! They're all over me! One is a little man who we call a goat lobster, but he's a terrier mix, and one is a husky mix. They are stunning!"