Career
Ellevest's CEO, Sallie Krawcheck, will relieve all your financial fears.
Weston Wells
Investing in the stock market is daunting, to say the least, especially as a woman. Just one glance at the Wall Street Bull is reminder enough of the financial sector's aggressive nature. But like the Fearless Girl standing up to her opponent, learning how to navigate the investment market is entirely doable, and better yet, it can make you some real money in the long run. Just ask Sallie Krawcheck, former equity analyst and CFO of Citigroup turned founder and CEO of
Ellevest
, a digital investment platform for women. Whether you're a recent college grad wondering what to do with your first real
paycheck
, or a seasoned professional hoping to purchase a home with your partner, Krawcheck and the team of advisors working at Ellevest can help guide you towards a healthy financial future.
Obviously, we had dozens of questions for the founder when we sat down with her at Ellevest's New York headquarters, and she was more than happy to explain not only how her company benefits women (and men!), but also why we shouldn't be afraid to take control of the money we work so hard to earn. She even explained that despite the persistence of the
investment gap
(and what exactly that means), women are actually better investors than men. Prepare to take notes.
---
Why is investing so important?

"The experts, including us, say the way to look at your salary, your take-home pay, is 50 percent for needs— rent, food, etc.—30 percent for fun—trips with friends, a really nice restaurant, [shopping]—10 percent for future you—retirement—and the rest of it should be invested in order to achieve these other things in life. We invest for things like buying a house, starting a business, going on a trip around the world, having a baby. Those are exciting. If you begin to plan for it, your chances of doing it increase. And if you're investing towards it, your chances skyrocket."

What steps should a woman take to improve her finances and start investing?

"The first thing she does is pay off her credit card debt. The second thing is she makes sure that she has enough money [saved] in the case of an emergency—about three months of take-home pay. [Then] she's going to want to invest in her 401k, particularly if she has an employer match. Then you want to work your way up to 10 percent [of your money] being in another investing account—in a diversified investment portfolio. That's what we do at Ellevest."


How does Ellevest help its customers navigate the stock market?

"Our process at Ellevest is rather than [say], 'Hey, want an ETF or mutual fund?' you'll come through [and] tell us about yourself. You tell us what you want to achieve. We'll give you a full investing plan. You'll make trade-offs, [like] 'I'll retire a little bit later because I want to get the house sooner.' And you can save that and share it with your partner, come back, and you can keep that financial plan. The next step is we can invest that plan for you and work to get you to your goals in majority markets. We encourage everybody to set up a recurring deposit."

What if we feel intimidated to start investing?

"Wall Street overcomplicates it—ETF, mutual fund, managed account, managed futures, large cap value, small cap growth, all that stuff. But we're a fiduciary—that means we must act in your best interests—so I'm going to make the decision, whether it's a mutual fund or an ETF or a managed account. I'm not going to bother you with that. That's not your job. Your job is to go out, earn your money, put a percent in, choose your goals, and then let me do my job."


What is the investment gap?

"Women today keep more than 70 percent of their money in cash. Men keep a much smaller percent of their money in cash. Cash today earns about 0 percent. We believe a diversified investment portfolio, stocks and bonds, will return—let's call it 7 percent. The difference between 7 percent and 0 percent on a double-digit percentage of your wealth is quite large. Put another way, if you're on $85,000 a year, [and] you wait 10 years to invest—if you're putting aside 20 percent of your income as experts tell you to and you leave it in cash instead of investing—over that decade while you're waiting, it'll cost you $100 a day."

Why are more men investing than women?

"Women are better investors than men. The underlying reason is testosterone—the panic of it and everything. [Men] fall in love with their winners, they overtrade, they panic in down markets, they're chasing the new hot thing. Those are not the mistakes women are making. The mistake we're making is we're not investing. Everybody tells me women are more risk-averse, as if the fact that we have a uterus tucked in there just keeps us from wanting to take risks. That's not what we find. What we've found—and it's maybe a subtle difference—is that women are more risk-aware. We at Ellevest show her [that] if she's giving us this much money to buy a house, to start a business, to retire well, we tell her how much money she's going to need. If the market crashes or you don't make the monthly deposits—if you fall off track—we will let you know, and we will tell you what you need to do to get back on. Deposit another thousand dollars, retire three months later, whatever it is."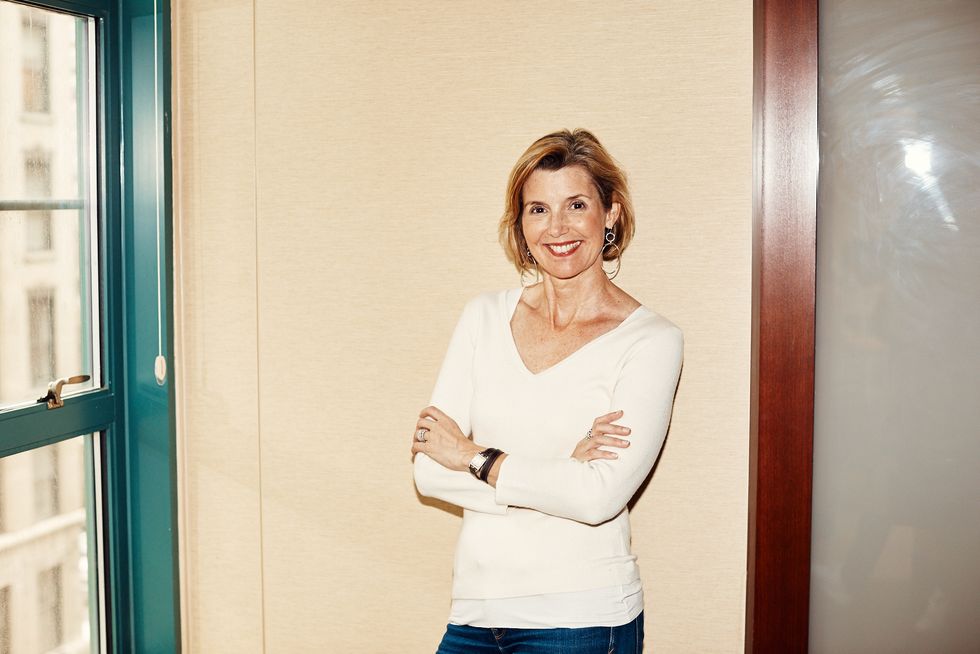 Why are men and women still so divided when it comes to finances?
"Amongst women, it comes down to the messages that we receive from society still—that money is a masculine pursuit. There is shame around it—if I might make less money than you, then I'm embarrassed because you and I went to college together and I made better grades than you, but you make more money than me. But then if I make more money than my spouse, I've emasculated him. So in every way, we make money this point of shame and embarrassment, to the point where I will bet you $100 that you saw your partner physically naked before you ever had a conversation about how much money each of you make."
Why is managing your own money an important feminist idea?
"We are beginning to use the term
'
financial feminist.
'
It's recognition that money is power, that men have more of it than women do, and that we will not be fully equal with men until we are financially equal. The importance of it [is] taking care of yourself financially so that you can then change the world. That change can start with our daughters. Our daughters see us on a Saturday afternoon checking our brokerage statement. Our daughters see us getting ready to go into work and ask for the raise. Our daughters see women dealing with money as very normal, which [it] of course was not with my mother and so many of my generation. When women have more money at all levels of society, society benefits."