I Got a Butt Lift Without Going Under the Knife
And without spending seven days at the gym.
Series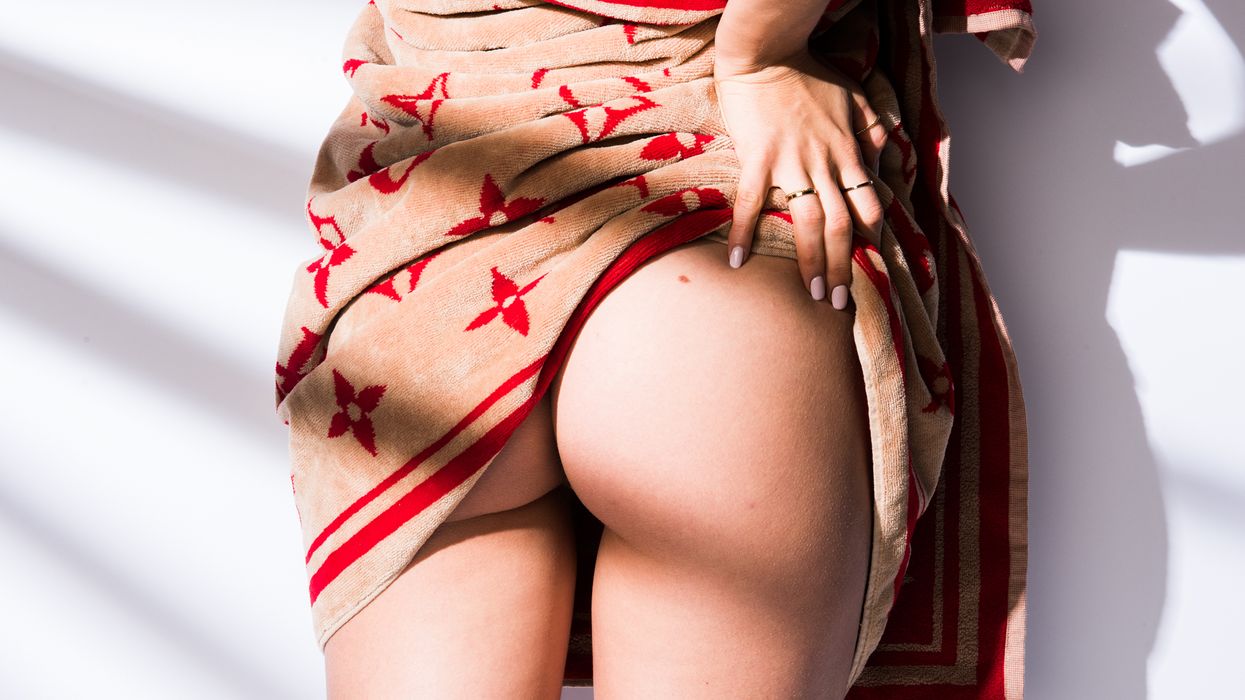 Let's start with a little PSA, shall we? What I've learned in my quest for a bounce-a-quarter-off-it type of derriere is that without a good, nutritious diet and regular exercise, nothing is going to reap the sort of results I'm looking for. But there are things that can help—and speed up the process. Let me just digress for a moment. A little background about my body type—because every body is different: I've been lucky enough to have an hourglass shape, even if it's fluctuated in size over the years. It's made denim shopping a struggle and shift dresses near impossible to wear, but I've learned to love it, especially into my 30s. But, like many women, my cheeks are a field of dimples and sag a little at the sides. Things I prefer to perk up and smooth out, if you will.

For the most part, I eat a clean diet. I stay away from processed food—although I do enjoy an occasional side of fries and love a glass of malbec—and try to eat a variety of fruits and vegetables with every meal. I take daily probiotics for good digestion and have been known to try new, natural ways (most recently, a great de-bloating tea) to improve my overall health. As for my fitness routine, well, it ebbs and flows. I'll have months where I go consistently (I even trained with a personal trainer for six months, and it was the strongest and leanest I've ever been), but then I'll have a few short periods where I struggle to get myself to more than one workout a week. Who's with me? Everyone will tell you, and it's for good reason (because it's true!), consistency is key. Even though, I'm the first to admit, I'm not always consistent. When it comes to cellulite and stubborn areas, which for me is my butt, I need a little extra help.

When I met with Dr. Trevor Born, one of Toronto's top plastic surgeons—who also happens to be married to dermatologist Dr. Lisa Airan whose clients are regulars at the Met Gala—he told me of some brand-new, virtually painless options to tighten and smooth out my problem area. A combination of EmSculpt (a treatment that uses focused electromagnetic energy to stimulate the deep supramaximal muscles to contract muscles at an intensity not possible by regular exercise) and EmTone (a revolutionary new cellulite treatment that simultaneously applies radio frequency and targeted pressure energy), which require four to six treatments each, was what he prescribed for optimal results.

At his brand-new facility in Toronto's swanky Yorkville neighborhood, TMB MedSpa, I met with Riham, a lovely clinical aesthetician who would set me up for my treatments. First came the EmSculpt. Two large paddles get anchored down by a wide elastic band on each of my butt cheeks while I lay facedown on the treatment bed. When she ramps up the machine, it's like a buzzing jolt of electricity involuntarily contracts my muscles. It feels strange, but not painful. As the machine intensifies—I start at 20 percent and work up to 100 percent intensity—my glutes squeeze tightly together with the hum of the machine. Occasionally it breaks from the contractions and taps (and, let me tell you, everything jiggles!) to release the built-up lactic acid. By the end of the 30-minute treatment, I've done the equivalent of 11,000 squats. You read that right. Aside from a bit of fatigue, I don't feel much—no pain, no redness, no downtime.

Rahim follows it up with the EmTone. At the time of my first treatment, the machine doesn't even have a name yet—Dr. Born coined it "084" for internal purposes—and is the first of its kind in North America. Because the treatment can get a little messy from the lubricating cream that's layered on the skin before the hand-held wand is run over the area, I slip on some disposable underwear. Not sexy, but necessary, friends. Rahim starts by squeezing chilled cream on my one butt cheek and lower thigh—this is the worst part, IMO! She then cues up the EmTone, which has a very distinct snapping sound, and moves it along the target area that has the highest concentration of dimbles. It feels like a warm massage, but as I get further into my 12-minute treatment, the heat intensifies. I have a pretty high pain tolerance, so usually only needed one break in the treatment to cool down. The combination of radio frequency, heat, and pressure is what helps increase the production of collagen and elastin and has an effect on the connective tissue, which are all contributing factors to dimply skin. I don't see results right away, but similar to EmSculpt, there is no residual pain or just a tiny bit of redness (similar to sitting on a park bench for too long) that went away in about 15 minutes.

I went for treatments every other day until I completed four EmSculpt and six EmTone treatments. By the second EmSculpt treatment, I felt so much stronger. Six weeks after my final treatment of both EmSculpt and EmTone, which is the time it takes to see full results of both treatments, I noticed a slight lift and more curve of my backside. But the biggest difference was the smoothness of my skin—it's as if someone took an ironing board to my cellulite. 

Want more stories like this?

What I Wish I Knew Before Getting Botox
Everything You Want to Know about Collagen
Can At-Home LED Light Therapy Change Your Skin?