Deskside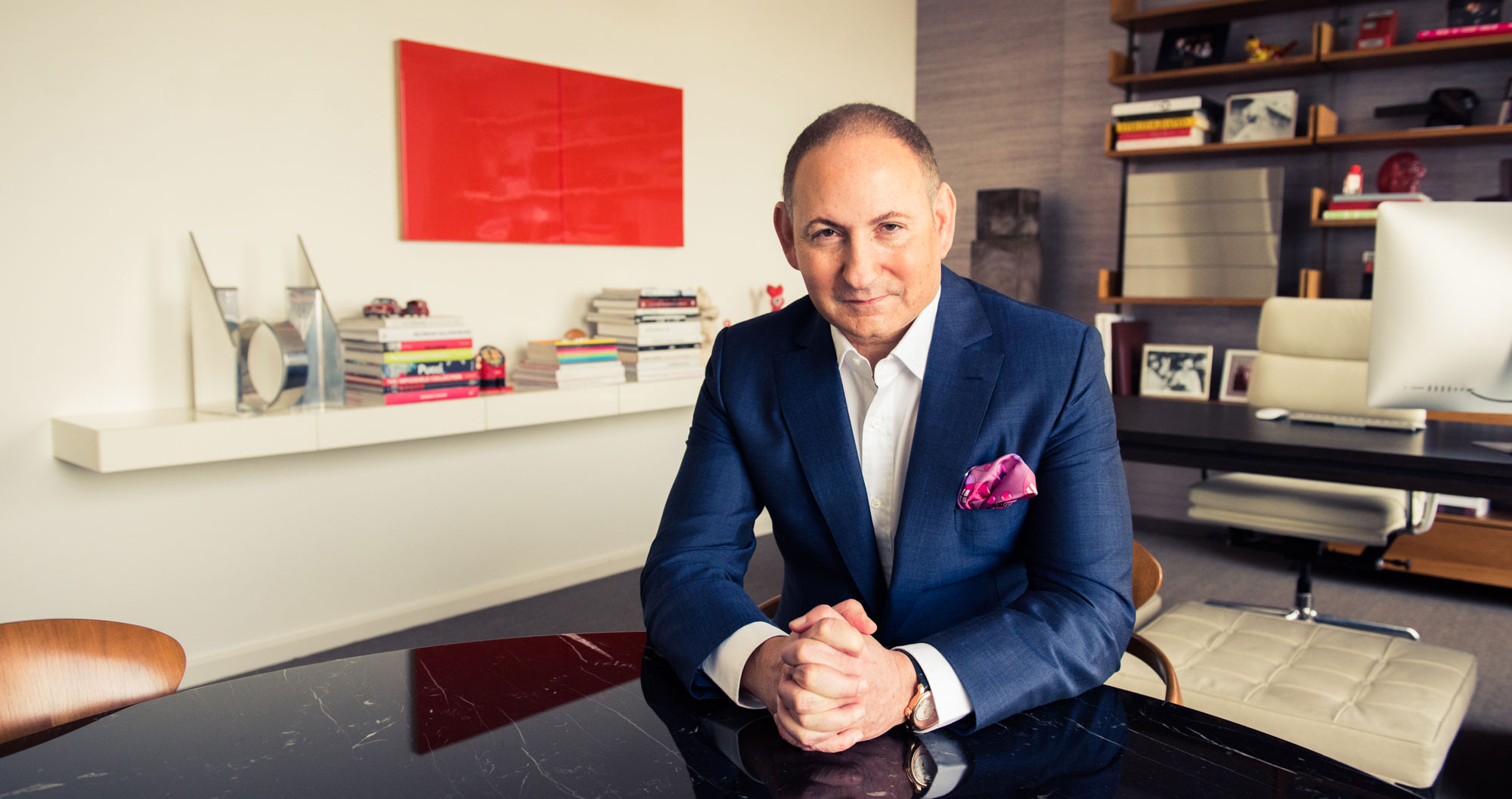 The Man Behind the Biggest Beauty Brands in the World
Everything you need to know to become a branding mogul.
When you're single-handedly responsible for the success of two of the biggest, fastest-growing beauty brands in the world (ahem, M.A.C. and Tom Ford), you might think you have a pass to check out a little, take a break, and stop absorbing, well, everything. But if you were actually the person responsible for all that, taking a break is about the last thing you'd realistically be doing.
We know this from our afternoon with John Demsey, executive group president at the Estée Lauder Companies Inc. and the man behind the branding and direction for a handful of brands you've *probably* heard of, like Clinique, Bobbi Brown, Le Labo, Glamglow, Smashbox...and on, and on. He's the creative genius orchestrating every have-to-have-it M.A.C. collaboration, and he was instrumental in the growth of the idea of backstage beauty at fashion week. In other words: He's kind of a big deal.
When you consider the role beauty plays in the digital age—its popularity and how beauty has spawned a billion and one counter-cultures—you realize exactly how much influence someone like Demsey has on contemporary culture. After spending an afternoon with him, we think he realizes it too, and he takes it all very, very seriously. From where he finds inspiration and how he stays current, to the best advice he's ever received, we basically got a master class in how to be successful as a creative in business. Settle in, friends—this one is good.
His role at Estée Lauder:
"I'm executive group president here at the Estée Lauder companies—we're responsible for the development of the creative direction and backbone of the company across all brands. I'm often referred to as the creative of the suits and the suit of the creative guys. I sit in an unusual hybrid role. Basically, my role here is that I'm the brand guy.
"I became a group president 10 years ago. The first aspect was that I took over the global lead of the Estée Lauder brand, and I brought Tom Ford into the company and used Tom Ford to help reimagine the Estée Lauder brand. He set the platform for the reinvigoration and aspiration of the brand, making it sexy and interesting and relevant to another generation. In the process, I developed a really close working relationship with Tom Ford and helped him launch his own brand. Ten years ago I launched Tom Ford Beauty. Today it's the fastest-growing designer beauty brand in the world."
The pivotal moment in his career:
"Basically, my life changed in 1998. Nineteen ninety-five was when our company went public, and the first company that we bought was M.A.C. Cosmetics—in 1998, we took full control of the company.
"I would probably say that that move, which was 18 years ago, changed the course of my entire career, changed the course of me as a person and my role here at the company. I moved to Canada, commuted. I had never developed a product, and I had never run a full-fledged business. I had never been in a global role. M.A.C. was a niche business with a big reputation. Subsequently, over the past 18 years, I've built the most amazing team of people to work with who are actually making M.A.C. into the biggest color brand today. That informs the backbone of everything I've learned in retail, brand building, merchandising, product development, international market development, business development. All things related to global business, I learned on the job doing that."
"Wherever I go, I have a stack of the international fashion magazines in the local language waiting for me in my hotel room."
The ABCs of brand building:
"I made the decision to build out M.A.C. as the ultimate makeup authority and backstage fashion resource. Which took us from doing a couple of shows in London and Paris to the largest participant backstage, doing over 250 shows every season, working with every major designer and every major makeup artist in the world. I took the artists and used them to conceptualize what the product offerings were. Where most companies do product testing on consumers, I made the decision to test products on the front line [with the artists], where they're used the most and [the people using them know] the most about competitive products. That was transformative.
"The other thing was that when I arrived there, the charity called the M.A.C. AIDS Fund and the Viva Glam Campaign had raised interest with RuPaul—the original voice of the brand. I made the decision to take the charity and make it the heartbeat of the emotional side of the brand. In 1999, we embraced hip-hop culture at that time, with Mary J. Blige and Lil' Kim. That was the very first time that a fashion brand, let alone a beauty brand, tapped into the seismic quake that was taking place all over the world. That's what got it started. In 1999, in the number one song from TLC called 'Unpretty,' there was a lyric in the song that went 'It doesn't matter how much M.A.C. you wear' [sic]. It had seeped into the popular culture. That was my lightning rod.
"Every brand we have has its own unique playbook. The strength of this company has been that we have the best portfolio of beauty brands in the world. We have over 25 brands that are the envy of everyone else in the world. The job that we do means they're distinct, they're unique. The ones that are successful all have an elevator pitch. If I can't give you the elevator pitch, then I've lost you."
Nothing beats an IRL experience:
"Wherever I go, I have a stack of the international fashion magazines in the local language waiting for me in my hotel room: the Vogues, Elles, Harper's of the world. I have a stack of the local fashion and also the celebrity rags: Hello, Us Weeklys. I turn on the television, I get a copy of Billboard to look at the charts to see which artist is selling in that country. Then, if I have the time, I ask a taxi driver to show me where the rich people live, show me where the kids live, and show me where the counterculture is. Even if it's going to the club or going to a café, I want to see what's considered to be hot and what's considered to be aspirational. When I travel around the world, that's how I get a sense of what the trends are. Today you could surf the web and do the same exercise. I use culture and people as my inspiration.
"The more experienced you are and the older you get, it becomes increasingly challenging to remain connected with the upcoming generation, what they want and what's relevant to them, and to not get caught in the paradigms of where you come from. Being in the beauty industry, I've always surrounded myself with a lot of smart, young women. I think it's incredibly important. At the end of the day, 90 percent of the things we make—that is who is buying our product. I have an eight-year-old daughter, and I'm seeing the world through her eyes. I'm seeing how she relates to culture, to beauty, to makeup, to play, and that truly inspires me. It actually helps me stay very connected in terms of what's next."
Beauty in the age of the selfie:
"Makeup is about personal transformation to whatever you want to be—from natural, pretty, beautiful, goth, outrageous... Makeup and hair are visual forms of self-expression. Generationally, with this content avalanche, everybody has something they want to say. They want to show you how they use it, and somehow it has become part of the product-innovation cycle and part of how people talk about [everything, like] brows.
"The whole brow culture, the whole contour culture, color-correcting culture, the lip culture, the cat-eye culture, the hair weave, wig, high pony, low pony—it just goes on and on and on because the possibilities are endless, globally. The Korean bloggers, Middle Eastern bloggers, random people in Melbourne, Australia, and quiet girls in Japan—they all get to jump on and surf the net. It's created a hyper-marketplace for experimentation and beauty. Because community and online is so individualized, you can actually find an audience. There may not be a lot of people who are like you, but if you can find those people, you can create a market out of it and create a business out of it. You can communicate to them directly, as opposed to the old world, where you communicated to everybody in hopes that someone would connect to it.
"[I'm happy that I continue to be surprised] by how people relate to our product. I'd hate to be jaded. Sometimes I smile, sometimes I laugh, sometimes I'm horrified, sometimes I'm shocked, sometimes I'm inspired, seduced, it's very interesting. Just when I think I've seen it from every angle or I've seen it all, I haven't. Which means that possibility is endless.
"The proposition that makes almost every company we have here unique is the fact that there is a high-tech, high-touch interaction between a customer and the brand itself. One-on-one customization is actually the fastest-growing sector of our online businesses. The Uberization of service at home or service in the office or makeup on the fly is happening. The thing that is unique about the world, which is not unique to beauty, is that access and community are everywhere. People expect it on their terms, when they want it. The companies that aren't able to do it will probably be left behind. There's a different expectation today."
"Just when I think I've seen it from every angle or I've seen it all, I haven't. Which means that possibility is endless."
On aligning with the right people:
"For M.A.C., the mantra of the brand is 'all ages, all races, all sexes,' which encompasses everything. M.A.C. is about standing for something, having a strong point of view, no judgment, and being unapologetic. When we look for celebrities or designers or taste makers, sometimes they may seem fringe or polarizing, but they're always interesting and topical and never pandering. We take a very editorial point of view. We try to bring a lot of people into the tent. It's very inclusive and exclusive at the same time. The one thing that everyone has coming into the tent is that they share a passion for makeup and self-transformation.
"If you look at any of the Viva Glam spokespeople, from Boy George to Arianna Grande to Chloë Sevigny to Lady Gaga, they all share a core ethos in terms of self-confidence and a strong voice and point of view. The designer collaborations are high-low. We had a collection with Zac Posen in February, with Giambattista Valli a year ago, [this week] we're launching the Trolls. And there's a collaboration with the next Star Trek movie. And then there's something with Cindy Sherman. You go from the Whitney to Troll dolls bouncing around in an animated flick. It's that combo of high-low mixed with professional, authentic, real relationships coming together."
The people he admires:
"I admire a whole suite of the new-media executives—Facebook, Google, Uber, Amazon, all these new things. The Jeff Bezos thinking—it may not be my paradigm, but it's a very interesting paradigm, and it makes you think of the world very differently. The notion of what Google does, the way that Amazon changed my personal shopping habits. Ordering a car on Uber, ordering something with one click, I find it all incredibly inspiring and creative."
His favorite collaborations:
"I've been proud of all of them. But we were the first people to identify Lady Gaga and Nicki Minaj, which is where I probably felt most ahead of the curve. We actually discovered them before anybody knew who they were. We discovered Lady Gaga because she was actually going to a M.A.C. store. One of the nightclub personalities was one of her friends, and she came onto our radar when she was doing the underground clubs of New York. She wanted to meet us. She was living on the Upper West Side and was crossing the park to go to Sacred Heart, and she saw Boy George in the window and said she wanted to be that one day. Generally, people come to us, which is the best because then you know that you have that credibility. We're not always looking to hitch our lucky star on to something. We've been lucky in that the stars have wanted to hitch on to us."
"You need to take a tack that you should almost be paying them for the opportunity to do it, and view it as almost the ultimate graduate school."
How to become John Demsey (and why you should brush off the haters):
"I ended up here by grand design and by accident. I actually didn't get the job I wanted when I wanted. I wanted to work here. I graduated from business school, and if I didn't get a job within four months, I'd have to move back to Ohio. I got very motivated very fast. I got a job in Macy's executive training program in a field that I really had no real interest in, and it was an existential crisis for me. I was not successful. I was told by the first person that I worked for that I was never going to amount to anything. I should go to work for a bank or do something else because I was never going to make it.
"Then, by sheer accident, a friend of a friend of a friend of a friend of the family knew someone at Bloomingdale's. I went to work at Bloomingdale's managing the fragrance spritzers on the floor when the Giorgio madness hit. I met every single person that then took me on the wave for the rest of my career. Robin Burns, who brought me to Estée Lauder; Leonard Lauder; people from Saks; different companies. At 25 years old, I basically started the seeds of everything I wanted to, and I never looked for a job, ever.
"The notion was that you have to take risks. It's not about the money to begin with. When people make it about the money, they often make the wrong decisions. You need to take the tack that you should almost be paying them for the opportunity to do it and view it as almost the ultimate graduate school. What you want is relevant, hands-on experience as opposed to being a cog in the wheel. Those retail experiences, I wouldn't change those experiences for the world. I got more experience with more brands, more concepts, more entrepreneurs, more ideas than I ever would have being slotted into a sales role or marketing role with one company. You have to be open, accept the curve balls, be very focused, then unfocused, then focused again. You have to know yourself. At a certain point in your life, you know what you're good at and what you're not good at. You need to support your strengths. If you're good at something or you love something, you'll be successful at it.
"Leonard [Lauder] taught me this. You look to the left, to the right, behind you, and you look forward. You look back because you want to see what people have done in the past. Lessons can be learned from the past. You look to the left and the right because you need to understand who your competition is, who is angling for your place, your job, your success. You look forward to see where you're going, but you need to find a point of view to be able to get there."