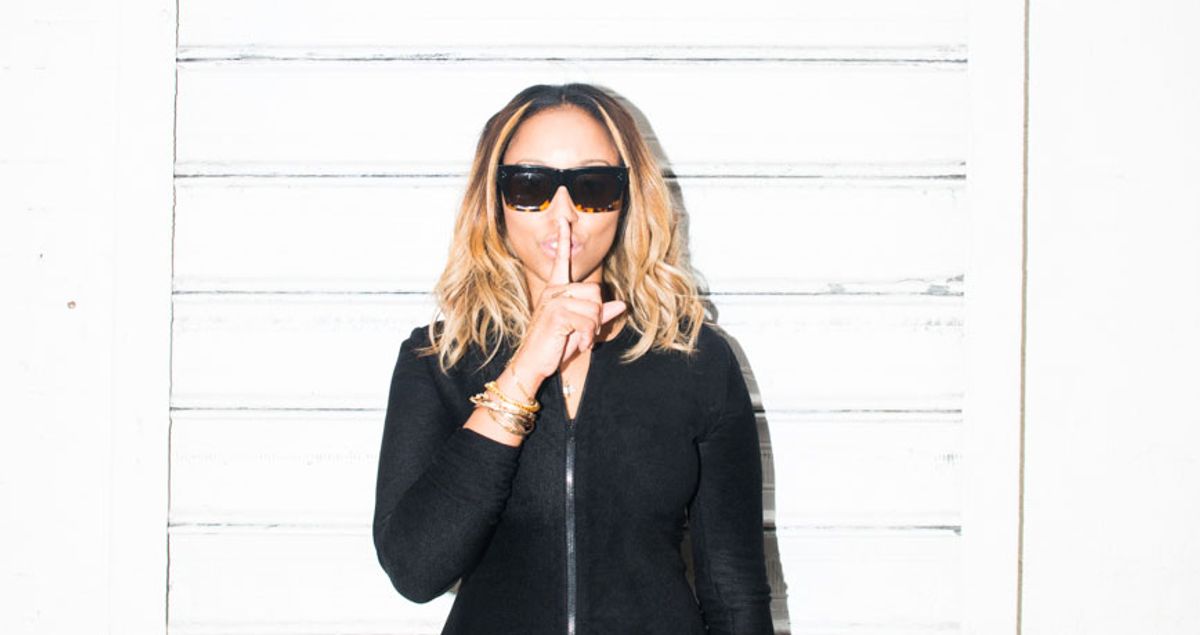 Hair
Everything from what shade to choose to how to maintain it.
There are a million ways to approach the topic of brown girls going blonde. You can go the historical route; you can go the "Did you know?" route;  or you can discuss how the phrase "blonde bombshell" is rarely used when referring to women of color.

For me, the subject is both intriguing and overwhelming to write about—there's limited information out there, but once my interviews came rolling in, everyone had a lot to say. From honest, personal anecdotes from "real-life" blondes, to strand-saving advice from top-tier stylists, here's a short guide on going blonde for brown girls.


---
Have More Fun
"As crazy as this sounds, Marilyn Monroe's hair gave me life for as long as I can remember," admits style director and DJ
India-Jewel Jackson
. "We might not be the same race or remotely close in complexion, but her carefree, sexy soul speaks to me and, now, through me."
While there's no technical scientific background on it, all of our interviewees do seem to be having more fun—and have no immediate plans to return to their natural roots. "Women today are wanting to do something different and bold," explains
Kim Kimble
, celebrity hairstylist and creator of the
Kimble Beauty line of products
. "We see the majority of [black] celebs like Beyoncé,
Mary J. Blige
, and Ciara wearing color, so [we're] inspired by them."
Be Realistic
Even with an experienced professional, jumping into the blonde pool requires a bit of risk (and faith). "It's not easy to predict the end result [of dyeing the hair]," explains
Rita Hazan
, celebrity colorist and owner of Rita Hazan Salon in New York City. "Lightening hair has so many parts to it—it depends what you had on before, what the environment is, what chemicals [you use], what your water is like, etc. Your result is never guaranteed until you have some kind of color; then you'll know exactly what's going to happen."
Hazan, who's responsible for the golden locks on Beyoncé and Jennifer Lopez, strongly suggests discussing a muse or
bringing in a picture
. "Obviously, I would say Beyoncé [is a great reference] because she's beautiful and she always has beautiful color—because I do it [
laughs
]."
Find Your Hue
Let's be honest: Not all blondes are created equal, nor will every hue look superb on all skin tones. "You have to choose color based on your undertones and eye color," explains Kimble, whose client list includes Beyoncé, Shakira, and Mary J. Blige. "For example, hazel eyes look good with ashy blonde, golden eyes look great with golden-blonde tones, warmer skin tones go with with warmer hair color, and cooler shades with cooler tones."
"I've always been obsessed with black-girl blondes, my whole life. From Etta James to Mary Wells to
Private Dancer

–
era Tina Turner," gushes
Tia Williams
, Bumble and bumble copy director and author of
The Perfect Find
. "A shock of sunny-golden hair where it's unexpected? Beyond!"
Start Off Slow
"Going blonde is not easy. It should be done in steps so that your hair is not compromised," says
Amoy Pitters
, founder and owner of
Amoy Couture Hair
. "Go to a salon and sit with a colorist to get the right shade of blonde. Don't just go to anyone, because once it goes bad, it goes really bad. We see [people whose color went] wrong all the time. To do a color-correction service is really expensive, and you can end up with damaged hair."
Like any new relationship, it's best to start out slow to avoid damage. Going too fast can strip your strands, so instead of all-over color, opt for highlights, and build over the course of a few weeks.
Megan O'Neill
, a former platinum-blonde and beauty editor at Goop, said it took her about three years to get the perfect shade.
"[My process] was very piecemeal. I got a few blonde highlights to test the waters, and I was instantly addicted—I wanted to be blonde forever," she says. "It's so striking when black girls go blonde. The contrast of the pale hair against dark skin, it gives me the good chills," O'Neill adds encouragingly. Her go-to product is
Olaplex
, used once every two weeks. "I think I'd probably be bald by now if it weren't for Olaplex treatments. [The formula] miraculously rebuilds broken disulfide bonds in your hair. It's no gimmick—it's science!"
Talking Texture
Have a relaxer? Don't count yourself out as a blonde. "It can be done, but you have to go to someone who understands porosity," explains Kimble. Long story short: An experienced professional will know when your hair is at its limit.
"I love being blonde, but I also chemically relax my hair, which causes a lot of shedding and, unfortunately, breakage at times," says
Aixa Weekes
, a retail sales and marketing expert at Nickelodeon. "However, since I wear my hair short, I can easily camouflage my weak spots."
For natural and curly girls out there—your coils may not be the same after coloring. Unfortunately, color can change the texture of naturally curly hair, leaving it with a lighter curl pattern, so expect some slight shifts. "Every product I use is super rich and hydrating," explains Williams, who has a full set of curls. "I smooth in three or four drops of
Bumble and bumble Hairdresser's Invisible Oil
morning and night to nourish and de-frizz—it also somehow really makes my highlights pop (I even put a drop in my conditioner)."
Put the M in Maintenance
When it comes to at-home maintenance, Hazan's number one rule? Always, always use shampoo for color-treated hair. Also, Kimble advises to never underestimate the power of conditioner. "Do a steam treatment at home using a towel to really let the moisture penetrate." Afterwards, using a light moisturizer like Kimble's own
Beauty Shea Butter
can hydrate further.
And as tempting as it may be, resist the urge to color-correct your strands yourself—something Jackson learned the hard way. "It's so easy to accidentally tint your hair green if you get too much chlorine in it, or lavender if you leave your color-correcting conditioner on too long," she shares.
"I tried one with baking soda and dish detergent, and ended up having to cut off 12 inches [of my hair]," she warns. "Learn from my mistakes! Wear that splotchy purple look with pride until your colorist can fit you in!"
Want more stories like this?
4 Effortless Up-Dos for Gorgeous Summer Hair
Exactly What to Tell Your Stylist to Get the Perfect Hair Color
How 7 Editors with High Maintenance Hair Make It Through Summer