WWWRN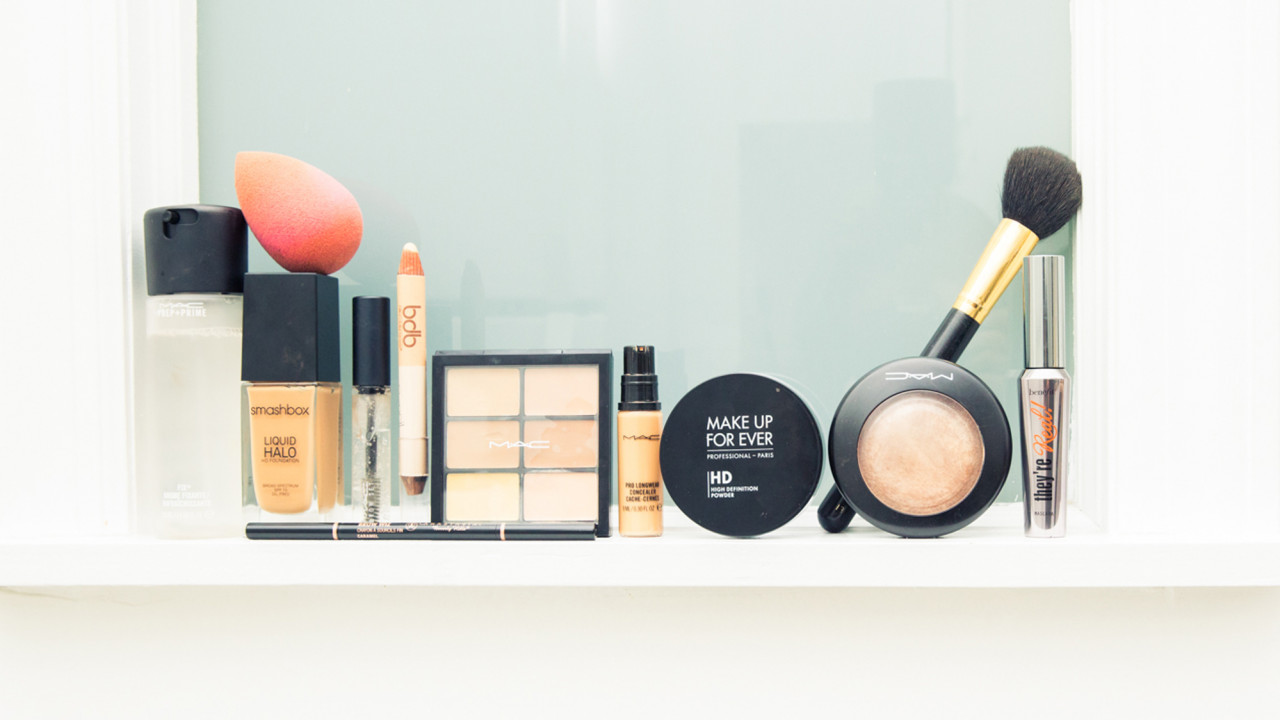 18 Makeup Products We Rely On for a Summer Glow
Lip glosses, foundations, and mascaras that can stand the test of time (aka sunshine and sweat).
While we're not the type to apply full contour faces of makeup throughout the summer, we do have a few tried-and-true products that we rely on to get that minimal, natural-looking glow. They're the products we can rely on to get us looking our best glow-y selves even after late nights of emails or, let's be real, patio cocktails. If you're looking for a new hero makeup product yourself, we highly suggest considering any, or all, of the below.
---
Monique Kamargo
Editorial Producer
1. Supergoop Shimmershade: I rarely wear eyeshadow, but lately I've been putting on this Supergoop Shimershade in Golden Hour almost every day. The main reason is because it's just so fun to apply! The creamy texture glides on so easily and adds just enough sparkle, nothing too heavy or dramatic. Did I mention it has SPF too?
2. Squish Beauty Jelly Lip Gloss: I'm obsessed with everything that is Squish Beauty. This jelly lip gloss is non-sticky and glides on super smooth. Not to mention the packaging is the cutest and a true accessory on its own.
3. Kat Von D Go Big or Go Home Volumizing Mascara: This Kat Von D mascara is the real deal. I like to keep my makeup routine pretty minimal and can always count on this mascara to help waken up my eyes in the morning. After that, I'm out the door.
---
Haley Walker
Editorial Fellow
1. Marc Jacobs Velvet Noir Volume Mascara: The first time I wore this mascara, my own mother asked me if my eyelashes were real.
2. Nars Lipstick in Morocco: I've heard that men are intimidated (even turned off) by a bold lip, which is exactly why I don't go outside without one. I've been a hardcore NARS lipstick junkie since my makeup-wearing debut, and Marsala is my perennial favorite.
3. Tarte Amazonian Clay Full Coverage Foundation SPF 15: Scarring, acne, and perpetual redness are my biggest skin insecurities, so I live in full-coverage foundation (I know, I know—it's a vicious cycle). Tarte's Amazonian Clay, contrary to what its name might suggest, is the only one I've tried that doesn't make me feel like I just took a nosedive into a plot of wet cement.
---
Jacquelyn Greenfield
Editorial Production Fellow
1. Glossier Lip Gloss in Clear: I've never been a fan of wearing lipstick, but I do like a little shine on my lips every now and then. This lip gloss adds just the right amount of shine over any lip balm I put on, without making my lips feel like there's a lot of product on them.
2. Fenty Beauty Pro Filt'r Instant Retouch Concealer: The Fenty Beauty line has never failed me, so when they released a concealer, I knew I had just found my holy grail product. I usually wear it by itself when I do a "no-makeup" makeup look to cover most of the hyperpigmentation on my face.
3. Too Faced Better Than Sex Mascara: I first tried this mascara eight years ago, and it still reigns supreme to all I've tried since.
---
Noah Lehava
Director, Lifestyle and Talent
1. Giorgio Armani Beauty Luminous Silk Foundation: The extra vitamin D does wonders for my skin, so summertime means I can opt for a lighter-coverage foundation. This one has been a staple in my makeup bag for years because of how lightweight it is and how glowy it leaves my skin.
2. RMS Peach Luminizer: This is the holy grail, guys! I dab this on my cheeks, down the center of my nose, on the bow of my upper lip, and on my eyelids. It gives that golden-hour glow all day long.
3. Dior Lip Glow: To round out the glowy face, I love a sweep of Dior's Lip Glow. It subtly enhances my lip color and adds a juicy shine.
---
Mariah Contento
Editorial Intern
1. Tata Harper Volumizing Lip and Cheek Tint in Very Popular: My combination skin loves this creamy multi-use product. Not to mention their "Very Popular" shade goes so well with my olive skin tone. A little goes a long way—I'll blend it out on my cheeks and use the remainder on my lips. I'll double-dip if I'm feeling a bolder lip. The bonus is it's clean beauty and has anti-aging properties... Score!
2. RMS Beauty "Un" Cover-up Concealer: It's safe to say I've discovered my favorite product. The only concealer I've found that is friendly to my under-eyes and won't cause any creasing. The formula is super hydrating and very buildable. (Cue Rihanna) Where have you been all my life?
3. Glossier Lash Slick Mascara: My very first time using this mascara was life-changing. I found that the product performed exactly as it had claimed. My tiny lashes at the time (thank goodness for castor oil that has helped them grow) instantly appeared longer and didn't clump, even with a couple of layers. "Extensions without the extensions," they claim, and there's no other way I would put it.
---
Jodi Taylor
Editor
1. Nude by Nature Sunshine Beach Glow Liquid Highlighter: Now that I understand the power of liquid highlighter (it's buildable, easy to use, and controllable), I'm certain that I will never use a powder highlighter ever again. I've tried all three shades of this Nude by Nature highlighter and found that the Sunshine color matched my skin tone the best. Let me tell you something: This highlighter does not budge unless you wash it off at night.
2. Tarte Park Avenue Princess Chisel Palette: I recently started using this palette (as in two weeks ago), and I'm already hooked. My skin tone fluctuates a bit in the summer based on how much sun I got that week (who can relate?), so it's helpful to have a range of shades to choose from. There's even a sparkle option if you're feeling a little daring.
3. Artis Elite Mirror Oval 6 Makeup Brush: I'm not one to put on makeup with my fingers (my skin is oily enough), so I swear by my Artis brush to apply my concealer smoothly. It helps control your coverage (tap the brush for full coverage, and use it in circular motions for minimal coverage), and if you mix in a bit of oil with your concealer or foundation, you'll be walking out of your house looking like you had your makeup professionally done.
Want more stories like this?
This Is What Happens to Your Eyebrows as You Age
Candace Marie's Secret to Effortless Beauty
5 Nail Shapes (& How to Get 'Em)
Part of the series:
WWWRN