Kai Avent-deLeon Skips Makeup—Except for This 1 Product
When a full beauty routine's not quite your thing, it's really all you need. In collaboration with Laura Mercier.
Makeup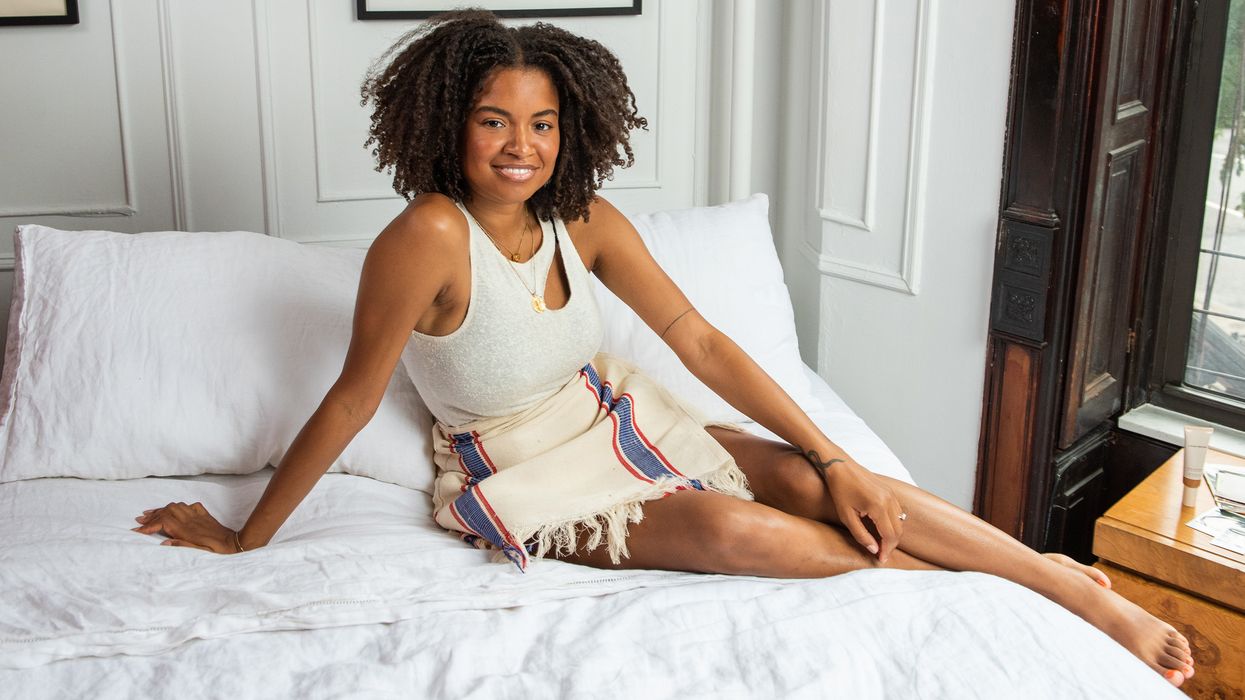 Let's face it (see what we did there?): Looking your very best usually begins with building the perfect complexion. You need a product that will help your skin feel healthy and luminous from morning to night. So when we heard that Laura Mercier was re-launching a new and improved formula of its cult-classic Tinted Moisturizer with nourishing skin-perfecting ingredients, SPF, and upgraded formula, our interest was PIQUED. You know the vibe: a lit-from-within glow, even-toned, and a no-makeup finish. We asked three incredible women (with relatively natural, one-and-done approaches to makeup) to test-drive their shade, share their perspective on beauty, and let us in on their daily routines.
If you've been following us for a while, you already know
Kai Avent-deLeon
as one of the coolest women in New York. As the owner of Bed-Stuy boutique and coffee hang Sincerely, Tommy, she's a driving force in the city's retail scene—which means that her days are stacked with meetings and appointments—as if being a new mom weren't *quite* enough on her plate. Translation? When it comes to beauty, she has incredibly limited time to spare. If it can be applied in one step, and with your fingers, it's a winner—making Laura Mercier's new and improved Tinted Moisturizer formula a new favorite go-to. DeLeon is the first to admit she's more than minimal and pared-back when it comes to all things beauty—making this reco all the more impactful, if we're being totally honest. Here's everything else we learned from her (inside-out) approach to beauty.
---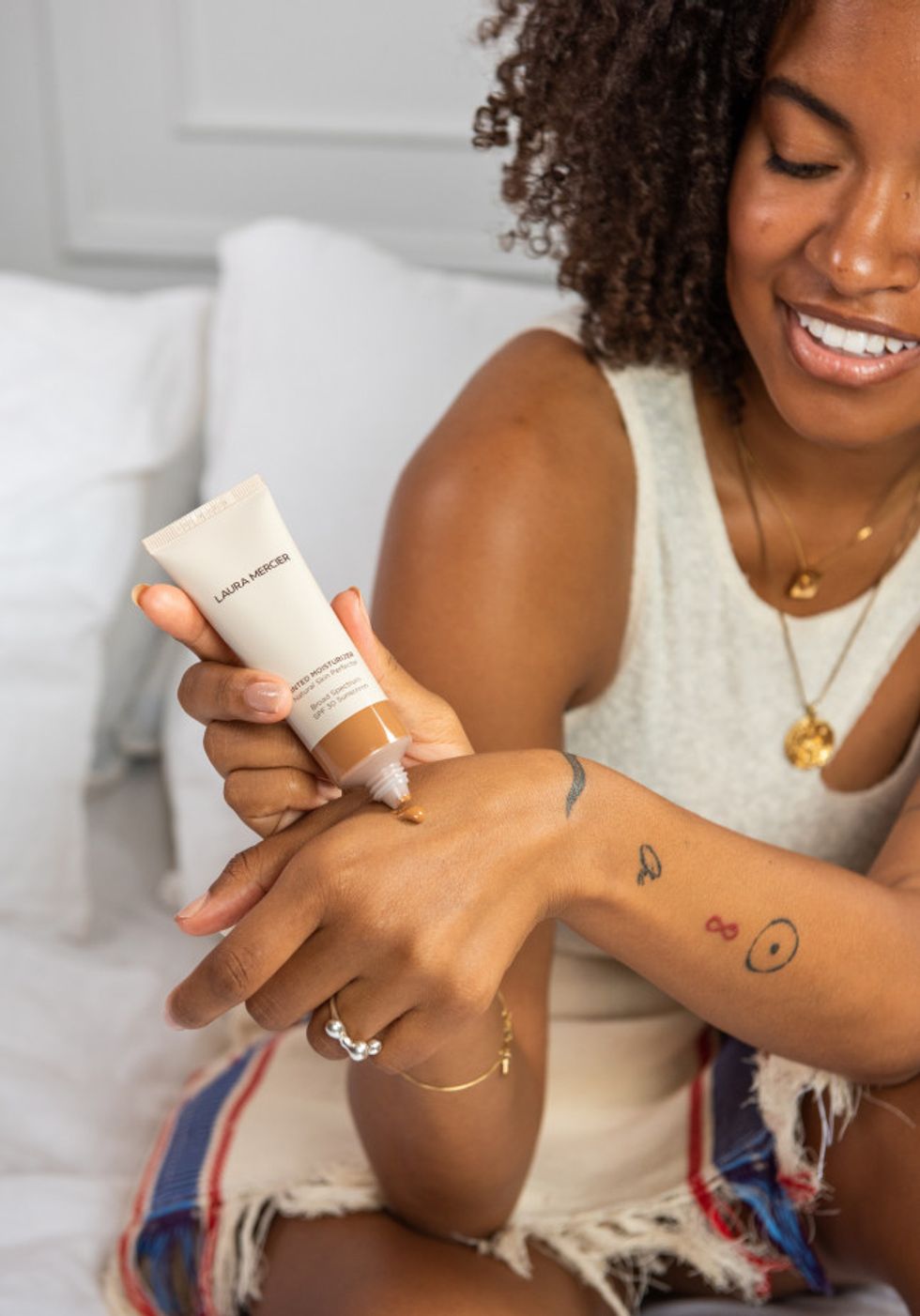 HER APPROACH TO BEAUTY:
"I've always just been pretty casual and au naturale. I have medium-to-oily skin, so I usually just use a vitamin E moisturizer. I've always been pretty faithful to Dr. Bronner's unscented oatmeal soap. I try to keep things very minimal, because I have such a busy lifestyle and I don't have a whole lot of time in the morning to go through several steps.
"I try to be really conscious of what I'm eating, making sure that whatever is going in feels good for the most part because I know that's also affecting my skin."
HER UNCONVENTIONAL BEAUTY ICONS:
"I tend to focus more on the whole wellness lifestyle, as opposed to how someone is looking. I always refer to my mom because she just has such incredible discipline in terms of her diet and workout regimen, and to me, that's more admirable. She really does the research in terms of every single ingredient that's going into her body, down to the water she drinks. Otherwise, I think people like Dr. Sebi, Dr. Gary Null… People who are really thinking outside of the box and are aware of the direct links [to] which foods are best for us and our body."
Shop the Story
Laura Mercier
Laura Mercier
Laura Mercier
Laura Mercier
Laura Mercier
Laura Mercier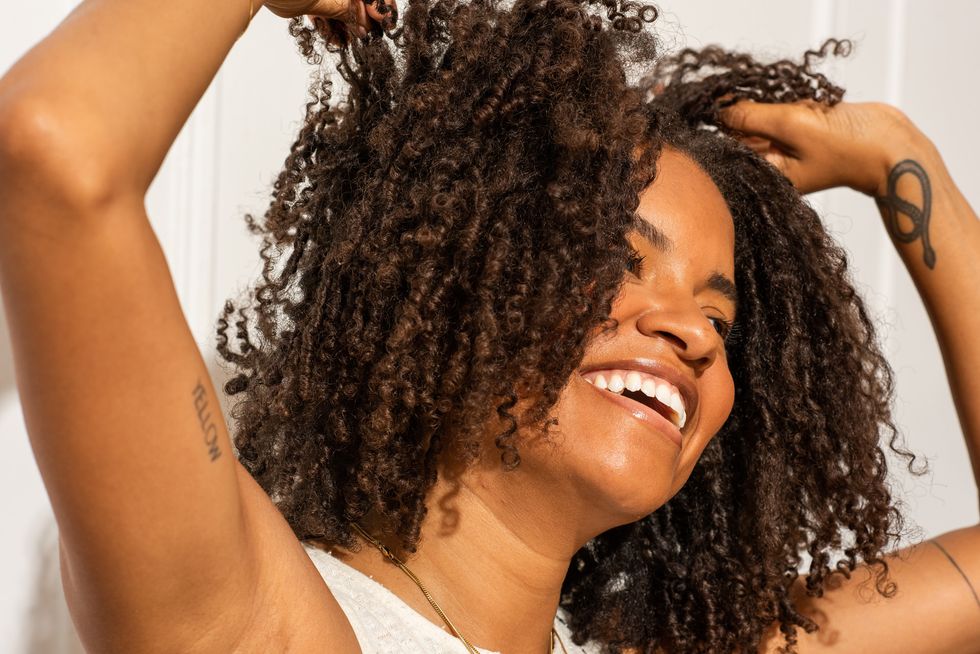 HOW SHE SEES THE INTERSECTION OF FASHION & BEAUTY:
"They're both expressions of self. I know some people who get really creative with how they wear their makeup, and I really admire people who can completely change their face or do really cool things. I think it's the same thing with clothing. I definitely have a more intimate relationship with clothing, because when I really fell in love with it, I realized you could become whatever character you wanted. I loved that there were so many textures and colors and patterns involved. You could really create whatever it is that you want, and I think it's pretty much the same with beauty."
HER FIRST IMPRESSION OF LAURA MERCIER'S NEW AND IMPROVED TINTED MOISTURIZER:
"I've used the Laura Mercier powder for a few years. When I used the new and improved Tinted Moisturizer for the first time, I was like, 'Oh, this is awesome. I need this too.' [laughs]
"I like things that are really lightweight and don't make me feel like I'm wearing a lot of makeup. It also blends into the skin really easily, and I don't have to use three other products to make it look right. I felt really glowy and dewy. It looks like my skin."
WHY SHE LOOKS FOR A TINTED MOISTURIZER WITH GOOD-FOR-SKIN BENEFITS:
"[I always look for something with] SPF, especially because I have brown skin, that's something that I have to be really cognizant of. I can just eliminate having to put it on and caking my face up with a bunch of different products."
HOW SOCIAL MEDIA IS SHAPING OUR TAKE ON BEAUTY:
"My relationship with social media is very objective. And there's pretty much everything for everyone now on social media. Whether you're a YouTube tutorial type of makeup person, or you're more about the actual skin-care routine, I really think there's something for everyone."
HER BEST BEAUTY TIP:
"Focus on inner beauty, in terms of the thoughts that we have about ourselves. I think no amount of makeup, the right product, or skin-care routine can change how we think about ourselves. As women, we put a lot of pressure on our outward appearance and forget what the dialogue is with yourself. It's the most important relationship we can have in our lives. I personally try to wake up every morning and make sure I say thank you to really set the tone for the experience I want to have throughout the day. If I'm feeling good about myself and I've had those conversations, then it's just a bonus to be able to put on a nice outfit or make sure that my face is looking good."
Don't forget to shop Kai's go-to Laura Mercier Tinted Moisturizer for lightweight sheer coverage, 24 hour hydration, and broad spectrum SPF 30. You'll achieve flawless, no-makeup makeup with each application.
Shop the Story
Laura Mercier
Laura Mercier
Laura Mercier
Laura Mercier
Laura Mercier