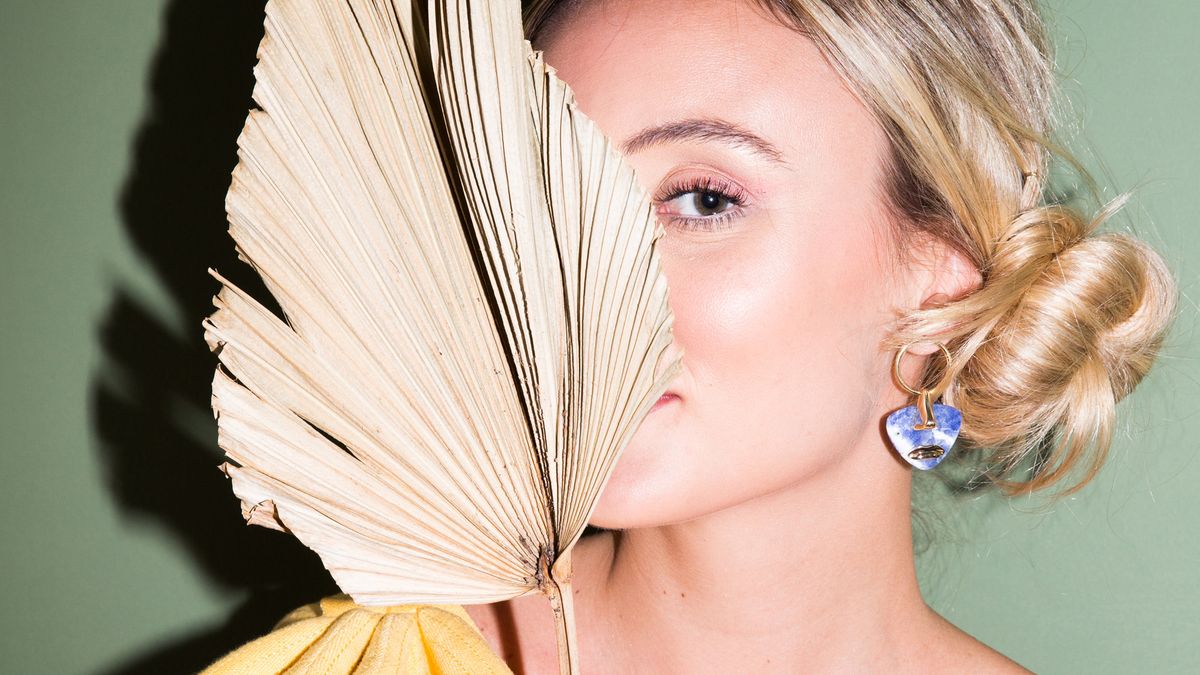 Designers
Not only that, but Paola Vilas is branching out into furniture. Get excited.
Alec Kugler
The first time we ever heard of chocolate marble (the building material, not a dessert), we were standing in the middle of a bright and airy half-jewelry, half-art-studio in Rio de Janeiro. Brazilian-born designer
Paola Vilas
 enlightened us on the process of jewelry-making, and she casually brought up the little-known material as her favorite before showing us a stunning pair of her
Breton earrings
. From that point on, we knew we were in for an extraordinary afternoon.
Vilas has been creating sculptures since she was young, but it wasn't until she satiated her curiosity by enrolling in a goldsmithing class post-university that she discovered her true passion for creating jewelry. From there, the rest was history. Vilas
'
design aesthetic is inimitable and 
comparable to wearable art
; every piece is essentially a miniature sculpture, and many designs are heavily influenced by the
female body
. In addition, every article is named after an artist who has inspired her.
As we walked around the studio admiring her collection—protected by glass domes atop
marble tables
, just like works of art—we learned that Vilas had also created the tables themselves. Turns out the designer's talents are not just limited to jewelry. Naturally, we had to get all the details about her other projects, as well as her go-to spots in Rio, and the fashion brand she could see herself working with one day.
---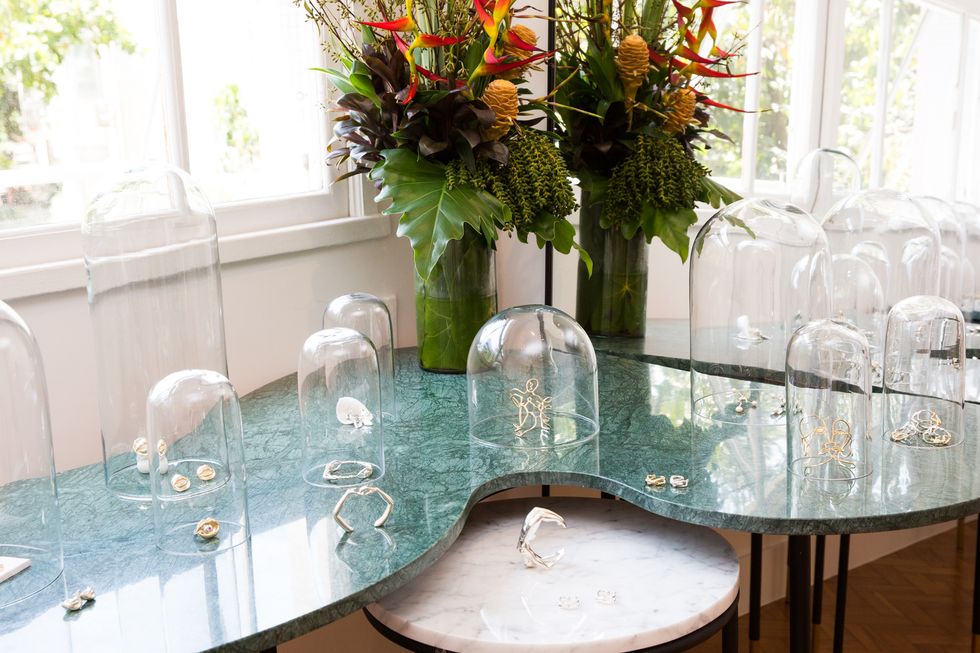 She always knew she wanted to create, but it took her a while to figure out in what capacity:
"Since I was a child, I made sculptures with clay—my parents always allowed me to be free to do whatever I wanted to in my room. At the beginning they didn't like it, but since I didn't stop, they started to understand and enjoy [the sculptures].
"I felt really trapped in high school because in Brazil the focus is on preparing for exams—there is nothing that stimulates your creativity. When I left high school, I went to university in Rio and chose to do visual communication, which is more like graphic design. Again, I felt trapped in the 2-D world. I always felt the need to make things with my hands, and so I did a lot of art courses in between the university classes. In the summer I went to London to Central Saint Martins to do some courses, and when I came back I started a goldsmith course and loved it. Since the first class, I was completely crazy about it—for me it was the most precious thing in the world. I felt that I could do really small sculptures and wear them. It was the best of both worlds."
That goldsmith class truly changed everything:
"Most of the students [in the course] were creating really small things, and I was doing bold things. My teacher noticed I wanted to do something different, and she started letting me produce outside of the course. I had this line that I did with insects—I drew an insect, and then I sculpted it—and when I wore it, everyone was like, 'Oh my god, where did you get that?' That's how it started.
"I'm also an illustrator—I make drawings, art, everything. A big company here contracted me in Brazil for a
Vogue
event where I was drawing live at the event, wearing [my pieces]. The
Vogue
director was like, 'What are you wearing? Why don't you launch it? I'll put you in
Vogue
.' I saw the opportunity and had a launch at my friend's house with [Brazilian designer] 
Adriana Degreas
. Everyone covered it, and after that I started working at home, focusing on the international market, and had people working for me. It was crazy."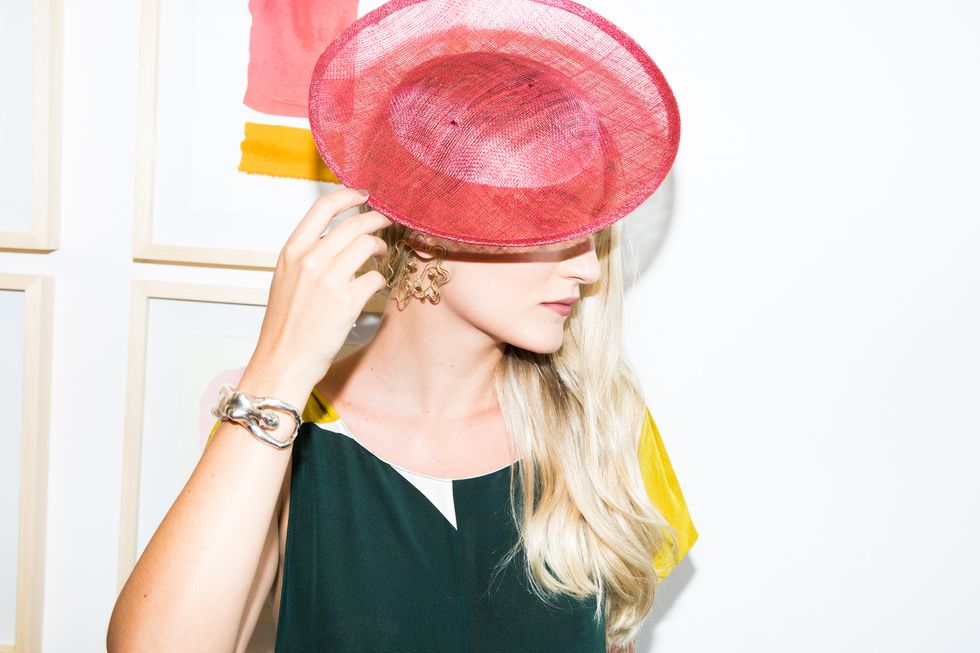 Her plans for the future extend beyond jewelry:

"Furniture is my next step. Maybe I'll do some partnerships with some other companies. It's not easy to produce. Jewelry is something where I can make my mark, [but] I don't want to be stuck with only jewelry. I made a mirror [and tables] with steel and marble. When I opened the studio, I was thinking, How will I show these pieces?—I didn't want it to be obvious—and then I came up with [the idea to use them to display the jewelry]. I sell a lot of smaller tables."

And she isn't closed off to the idea of collaborating or working with more fashion designers:

"I like how everyone is turning to their own roots for fashion. Like Jacquemus when he started talking about himself and his story—I think it's amazing. I love his work. I love Céline as well, but I don't know now because [of] Hedi [Slimane]. We'll see. I think the closest [for me to work with] would be Jacquemus because he has this Latin influence, and my universe is very exuberant as it's the beauty of Rio."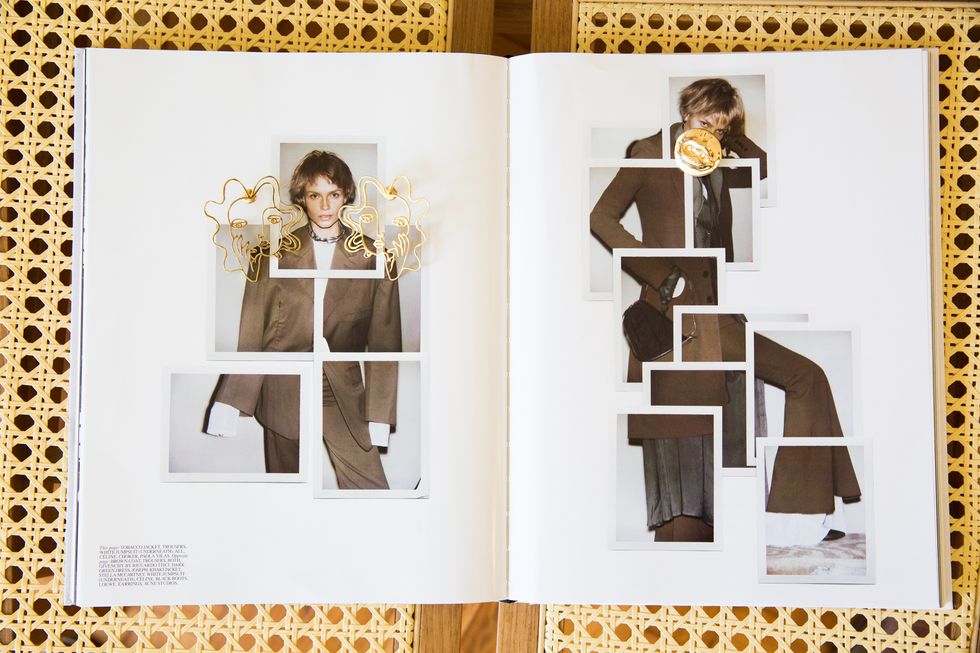 She is always looking to women for inspiration:
"I love [the female body]. I'm very spiritual, and I believe the woman holds the creative power—the power of creation. I love our curves and think women should be comfortable in their own bodies. It's really interesting because a lot of women put on the
Louise cuff
, they are like, 'Oh, I'm feeling so powerful.' I'm very interested in that. Also women helping women."
And names her pieces after famous artists:
"[My face earrings are called]
Olga
. I'm fascinated with Picasso, and Olga was one of his lovers—one of the many lovers he had. He knew how to live, let's say that [
laughs
]. I always name my pieces after the artist that inspired me."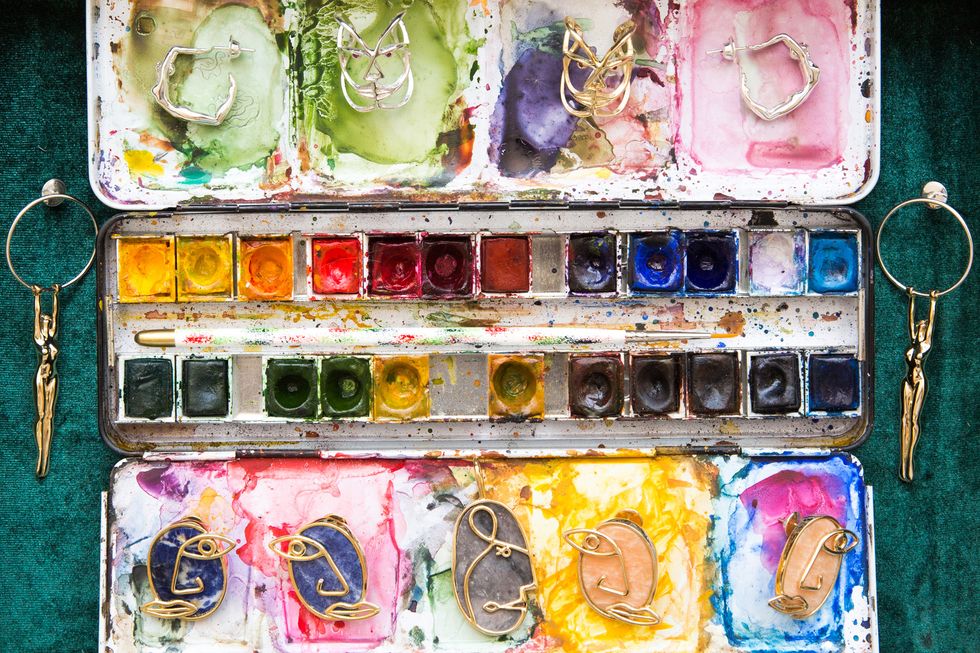 Her travels are another way she gets inspired:
"I'm crazy about Hawaii. I went there once with my parents, and I would like to go alone. I love to scuba dive. I did a course here, and then I went to Bali and to Thailand. For me, it's the colors. The last trip I took, it was really nice—I went to Rome, Florence, Venice, and Barcelona. It was winter so there wasn't much to do, only museums, art, and food. There were no distractions. With my new collections, I'm trying to bring in these things I saw there. I was crazy about the Uffizi Gallery in Florence—I have never seen such a beautiful thing in my life."
Her two favorite things to do in Rio are opposites of one another:
"I love going to the beach, of course. Here in Rio, the sea changes a lot. When it's the perfect day at the beach, when it's really sunny and the water is clear, it's amazing. You can get a stand-up paddleboard and you can swim. Baja [beach] is my favorite. Grumari as well. It's amazing—farther away, and it's more disconnected. There's no phone [signal there]. And the Carnival in Rio is the best. Everyone does Carnival. The costumes are really creative, really funny, and kind of sarcastic."
Want more stories like this?
Inside the Studio of Handbag Brand Nannacay
This Cult-Favorite Jewelry Brand Mixes L.A. Minimalism with French-Girl Chic
This Fine Jewelry Collection Includes Moving Gemstones & 18-Karat Gold Cages