Candace Marie's Secret to Effortless Beauty
When you're running luxury's biggest social brands, low-key is the way to be. In collaboration with Laura Mercier.
Makeup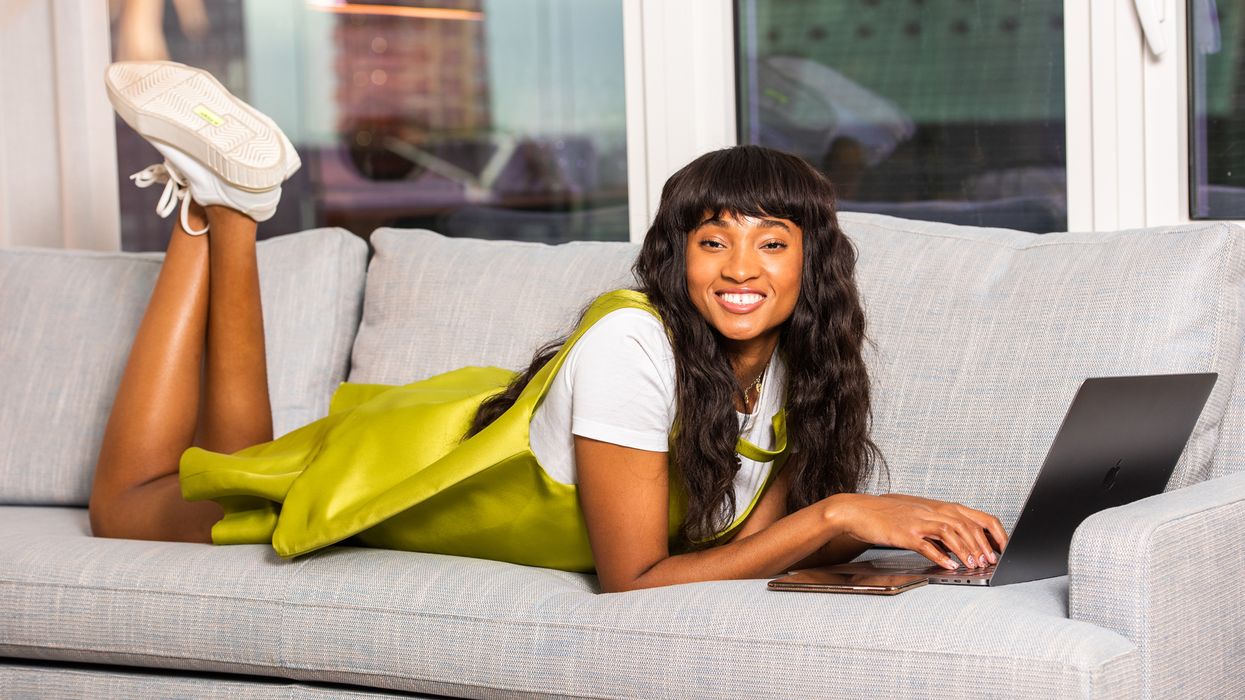 Let's face it (see what we did there?): Looking your very best usually begins with building the perfect complexion. You need a product that will help your skin feel healthy and luminous from morning to night. So when we heard that Laura Mercier was re-launching their new and improved formula of its cult-classic Tinted Moisturizer with nourishing skin-perfecting ingredients, SPF, and upgraded formula, our interest was PIQUED. You know the vibe: a lit-from-within glow, even-toned, and a no-makeup finish. We asked three incredible women (with relatively natural, one-and-done approaches to makeup) to test-drive their shade, share their perspective on beauty, and let us in on their daily routines.
The past few seasons of
street style
, there's been one name that's repeatedly been on what feels like everyone's respective radars:
Candace Marie
.
In this sense, Marie's resume speaks for itself—a figure in fashion who doesn't just have the Instagram influence, but the professional chops to back it up, too. First overseeing social media at Barneys New York before moving to her current role doing the same at Prada, Marie is the front line between the masses and some of the biggest names in fashion. No biggie!
Given that an average day can include everything from strategizing for huge brand initiatives to early-morning call times (it's all about that BTS, baby!), Marie's approach to beauty is relatively simple. That said, she knows that the key to feeling confident starts with a flawless complexion. "I want to get my canvas right before I add anything, whether I want to put on blush that day, or mascara, or do a really good brow." Her secret weapon? Laura Mercier's new and improved Tinted Moisturizer for sheer hint of coverage to perfect your skin for an effortless dewy finish." Read on for her go-to beauty secrets, her refreshing approach to beauty, and the celebrity Cupid's bow she loses sleep over.
---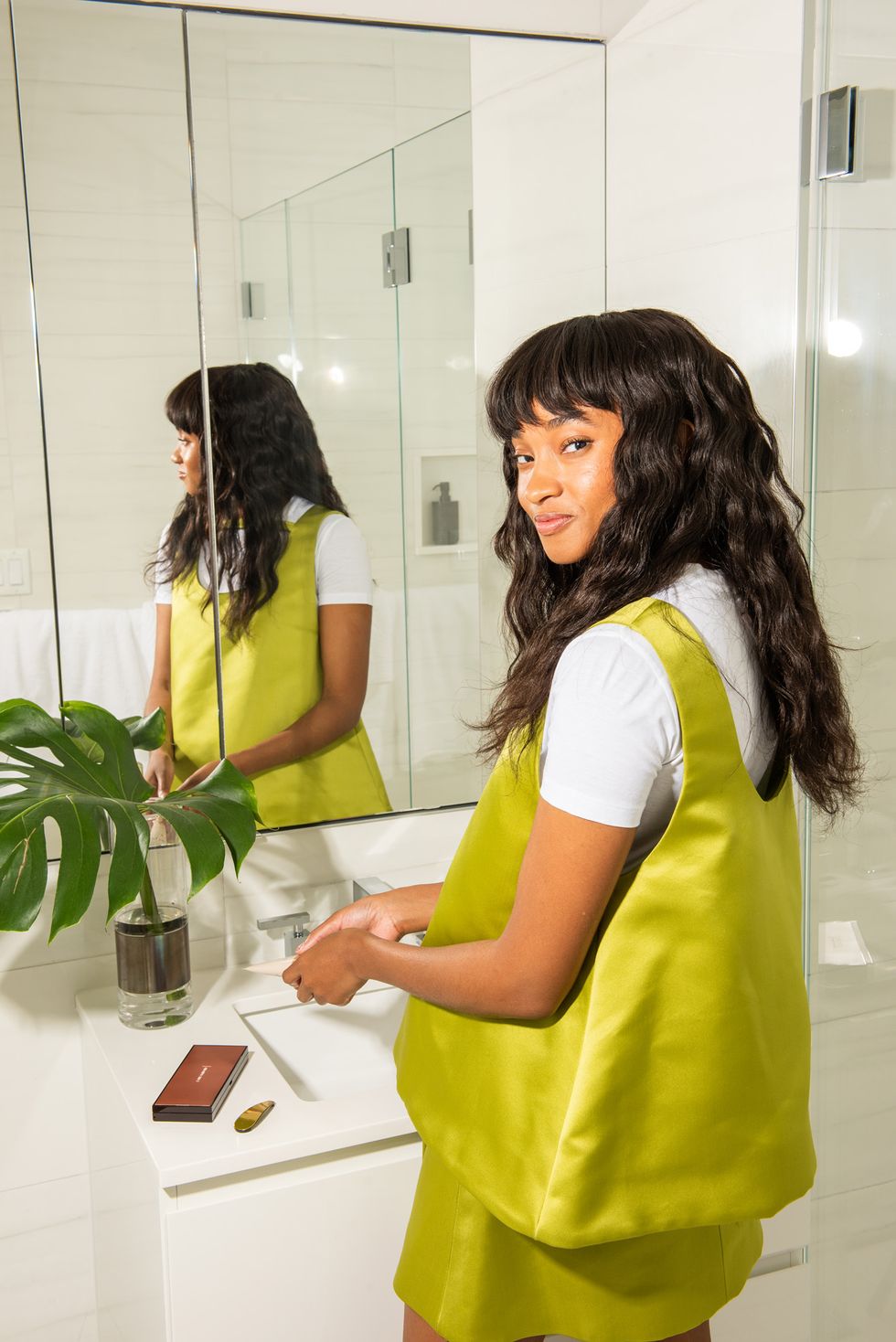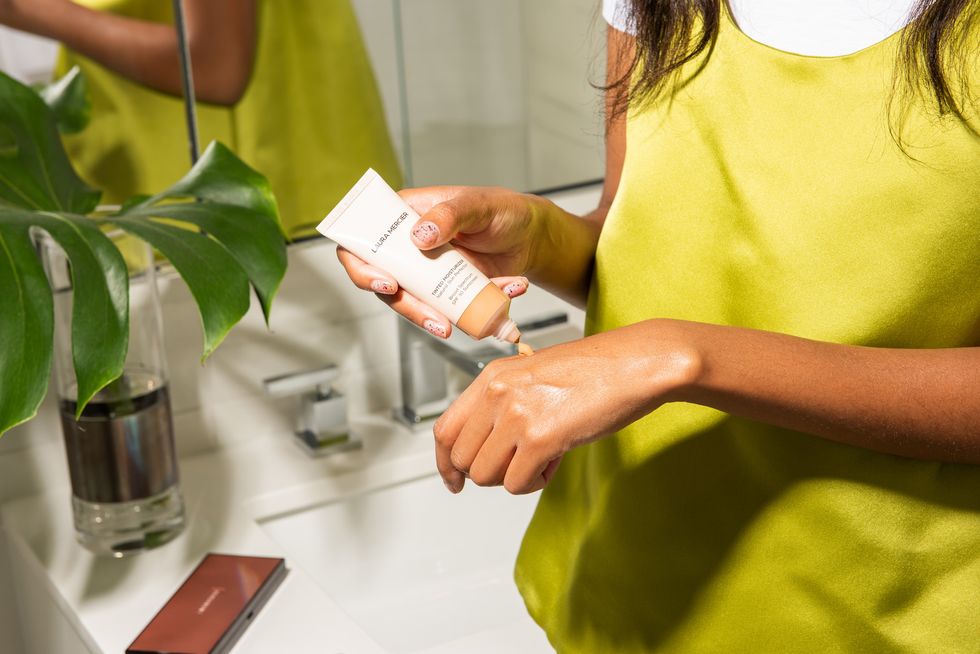 ON HER APPROACH TO BEAUTY:
"My approach to beauty is natural. I like to keep it fairly simple on most days. Every now and then if I'm doing something fun, or going to an event, I like to spice it up, but for the most part I like to keep it natural. I'm a big chapstick person. [laughs]"
A LOOK INSIDE HER DAILY ROUTINE:
"[My routine starts with] a good wash in the morning. I always brush my eyebrows up immediately afterwards, and put a dab of a serum to give good hydration, glow, an overall even appearance. I'll do a dab of Laura Mercier Tinted Moisturizer. I like it when you kind of have to second guess, 'Does she have on makeup? Is that makeup?' Every now and then I love a good blush too, just to give a little bit more livelihood, if I'm tired. Maybe I'll put on some mascara to make the eyes pop, but outside of that, I'm simple."
Shop the Story
Laura Mercier
Laura Mercier
Laura Mercier
Laura Mercier
Laura Mercier
Laura Mercier
HER FIRST BEAUTY PRODUCT:
"My first product from Laura Mercier was a bronzer. I liked it because if I put it on, I didn't necessarily need more makeup to get a good glow or feel overdone."
ON TRYING LAURA MERCIER'S NEW AND IMPROVED TINTED MOISTURIZER:
"I love something lighter than a heavy foundation, especially during the summertime. You just need a little tint. The Tinted Moisturizer gives a glow without feeling overbearing or cake-y. It's very lightweight—perfect for the summertime, when it's smoldering hot outside in New York City! It's quick, easy, and you can just use your fingers to apply. It just kind of works with your beauty routine without taking up a lot more time, which I love, especially while getting ready quickly in the morning."
HOW SOCIAL IS CHANGING THE BEAUTY GAME:
"Beauty is becoming more accessible to more people, which I love. Things you might have been nervous to try, you're becoming more open to because there's people, like YouTubers, showing you, 'Hey, here's how to apply this makeup.' You're seeing the IGTV or the Lives or whatever the case may be. I find people are a little more daring than usual."
ON HER BEAUTY ICONS:
"Beauty icons… Zoe Kravitz, she has amazing cheekbones; she's like, perfectly symmetrical. And I have to say Beyoncé, she's just beautiful! This is a little bit weird, but Rihanna has the most perfect lips. Her cupid's bow is perfect!"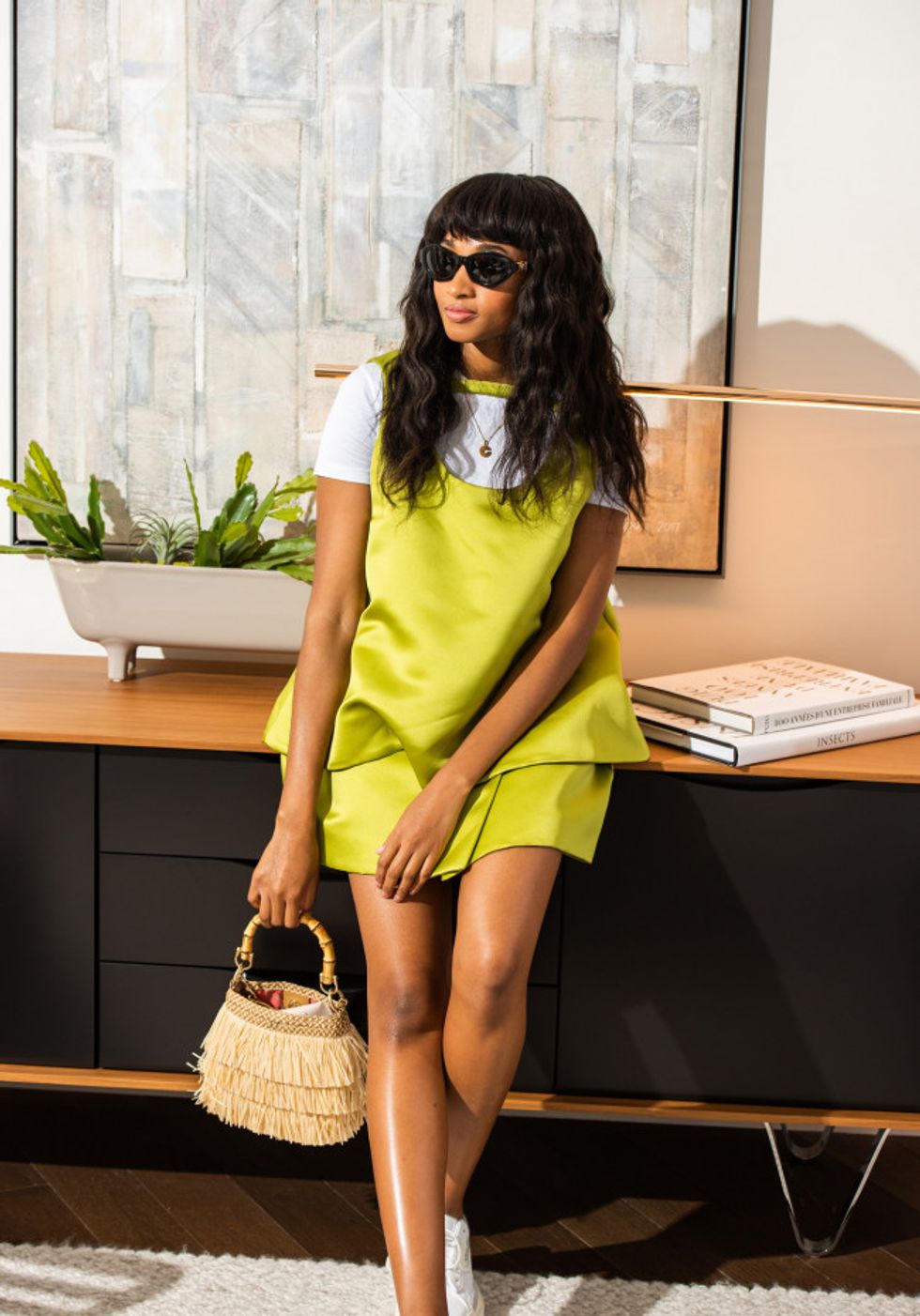 SHE GOT IT FROM HER MAMA:
"My mother is very beautiful. Every time my friends see her, they're like, 'Oh my gosh.' Lots of people think I'm younger than I am, and I'm like, 'Nope, that's my mom.' I'll continue to be carded for the moment!"
IT ALL STARTS WITH SKIN CARE:
"I'm big on oils. It can be something as simple as coconut oil to take off your makeup, to nourish your skin while still removing impurities that a wash won't get—you know when you wipe your face with a white towel and it's still there? I always feel like a good oil wash can be really, really good. My mother just always had really good skin though, and she literally used a bar of soap. [laughs] I'm like, I can't do that."
...BUT THE RIGHT PRODUCT GOES A LONG WAY, TOO:
"My skin goes back and forth. It's combination—I can have flaky, dry skin around my nose and lips, and then be super oily elsewhere. It can be tricky to find something that balances both. With Laura Mercier tinted moisturizer, you don't get the cakiness of a full foundation"
HER UNCONVENTIONAL BEAUTY TIP:
"My most unconventional beauty trick is using lip balm on your brows. It's great because it's thicker; it's waxier. You can just sit them down."
ON FINDING WHAT WORKS FOR YOU AND STICKING TO IT:
"The biggest beauty lesson I've had to learn is that everyone's skin is different, and you have to find what works for you. It took me a minute to find out, 'OK, this product helps you not break out, and then this product gives me moisture.' I've used a lot of products where a friend says, 'Oh my god, this works wonders,' and then you use it and it's not perfect for you. I read a ton of reviews before buying things. It's a lot of trial and error and seeing what works for you."
Don't forget to shop Candace Marie's go-to Laura Mercier Tinted Moisturizer for lightweight sheer coverage, 24 hour hydration, and broad spectrum SPF 30. You'll achieve flawless, no-makeup makeup with each application.
Shop the Story
Laura Mercier
Laura Mercier
Laura Mercier
Laura Mercier
Laura Mercier
Laura Mercier