The Clear Cut Is Making Major Diamonds Affordable
Olivia Landau and Kyle Simon are creating the engagement rings of your dreams.
Career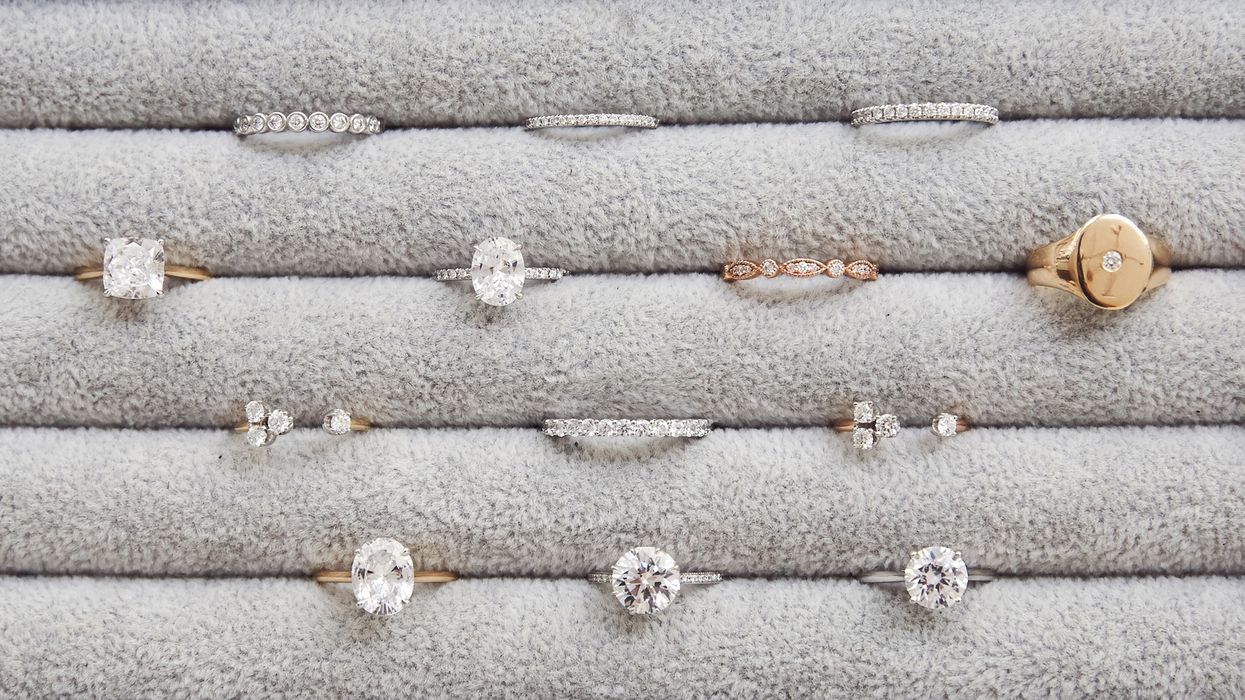 The story of The Clear Cut—a blog turned direct-to-consumer engagement ring and jewelry company—is the stuff of a modern-day romance meets breakout-business fairy tale. While both in school in New York at the Gemology Institute of America (aka GIA), Olivia Landau and Kyle Simon crossed paths. Landau, who comes from four generations of diamond cutters and sellers, was there studying the business, while Simon was researching diamonds for his fair-trade startup. Fate intervened when Landau offered to help Simon with his homework one day while they were both riding the F train after class.
They started dating immediately, but it wasn't until Simon returned from an ethical mining trip in Africa and Landau was working in diamond wholesale that the idea for The Clear Cut was formed. All of Simon's friends were getting engaged and kept asking him to ask Olivia for advice on engagement rings. After going through the process a few times, she decided to set up an educational blog that made diamond-buying easier (and cheaper!) to digest for their friends and other millennial customers. Fast-forward to Olivia posting her creations on
Instagram
, which led her to getting requests from not only her friends, but from people all over the country asking her to source their diamonds and design their rings. Voil
à
—
The Clear Cut was formed!
Below, their advice on teamwork and how to disrupt an industry.
---
On the importance of teamwork:
When Landau first started blogging and dishing advice to friends and IG fans, both she and Simon realized that her side hustle had the potential to be a major player in the engagement ring and diamond space. In order to make that happen, it required a large amount of teamwork, trust, and dedication. As Simon put it, "I was watching Olivia on her lunch break selling tens of thousands of dollars
'
 worth of engagement rings. I was like,
'
OK, you have to commit to this full-time, you can't do both.
'
 Olivia agreed but also pointed out that one of us had to work, so I turned down my job at Goldman Sachs when I graduated to go do this full-time. By then we were trying to raise money from anyone who would listen and actually weren't very successful at it, because people didn't see the bigger picture and just thought it was a blog and didn't know what we were trying to accomplish." From there they applied to Techstars New York and got in, and it was time to band together again. "And so I told Kyle, I was like,
'
If they accept us, I'll quit my job and we'll go for it,'" Landau continued, "so then I had no choice. Our parents were really not happy about it, but they've come around. It was the best decision ever, and I think it really helped us focus and grow, and we've been growing 100 percent quarter over to quarter ever since we decided to go full-time."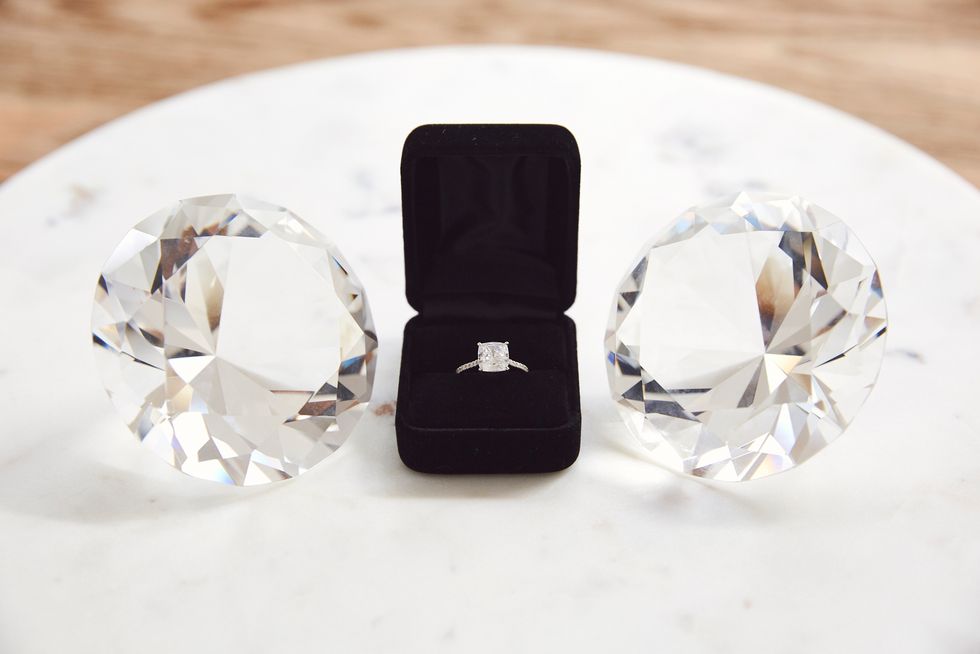 On listening to your audience:
In addition to commenting about the *major* rocks on their Instagram page, The Clear Cut followers were also asking tons of questions about Landau's personal jewelry she would wear during her videos. After enough asks, the couple decided to capitalize on what their readers wanted and launched an in-house line of jewelry, separate from and not including engagement rings. As Landau put it, "How the line came about was just purely based on demand. So for instance, it kind of all started with this one ring that I made for myself. I used extra diamonds from resizing my tennis bracelet and made this four-stone open ring that I'd post with a lot of the engagement rings on Instagram, and everyone kept reaching out, wanting me to recreate it. So I thought, if we keep getting this demand, it should just be on the site
—
that's the Olivia ring, which is now our bestseller. Basically, how we've been designing and launching pieces for the collection is just based on what our community, existing customers, and followers are demanding from us."
On disrupting an industry:
"I think our whole business, even in its name, has always been about like, transparency," Landau told us. "We wanted to take something that is a luxury product and seems intimidating and unapproachable
—
like diamonds in particular
—
and make it very attainable, very educational and transparent, and being able to talk directly to our end buyer."
Simon continued, "Traditionally there were two ways you could buy an engagement ring: It was either a traditional retail store, which was incredibly overpriced, really inaccessible, and really intimidating, and on the other end of the spectrum...there were the online marketplaces like a Blue Nile, where there's no customer service, there's hundreds of thousands of options, and it's totally overwhelming. It's hard to navigate, even for us, and then you're buying just on specs when there's so much more to a diamond. We kind of wanted to provide the value of those sites, but with service, with expert education, and with guidance for the customer. So that's what really resonated; we sit in between retail and a marketplace."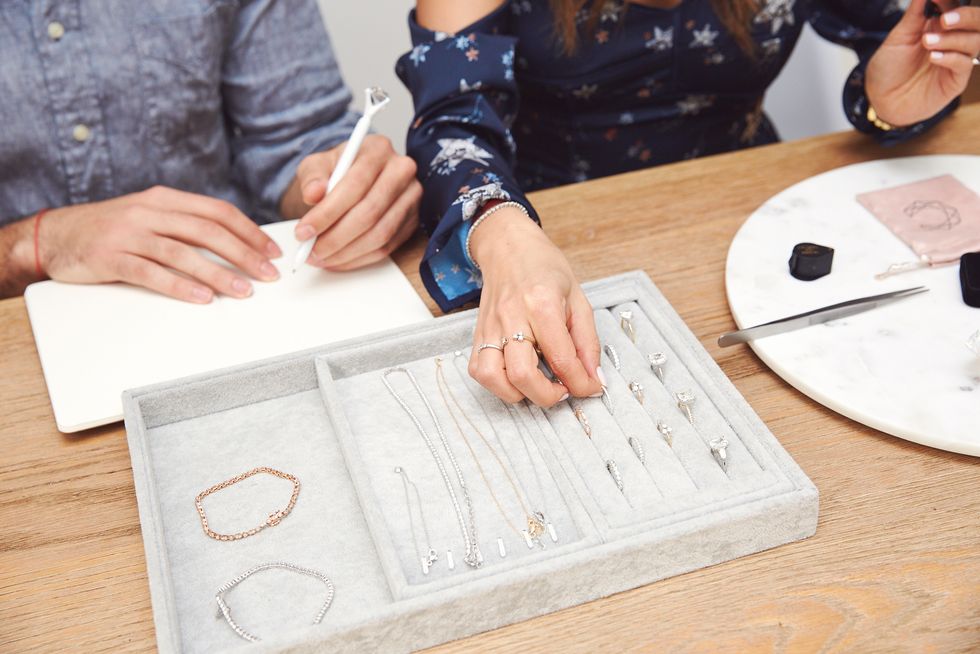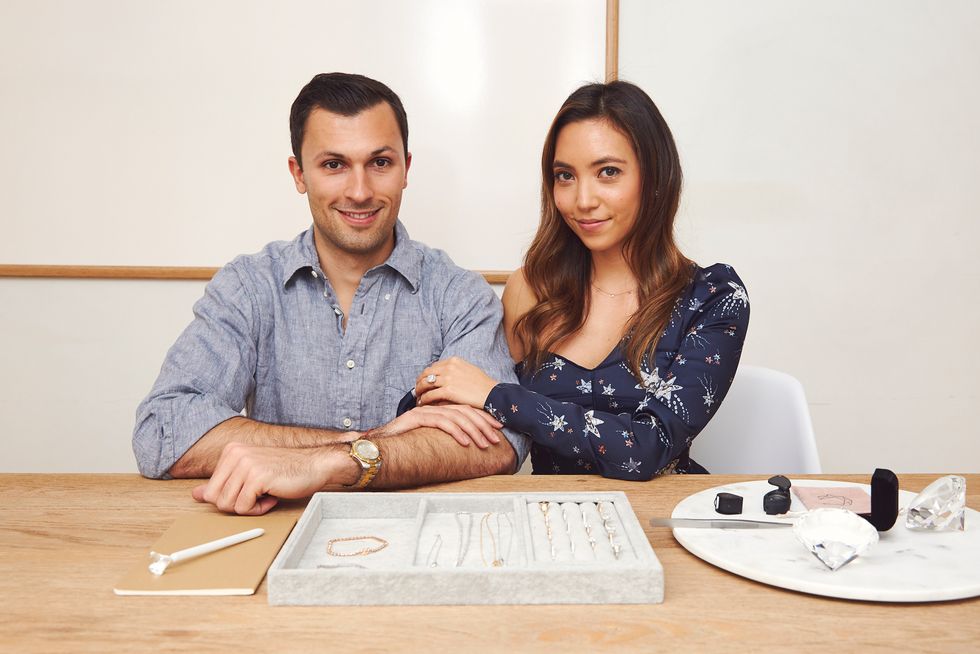 On what their process looks like:
"We always, always start with an initial phone conversation to get a better sense of what their search has been like," says Landau. "We want to know what their preferences are, answer any questions they might have, and then kind of walk them through the process. Then we'll understand the type of shape they're looking for, what they're wanting to maximize for, whether that be size or color or clarity, their general budget, and then what we do is we'll curate a selection of diamonds just based on their particular preferences. From there we continue iterating until they find the perfect one, and then once we find it we just ask for a one-third deposit, and then we'll create the custom ring, and then, once it's done, send photos and videos and then ship it out."
On creating their own line of jewelry:
As Simon puts it, "We kind of knew the diamond engagement ring was like the gateway drug to all your future jewelry needs. It's one of these things; it's a really big purchase, so if you can get them on that, they trust you, right, and then you know their taste. Especially working so closely with someone and making something so personal for them, it allows us to continue to iterate, continue to grow with our customers for birthdays, anniversaries, plush presents, wedding bands
—
we wanna be there for all the big life events. Plus," he adds, "the majority of our sales are not in New York, because if you live in Phoenix, Saint Louis, Portland... There's no jeweler to go to, there's no diamond district, so you have to buy it overpriced. And all of those people are on Instagram, they know what's out there, they are super educated, they know exactly what they want, but they just don't have any options."
Want more stories like this?
Hussein Suleiman Talks His Clothing Brand Daily Paper
Greg Yuna is the New York City Jeweler You Should Know
Negative Underwear Founders Talk Briefs, Bras and Business