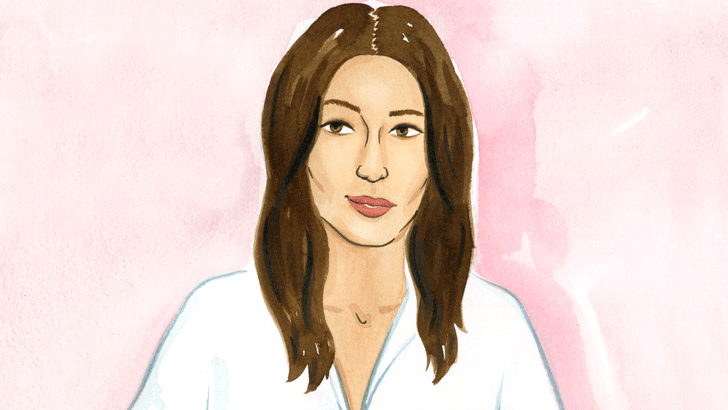 This Plastic Surgeon Figured Out Semi-Permanent Highlighter
It's called the "Lit Lift" and just takes a few needles here and there.
Forget eyelash extensions. What if you woke up every morning with skin that already appeared to have the most natural-looking highlighter glowing in all the right places? That's the idea behind the Lit Lift, an injectable-filler technique coined by Dr. Dara Liotta, a plastic surgeon in Manhattan's Upper East Side. She injects filler into patients' faces exactly in the same places you normally apply your highlighter: the forehead, cheekbones, brow bones, down the nose, the Cupid's bow, and on the chin. Be it your Becca x Jaclyn Hill compact or your Glossier Haloscope, wouldn't you say that's exactly where you apply yours?
"When you use highlighter makeup, you are trying to make it look like the light is hitting you in a certain way," she says. "But with filler, we make it so the light actually hits you that way. With filler, it's not always about projection, it's about the way the light hits the skin when the quality is improved. I realized all the things we do with makeup are things I may be able to do in a semi-permanent way with a filler."
Liotta uses hyaluronic-acid fillers, which are designed to eventually metabolize (meaning dissolve and disappear) completely over time, so it doesn't last forever. But different brands break down at different rates. She prefers new fillers by Allergan Juvéderm, which are considered the longest-lasting versions on the market with proven track records of lasting up to two years: "Voluma in cheeks, Vollure in lips, and Voluma in the chin, and Volbella in the tear trough. After playing with them a lot, that's where they shine the best."
The truth is this isn't wildly different than how most dermatologists and plastic surgeons approach filler. If you asked the average derm to circle the areas they tend to inject filler, it would be many of the same spots, but there are nuances to Lit Lift that make a beauty editor turn her head: 1) that Liotta identified the highlighter connection, and 2) the subtlety Liotta aims for by trying to create highlight versus volume. If you take a peek at the doctor's Instagram, you'll notice how freakin' gorgeous and subtle her work is on her own face, which is often a practitioner's best testament (*needle phobia dwindling*).
The process will take you 45 minutes total, she says, but some people don't need certain areas. "I always start by looking in the mirror along with the patient, and I try to get their motivation for coming—what is catching their eye, not mine. Often patients will show me pictures of themselves that they've Facetuned, and that can be helpful because it helps get us on the same page. But the goal is not to make a 'look' or Instagram face, it's to maximize their own features. Everyone should look different."
For the filler newbie: Does it hurt? Yes, but mostly just the first prick of the needle, which Liotta helps reduce by numbing skin with ice beforehand. After making a teeny opening with the needle, she removes it and inserts a cannula (a blunt-tipped needle with a hole on one side) to do the actual injecting. Using a cannula has become the preferred method among most top injectors. "With the cannula there really is no pain. The cannula just pushes away, it's not sharp." And because the fillers aren't going very deep into the skin or used in very large amounts, you won't feel some of the tenderness other filling techniques can produce.
The real pain, however, may be in your wallet. When you're using the longer-lasting fillers she prefers, they are pricier, so the whole face will cost about $4,000. But, one might argue, you may just look like a million bucks.
Want more stories like this?
Look No Further—This Is your New Favorite Eyebrow Pencil
How to Get Rid of Hyperpigmentation Once and for All
How an Editor Spends $500 at Space NK