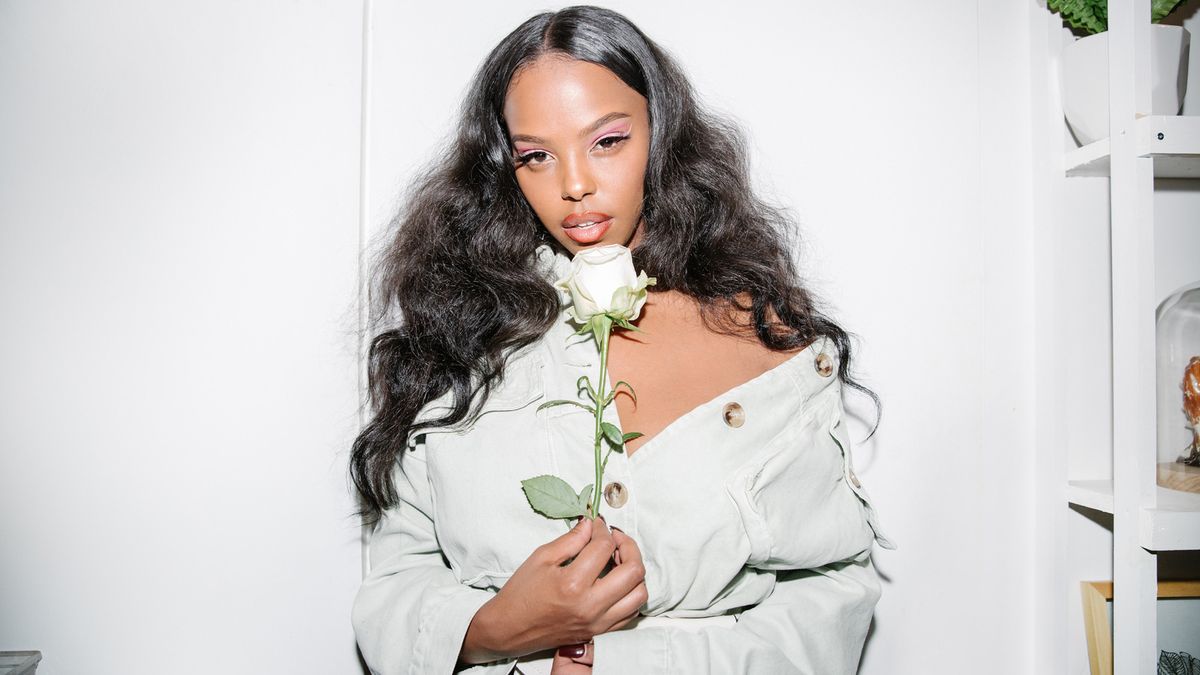 Living
Today she dropped her EP, Black Dove.
Renata Kaveh
Today, Toronto singer 
Amaal Nuux
 shared with us what she has been so diligently working on for the last two years: her EP,
Black Dove
. The R&B singer first caught our attention with her stunning visuals for her single "
Not What I Thought
," a video shot throughout the beautifully rugged landscapes of Iceland, and we've found ourselves following her every move since. One Thursday night in March, we found ourselves at an intimate show she held at Soho House in downtown Toronto, and as we sat sipping our Cab Merlot, listening to her croon through her mic a few feet away, it became obvious that we were going to be lifelong fans.
Not only does Nuux have a buttery-soft voice (the type that gives you chills throughout your whole body), but the singer uses her music to tell heart-tugging stories about her home country of Somalia and the trials and tribulations of being an immigrant and refugee (she moved with her family to Toronto at a young age). You can't help but want to get to know her better. So that's exactly what we set out to do.
The singer was just as calm and amiable pulling up to our shoot as she was that evening at Soho House. Our location for the day was Crown Flora Studio, a flower shop on the west end of Toronto, and Nuux could not have looked more at home as she posed in a neutral denim jacket, silk skirt, and white heeled boots against potted palms and bouquets of flowers. Following the shoot, we sat down to talk everything from the Spice Girls to her mentors in the industry, being influenced by her native country and her current one, and what her new EP means to her.
---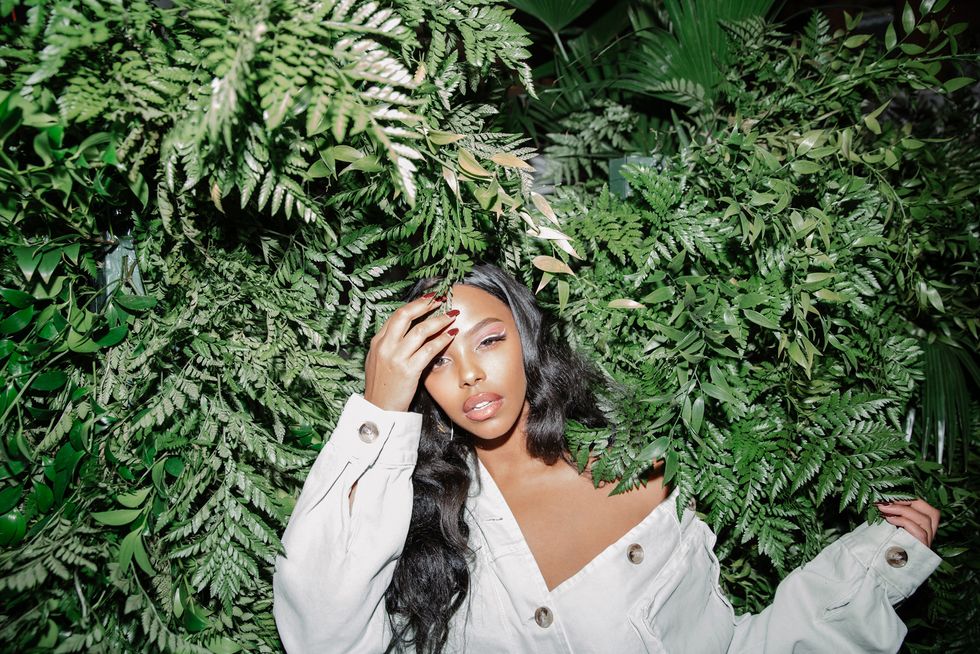 Her first memories with music:
"I remember elementary school, when I was a huge fan of the Spice Girls. Obviously, the movement with them was all about girl power, and it was super empowering. Whatever group of friends you were in, everyone had the assigned character of who they were. I remember how it unified us little girls at the time.
"It changed from there; hip-hop was massively influential to me. My brother was a really big hip-hop head; he loved
Nas
, Jay-Z, and Coolio. Hip-hop music really penetrated deep into my soul like no other music, and I think that's why I really gravitated towards [it] and then R&B. I didn't have the opportunity to have it in my household all the time because of my upbringing, but I was lucky enough to have little bits and pieces of moments on the playground with friends that were singing a song or whatever."
It took her some time to realize her full potential:
"[I was in a] choir in third grade; [we were singing a] Céline Dion song, and the teacher was really adamant on me having a solo part. I remember a teacher coming up to me afterwards, being like, 'Your voice is so beautiful.' I thought, OK, she's just being nice—it didn't register with me. Later on, in high school, I was singing one of my favorite songs, Mario, 'Let Me Love You,' and my friends were like, 'Oh my god, you sound so good.' When I released my first batch of music, it was honestly innocent, the intentions were super pure. It was to have music out there to tell my story; I didn't realize it would turn [get] the reaction that it got. It took a lot of little big moments to kind of slap me in my face."
Both Toronto and Somalia have been hugely influential to her music:

"I was born in Somalia; I came [to Toronto] when I was a little girl, and I didn't actually go back until after high school. I was there for a year, and whatever direction my life path was, that trip 100 percent flipped it around and sent me in a completely different direction. Being in a country that has experienced so much turmoil, civil war, and unrest, I started to see how people [never] take anything for granted. They had this thirst for life that I never experienced in Canada, and it really woke me up. I used to write poetry, and when I was there, I felt my perspective change; the things that I was writing about felt more authentic and a bit more richer—there was more meaning. I naturally started singing and writing songs of the experiences, telling the stories of being an immigrant, being a refugee, but still finding strength in yourself and being resilient.

"Growing up in Canada, my household remained very much intact [with] Somalia. I would always say, when I stepped out I was in Canada, and when I came home, I was back home. That really inspired my music. You sing in pentatonic scales, so sometimes I'll do things with my voice that come from my culture. [Same thing] with my clothing that I wear [and] the instruments that I choose. We take a lot of inspiration from the Middle East, so it's a little fusion."

On choosing a label to sign to:

"It's a really, really difficult [decision]. I was independent for a majority of my musical career. I did sign early on to 40—Noah Shebib, he had a label called Undone Music. It was sort of part of OVO, but also a little bit of a separate entity. The decision was really easy because I adored everything about him. I love what he and Drake were able to do. It seemed like the biggest blessing. Unfortunately, it didn't pan out in the way that I envisioned, which is perfectly normal. I became extremely fearful of committing or putting myself in another situation where your time and everything is dictated. I had to change my mind-set to If I sign another deal, it's going to be a partnership, I have to have involvement, my voice has to be heard. Thankfully, it's been incredible—better than I anticipated. I'm really happy with where I'm at right now."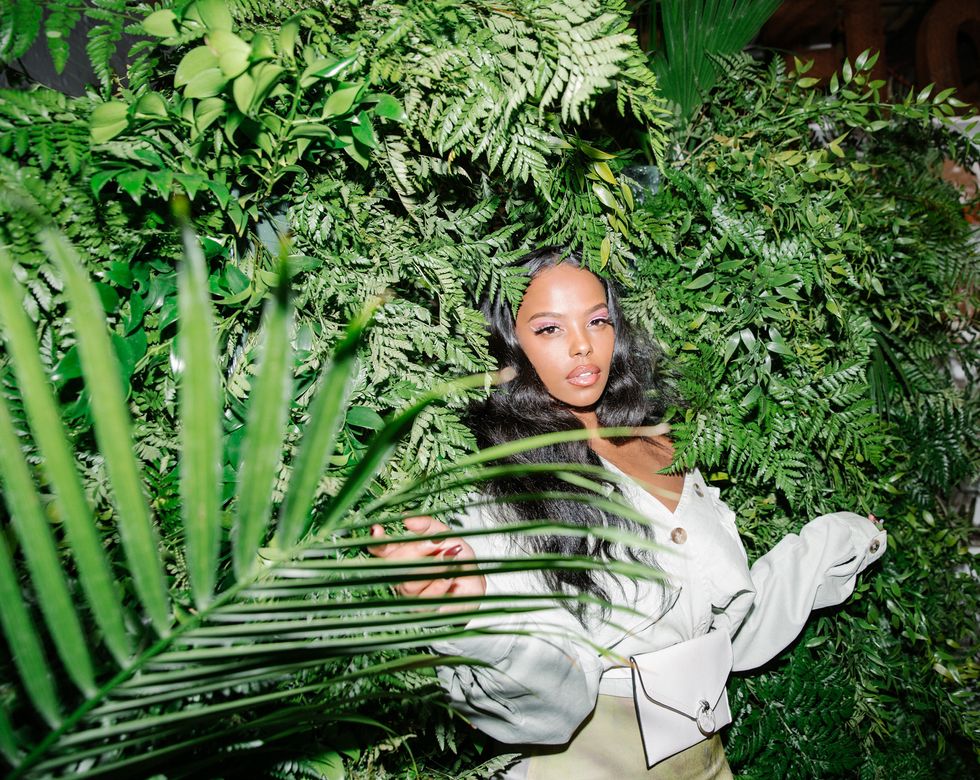 The mentors she's had along the way:

"His name is Jeff Robinson, he's actually H.E.R.'s manager; he used to manage Alicia Keys, Elle Varner, Brandy—he's absolutely incredible. When I released that first batch of music, he reached out to me. He's been a really, really great mentor. And just producers and writers along the way that I've met; my peers in the industry are truly helpful because we all go through similar things. It's really nice to have them."

On her brand-new EP, Black Dove:

"The EP is an accumulation of music that I've worked on in the last two years. Before, there was something that was always holding me back, and that was my community and the backlash that I was avoiding. There were certain things that I wouldn't talk about—it was almost the struggle of our people that I really focused on, because I had such a good reaction from that [topic]. I felt like if I crossed over to anything else, I wasn't prepared to receive that backlash. Basically there's been a self-evolution within me where I don't really care anymore [because] I don't want to do a disservice to myself as a human being, as an artist. There's a lot that I've gone through and relationships, intimate relationships, that I feel I need to talk about and share. That's what this EP is.

"Black Dove is me removing myself of these stresses. This is the truest me. I'm talking about the moments in my relationship that I was too embarrassed to talk about, you know, staying too long when I should've left and [times that], at the moment, I thought were very shameful and me not being a strong woman. I learned afterwards that true strength is actually understanding and being vulnerable and coming to a place where what you've gone through is just a part of your story—it doesn't define you. I'm happy with where I'm at, and I can't wait to continue diving in [deeper] and sharing more of these stories."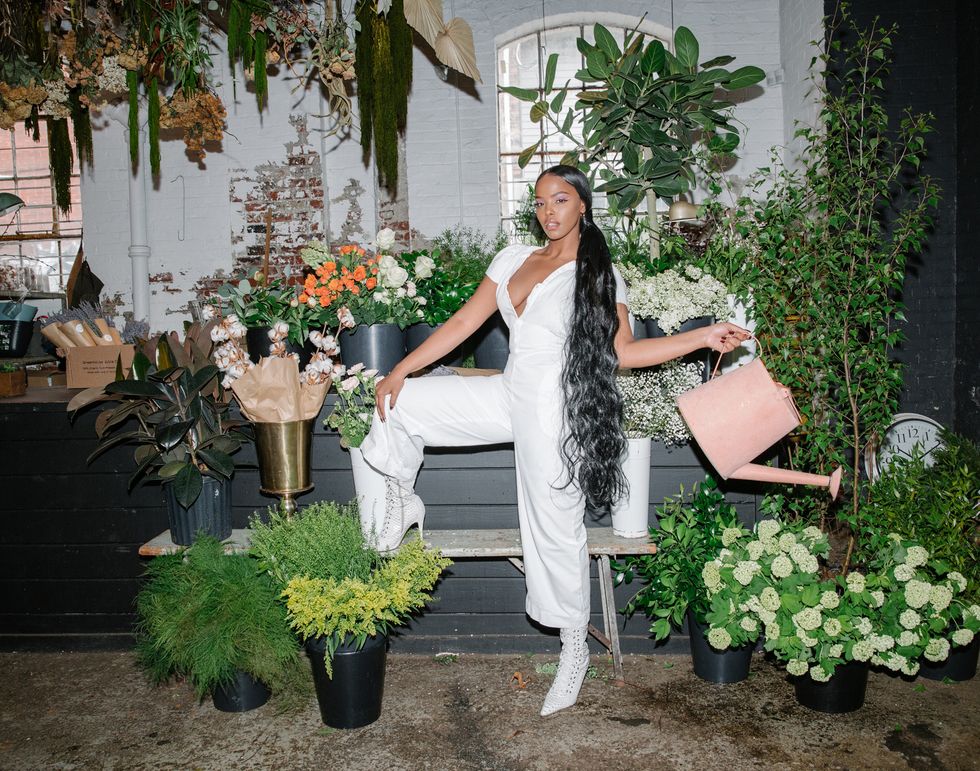 Why nature and the outdoors are so prevalent in her videos:
"Nature is the main place I'm drawn to because there are so many parallels between women and mother nature. We have so much in common with being resilient, strong, and the exploitation that mother nature has experienced while still remaining so beautiful and strong. In the Iceland video, the song ['Not What I Thought'] was about being in a relationship and coming to the realization that the person is completely opposite and they really just defrauded you. I was taking back my ownership and celebrating the beauty of coming through and being on the other side. I thought,what better place to do it than in a place that's gone through so many harsh weather issues, even the lava field that was once a volcano?
"My latest video [for 'Later'] is the one that I am most proud of. It's the most real because it's about a situation that I actually went through, and it's telling that story in the most raw way. It's about me being in a relationship with somebody who was incarcerated, and I was being the loving girl, visiting him every single weekend. There was a bus—only one in Canada—that's dedicated to taking children and women to go see their loved ones. It's a true story, and the bus that I would take, we were able to contact [the company] and have them involved. It's dedicated to them and the work they've done."
There may (fingers crossed) be another EP coming this year:
"I'm praying and I'm hoping for another project to come out this year—that's my big goal. I want to have this [EP] as part one and part two come out [at] the end of this year, beginning of next year. I'm really excited about just taking [everyone] on this journey and sharing more."
Hair: Alysha Jackson; Makeup: Maryam Nooh; Styling: Zannub Houssein.
Want more stories like this?
You're Going to Want to Keep an Eye Out for Rapper Aurora Anthony's New Album
Meet Lola Plaku, Entrepreneur & Music Industry Extraordinaire
Nimic Revenue Is Going to Flood Your Playlists This Summer