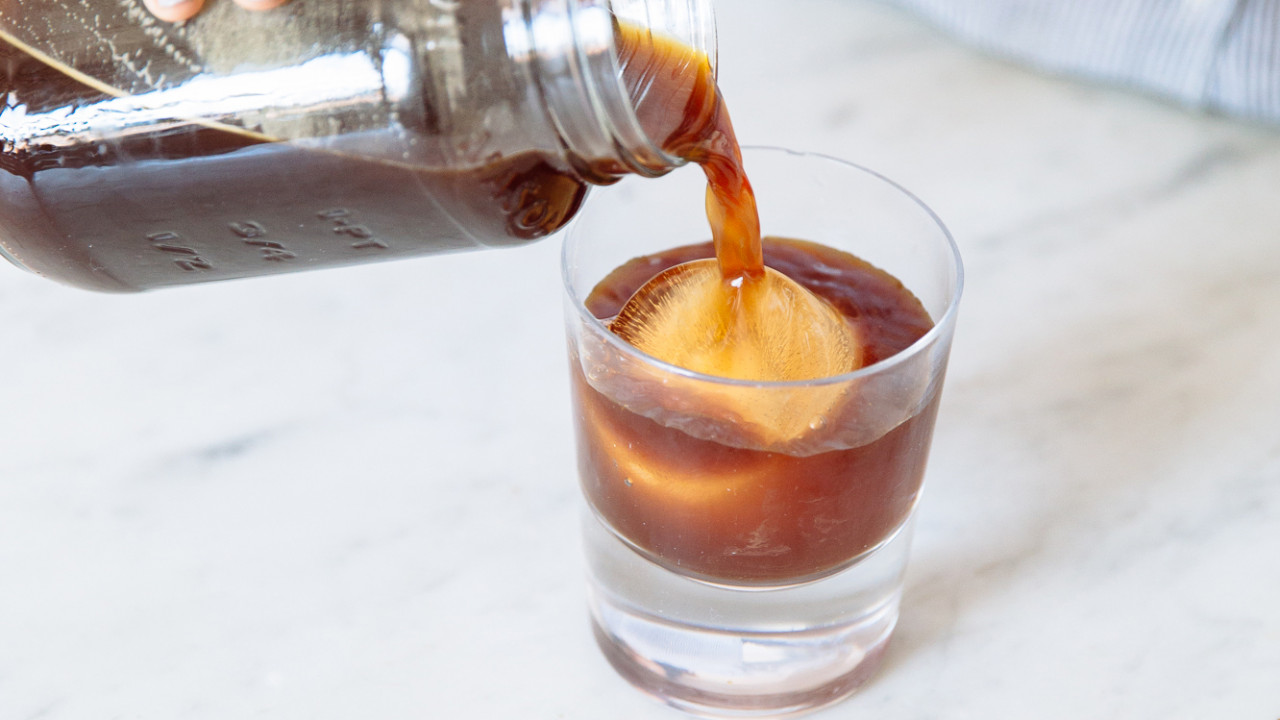 This New "Coffee" Was Engineered in a Lab
The strange brew has no bitterness but tastes just like a regular cup of joe.
The origin story of most coffee drinks—from the $5 latte to the humble cup of drip—is on a farm in Latin America, Africa, or Asia, where almost 10 million tons of coffee beans are produced each year. But what if your next cup of coffee didn't come from a shrub? What if it came from a lab?
Food scientist Jarret Stopforth set out to re-create coffee without the bean, spending four months in—where else?—Seattle, running coffee beans and brewed coffee through gas and liquid chromatography to identify more than 1,000 compounds in coffee, as NPR reports. At last the mad scientist settled on a product that looks, smells, and tastes just like coffee and replicates the mouthfeel. But it's created without beans.
The coffee-slash-chemistry experiment is made of compounds commonly found in food, including antioxidants, flavonoids, coffee acids, and, of course, caffeine. Though Stopforth and his partner, entrepreneur Andy Kleitsch, won't reveal the exact ingredients in their strange brew, known as Atomo, you'll be able to try it yourself next year, when it's slated to hit the market.
Though there are plenty of reasons to avoid traditionally farmed coffee, perhaps the greatest commercial selling point of Atomo is its lack of bitterness. "One of the early prototypes that we created in Jarret's garage did not have any chlorogenic acid, which is the compound that contributes to the bitterness in coffee," Kleitsch tells NPR. "We gave this cup of coffee to Jarret's wife, and she said, 'This is what coffee should taste like.' It had the flavor and aroma of coffee without that bitterness."
Another corner of the market that Atomo could capture that doesn't actually exist yet is the production of decaf coffee that is completely decaf—a boon for those who love the taste of coffee but find themselves super sensitive to caffeine. "We have had a lot of folks asking about truly decaf coffee due to health issues and sensitivities to caffeine," Atomo wrote on their Kickstarter page. Though they noted that their priority is caffeinated coffee, they added that backers "will also be the first to try our decaf as well."
There's a mythical property to freshly purchased coffee beans—the aroma, the shiny beans in their foil or paper wrapping, the sound they make poured into a grinder in the morning. Atomo pledges to attempt to stay as true to that experience as possible. They hope to "maintain the ritual component of coffee," as Kleitsch tells NPR, "waking up in the morning and putting grounds into the coffeemaker … We wanted to replicate that scoop for scoop."
In case you've been swilling your arabica with your head in the sand, a quick primer on the social and environmental repercussions of coffee: First off, bean production has been linked to slavery and child labor, and many coffee-rich countries under-regulate the use of pesticides and chemicals. Even if you buy fair trade, researchers have concluded that the practice largely benefits the farm owners themselves. In a new look at fair-trade farms along the Ivory Coast, it was found that hired workers were paid the same regardless of whether they worked for a fair-trade farm.
Not to totally harsh your latte, but there are also serious environmental implications of coffee-growing. The area of viable land that can be utilized to support coffee-growing will likely shrink by half in the next 30 years, as per a report from the International Center for Tropical Agriculture via NPR.
The creators of Atomo are well aware of the issues central to the worldwide coffee market. "As we got deeper into the process, we learned more about the threats to the coffee world as a whole—threats to the environment from deforestation, global warming, and [a devastating fungus called] rust, and we were even more committed to making a consistently great coffee that was also better for the environment," Stopforth tells NPR. Pour us a cup.
Want more stories like this?
These Are the Best Eating Habits for 2019
Are We Hiding "Diet" Behind "Wellness"?
Beauty Foods You Need to Have in Your Cupboard