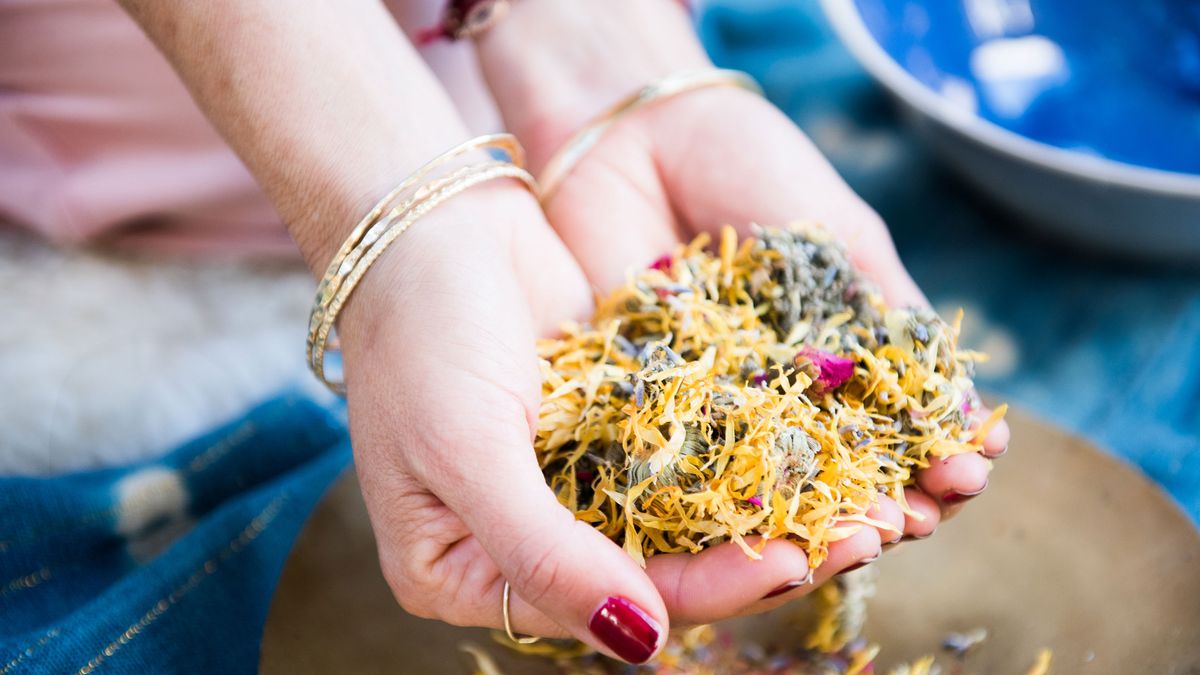 Health
You probably have most of them in your kitchen already.
Now that summer is in full swing and the long days are filled—outdoor concerts and festivals and after-work patio hangs—the last thing we want to think about is getting sick. While there are noticeably fewer coughs around the office come this time of year (is it the magic work of the sun peeking in the windows? summer Fridays?), we always seem to get hit with at least one virus—just when we're least expecting it. And sure, we're all guilty of taking a couple Advil or some Emergen-C at the first signs of a sore throat or sinus headache, but too much of this preemptive pill popping can lead to long-term damage to our bodies.

A less invasive method of both preventing and treating the dreaded cold? Herbs. We talked to NYC-based clinical herbalist Richard Mandelbaum about alternative options to drugstore products. He gave us a pantry list of herbs to ward off sickness, advocating preventative measures over reactive treatment. "One thing that's important about understanding colds and a lot of other infections is there are two sides to the equation. The conventional perspective on health just usually looks at the infection side; the other side is how well your immune system's working. The stronger you are, the more resilient you are. You might still catch a cold, but it's not going to be as bad," explains Mandelbaum.


---
Herbs for Your Immune System

"Herbs that are specific to the immune system are herbs like astragalus, licorice, and some of the medicinal mushrooms like reishi mushrooms and shiitake. Garlic is wonderful for fighting off viruses and bacteria. It's strongest when it's raw and fresh. You crush it up and let it sit for 10 or 15 minutes. That helps the allicin, which is one of the antimicrobial constituents, concentrate more effectively. And then you can sprinkle it on food or [use it in] salad dressing. You'll still get benefits when cooked, but you'll get fewer benefits if what you're looking for is help fighting off infection or the antimicrobial activity, whether it's antifungal, antibacterial, [or] antiviral."


When You Feel a Cold Coming On...

"Echinacea and elder are both used for sort of targeted prevention for the very earliest stages [of a cold]. The main mistake people make with echinacea is they often don't take enough of it and they often don't take it in the right form. Echinacea is more effective fresh, as a tincture (a liquid extract that's alcohol-based). Elder berries [and flowers] are very helpful, particularly if you want to fight off a cold."


Get Relief If It's Already Too Late
"Ginger helps a lot of people with nausea. Another herb that is often helpful is called wild yam—it's used a lot for gastrointestinal inflammation, feeling queasy, nausea, and bloating. [For fevers], part of what you're actually trying to do is not fight the fever but bring things to a surface and push them out; garlic, elder, and cayenne pepper help the body to expel that infection. For congestion, if you want to keep things really simple and effective, [try eating] horseradish! A neti pot or some other kind of nasal irrigation can be very helpful, too. You can put a little bit of eucalyptus or thyme [in it]."
Richard Mandelbaum, Clinical herbalist RH (AHG), has a private practice in Brooklyn, NY, and is a founding partner, director, and teacher at the ArborVitae School of Traditional Herbalism in NYC.
Editor's Note: As ever, we are not doctors or medical know-it-alls. And everybody is different, so make sure to check with a doctor before trying anything new.
Want more stories like this?
The Spices Missing from Your Diet That Will Change Your Beauty Routine
How New York's Fashion Industry Elite Get Fit
How to Fall Asleep Faster