WWWRN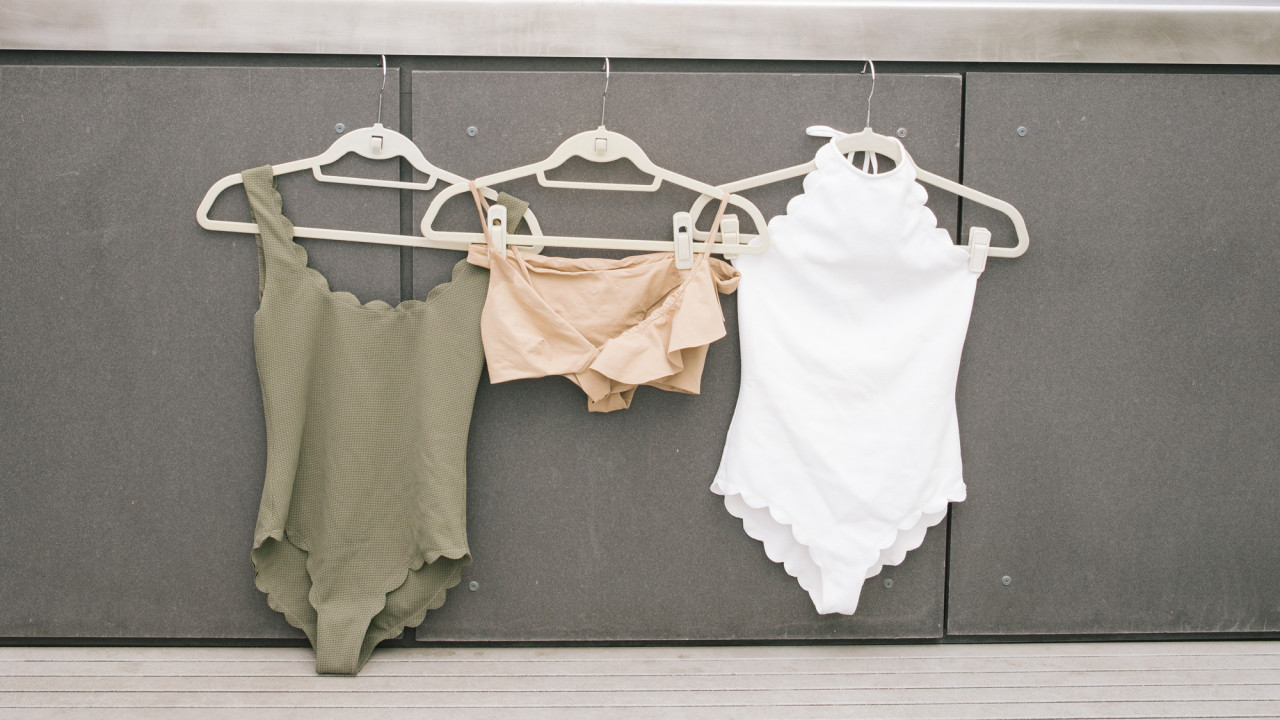 21 Swimsuits Coveteur Editors Love
Hear that? It's the beach calling you.
If everything goes according to plan, all of us at Coveteur will be wearing a swimsuit *multiple* times over the next few weeks. Our company Google cal reveals upcoming vacays to Miami, the Dominican Republic, Bermuda, and more, and as such, we're taking stock of the swimwear we already own and looking to fill the gaps with new pieces—from sleek, plunging one-pieces to animal-print bikinis. Need a few more pieces for your summer travels and weekends at the pool? Here are 21 Coveteur-approved options.
---
Leah Faye Cooper
Editorial Director
1. Prism Rajni Denim Swim Ipanema Top: In celebration of Prism's tenth anniversary, the London-based brand collaborated with Rajni Jaques on a capsule collection of denim swimwear, and it's all I want to wear to the beach. I especially love this underwire top, which I plan to pair with a high-waist skirt when I'm (unfortunately) not by a body of water.
2. Haight Plunge-Neck Tie-Waist Swimsuit: As much as I love my miniskirts and crop tops, I've been in the mood to dress slightly more sophisticated recently, and this includes dressing for the beach and pool. This stunning one-piece is just what I've been looking for—someone book me a cabana and order an aperol spritz!
3. Robin Piccone Skimpy Side Tie Bikini Bottom: I own these bottoms, and while the ties are quite small, the coverage in the back isn't that skimpy, and the material is incredibly stretchy and lightweight, so there's no digging into your sides. With the matching top, it's one of my favorite suits.
---
Noah Lehava
Director, Lifestyle and Talent
1. Hunza G Domino Swim in Nude: Their site nearly broke when Rosie Huntinton-Whitely posted a vacation pic wearing this one-piece but I've been a fan of the brand since long before their viral fame. The crinkly fabric makes them one-size fits almost all, which means you can eat all the fries and aperol you want without feeling stuffed in your swimsuit.
2. Oseree Lumière One-Shoulder Slip in Lila: I can't get enough of sparkly bikinis these days. It's like KiraKira but make it 2019.
3. Tropic of C "The C" in Sage: Who better to create a perfect bather than Candace Swanpoel? Her designs are classic, flattering, and just the right amount of sexy. I love the barely-there straps for barely-there tan lines.
---
Daniella Deutsch
Producer & Market Associate
1. Summersalt The Fused River: Summersalt was recently introduced to me and I am so very glad to be acquainted. The line is not only size-inclusive but also sustainable. This full piece in particular caught my attention as it can also double as a body suit to be worn for summer activities. A halter neckline is always a sure fire way to seal the deal.
2. Mara Hoffman Leopard Print Swimsuit: Mara Hoffman is always a magician with prints and this style is no exception. I personally am still holding strong to leopard prints for the coming months, so this guy certainly fits the summer '19 aesthetic.
3. Ganni Cutout Floral Print Swimsuit: Last year I scored a Ganni swimsuit in the final weeks of summer sale months. While the suit was perfect I only really had it for the last bit of the season. This year I am planning ahead and investing in a full piece I know will take me through many beach days and poolside hangs.
---
Rachel Pickus
Social Media & Affiliate Coordinator
1. Made by Dawn Charlie Top + Arc Bottom: Let it be known, Made by Dawn is truly *the* place for your neutral swimwear needs. With a wide range of shades and styles, these minimal pieces are a worthy investment.
2. Pale Swim Marais One Piece: While I'm kicking myself for not discovering this suit sooner, there's no denying this is the most perfect one-piece I've found to date. Layer it under a pair of cut-offs or a cute sarong and you have yourself a bodysuit as well!
3. Rachel Comey Revival Top + Keena Bottom: Contrary to the other categories in my closet, when it comes to swimwear I lean towards the more understated options. That was until I stumbled upon this purple Rachel Comey set that I didn't know I needed…
---
Jacquelyn Greenfield
Editorial Production Fellow
---
Hannah Baxter
Senior Beauty Editor
1. Mikoh Capri Top + Puka Puka Bottom: Your girl loves a checkerboard print. Mikoh makes the most comfortable and functional suits ever so obviously I need to scoop this up for the rest of my summer travels.
2. Cami and Jax Ariel One-Piece: Surfing is my new favorite activity at the beach, but avoiding a sunburn when you're on the water all day takes more than just sunscreen. A one-piece with sleeves is my secret weapon for keeping my skin safe.
3. Matteau Petite Triangle Bikini Top + Boy Briefs: There is nothing more chic than a classic black bikini that also fits you like a damn glove. Matteau's line of minimalist swimwear cannot be beat.
---
Jodi Taylor
Editor
Part of the series:
WWWRN