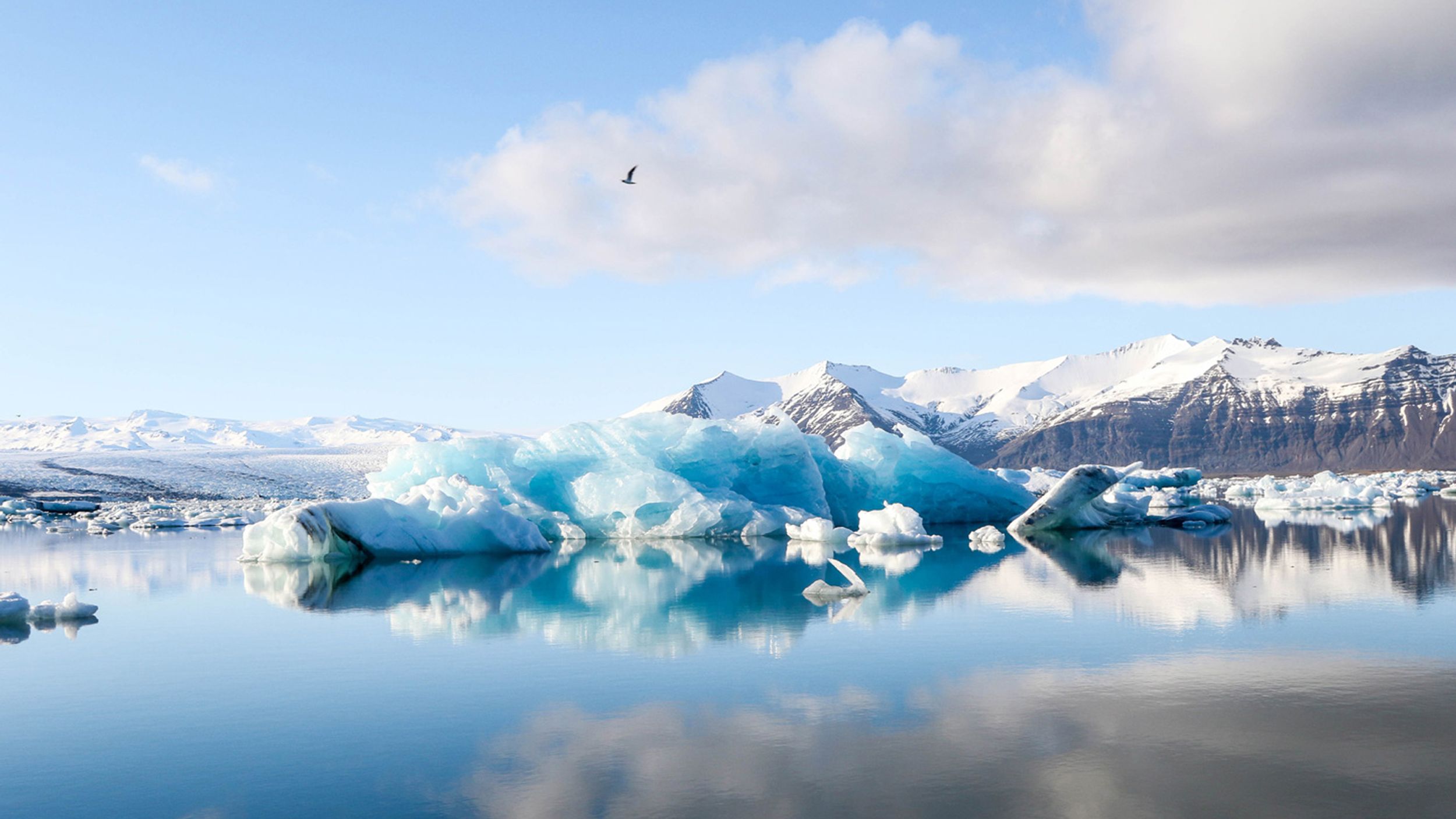 Travel
Helicopters on call.
Oh no, are you OK? Did you nearly fall off your chair? Yeah, we know $34K per person (
$33,739, to be exact)
is steep, but aren't you curious about what goes into an ultra-luxurious, impeccably curated trip? Us, too. And who better to plan every single detail to the umpteenth degree than our friends at Black Tomato? If you have the means to book a fancy-pants trip to Iceland or like to daydream just as much as we do, read below for the ultimate, mega-exclusive seven-day trip to Iceland's Diamond Circle (even the name sounds fancy, right?).
---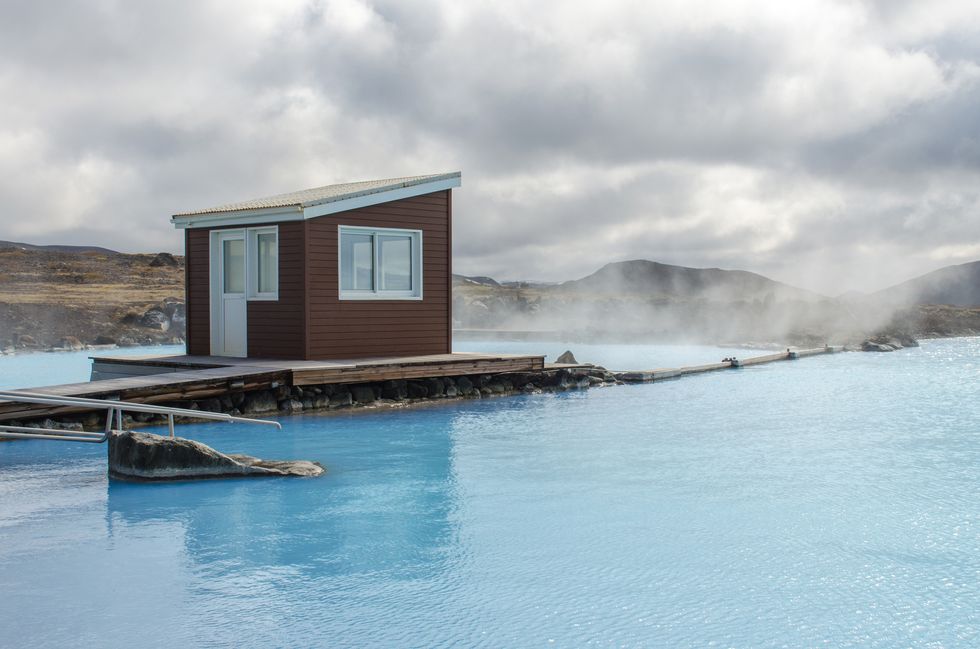 Photo: Courtesy of Black Tomato
Take your private heli (which will always be on call, btw) from Reykjavik to Lake Mývatn—also known as
Game of Thrones
land. From there, the only way you can explore the volcanoes and crater row is by Super Jeep. You'll hike across lava fields and enter Lofthellir cave, which is filled with natural ice sculptures—making for some pretty incredible photos. You'll warm up in hot springs before lunch-ing at Vogafjós, a restaurant in a cowshed serving up local bites like Geysir rye bread (baked in the ground using geothermal heat) and smoked trout. You'll end the day at  Mývatn Nature Baths, where you'll swim in a geothermal lagoon and steam bath, which is a centuries-old tradition.
Spend the night at
Fosshotel Myvatn
, an eco-conscious modern hotel.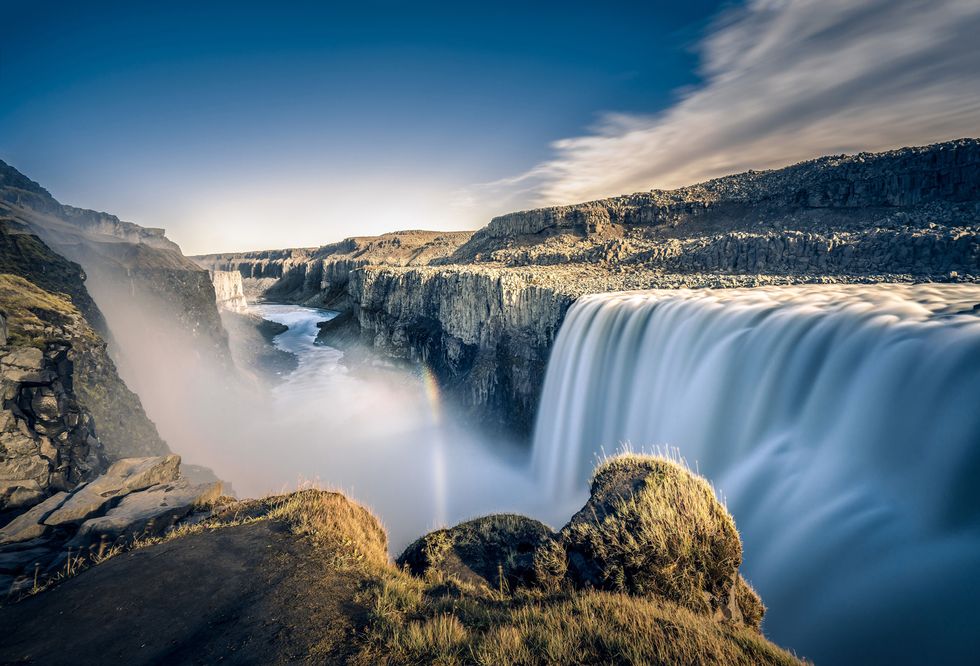 Photo: Courtesy of Black Tomato
You'll start your day at the must-see Dettifoss waterfall. From here, your private helicopter awaits to take you on an eight-hour (yes, eight!) tour of Iceland. You'll reach untouched places in the highlands, and Glacier Lagoon, where you'll take a private Zodiac boat tour.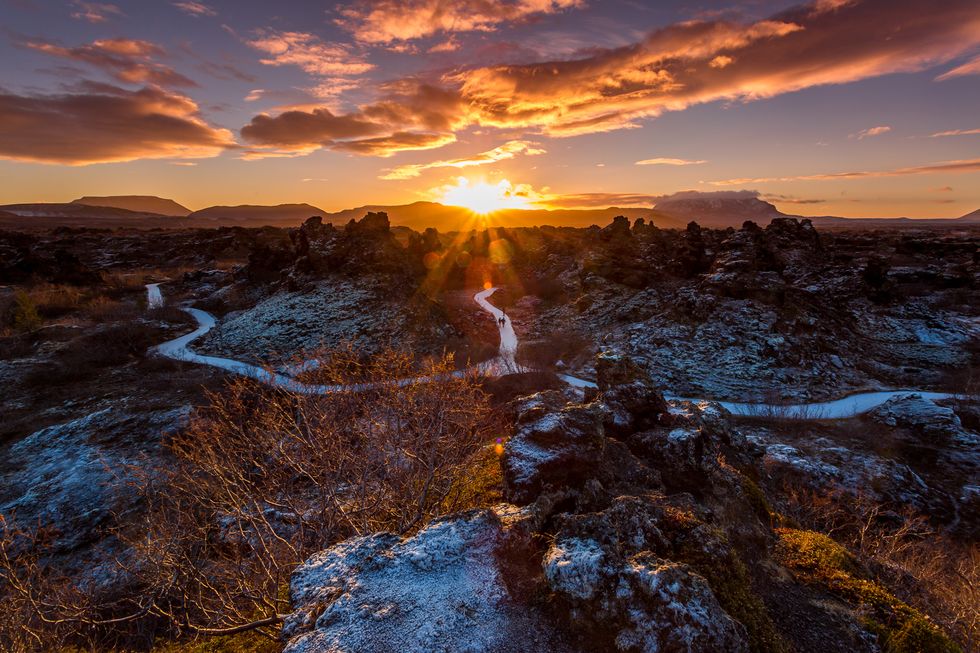 Photo: Courtesy of Black Tomato
More helicopters! Today you fly over the Ódáðahraun desert and spot the queen of all mountains, Herðubreið.  Touch down on the Askja Caldera region for out-of-this-world (pun intended) lunar landscapes. And picnic on cool lava. This is ultimate Instagram bait.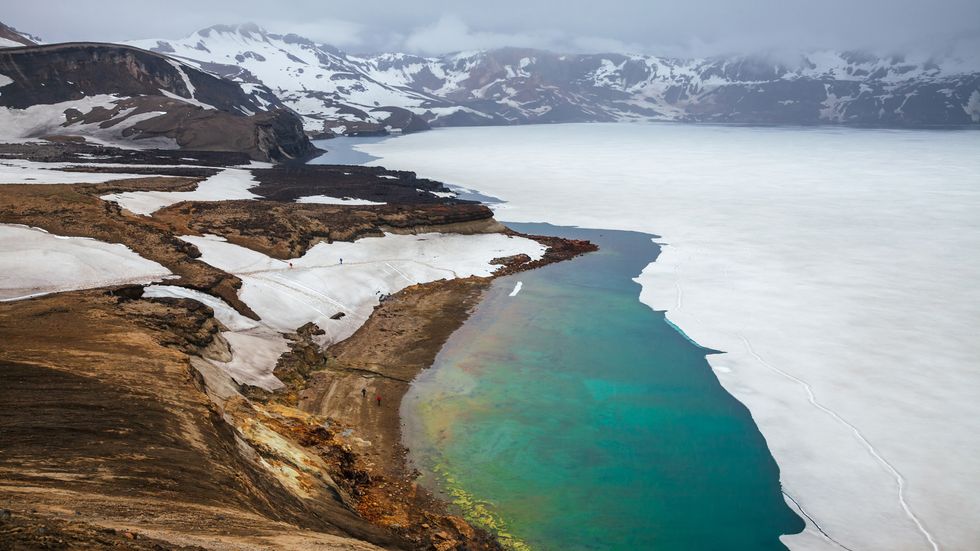 Photo: Courtesy of Black Tomato
You're not going to get any wifi out here. You'll Super-Jeep off to one of the most barren and remote highlands in Iceland—think hidden glaciers and rivers. The real highlight: You'll visit Sænautasel Turf House that was built into the earth for delicious pancakes, coffee, and to explore its unique design. Even pick up some Icelandic wool sweaters sold on the property.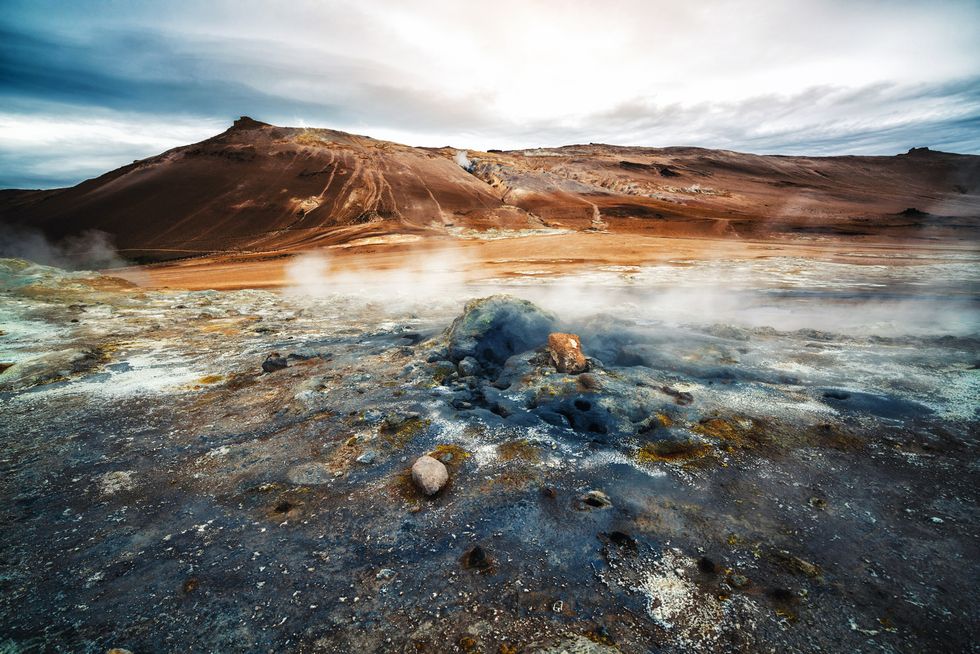 Photo: Courtesy of Black Tomato
Jaw, meet floor. The red mountain that towers over the lava field and multicolor slags makes you feel like you're on Mars...or Jupiter—any planet other than Earth, really. Once you've filled that camera roll, you'll head to Nature Yoga for a zen sesh harnessing the energy from the volcanic ground. Seriously, we can't make this shit up! If you still need some more chill time, how does soaking in a mineral-rich sea bath with a mountain range in the backdrop sound?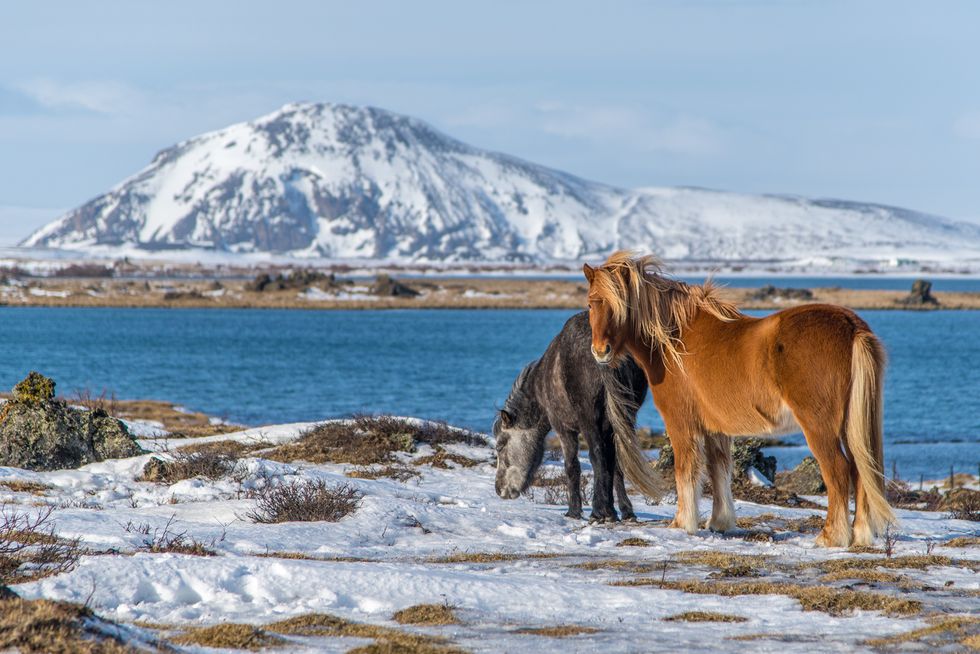 Photo: Courtesy of Black Tomato
At this point, you've probably forgotten what it's like to travel any way other than heli or Super Jeep. From Mývatn to Húsavík you'll ride in your Super Jeep before boarding a speedy rib boat to transfer you from Húsavík to Flatey Island. This is the whale capital of Iceland, so you'll most likely spot some.
Flatey Island, meaning "flat island," at its highest peak only rises about 72 feet above sea level. It's the fifth-largest island around Icelandic waters and a paradise for bird watching, with over 30 different species. Imagine a yoga session just at the brink of the Arctic Circle. Yeah, us either. But, alas, this is a Black Tomato trip.
Did you miss your heli? Well, guess what
—
it's back! Check out the Deplar Experience on the Troll Peninsula.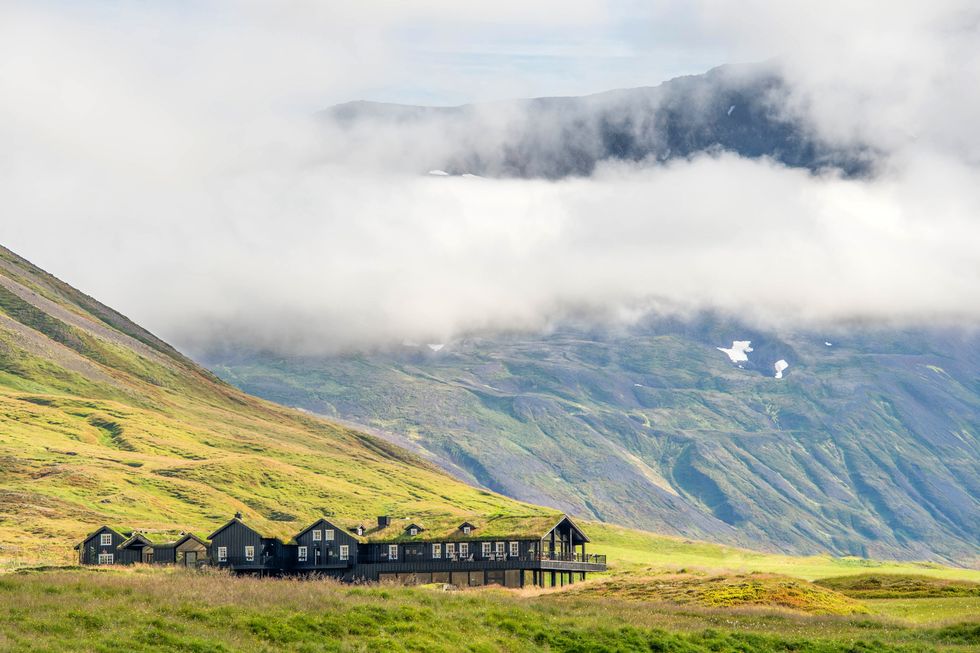 Photo: Courtesy of Black Tomato