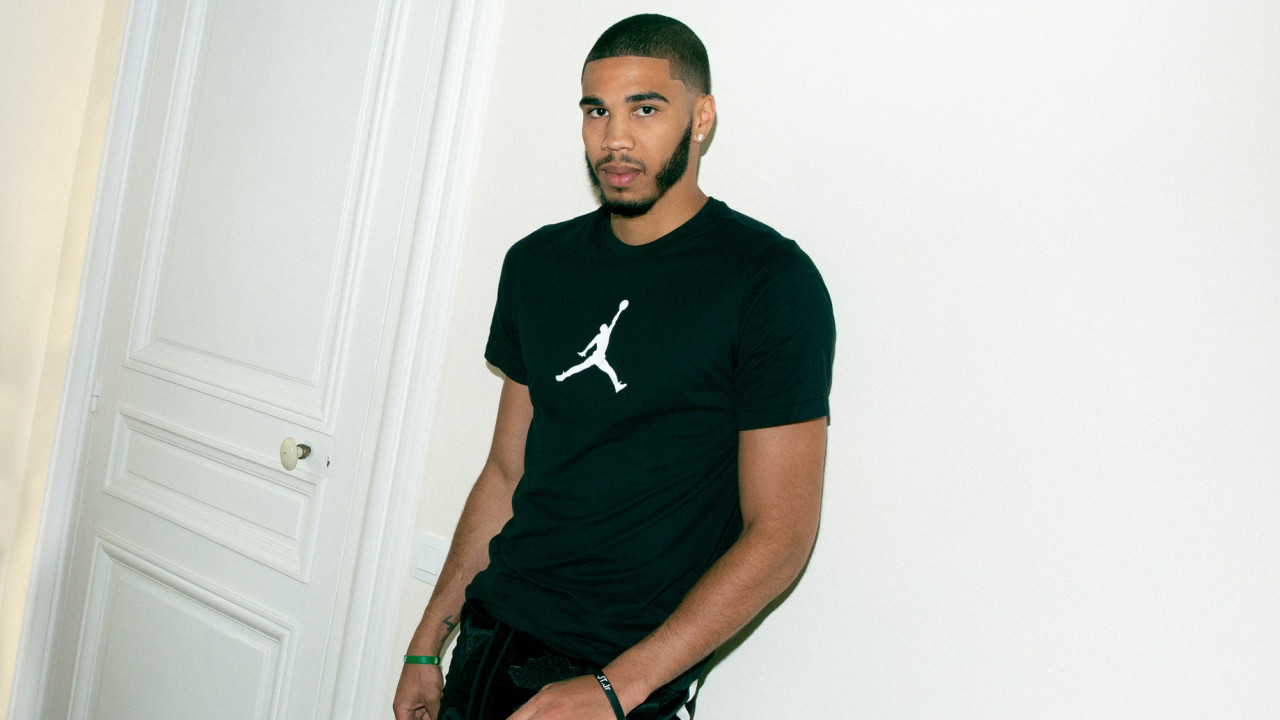 Jayson Tatum Doesn't Travel with Underwear
We sat down to chat with Jumpman's newest athlete last week in Paris.
Two and a half hours before Jayson Tatum was announced as the newest member of Jordan Brand, we were sitting across from him in Paris in a white-walled room inside Jordan's House of Jumpman, talking Rolls-Royces and ultimate vacations. The 21-year-old Boston Celtics player joined the brand after an official sign-off from Michael Jordan himself, a feat that is all the more impressive when you realize Tatum was only drafted to the NBA in 2017 (he was the third overall pick by the Celtics). "It's an incredible feeling," he tells us. "Getting approval from the greatest player of all time, especially at 21, it's a great feeling." We're sure that feeling heightened tenfold that afternoon when he found himself rubbing shoulders with Michael Jordan as they posed for photographs following the official announcement. Below, everything we chatted with the basketball player about ahead of his big announcement.
His first memory with sneakers:
"I've been wearing sneakers since I was a toddler, before I could walk. I've seen pictures of myself in Jordans from when I was 12 months old so, it goes back as far as 20 years ago."
How he celebrated being the newest member of the Jumpman family:
"I got myself a new car. A Rolls-Royce, white."
How he celebrates a big win:
"You know, I have a son, and he's 18 months. He comes to every home game, so if I play good or if I play badly, I go home with him and eat, put him to sleep. He doesn't care if I play good or bad, he just wants to hang out."
How he manages work-life balance:
"I have a lot of help, you know, my mom does a great job of helping out, as well as his mom—she lives in Boston as well. It's a team effort to raise an 18-month-old because he's a lot of work."
The most unexpected thing he travels with:
"Most unexpected thing. I don't pack underwear, I always buy a new pair. It's 'cause I'm lazy, I don't like to wash my clothes."
Ultimate vacation spot:
"I've never been to Hawaii, I want to go there."
Most surreal moments of his basketball career:
"Getting drafted, that's a dream come true for everybody that makes it to the NBA. Playing in the playoffs, playing game 7, things like that."
Pre-game rituals:
"I'm pretty laid-back, so before the game—I don't have any superstitions or things like that—I'm in my locker room chillin', listening to music. Depends what's out at that time. I always listen to Drake, Lil Wayne is always one of my favorites, Jay-Z—I put it on shuffle."
What he wants to be remembered by:
"There's a lot of things that I want to be remembered by. Obviously a great player, I want to be one of the best. And a great person. I want people to remember me as having character, giving back, a great father—things like that."
Want more stories like this?
We Need to Talk about Serge Ibaka's Closet
Blake Griffin Loves Sunscreen Just as Much as You Do
Exclusive: Aleali May & Maya Moore Drop 2 New Jordans