3 Pilates Moves You Can Do in Your Favorite Shoes
Total-body toning—no sneakers required.
Fitness
Maybe working out in heels isn't the
best
idea, but you don't need to be in sneakers for these moves.
You see, I have this weird urge every time I have a glass or two of wine: I want to go for a run. I don't know if it's the lack of inhibition or what, but it happens often. (Strange, I know.) Of course, I'm never in appropriate attire when this compulsion kicks in. So when
Heather Anderson
of
New York Pilates
 demo'd three moves that can be done in happy-hour clothing (and shoes!), I felt like I needed to share—you know, if you ever feel the urge to do Pilates post wine-fueled dinner. Whether you relate to my (unique?) workout habits or are just looking for a quick, do-anywhere routine, these are for you.
---
---
Move #1:
Pilates Forearm Side Legs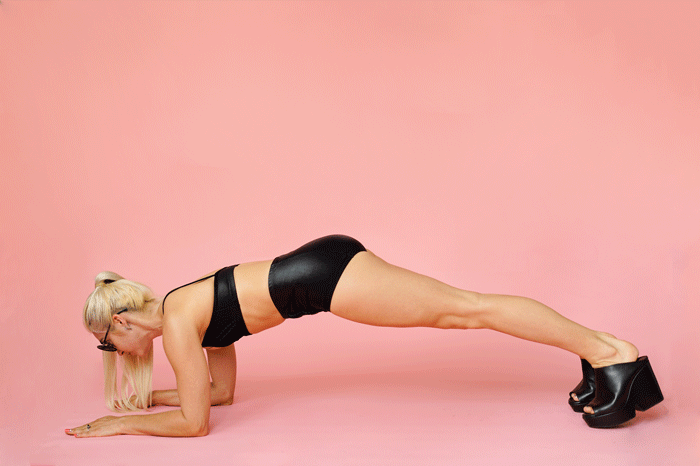 "Start on your side with your elbow under your shoulder and top leg long. Gaze forward; lift and lower your extended leg by using your side glute muscles. Be sure to keep your pelvis still as you lift and lower your leg. Activate your lats and obliques to stabilize your shoulder blade. Do three sets of 20, or until you feel fatigue. Switch sides."


---
Move #2:
Forearm Plank with Knee Crunch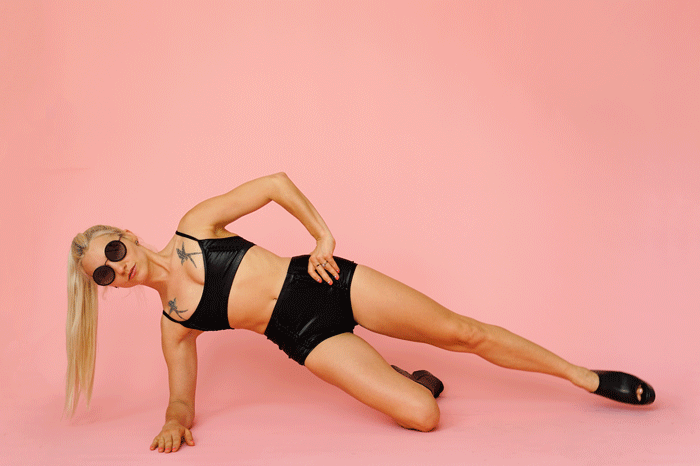 "Start in a forearm elbow plank with your hands flat on the ground and your arms bent at a 90-degree angle. Then bend the knee towards the chest, while keeping a flat back. It's very important to keep the pelvis as still as possible while moving. Hold the knee for a quick second, and then bring the toes back to plank. Tip: keep your neck comfortable by looking slightly forward. Do three sets of 20 or until you feel fatigued."
---
Move #3:
Pilates 100's