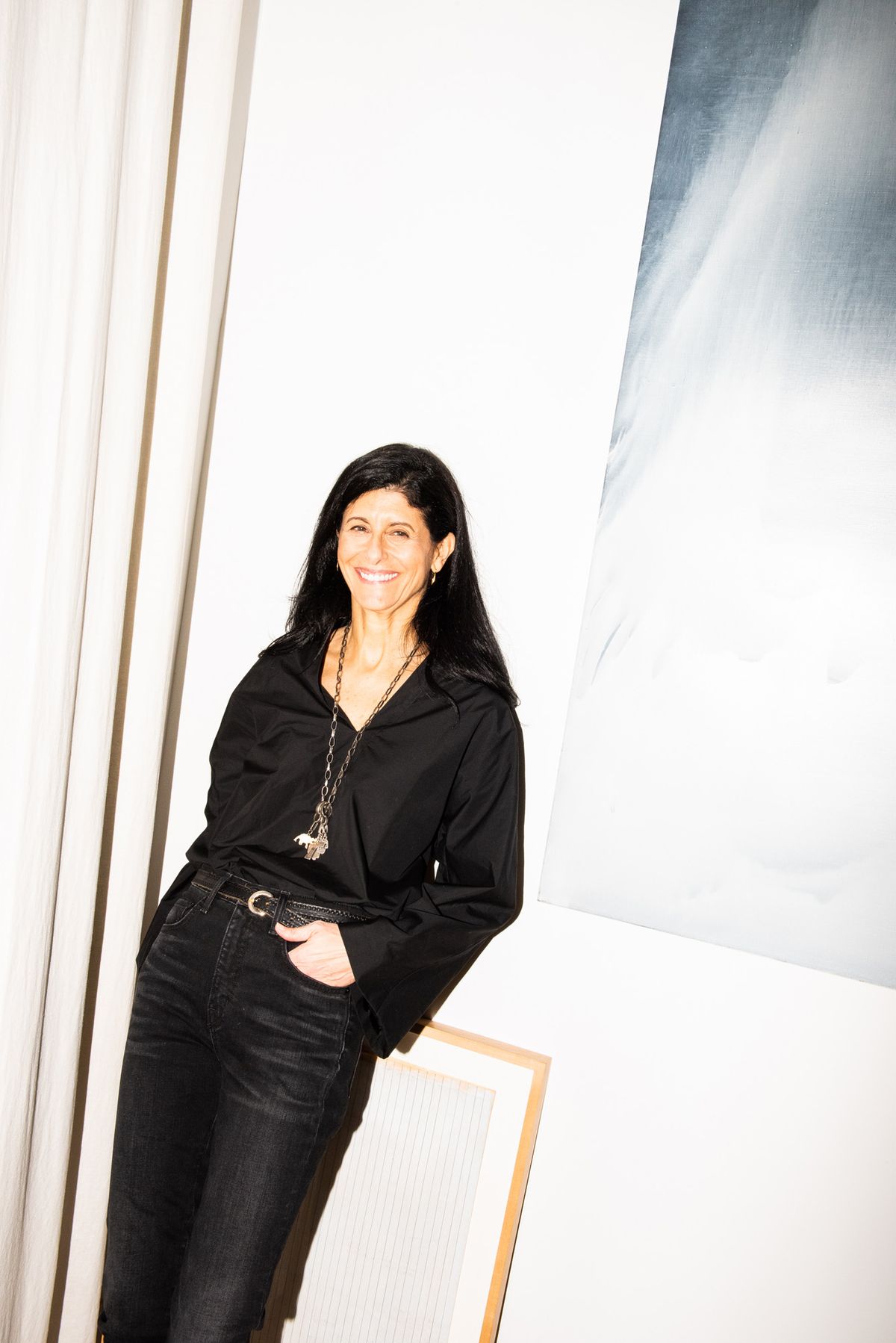 Closet
She's also a connoisseur of Americana and statement treasures. New York.
Hannah Baxter
Styling Assistant
Zoia Murzova
We don't expect a designer to reveal that they didn't always love fashion, but that's exactly what
Nili Lotan
claims. "I fell in love with style and personal style," she explains when we visit her serene Manhattan apartment. "I fell in love [with] aesthetic." Her home, with its floor-to-ceiling windows and tastefully minimalist decor, alludes to the fact that, while she certainly made a name for herself in the fashion industry over the past 20+ years, it is her enduring affection for beauty in all forms that has made her eponymous label such a success. "My father was a very chic guy and always well-dressed, [and] my mom was a textile designer," she says. "So he influenced me in the sense of personal style, and she influenced me more from the craft." She laughs that, as a child growing up in Israel, she drove people crazy because she could never find anything that she wanted to wear. Luckily, her mother was equally skilled as a seamstress and would make her daughter whatever she could dream up that day. It was also at her mother's urging that she went on to study at the prestigious Shenkar College of Engineering and Design in Tel Aviv after her military service. "Thousands of people applied, and only eleven got accepted. I was very lucky to be within the eleven." Stints as the head of design at Ralph Lauren, Liz Claiborne, and Nautica followed, and eventually in 2003 she launched her line of luxe, classic separates. As we comb through her wardrobe, it's not hard to discern how her personal style has steadily influenced the Nili Lotan brand—a rainbow of neutrals pepper her exceptionally organized closet, with an oversized army jacket and a silk leopard blouse thrown in for good measure. A collection of turquoise jewelry belies her love of Western regalia, as well as a few silver belt buckles, most of them thrifted. A vintage velvet Halston dress blends seamlessly with a trio of slip dresses she designed, while an Yves Saint Laurent le smoking jacket (another vintage find) mingles with a suit set from her latest collection. Regardless of the era, each piece possesses the signature timelessness that permeates season after season of Lotan's designs. It's the kind of wardrobe you could be photographed wearing tomorrow and again ten years from now and still look polished, a goal she hopes to help achieve for her customers, as well. As she says, "There is nothing worse than not feeling good in your own clothes. It's like you're not comfortable in your own skin. I'm just giving you the elements so you can create your own [look] and feel good."
Click through for more on Lotan's career, her passion for vintage, and the one question she always asks herself before buying a new piece.