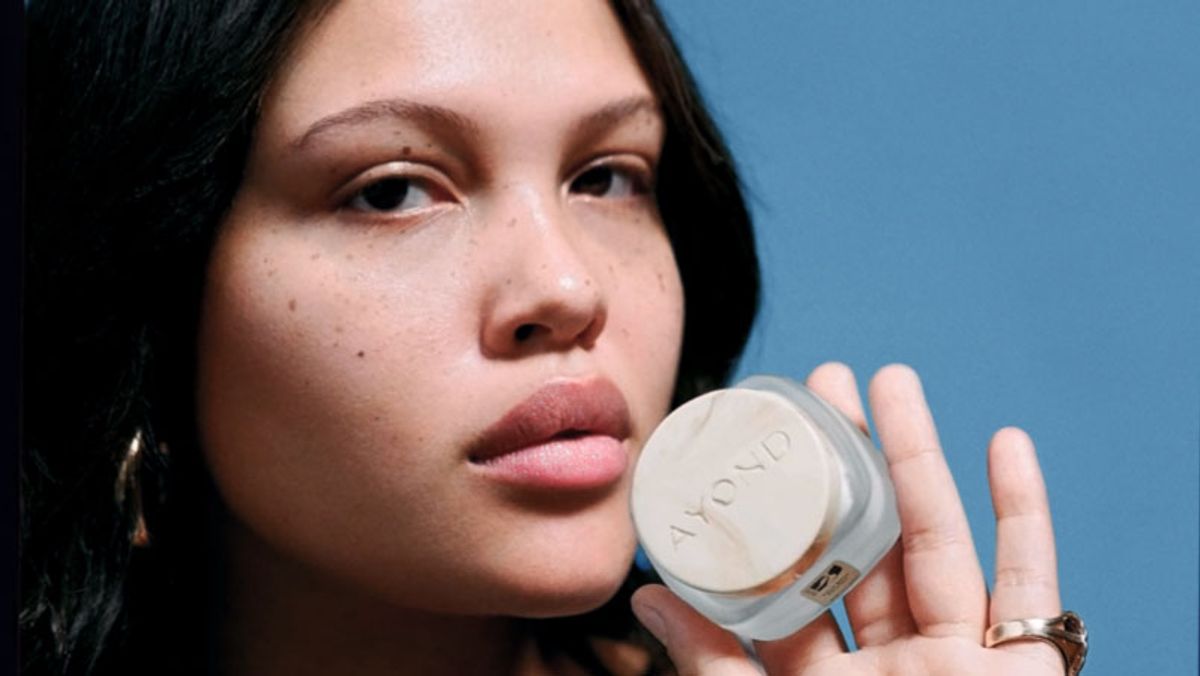 Skin
We put the 4-piece collection to the test.
We'd forgive you for thinking that
Ayond
is just another Instagrammable beauty brand. The sturdy glass bottles and marbled resin caps look like they belong on a window ledge peering out at a
desert landscape
, and in truth that's not far off. The brand's founders, Porter Yates and Shani Van Breukelen, split their time between Santa Fe and New York and use medicinal herbs from the former in many of their formulas. But for a collection of products to be not only beautiful to display, but also effective, is a task not all clean skin-care brands can manage. Ayond rises to the occasion admirably.
Yates, a sustainable development engineer, and Van Breukelen, a former fashion designer, have married their opposing expertise in their debut line of four products: a cleansing balm, a serum, a face oil, and a day cream. Their focus is threefold—clean, conscious, and transformative—meaning stress-free skin, a stress-free environment, and a stress-free mind. To accomplish the first, they formulated their products without parabens, phthalates, silicone, petroleum, glycols, sulfates, PEGs, and synthetic dye or fragrance. The line is also vegan and cruelty-free and highlights various essential oils and ingredients such as frankincense, wild desert sage, rock rose, prickly pear cactus, and more. As for the packaging? Completely recyclable—you can even ship it back to them, and they'll take care of it for you.
---
With a luxury price point—the cleansing balm is the cheapest at $80 and the face serum the most expensive at $140—the line is a little less accessible than some
clean skin-care
on the market right now. Still, over the course of a 10-day test, we were pleased to find how soft our skin felt and how even-toned it appeared, even after a weekend at the beach (which can wreak havoc on your skin, even with plenty of
SPF
).
The moisturizer is the most intriguing of the bunch as it promises to protect your skin from damaging blue light, and since most people spend hours a day in front of a computer, we predict many others will agree. While the serum did help our skin feel quenched with hydration, it leaves a slightly tacky finish, which is fine at night but is not our favorite for sitting under makeup. For mascara removal, the balm is gentle yet effective, a perfect first step in the two-step cleansing process (or a great standalone since it leaves no residue like most oil cleansers). And the fatty acid and omega 3,6, and 9-packed oil is the ideal finishing touch for a glowing summer complexion; however, it is more of an active oil, so those with reactive or sensitive skin would do best to use it every other day. With two more products launching later this year, we'll be anxiously awaiting the chance to incorporate them into our routines.
Ayond launches on June 24th and is available on
ayond.us
.
Photos: Courtesy of Ayond
Want more stories like this?
Our Favorite Summer Lip Color Is Also Super Hydrating
How to Look Dew—Not Sweaty—This Summer
5-Minute Face—Imaan Hammam